Make Their Day Magical with a Free Printable Nice List Certificate!
Today we have a free printable certificate from Santa himself! A nice list certificate you can present to your child to express to them just how good they've been.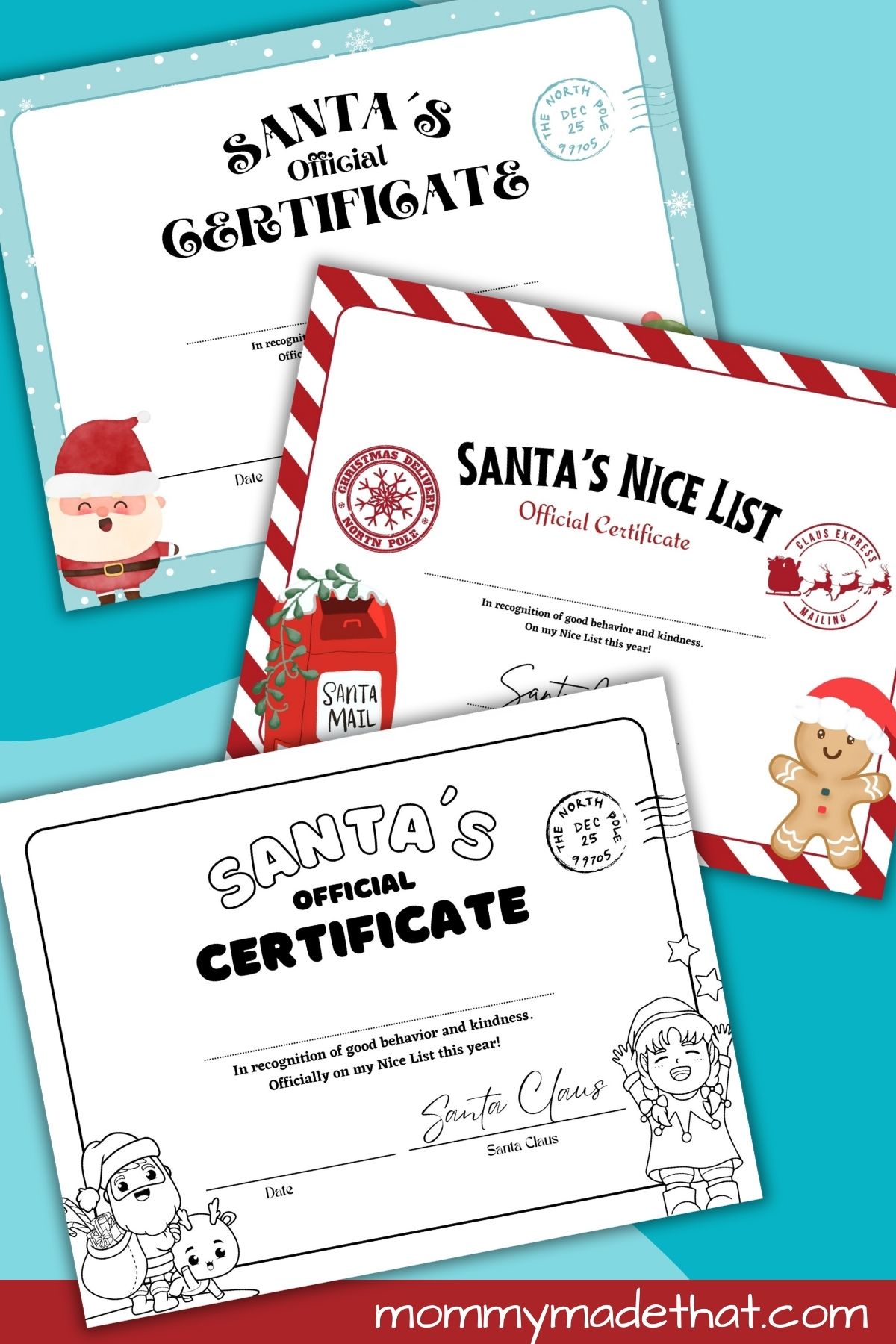 It's that joyous time of the year when twinkling lights brighten up our lives and gingerbread scents fill the air.
As we inch closer to the holidays, what better way to spread the joy than by letting your little ones know they've made it to Santa's Nice List?
Presenting our delightful "Nice List Certificate" -your printable ticket to smiles, hugs, and a ton of Christmas cheer! We're not letting anyone on Santa's naughty list this year.
With three colorful options and a printer-friendly black and white version, you can pick one that your kiddo will absolutely adore!
If you love our "Nice List Certificate," we've got even more holiday joy for you to spread around! Looking to write a heartfelt message to the jolly man himself?
We've got more santa printables like our Letter to Santa Template is a free printable that makes sending wishes to the North Pole a breeze.
Or maybe you're setting up a treat station for Santa Claus? Our "Santa Placemat for Cookies" is the perfect touch to your Christmas Eve spread.
Crafty parents and teachers will adore our range of "Santa Face Templates," ideal for holiday art projects.
And let's not forget our "Printable Christmas Scavenger Hunt," which promises a merry and adventurous time for the whole family.
Click away to explore more Christmas printables that will make this holiday season unforgettable!
The Nice List Certificates
We've created 4 different versions of our Santa's Nice List Certificates. These are designed to be from Santa.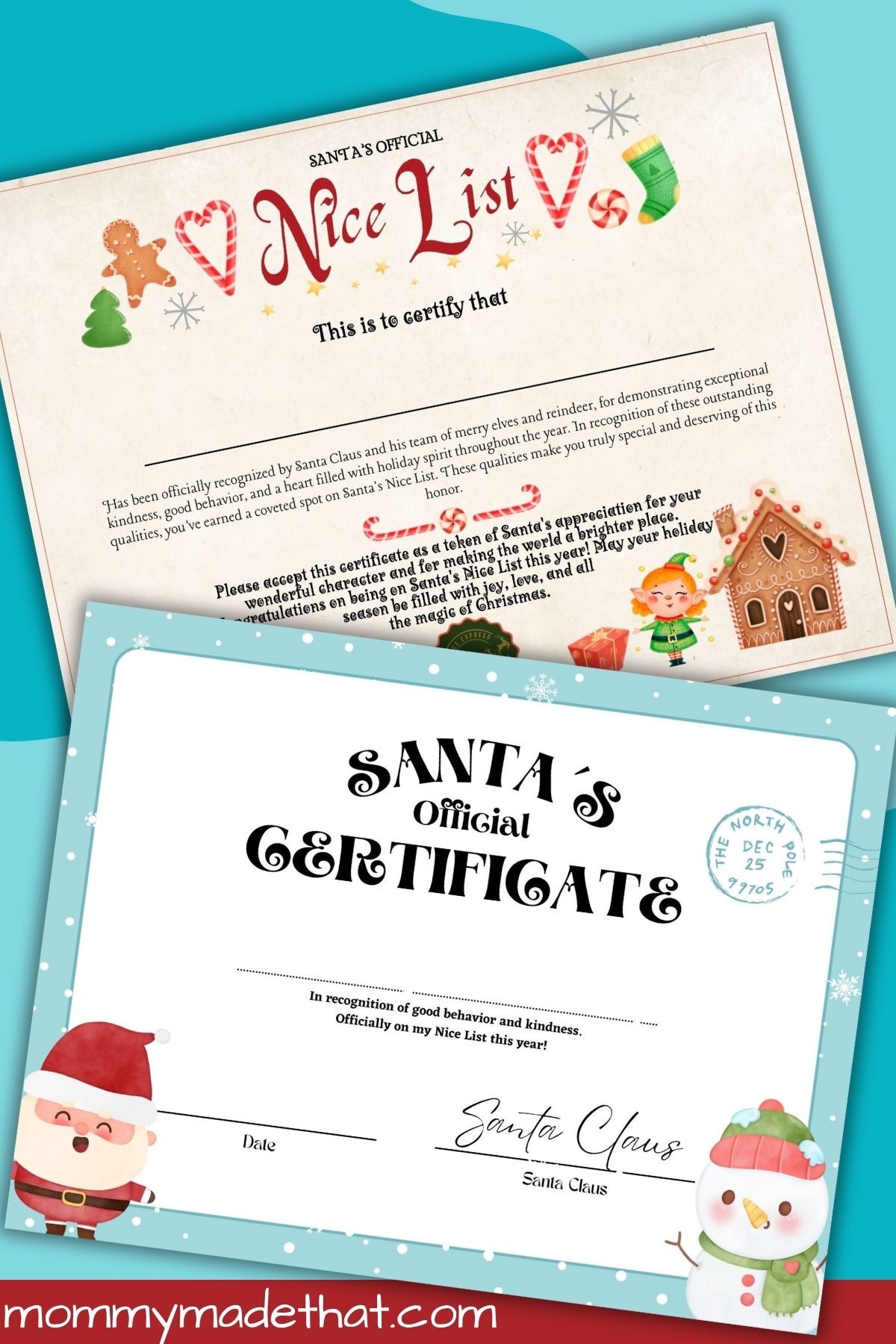 We've got an old fashioned looking one with an older paper colored background. We've also got an adorable, more simplified version with Santa himself on the certificate and a cute little snowman friend.
We've also included my personal favorite that has a candy cane striped background and features a Santa mail, mail box and cute little gingerbread man template.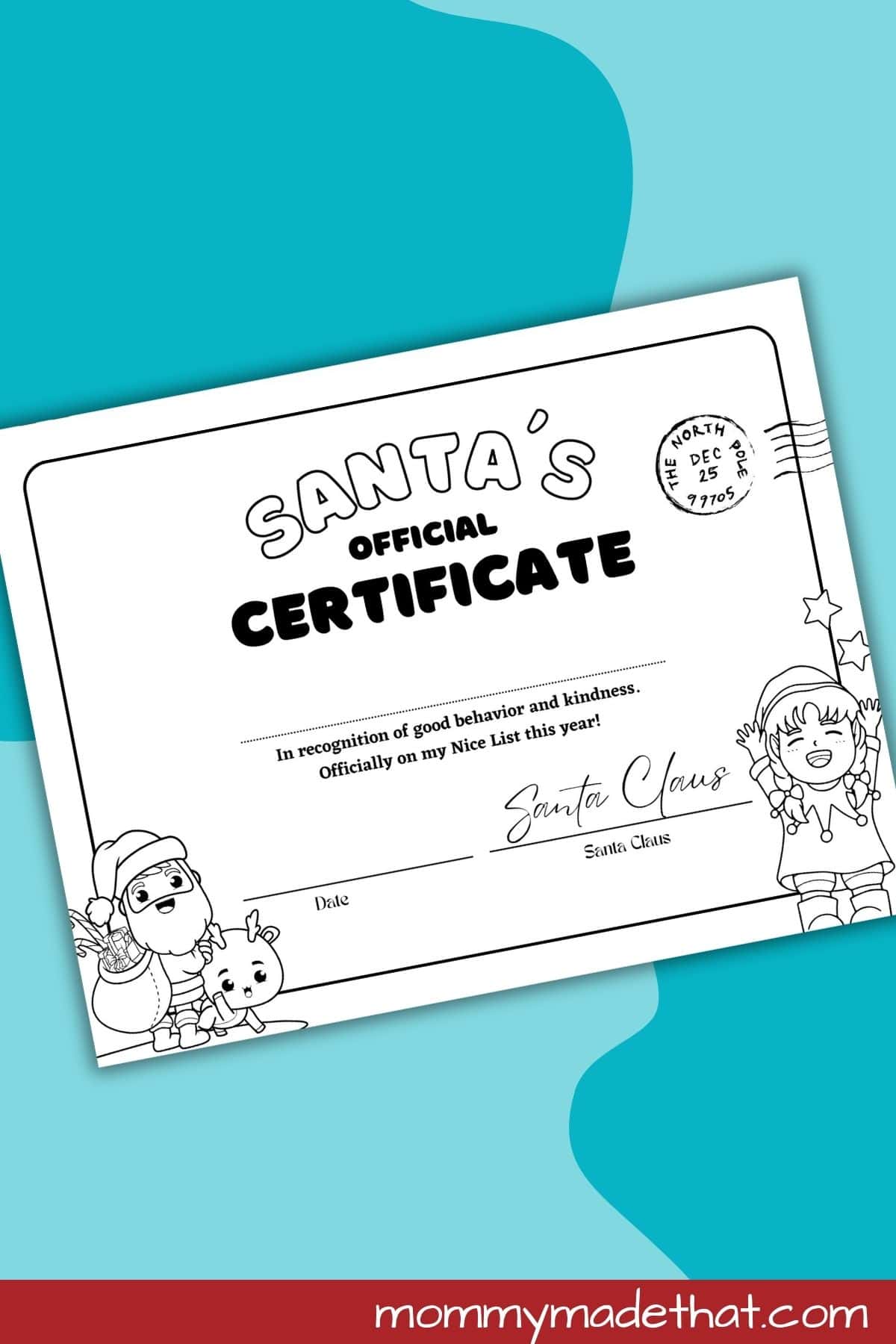 And finally, a printer friendly black and white version. You can leave it as is or add a little color yourself with colored pencils.
All of these are blank certificates so you can fill in your child's name and date. So be sure to write you child's name to make it personalized!
Materials Needed
Our printable Santa nice list certificate
Printer (Color or B/W, depending on the version you choose)
Quality paper (Cardstock or premium paper recommended, but regular printer paper will work)
Pen or markers for customization
Optional: Ribbon or sticker seal for an extra touch
Instructions
Choose Your Favorite Design: Pick one from the three colored "Nice List Certificates" or go for the black and white printer-friendly version.
Customize: Fill in the blank spots with the child's name and the date/year to make it special.
Print: Follow our printing tips below to ensure the certificate looks fabulous.
Final Touch: Add a ribbon or a sticker seal to make it official!
Printing Tips
For a high-quality finish, opt for cardstock or premium printing paper.
If using the black and white "blank Nice List Certificate," you can print it on colored paper for a festive touch or use colored pencils to color in details yourself.
Make sure to adjust your printer settings to 'High Quality' for best results.
The download includes all 4 versions on one PDF file. So go to options and select the appropriate page number under print page, so you only print the certificate you want. It'll save you tons on paper and ink!
How to Grab the Printable
Ready to create your very own "Certificate from Santa"? Simply put your name and email address in the pink box, and we'll send the free printable straight to your email, along with other fun updates and Christmas goodies!
These are for personal use or classroom use only please. Not for commercial use.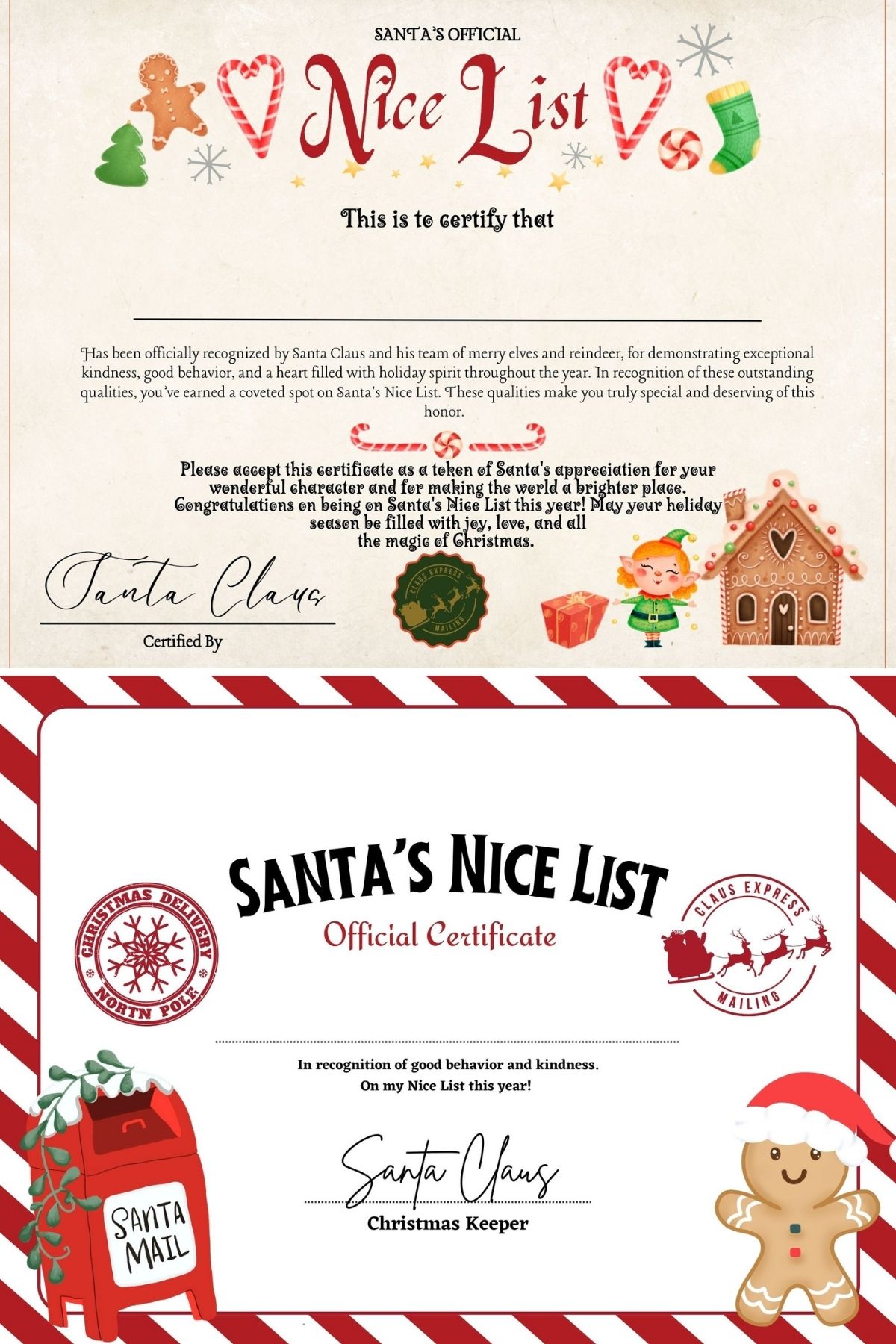 Ideas/Ways to Use the Printable
Morning Surprise: Place the "Santa's Nice List Certificate" on the breakfast table or tuck it inside a lunchbox for a day-making surprise. This works really well for making Christmas day extra special.
Advent Calendar Insert: Include the certificate as one of the items in your DIY or store-bought advent calendar.
Elf on the Shelf Reveal: Let your Elf on the Shelf present the "Santa Calus Certificate" as part of its nightly antics.
Reading Reward: Hand it out as a reward for achieving reading milestones during the holiday season.
Part of a Gift: Include the certificate as part of a Christmas gift set to make the unwrapping experience even more exciting!
Christmas Eve Boxes: Put a certificate in a child's Christmas eve box along with hot chocolate and a new set of Christmas PJs for a special experience. Put it under the Christmas tree and let them open it as a special Christmas eve gift.
The Nice List Certificate is just the tip of the holiday iceberg here. If you're on the hunt for more interactive family fun, don't miss out on our "Christmas Printable Games" where your sure to find a few things perfect for holiday cheer and gatherings.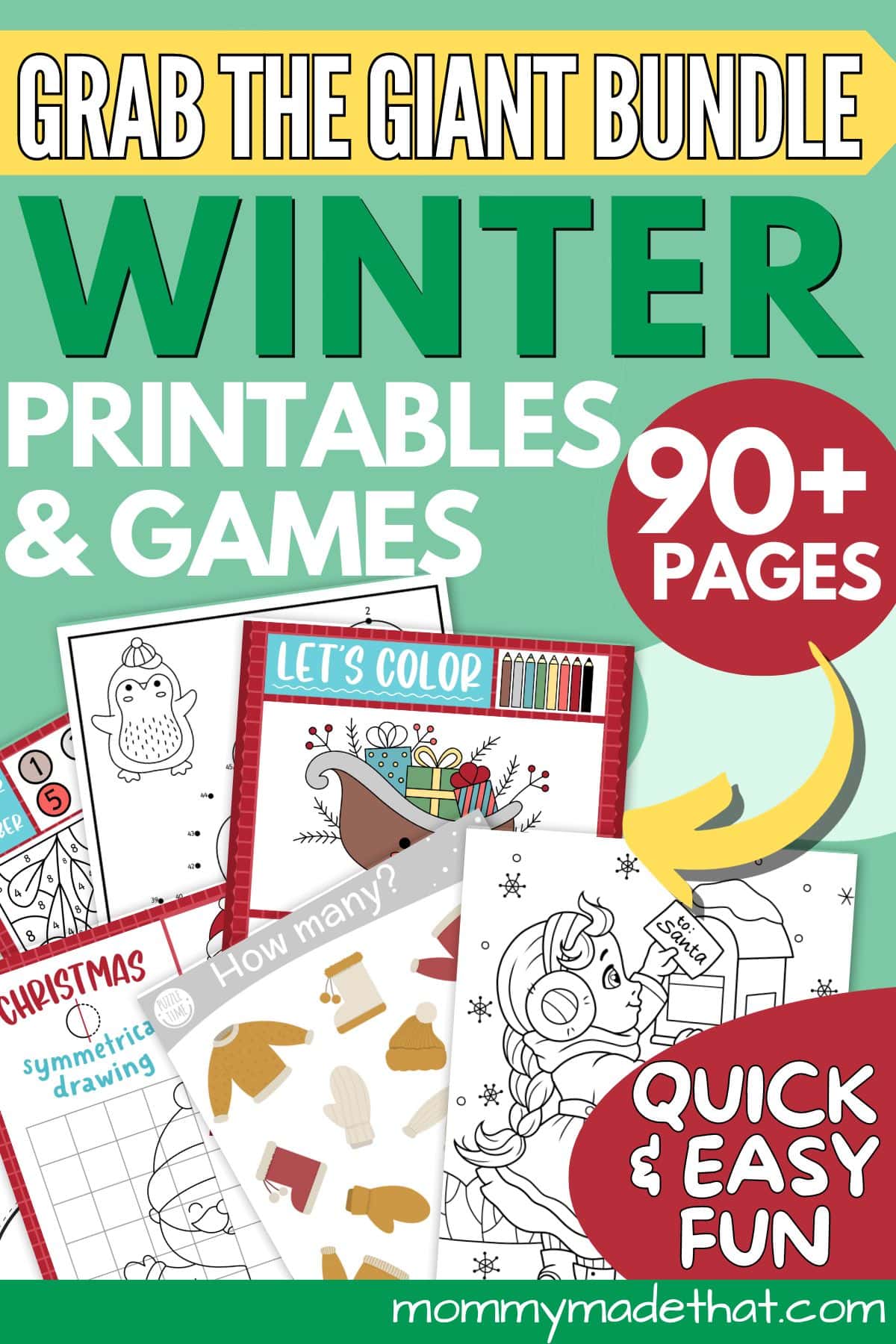 Younger kids will get a kick out of our "Christmas Printable Dot to Dot," while our "Christmas I Spy Printable" is a game of keen-eyed discovery for all ages.
For the arts and crafts aficionados, you won't want to miss our "3D Printable Christmas Trees"—a delightful decor project for the festive season.
So go ahead, dive into these magical activities and make this Christmas the most memorable one yet!