Printable Christmas Scavenger Hunt
Today we've got a fun Printable Christmas Scavenger Hunt! It's a quick and easy way to add some fun this holiday season!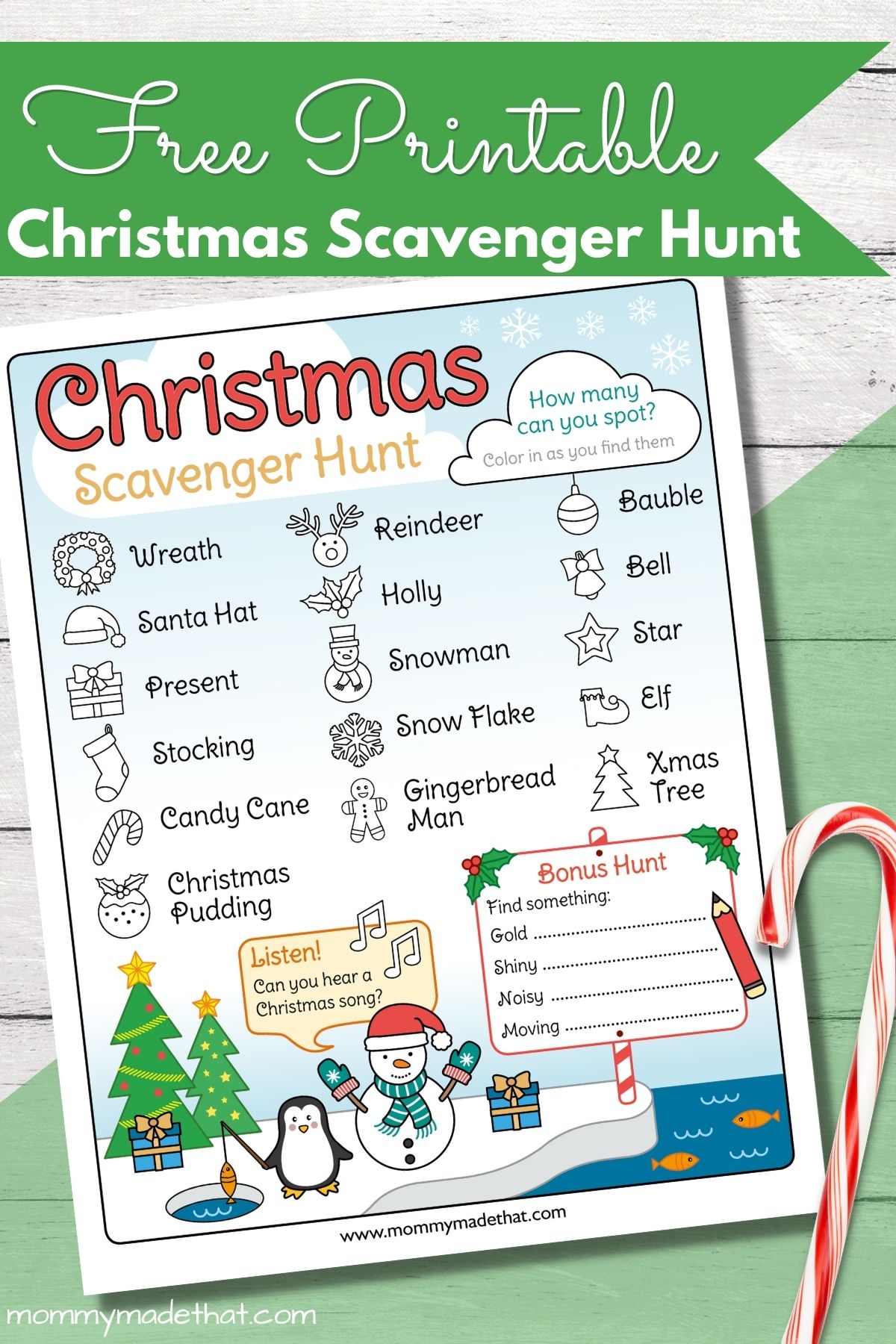 We've got tons of great Christmas Printables! This scavenger hunt is just one of them!
A family favorite activity during the holidays is a good old-fashioned scavenger hunt.
This Christmas Scavenger Hunt is a quick and easy way to incorporate a fun family tradition you can start this year!
Scavenger hunts are a great way to get families bonding while searching for hidden treasures.
It helps everyone look around and see all the Christmas magic around them.
With all the business of the season, we wanted this to be as easy as possible.
So this scavenger hunt has all the Christmas goodness, without having to prep or set anything up.
For more Christmas printable games fun check out our pin the nose on the snowman game and our roll a snowman game.
Make sure to check out our Fall scavenger hunt and Winter scavenger hunt as well!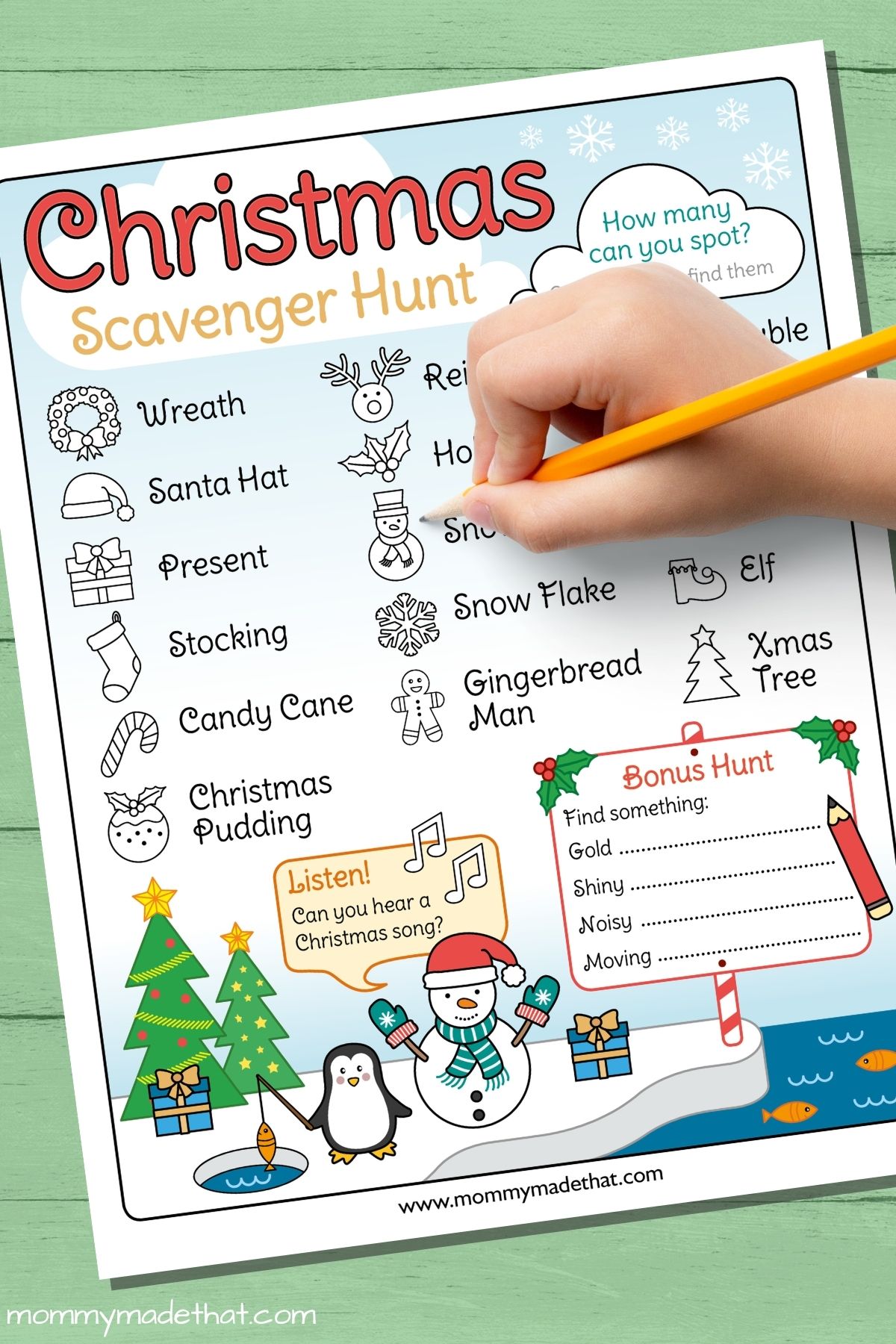 How to Use the Christmas Scavenger Hunt Game Printable
For this scavenger hunt all you have to do is print out the sheet for each person or group playing.
I like to make an individual copy for each kid, as they love coloring in the Christmas items as they find them.
The scavenger hunt includes the following holiday items:
Wreath
Santa hat
Present
Stocking
Candy Cane
Christmas Pudding
Reindeer
Holly
Snowman
Snow Flake
Gingerbread Man
Bauble
Bell
Star
Elf
Christmas Tree
There are also some bonus items for them to find. They include finding something gold, something shiny, something noisy and something moving.
It's fun to see them getting their noggings going to figure out what can fit those categories.
When to Use the Scavenger Hunt
Now I don't suggest just printing this out and handing it to the kids to do around the house.
Instead, this would be a great printout to give them and take while doing a bit of Christmas shopping for other family members and even sitting down for a few holiday treats.
You can then take the time to sit down and talk about what items you've seen on the list so far and where they can keep their eyes peeled for finding more items on the list.
You can also offer a prize for those who reach a certain number of items!
After all, what is a Christmas scavenger hunt without a fun prize to try for?
I suggest something small or useful like a special holiday mug they can use during the Christmas season or a cute little unique ornament to put on the tree that represents just them.
They'll remember it as a fun event and some good family bonding that will surely get them in the holiday spirit.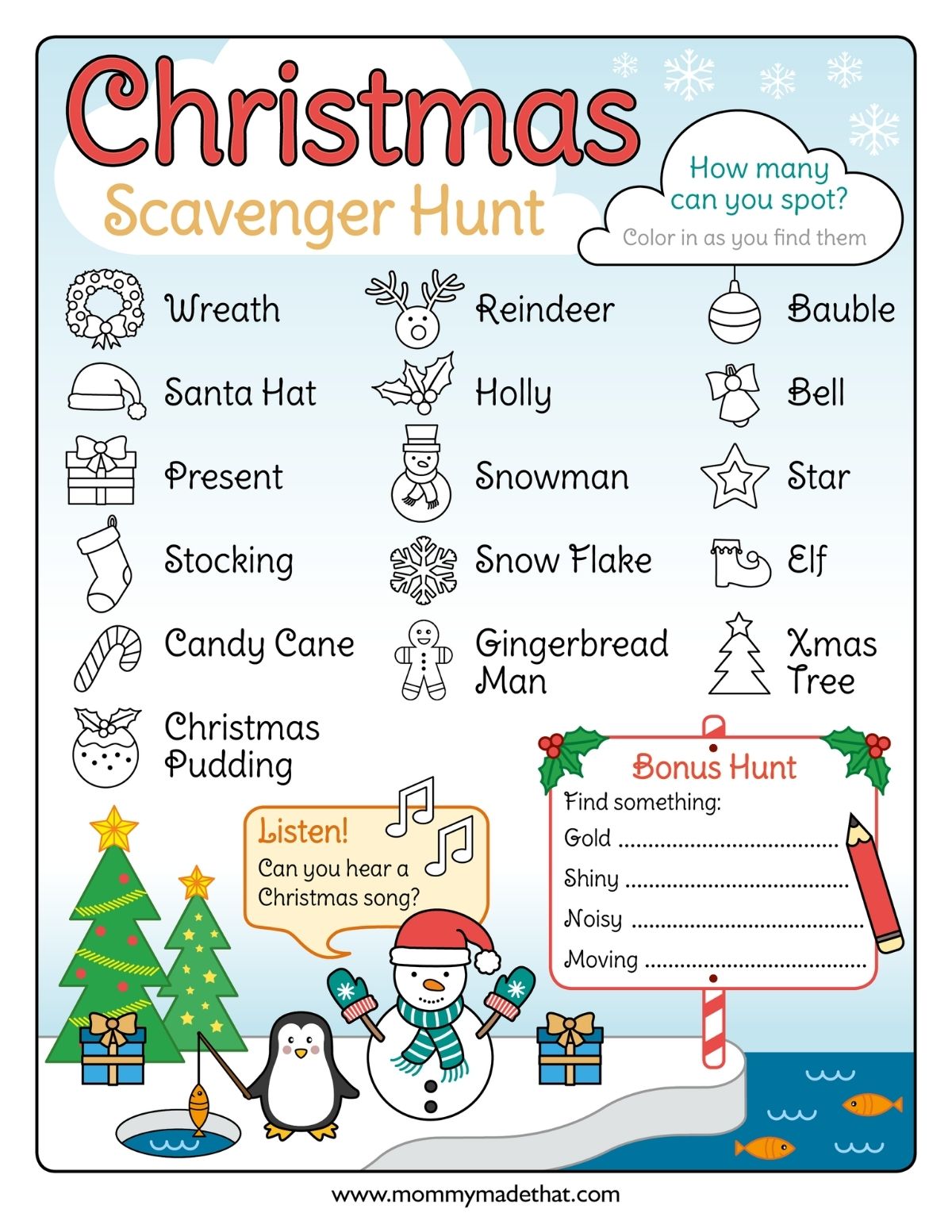 How to Grab the Christmas Scavenger Hunt Printable
Don't just print out the picture of the printable above. The quality will come out terrible! You'll want to download the free PDF.
To grab our printable PDF, simply head over to our printable library.
Scroll down until you see the heading titled "Christmas Scavenger Hunt" and then click the link below it that says "download the printable"
Make sure to check out some of the other fun printables in there!