Thankful Turkey Printable
This thankful turkey printable is perfect to help kids come up with ideas on what they're thankful for. The cute turkey can be filled with ideas on why kids are thankful and then colored and hung up as a reminder to what we can be grateful for.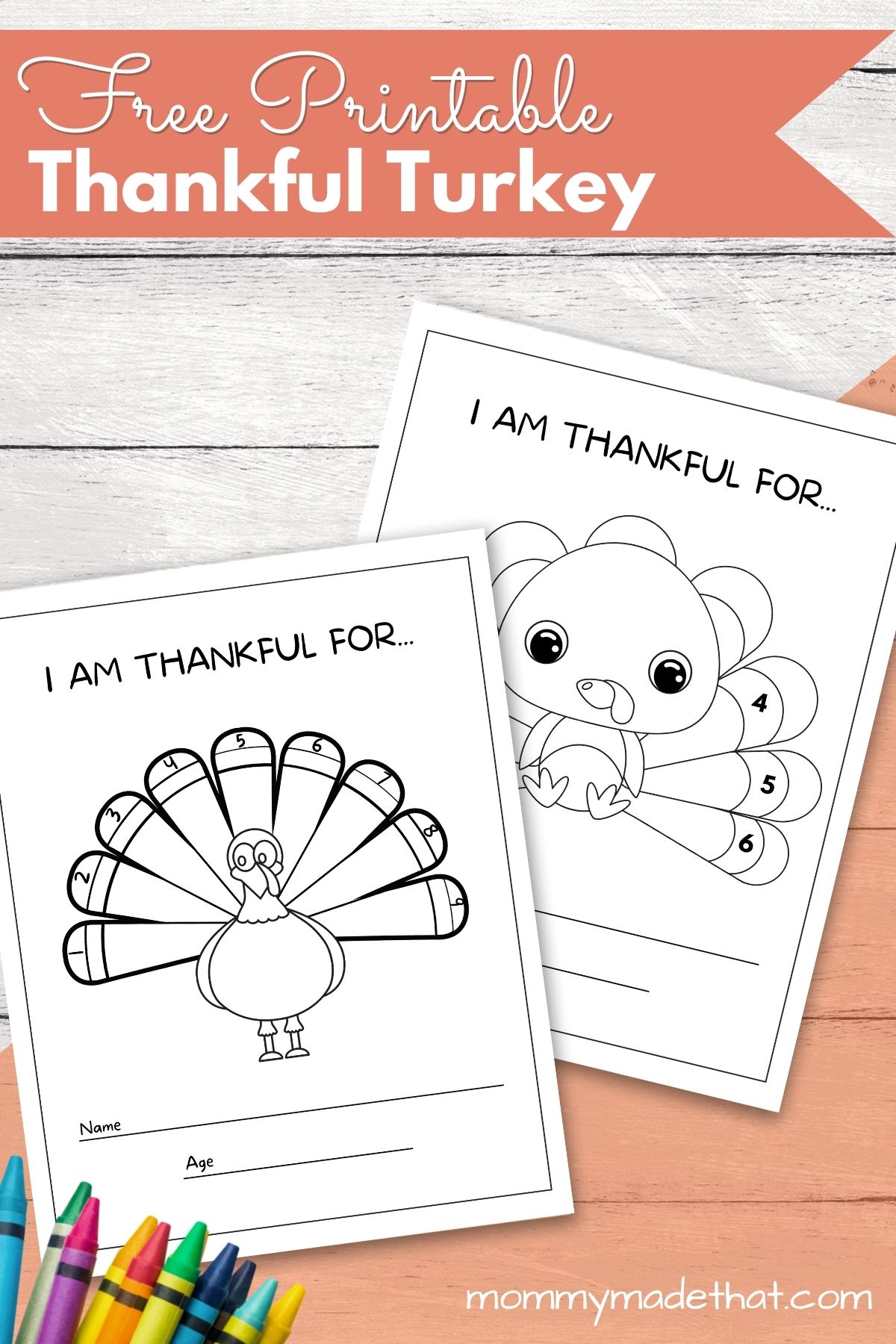 The fall weather has been rolling in and soon families will be gathering to celebrate Thanksgiving.
After all, Thanksgiving is all about giving thanks! Which goes hand in hand with gratitude.
We have lots of fun Thanksgiving printables and Thanksgiving activities for kids like our thanksgiving activate mats and our disguise a turkey project.
These fun thankful turkey printables are perfect to help kids get what they're thankful for out on paper.
They double as a fun coloring page too, but you should also grab some of our free turkey coloring pages.
We create two different turkeys to suit different ages. The baby turkey is good for smaller kids to write a handful of things they're grateful for.
Or they can get mom or dad, or any family member to help them write out what they are thankful for.
Make sure to check out our fun turkey crafts like our toilet paper roll turkey craft and our turkey popsicle stick craft too.
How to Use the Thankful Turkey Printable
To use the printables, simply print them out and have your child, or all the family members for that matter, write in each feather something they are grateful for.
The smaller turkey has 6 feathers while they bigger turkey has 9.
This makes a great writing prompt for an easy activity to help everyone remember what they are thankful for.
It's also interesting to read what they kids come up with. You'd be surprised what they find important to them.
These are also great for classroom use. Print out a bunch of these turkey printables and use them as a fun thankful activity for your students before Thanksgiving.
The Large Thankful Turkey Template
This is the larger turkey template and is great for older kids and family members. It states "I am thankful for" at the top and numbered feathers.
Smaller Thankful Turkey Template
This smaller turkey printable has a super cute little baby turkey. It's fun for preschool kids, and they can get help from an adult to fill out the feathers.
Make sure to provide crayons or colored pencils so they can color their turkey in after they write what they're thankful for.
How to Get the Thankful Turkey Printables
To grab our free Thankful turkey printables, put your email in the box below. We'll send them straight to your inbox along with some of our other awesome freebies.
These printables are for personal or classroom use only. Not for commercial use. Thank you!
Printing Tips
When you download the PDF file, it comes with two different printable versions.
To save on paper and ink, go to printer settings and select just the page number you want to print out before printing.
Happy Thanksgiving!