Adorable Toilet Paper Roll Turkey
Today we have a toilet paper roll turkey! This little cardboard turkey is super cute and we've made it so easy! It's a great fall craft for kids. We'll even give you a free printable turkey template to help you make your craft!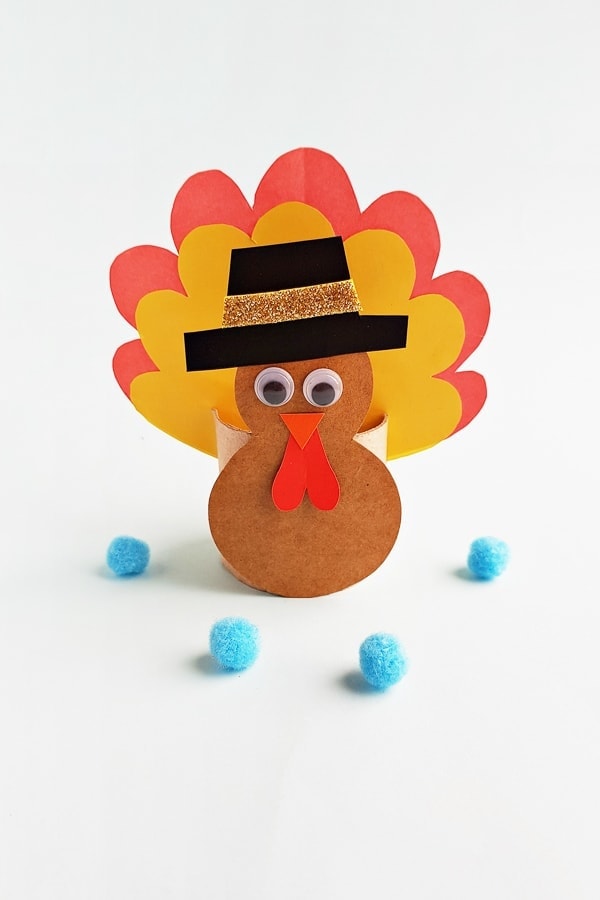 Thanksgiving is coming up soon! So we've been breaking out all of the turkey crafts!
They are great for getting kids in the spirit of the holidays.
Today's turkey is made from colorful craft paper and a toilet paper roll. And we love all sorts of fun toilet paper roll crafts.
He's even got a fancy hat!
Make sure to grab our free printable turkey template to make this craft super easy. And did I mention this is a fantastic Thanksgiving craft?
If you like this craft, be sure to check out more turkey crafts like our popsicle stick turkey and our adorable paper bag turkey craft!
Supplies Needed for This Toilet Paper Roll Turkey Craft
Colored craft paper: You can use construction paper or colored craft paper from the craft store. We used different shades of brown, red, orange, yellow and black.
Glittered Foam Paper: This one is optional, but so much fun. We just used a tiny piece for the brim of the turkey's hat.
Toilet paper roll: We end up with tons of toilet paper rolls in our house. We only need half a toilet paper roll for each turkey. The body of the toilet paper roll helps the turkey to stand up on it's own. Although one of our clever readers used hers as napkin holders at the Thanksgiving table.
Turkey Craft Template: You can grab the free printable at the bottom of the post.
Googly eyes: To give our turkey some fun eyes. But if you don't have googly eyes on hand, you can draw some on white paper or use our free printable eye templates.
Pencil: To trace out the turkey shapes onto the colored paper.
Scissors: To cut with
Craft Glue: Glue sticks work great for this, but so does regular elmers glue or even a hot glue gun, with adult supervision of course.
How to Make a Turkey out of a Toilet Paper Roll
Now that you know all the supplies you'll need to turn a toilet paper roll into a turkey, let's go through each step of this fun little craft.
Step 1: Using the Turkey Template Pieces
Start by picking out your colored craft papers. If you're going for realistic looking turkey colors, grab shades of brown, red, orange, yellows and black for the hat.
Then download and print out the toilet paper roll turkey craft template, which you can grab at the end of the tutorial.
The template includes each piece of the turkey.
2 tail feather pieces
1 hat
1 ribbon strip
the turkey Body
beak
wattle
If your craft paper is thin, you can trace the shapes straight onto the paper.
If your paper is thicker, we recommend cutting out the pieces, tracing them onto the craft paper, then cutting those out.
This is a great dexterity exercise for kids!
Step 2: Start assembling the Turkey Pieces
Start by gluing the smaller tailpiece onto the bigger tailpiece, creating a colored layered effect.
Then attach the wattle and beak to the head of the turkey body piece.
Finally attach the stripe of the hat, to the hat piece itself. We used a fun piece of glittered paper, but you could replace it with some real ribbon if you have some thin enough.
Step 3: Piece Together the Turkey Body
Now you can attach the hat to your turkey and a set of googly eyes to make your paper turkey come to life.
Step 4: Adding the Toilet Paper Roll
Now cut a toilet paper roll in half.
Now cut 2 slits on to either side of the toilet paper roll, across from each other.
We made ours about 1 inch deep, like shown below.
Step 5: Placing the Tailfeathers into the Toilet Paper Roll
Next, you'll want to insert your turkey's feathers or tailfeather piece into the slits, so it sits within the toilet paper roll.
Step 6: Attaching the Turkey Body
Now, using craft glue, attach your turkey's body onto the outer surface of the tube.
You'll want it on the front so the full tail feather piece is visable when your looking at the turkey's face, like shown in the photo below.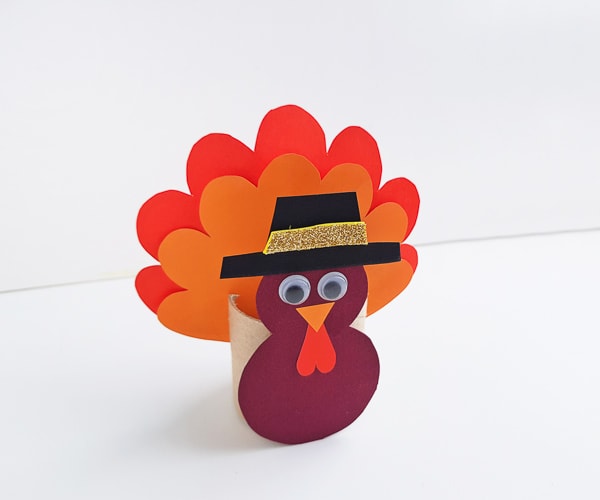 And that's it! Your toilet paper roll turkey is all finished!
Aren't they cute! These little turkey's stand up all by themselves because of the stability of the toilet paper roll.
These would make really cute Thanksgiving place holders or napkin rings!
You could easily write each persons name on the tail so they have a cute place setting!
Grab the Turkey Template
To grab the free printable turkey template, put your email in the box below.
We'll send the printable straight to your inbox along with some other fun freebies.
Other Fun Turkey Activities
Be sure to grab our free printable thankful turkey printable as well. It's a great activity for kids to reflect on all they are grateful for this fall.
We also have this awesome turkey disguise project where kids can help piece together a disguised turkey or make their own turkey disguise to help their friend escape from being Thanksgiving dinner.
And finally, be sure to grab some of our thanksgiving kids placemats that have fun activities and games to play.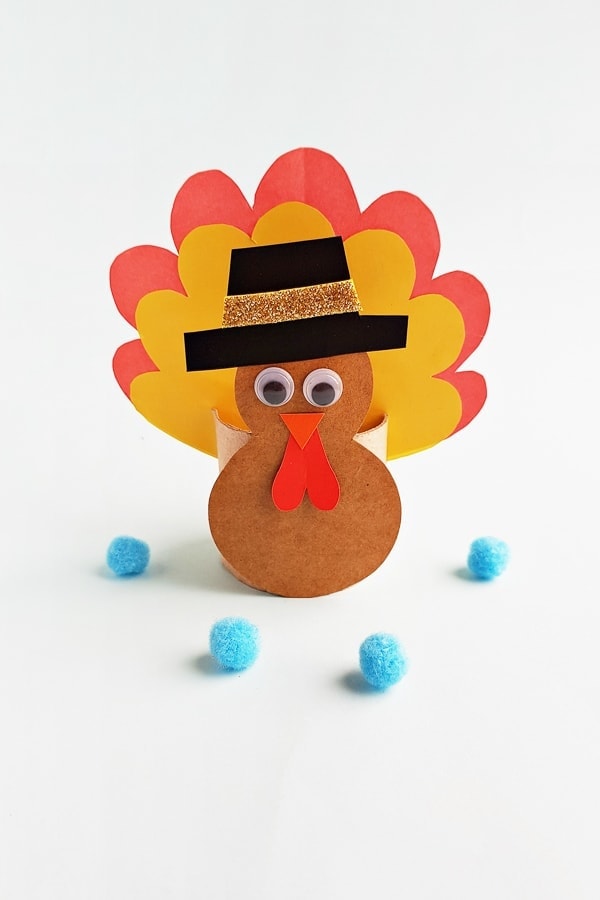 Yield:

1 Cute Turkey
Toilet Paper Roll Turkey Craft
This adorable little Thanksgiving turkey is made from a few pieces of scarp paper and a toilet paper roll! You can cut out the shapes from paper or use our printable to make it super easy.
Materials
Colored craft paper
Glitter foam paper (optional)
Toilet paper roll
Googly eyes (optional)
Tools
Pencil
Scissors
Craft Glue
Instructions
Download and printout the turkey template (or you can free hand the turkey shapes.)
Trace and cut out the turkey shapes onto colored craft paper.
Assemble your turkey pieces. Attach the wattle and beak to the head portion of the turkey's body. Attach the strap of the hat to the hat, and then attach the hat to the turkey.
Glue the two tail pieces together, placing the smaller pieces over the larger piece, and set aside.
Attach googley eyes to the turkey, or draw a set of cute eyes on your little guy.
Next take your toilet paper roll (we cut ours in half, and glue your turkey tail onto the back, facing the front of the turkey, so that the colors of the tail are displayed when he's facing forward.
Next attach your turkeys body to the front of the toilet paper roll. And you're all done!
Notes
If you leave your toilet paper roll full length, you could turn the tail around so the pretty colors are displayed from the back, since they won't be as visible from the front.