Adorable Dog Puppet Craft with Printable Template
This adorable puppy craft comes with a printable dog puppet template. Its an easy craft for kids that is a fun toy to play with afterward!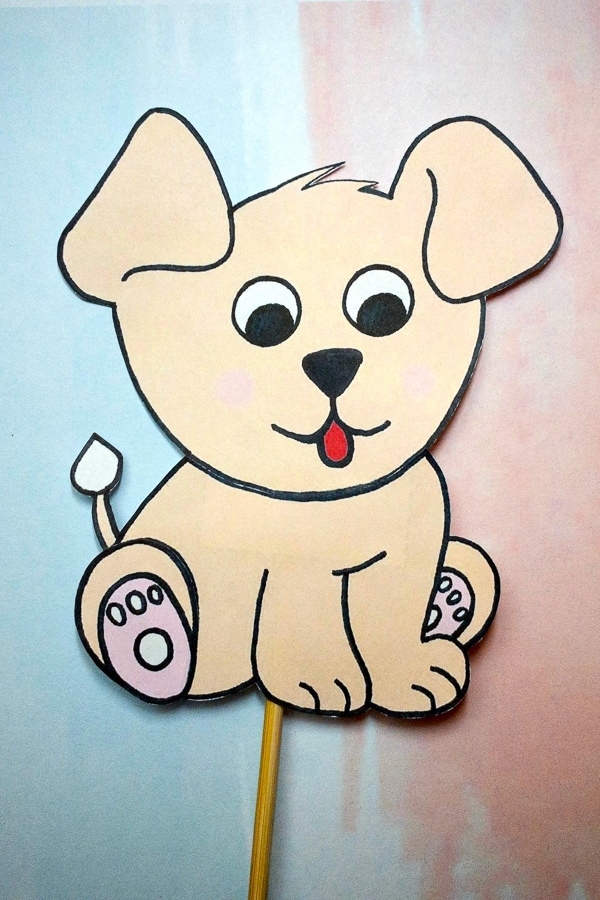 We have an adorable dog puppet craft today!
We made this one super easy and fun by giving you a printable template and video directions!
The best part is, for this dog puppet you probably already have everything you need around the house.
This post may contain affiliate links. This means if you make a purchase, we may earn a small commission.
Supplies for Dog Puppet Craft
Our printable Dog Puppet Template (Grab it from the printable craft library!)
Scissors
Scotch tape
Glue stick
A stick to attach your puppy puppet (A straw would work great too)
To Make Your Dog Puppet Craft
First, make sure to grab our free printable dog puppet craft template out of our craft library.
It's best to print it on thicker cardstock paper, but regular paper would work too.
Then start cutting out all of the pieces of the dog puppet. Make sure to leave the square tab under the dogs head so you can attach the rest of the puppet's body.
Once all of your puppets pieces are cut out, you can use the glue stick to glue the dog's body to his head.
After his body is secure, you can glue down the dog's paw and tail onto his body.
Once all of your dog puppet's pieces are attached, you can turn your puppet over and use a piece of scotch tape to attach him to the stick or straw.
Now, you'll have an adorable little puppy puppet. These are great for a puppet theater!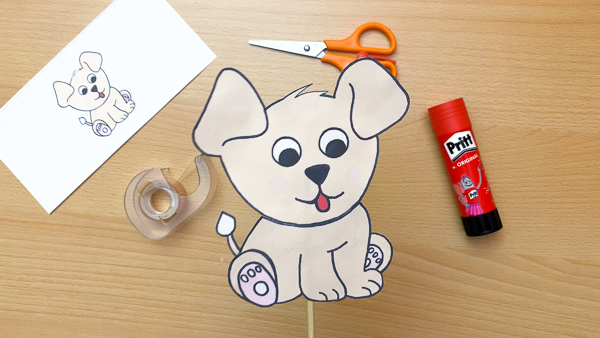 Make sure to check out our how to video at the top before you make your own dog puppet, and grab the free dog puppet template from our craft library!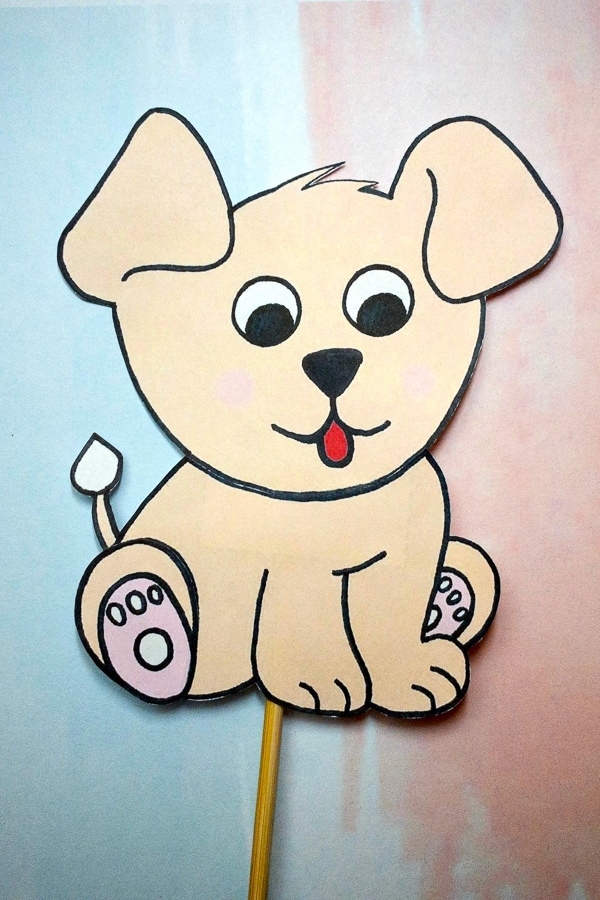 Yield: 1 Dog Puppet
Dog Puppet Craft with Printable Template
Active Time: 10 minutes

Total Time: 10 minutes

Difficulty: Easy

Estimated Cost: $

This cute dog puppet is easy to make with our free printable template! Simply print, cut and glue and you're done!
Materials
Printable Dog Puppet Template
Glue stick
Scotch tape
Stick or straw
Instructions
Print out your dog puppet template.
Cut out all of your dog pieces.
Glue the body onto the dog's head piece.
Now glue your dog's paw and tail onto the body of your puppet.
Now turn your puppet over and tape your stick straw onto your paper dog.
Enjoy your puppy puppet!