Cute DIY Valentines Day Wreath
This adorable little paper plate heart wreath makes such a cute DIY Valentine's day craft. It's super cute to hang up, and easy enough the kids will love making it!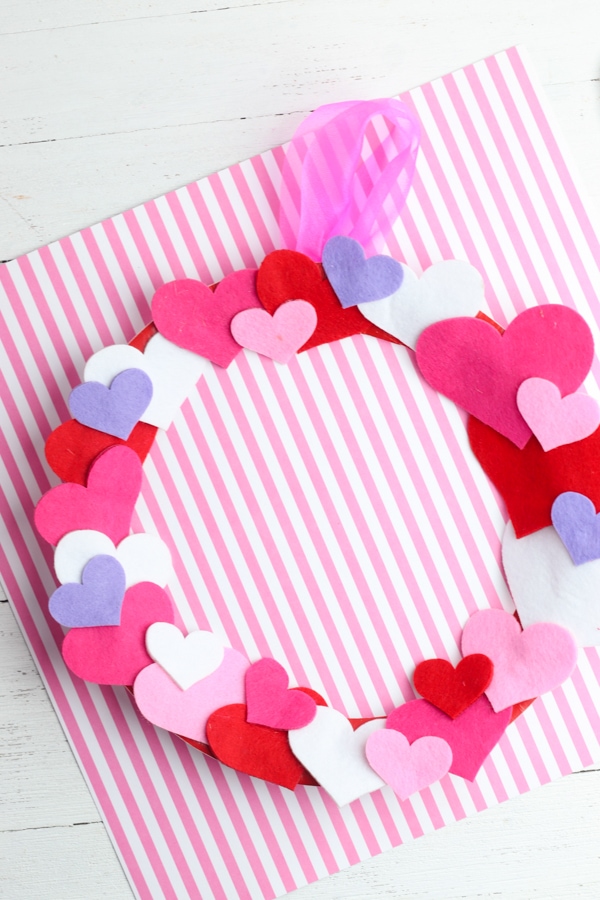 We took a few short cuts in this craft project today, making it a super easy craft for kids.
Instead of cutting up all those hearts, we used a pack of precut felt hearts and made this an easy paper plate craft.
If you'd like to create your own heart cutouts, make sure to grab our printable heart templates to make it super easy.
This means that the whole project was relatively mess-free and so simple to create.
A fun paper plate craft that's perfect for Valentine's day.
Supplies Needed
To make this fun little Valentine's day wreath, you'll need only a couple of supplies:
Paper plate (we used red)
Felt Hearts
Ribbon
Again, we used felt heart sticker cutouts we found at Hobby Lobby.
Making the Paper Plate Wreath
To make the wreath, start by cutting out a large hole into your paper plate.
We basically just cut the center out following the edge line where the paper plate starts curving upward, like shown below.
The heart stickers we used were in a large variety of sizes.
If you are using ones like we used, start filling in the wreath with the largest hearts first.
Once your paper plate wreath is completely covered with the large hearts, start filling in the rest of your wreath with the smaller hearts.
Now that your wreath is full of adorable little felt hearts, it's time to add your ribbon.
We simply made a loop using the ribbon and glued it to the back of the paper plate.
Tape would work well too!
Now you can hang your Valentine's day wreath from the ribbon!
Too cute right?
We love festive holiday decor, and Valentine's Day is no exception!