Since it's almost Christmas time, we thought we'd gather some of our favorite Jesus centered Christmas crafts and bring them to you in one place.
In fact, we think these would even be perfect as Sunday school Christmas crafts for kids.
We've got quite a few adorable nativity crafts and birth of Jesus activities for kids!
So we've rounded them all up in one place in case you're need some ideas for fun Sunday school Christmas crafts!
Here you'll find an array of crafts that are mostly pretty easy and great for younger kids like preschoolers and even a couple for older kids too!
We hope you find the inspiration you're looking for.
Mary & Baby Jesus Paper Ornament Craft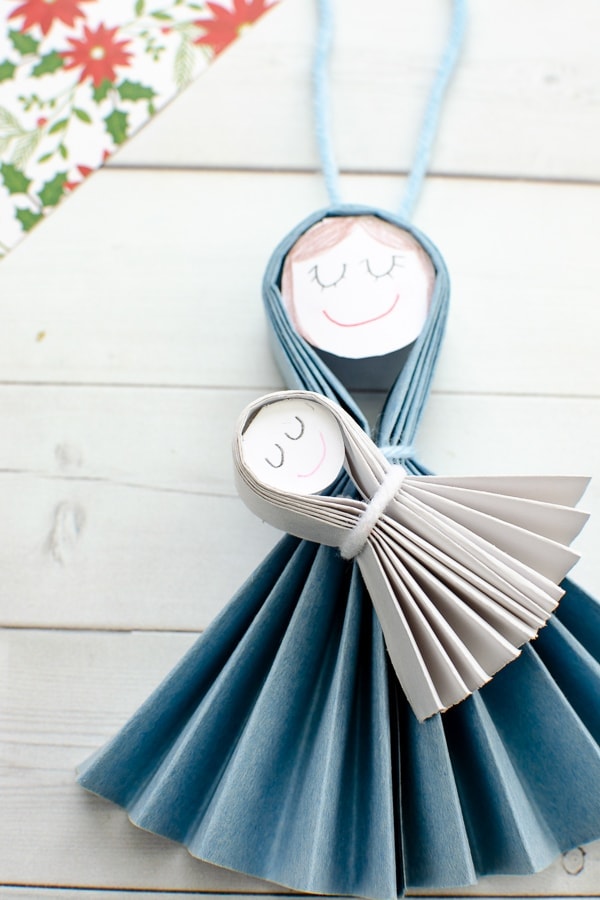 This Mary and Baby Jesus Paper Ornament Craft is surprisingly easy craft for kids to make.
With just a couple piece of paper you can easily create a few of these adorable little ornaments.
Baby Jesus looks so sweet snuggled up in Mary's arms.
What a wonderful way to celebrate Baby' Jesus's birth.
It's a sweet Christmas craft for Sunday School that younger kids will definitely enjoy.
Nativity Wreath
This adorable little nativity wreath craft would be a fantastic Sunday School nativity craft for older kids.
The wreath is really easy to make especially if you use our printable template for the nativity scene.
Simply cut out all the felt pieces of Mary, Joseph and Baby Jesus, create your wreath and assemble the pieces together.
These would be adorable all lined up together, but a fun craft to take home and decorate their own door with.
Plus kids love creating their own little nativity scenes, so this will be a winner for sure!
Crumpled Paper Nativity Craft for Preschoolers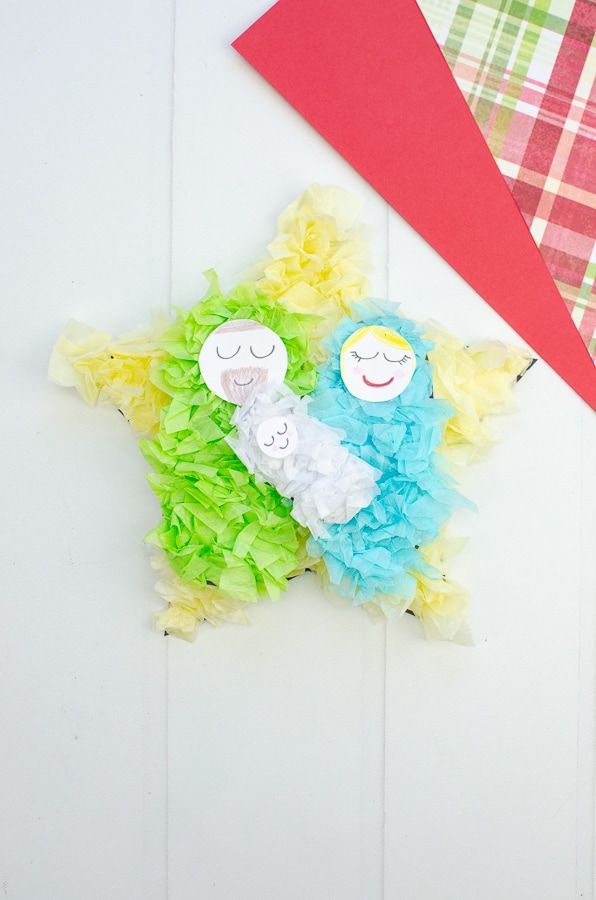 This Nativity Craft for Preschoolers is another fun nativity scene craft perfect for the younger kids.
The nativity scene is created almost exclusively from crumpled paper and makes an adorable star shape the kids will love.
Of course, within that star is Joseph, Mother Mary and baby Jesus.
The craft itself is a great sensory activity and allows even young children to create an awesome looking scene of our favorite Christmas family.
Easy Heart Nativity Craft for Kids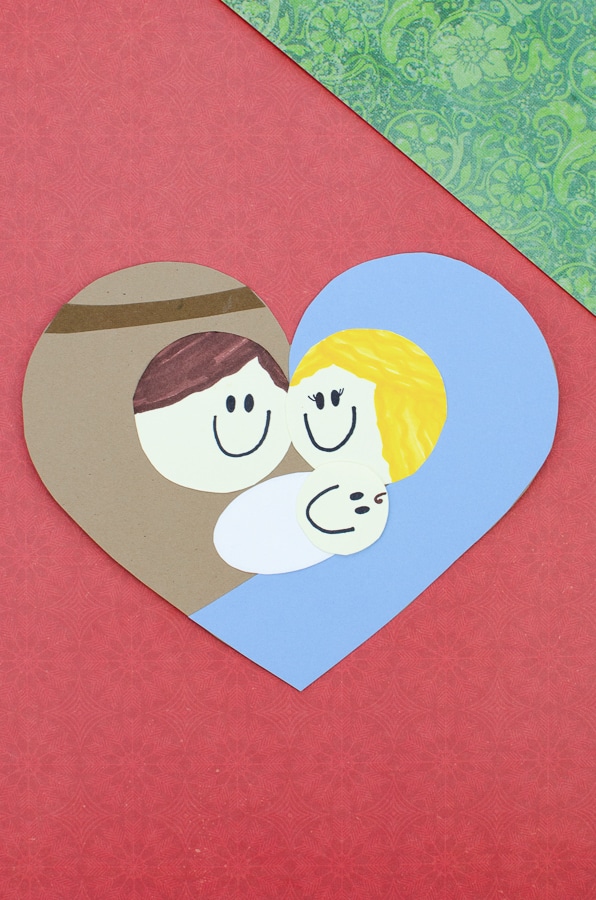 This adorable but easy nativity craft for kids is made from a heart!
Simply download the printable template and either color in all the pieces, or trace and cut them out onto color craft paper or cardstock.
Then assemble mother mary, joseph and baby Jesus to create an adorable nativity scene, perfect for celebrating Christmas.
The family all together forms a seriously cute heart shape. It would make a cute ornament or be perfect to glue down to a handmade card.
It's a great Christian based Christmas craft for kids.
Cupcake Liner Manger Craft for Kids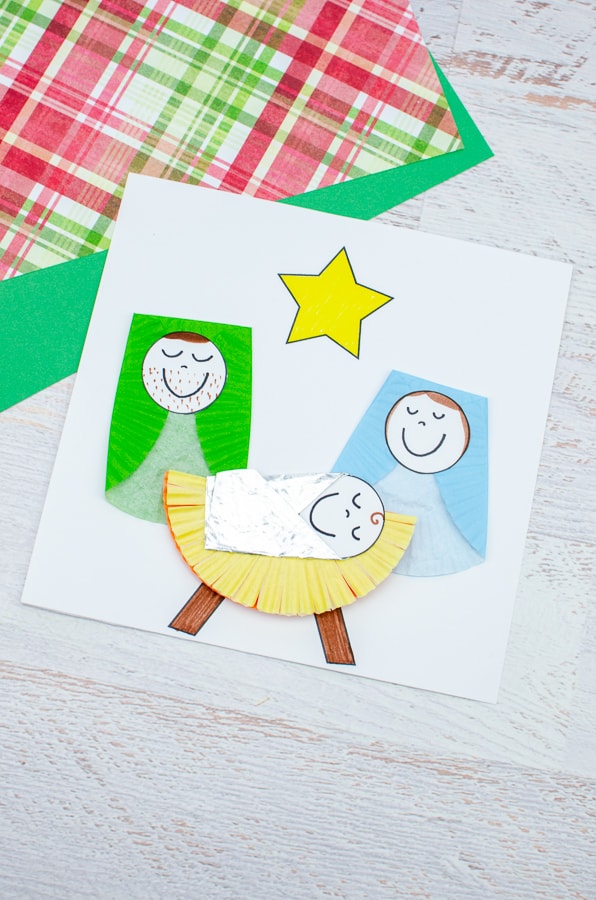 This adorable little manger craft for kids is a cute and easy way to celebrate the Christmas season!
Just download our printable manger template and add a few cupcake liners and you're good to go!
Younger kids will have a blast making the manger, setting up the nativity scene and wrapping up baby Jesus in a special little cupcake liner blanket!
Graham Cracker Nativity Scene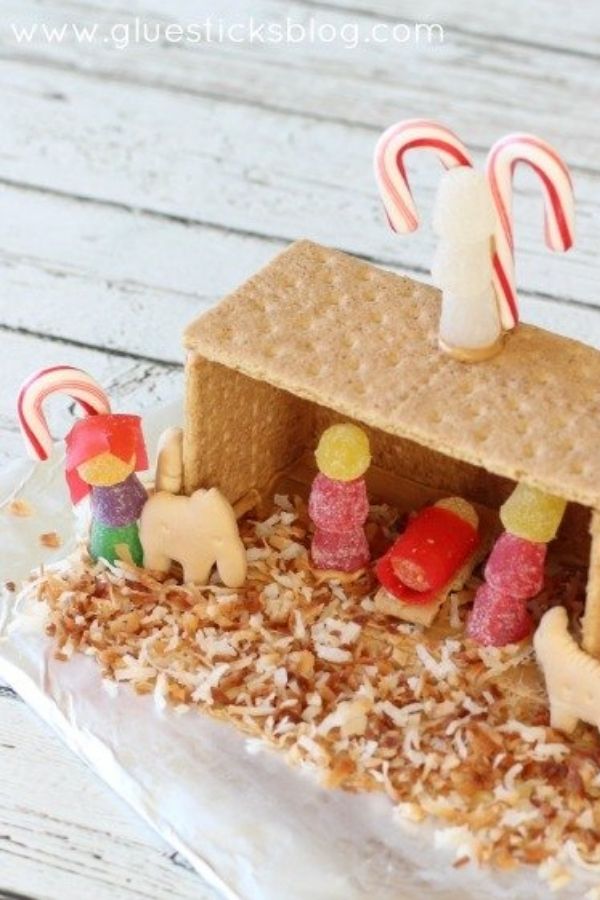 This graham cracker nativity scene craft is made from yummy treats.
It's much like a ginger bread house, but with baby Jesus. The way that they got creative with the whole scene is just amazing!
They included gum drops and roll ups for the bodies, animal crackers for the... well animals, and tiny candy canes for the angels wings.
I could see kids having tons of fun creating their own nativity scenes from edible goods.
Baby Jesus in the Manger Craft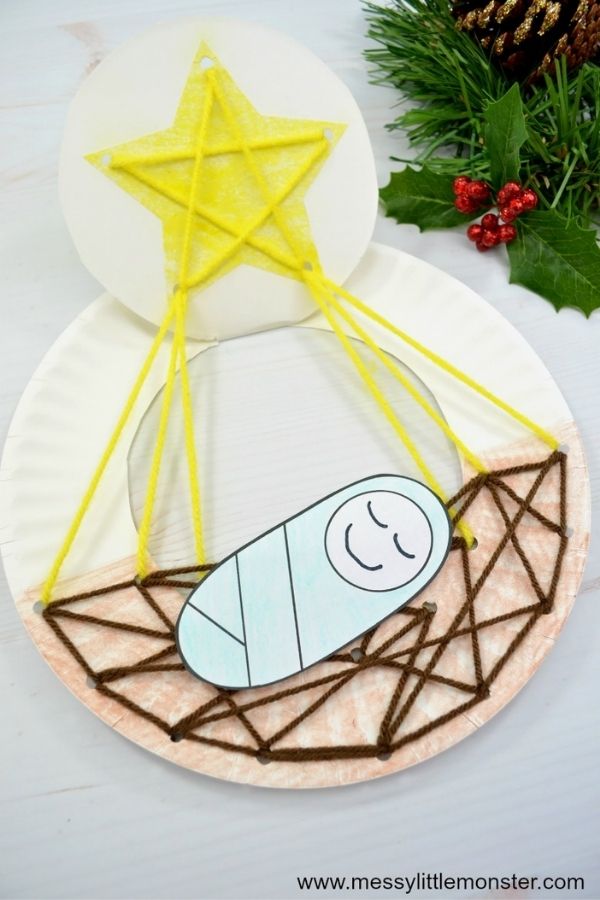 This adorable baby Jesus craft features baby Jesus in a cozy manger bed made from yarn.
I love that this craft is great for younger kids. You print out the free printable at Messy Little Monster and then cut baby Jesus out.
Then you prep your paper plate to make his bed and the bright star from which shines it's light.
It's a great way to practice hand eye coordination and makes an impressive looking craft for the kids to bring home as Christmas decorations.
DIY Nativity Scene Ornament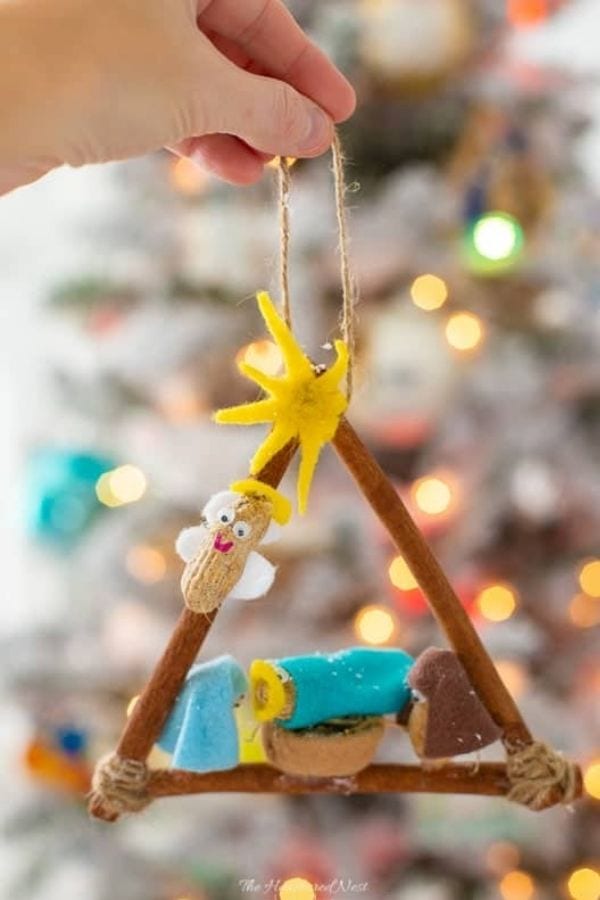 This DIY Nativity Ornament is just to stinking cute!
It's made from cinnamon sticks, twine, peanuts and some felt!
The kids would have a blast creating these little nativity ornaments to take home and put on their Christmas tree.
I love the bright colors added in with the natural browns from the peanuts and cinnamon.
It's a cute, yet fun way to capture the birth of Jesus that kids will just adore.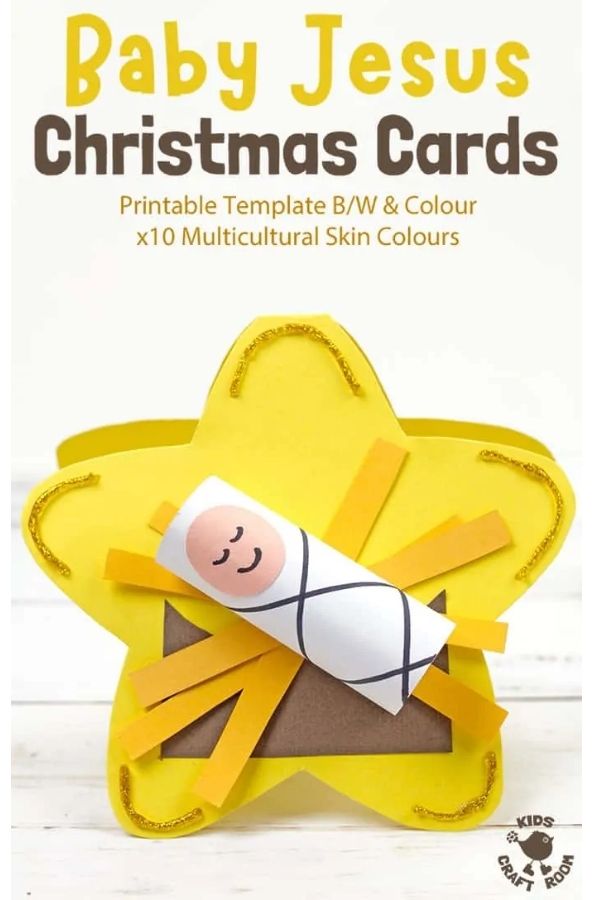 Another super cute idea for younger kids. Making a baby Jesus Christmas card.
This card features baby Jesus, asleep in his bed, centered onto a big bright yellow star.
Kids will love creating this craft and giving the card to a loved one or decorating the Christmas mantle with it.
They could even write their favorite verses from the bible inside the card.