This adorable little Nativity craft for kids is made from a paper heart! What a sweet way for kids to express their love for baby Jesus than through this little paper heart nativity craft.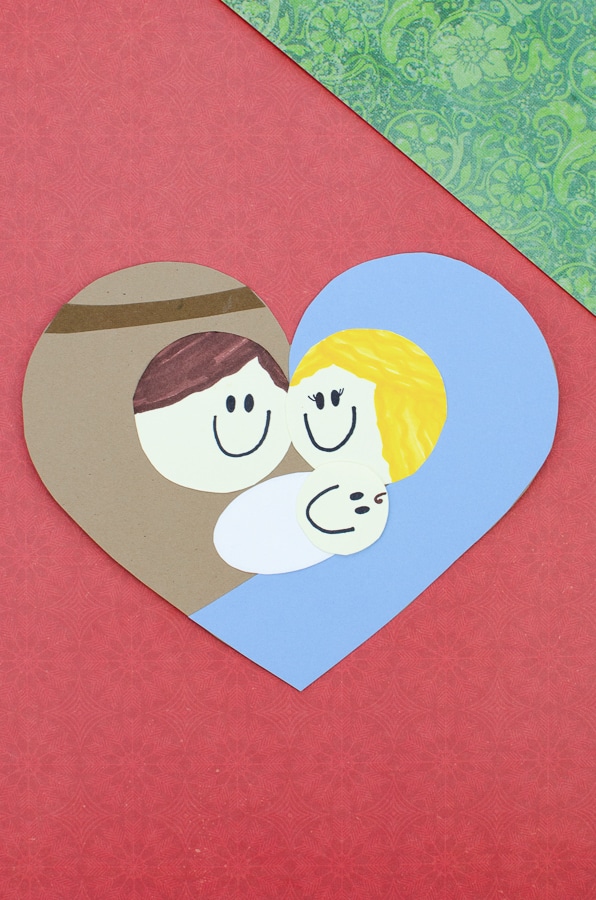 This sweet little craft put Jospeh, Mother Mary and Baby Jesus in the center of a great big heart.
What a sweet sentiment. Putting the holy family inside of a heart, representing peace and love.
This is a fantastic Sunday School Christmas Craft for an activity to celebrate Jesus's birth and such an easy craft idea for kids.
We'll show you how your kids can make their own little nativity scene in this step by step tutorial.
If you are liking this craft, make sure to check out our nativity star craft as well!
This post may contain affiliate links. This means if you click a link and make a purchase, we may earn a commission. You can read our full disclosure here.
Supplies Needed for the Nativity Craft for Kids
For this craft, you'll need our printable template, which you can find in our free printable library.
Printable Nativity Craft Template
Cardstock in dark brown, light brown, peach and light blue
Scissors
Glue stick
Markers in black, yellow and brown
Google eyes (totally optional)
Directions for Kids Nativity Craft
First, head on over to our crafty library and print out the nativity craft template and gather all of the other supplies you'll need for this nativity craft.
You can also find loads of other free heart templates if you want a different shape or sized heart background.
Then cut out all of the pieces from the printable template.
Next, trace the heart shape out onto the brown cardstock and cut it out. This will be Josephs's clothes.
Then trace out the hook shape onto the blue cardstock or craft paper. This will be Mary's clothing.
Trace the thin rectangle out onto dark brown paper or cardstock, and lastly the three circles onto peach or tan paper. (Or whatever color you want your family's faces to be.)
The oval you can leave as is, or trace onto whatever color you'd like.
All of your cut pieces should look similar to ours below.
If you'd rather, you could have the kids color the pieces of the template to create a fun coloring craft.
Next, glue the blue hook shape onto the right side of the brown heart piece.
Then take the markers and draw your faces onto the three circles. The largest will be Joseph, the medium sized circle will be Mary's face and the tiniest will be baby Jesus.
Glue Jesus's head to the white oval body. You can add the googly eyes, or just draw on a set of sleepy eyes.
Next, glue the dark brown rectangle to the left side of the brown heart.
Then glue on Joesphes face on the left side and Mary's face in the center of the blue hook.
Glue baby Jesus right under the two of them.
Now your Heart nativity craft is complete. The kids will love this one!
Other Jesus Christmas Crafts You'll Love