These free printable snowflake templates are perfect for creating fun arts and craft projects during the winter season!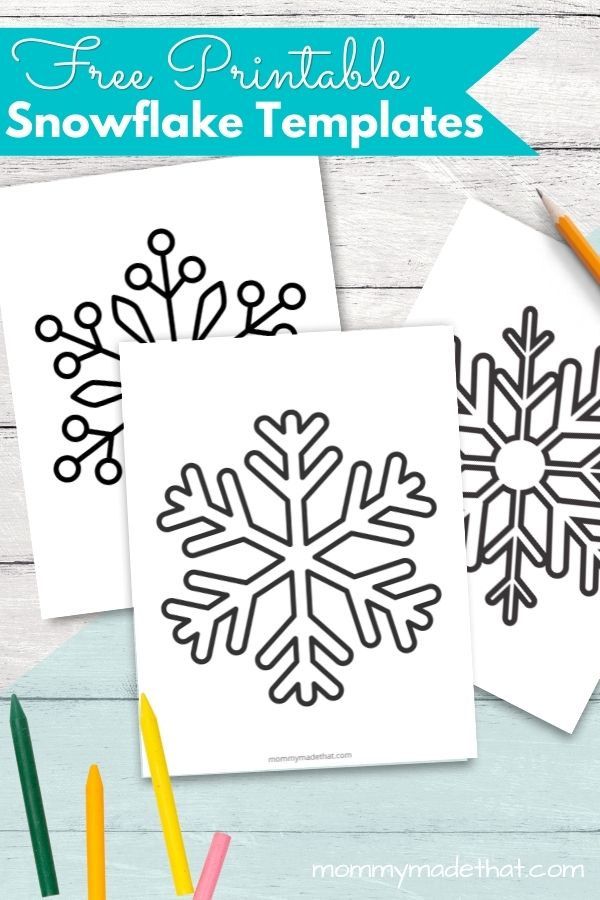 It is snowing outside and we are in the middle of the Christmas season! This means snowflake crafts, snowflake-inspired food recipes, and snowflakes everywhere.
If you want to add some creativity and fun to your holiday festivities, then these templates are perfect for you.
They're a part of our printable Christmas templates, like our candy cane templates and gingerbread man templates.
Here I will be giving you a ton of free snowflake template printables so that you can create your own custom snowflakes with kids (or yourself!) during the holidays.
Christmas snowflakes are so much fun to make and can be used in a variety of ways.
You can use snowflake cutouts as decorations on gifts or tree ornaments.
You can even print out the snowflakes and use a piece of parchment paper to create snowflake ornaments out of salt dough!
Or create snowflake window clings using the tutorial below and using the snowflake printables as your guide for drawing on.
We've created several different snowflake templates to help with your holiday crafting projects.
Although snowflakes may seem like they're just simple shapes, there's actually quite a bit you can do with them if you know how to draw one!
I'll show you some different snowflake designs below and give examples of how we've used these in our own craft projects.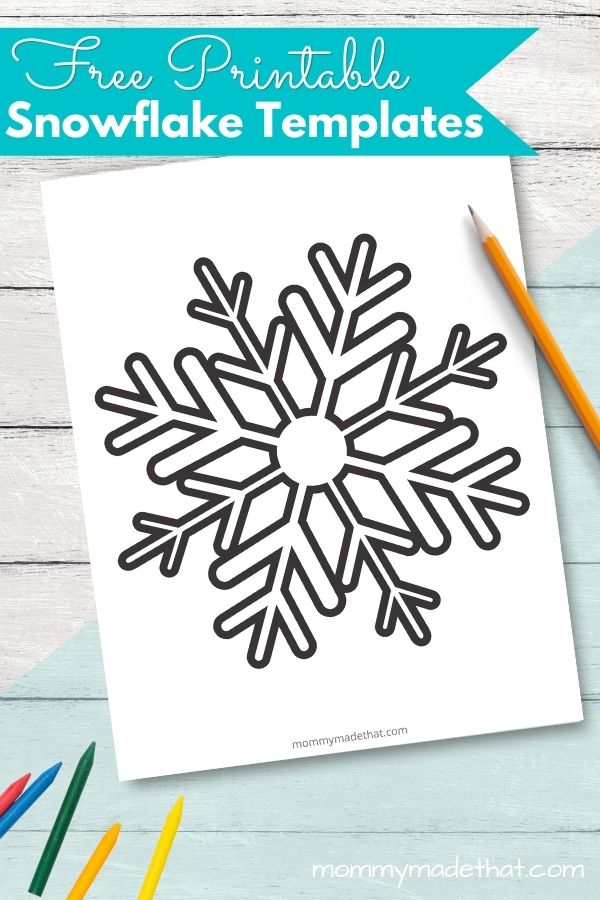 Creative Ideas to Use your Snowflake Templates
If you're looking for fun and creative snowflake activities for kids you can print out the templates and use them as cutting practice. The snowflakes can be used as stencils to trace around. You can even use them just as fun coloring pages.
We've used the more simple ones in the past and traced the snowflake form with Elmers white glue.
Then while the glue was still dry we sprinkled lots of glitter over the glue.
They created gorgeous glittery snowflake art projects that the kids were proud to hang on the fridge during the Christmas season.
Most of the templates are of large snowflakes. This gives you plenty of room to decorate the snowflake.
However, we included smaller snowflakes as well in case you wanted to create a pretty snowflake garland.
They are also the perfect size for pretty ornaments to hang on the tree.
How to Download the Templates
We wanted to make this as easy as possible for you to download your templates.
So all you have to do is click on the links below download (instantly) the printable PDFs. Then click print and you're all set to start crafting.
Large Snowflake Templates
Here are examples of the larger snowflake patterns.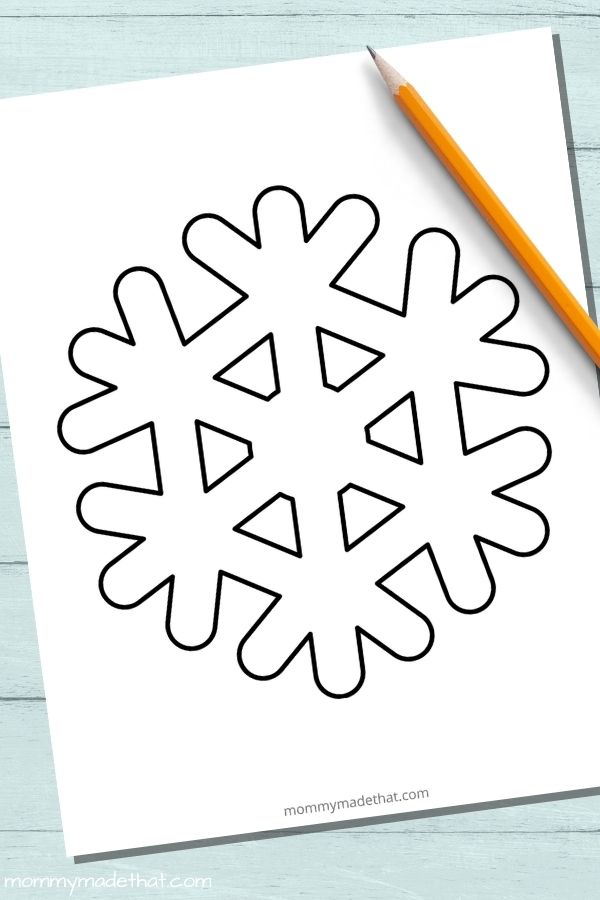 This snowflake pattern is nice and thick.
This is my go to template for creating crafts with the kids because it gives them plenty of wiggle room.
They are easy to color for my younger kids and easier to cut out since the shape of the pattern is more blunt.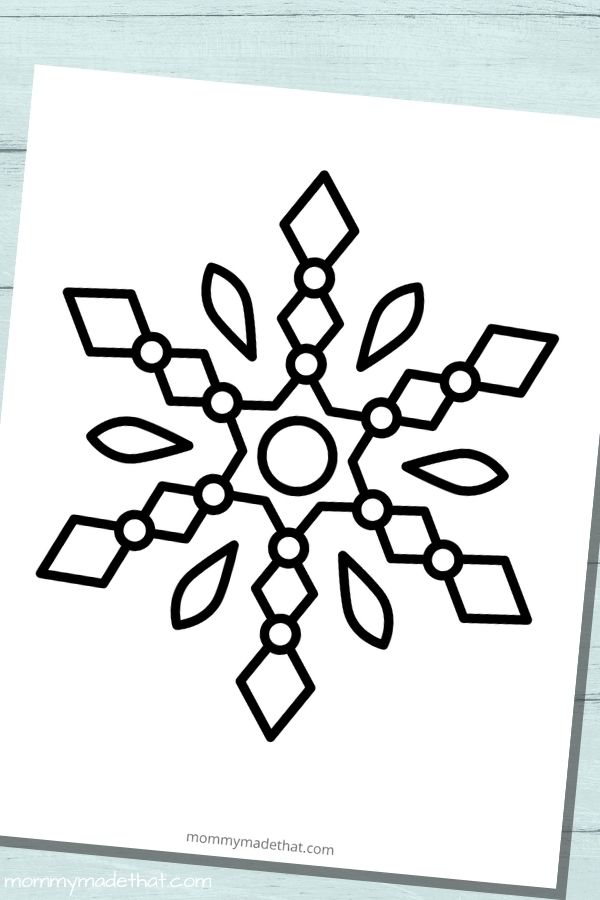 The older kids like coloring this one as it has more variety to add different colors.
My oldest colored this snowflake in with a variety of blues and she was so pleased with how it came out.
We also added some glue and glitter and she decided to cut it out and hang it on her door.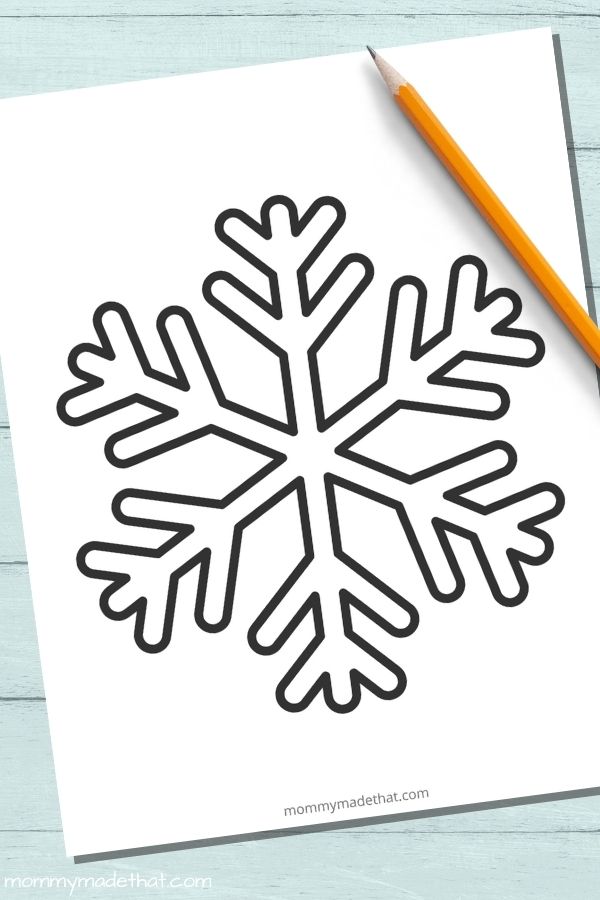 This is another great shape for crafts.
This one was fun to use as a template to create popsicle stick snowflakes.
We didn't glue ours down but used it as a template as a fun shape learning activity.
You do have to cut up some of the popsicle sticks for this activity.
We cut some in half on a diagonal so they'd sit well against the straight lines and it worked out really well.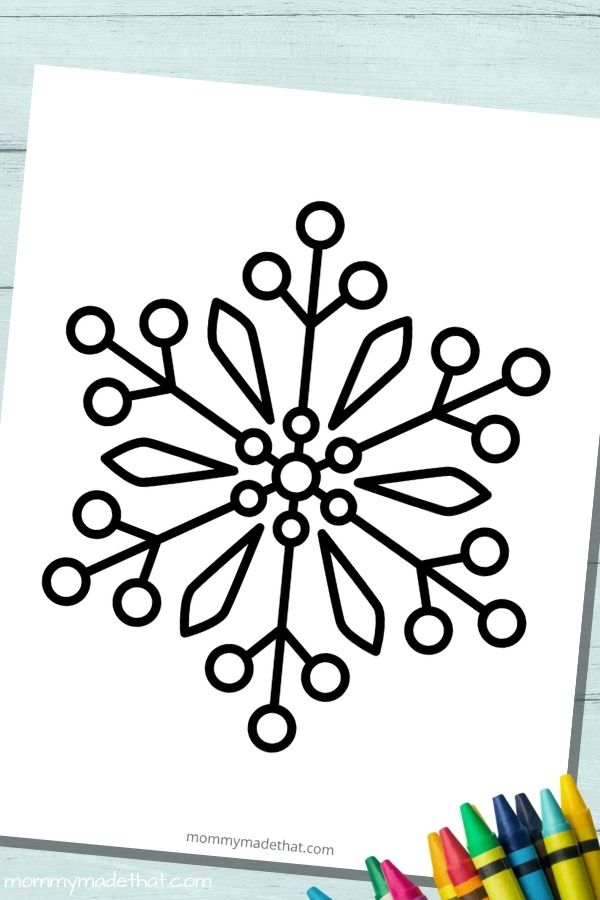 This is one of my personal favorite of the snowflake shapes. I plan on printing a few of these out and we are going to fill with glue and glitter. The circles at the edges of the snowflake will be so much fun with bright pops of pink glitter!
We have several more of the large snowflake shapes in our downloadable pack below.
Small Snowflake Templates
We included a couple of smaller snowflake templates too! These are great for smaller projects.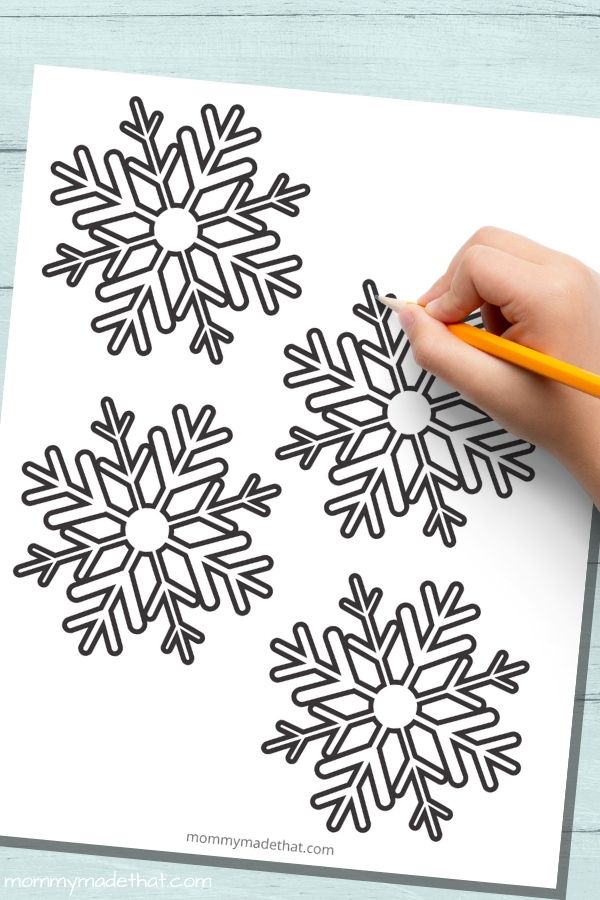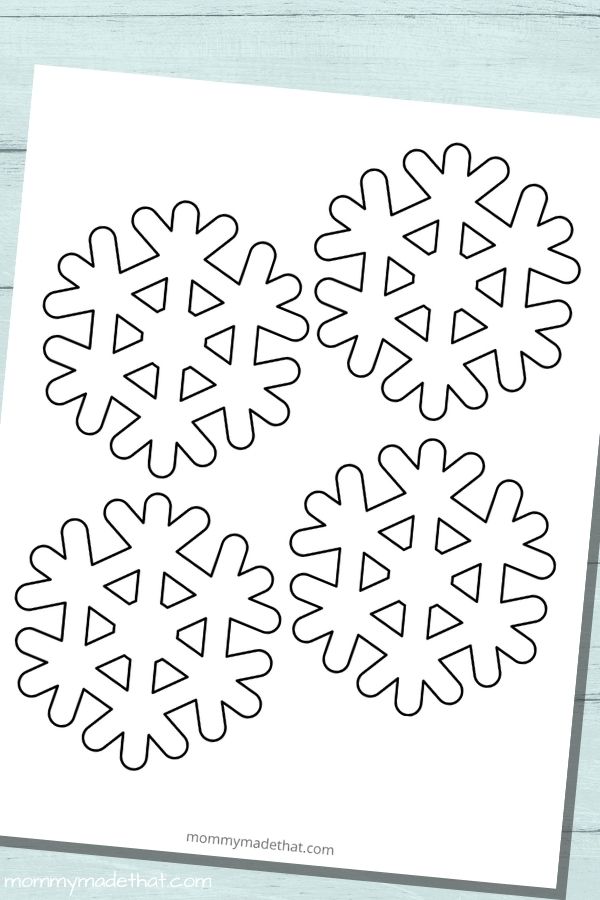 How to Download the Templates
To get all the snowflake templates, put your email in the box below. We'll send all of them plus other favorite free printables straight to your inbox!
These are for personal or classroom and educational use only. Not for commercial use. Thank you!
Snowflake crafts are a great way to keep kids entertained during the snow season.
All snowflakes, in general, are simple shapes and easy to cut and color in (perfect for snowflakes you want to make with the littles).
But snowflake templates give you additional creative options!
How will you use yours?