Christmas is just around the corner, and whether you are looking for Christmas tree templates or crafts ideas, there are plenty of Christmas tree printable designs to choose from, right here and completely free!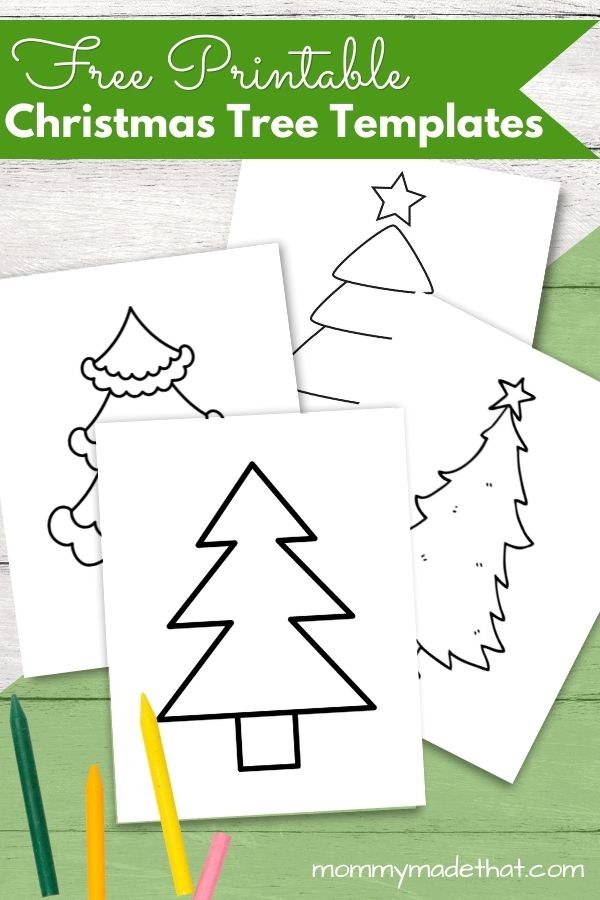 These printable Christmas tree patterns are perfect for children's crafts or to turn into Christmas decorations.
You can use them on their own, or pair them with one of our other Christmas printable templates, like our candy cane template and our snowflake templates.
You could use them to decorate your own tree, create fun Christmas cards, gift tags and wrapping paper. They can also be used as place card holders for Christmas dinner too!
All of these templates are completely free and ready to download!
We've provided large Christmas tree patterns as well as a small Christmas tree template for smaller craft projects.
Make sure to check out our other fun Christmas tree crafts, like our printable Christmas trees that turn into 3D standing Christmas trees.
I hope you enjoy!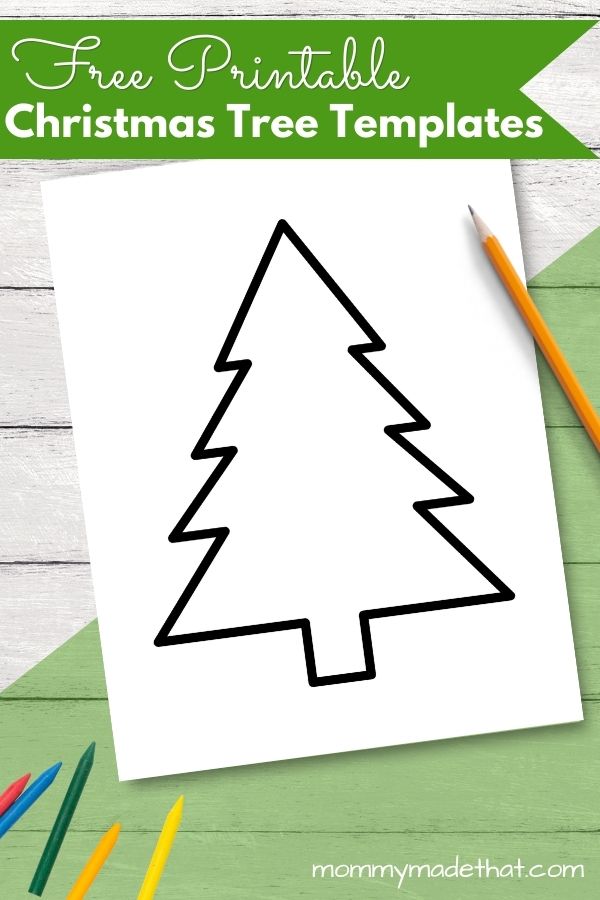 Creative Ideas for Christmas Tree Templates
You can use the tree pattern to create Christmas cards. Simply cut out the pattern and trace it onto construction paper or cardstock that's been folded in half.
Holiday Cards: You can write a nice holiday message on the inside and decorate the outside of Christmas card with glue, glitter and buttons!
Use as Stencils: These templates could easily be used as stencils. Print the Christmas tree on card stock and either cut the tree from the inside out, our cut it out directly for a reverse stencil.
Decorate the Christmas Trees: If you are using these for class room use, you can print out several of each of the Christmas tree patterns and let the kids choose which one they'd like to decorate.
You can put out lots of fun crafting materials like crayons, markers, glue, confetti, glitter, poms-poms and even magazine cutouts. This list is endless!
Then let them have at it decorating their litter hearts out.
Use as Craft Templates: These trees would be great to use for holiday crafts as well. We used a tree template for our felt Christmas tree ornament and they turned out adorable. The smaller tree templates work well for this.
You can also make gorgeous felt Christmas Ornaments like these ones.
I'll show you some of the tree templates we have and tell you what we've used them for or plan on using them for. I hope you find one that fits your needs!
How to Download and Print the Templates
We wanted to make grabbing these templates as easy as possible. To download the printable PDF file, simply click on the patterns or templates you'd like to download. A PDF file should pop up in a separate tab.
Then print the page! It's seriously that easy. If you want the large trees to be smaller, you can adjust the scale percentage from the printing options page.
*Make sure you actually click the link and download the PDF. If you try to print the photo it will not turn out as a quality image.
These are for personal or classroom use only, please. Please don't redistribute these or sell the templates as is. Thank you!!
Large Christmas Tree Templates
We've included tons of the larger tree templates. Some of them are very simple while others are more complex.
Simple Christmas Tree Template
This is the most simple, basic Christmas tree outline we could find. Its perfect for letting the kids decorate or to use for simple Christmas crafts.
You can grab the simple Christmas tree template here.
Christmas Tree Cookie Pattern
This is one of my favorite tree templates, a Christmas Tree Cookie Template! It's perfect to print out and decorate just like you would a cookie!
This one would be especially fun to laminate and use as a Christmas Playdoh mat! Kids can shape their playdough to fit in the tree shape and then decorate their cookies with playdough "icing" and "Sprinkles."
You can grab this template right here.
Pretty Empty Christmas Tree Template
I like to call this template the "pretty Christmas tree." It's simple, empty but has a pretty trimming on it. Perfectly ready to decorate for a fun art project.
Grab the Pretty Christmas Tree outline here.
Playful Christmas tree shape
This playful Christmas tree reminds me of the Grinch. This tree would be fun to print out and decorate with colorful buttons or pompoms.
It would also make a great coloring page.
Download and print the playful tree shape here.
Layered Christmas Tree Outline
This printable outline uses basic shapes to create a full, ready to decorate Christmas tree.
Grab this printable template here.
Other Fun Christmas Tree templates
Here are a few more tree templates and outlines you can grab. We put a link under each photo example of the templates.
Grab this template here.
Grab this frilly Christmas tree template here.
Grab this Christmas tree shape here.
Small Christmas Tree Template
And lastly, but not least, we have smaller tree templates all on one page. You can grab the smaller templates here.
If you'd like to download all of the PDFs at one time, you can grab all 10 of the Christmas tree shapes and templates here.
I hope yall have fun with these Christmas tree templates and we'd love to see your craft creations.