Toilet Paper Roll Butterfly: An Uber Cute Butterfly Craft
Want to make a toilet paper roll butterfly craft? We've got such a cute one for you today. It includes a free template to make this craft super easy.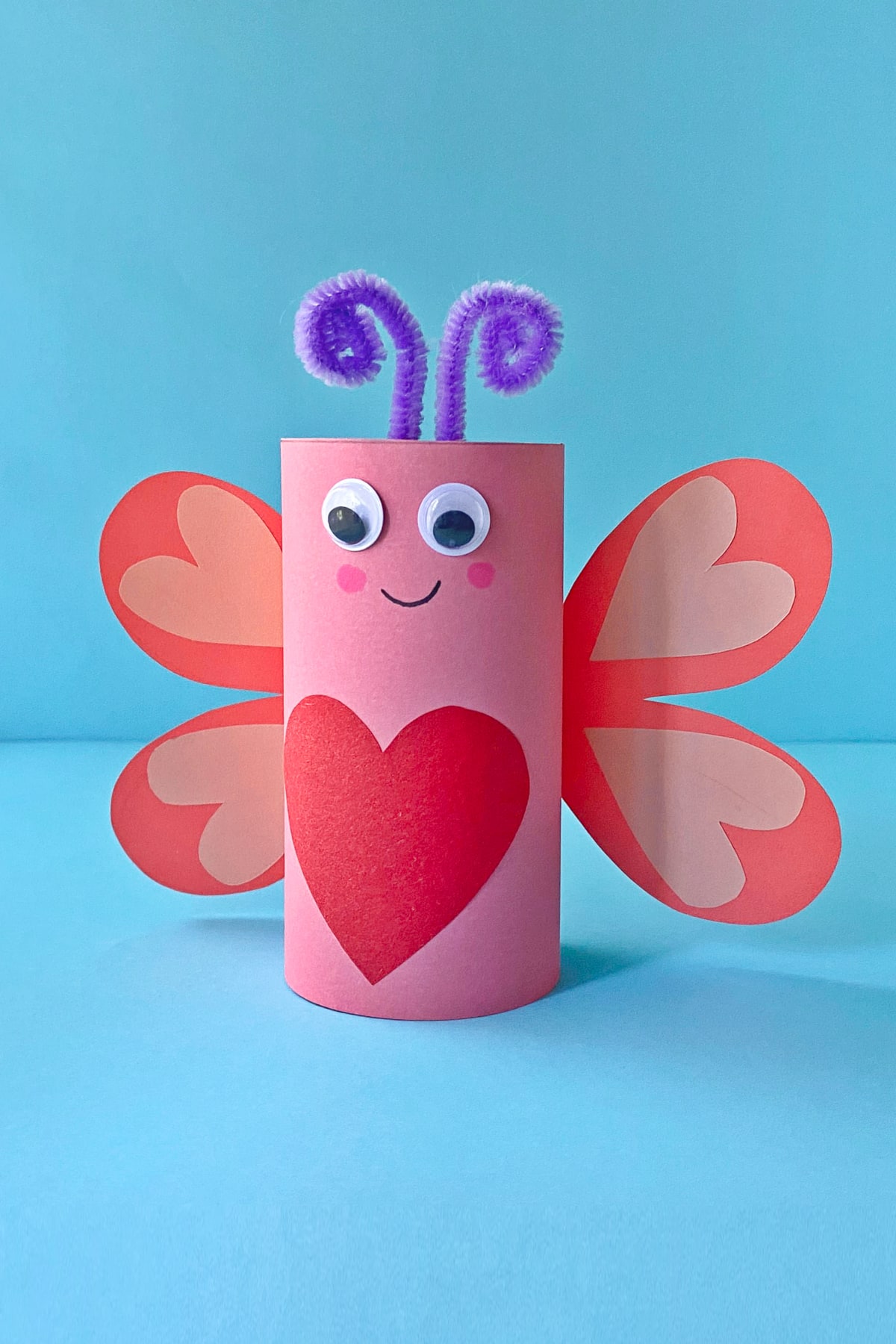 It's springtime. And we've been whipping up tons of fun kids spring crafts along with tons of other fun and easy crafts for kids.
We've come up with tons of fun bug crafts and this butterfly craft may be one of the cutest ones so far!
And since we love us some toilet paper roll crafts, we decided a toilet paper roll butterfly should be on the agenda,
Supplies & Materials
For this butterfly craft, you'll need a few basic supplies and materials.
Our Free Butterfly Wings Template: You can grab the butterfly wing template at the end of this post.
Toilet paper roll: We always save our toilet paper rolls since I know we'll use them for fun craft time. But you can easily use any kind of paper roll.
Colored craft paper: Construction paper will work too. We used the colors pink, red, orange and peach. But you can get creative and use any color combo you'd like.
Googly Eyes: We added fun googly eyes to ours, but you can also use printable googly eyes instead.
Pipe Cleaner: For the butterfly's antenna
You'll also need basic supplies like
Ruler
Scissors
Glue
Black Marker
How to Make a Butterfly from a Toilet Paper Roll
Start by printing out the butterfly template.
Cut out all the pieces from the template. Then use these pieces as stencils to trace the shapes onto the different pieces of colored paper using a pencil.
Or you can simply color the pieces of the template in using crayons or markers.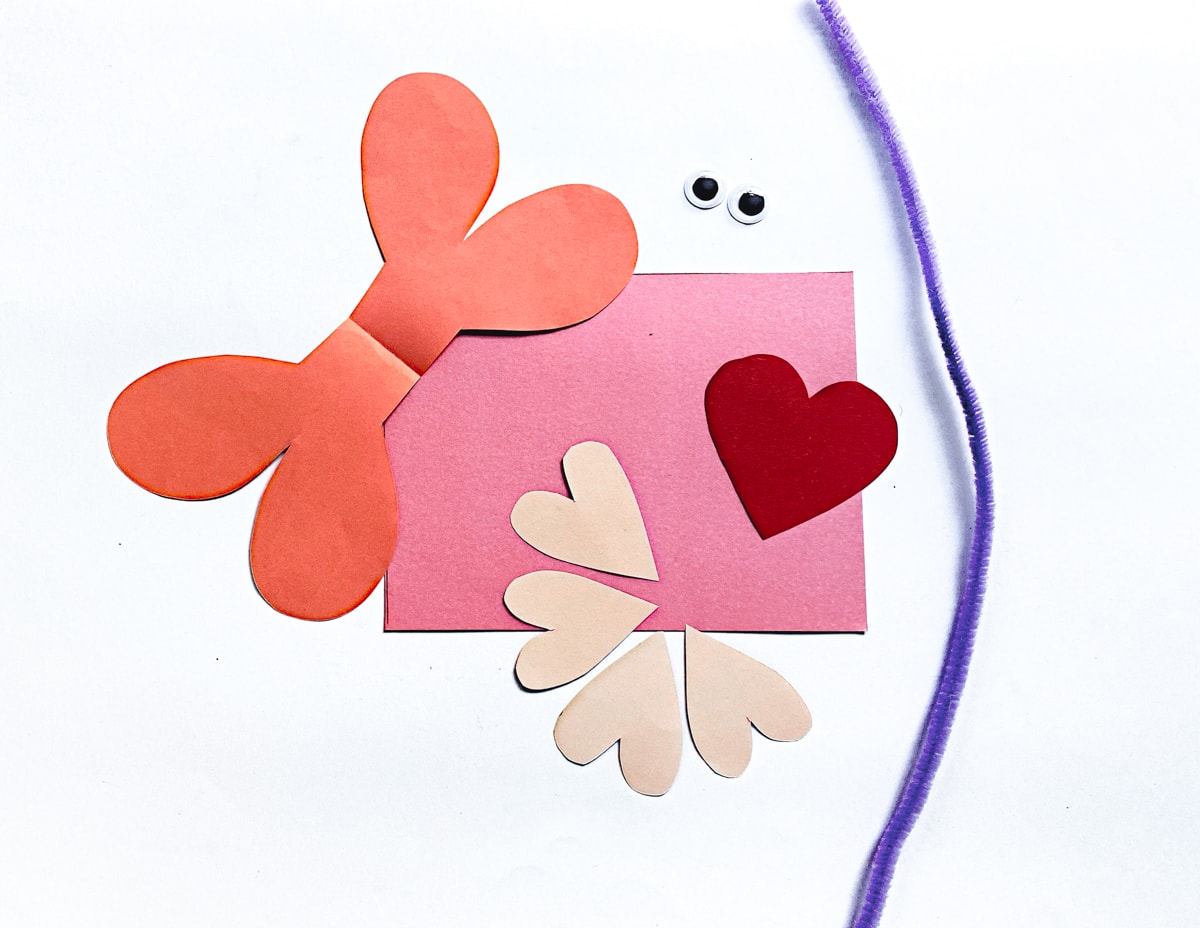 Next, start putting the wings together by gluing the small hearts onto the butterfly wings like shown below.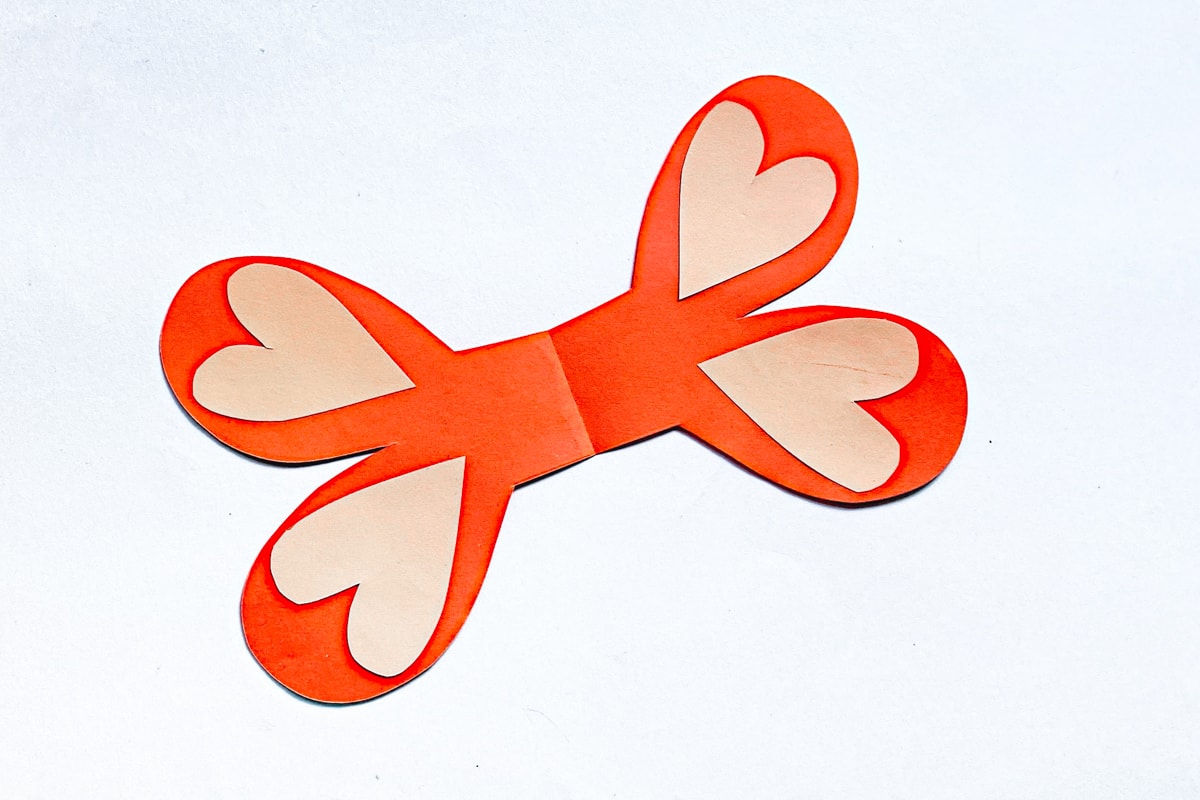 Next, cut out a piece of paper tall enough and wide enough to completely cover the toilet paper roll. This will be the butterfly's body.
Then glue the big heart on to the bottom center of the paper. The heart will be the butterfly's tummy.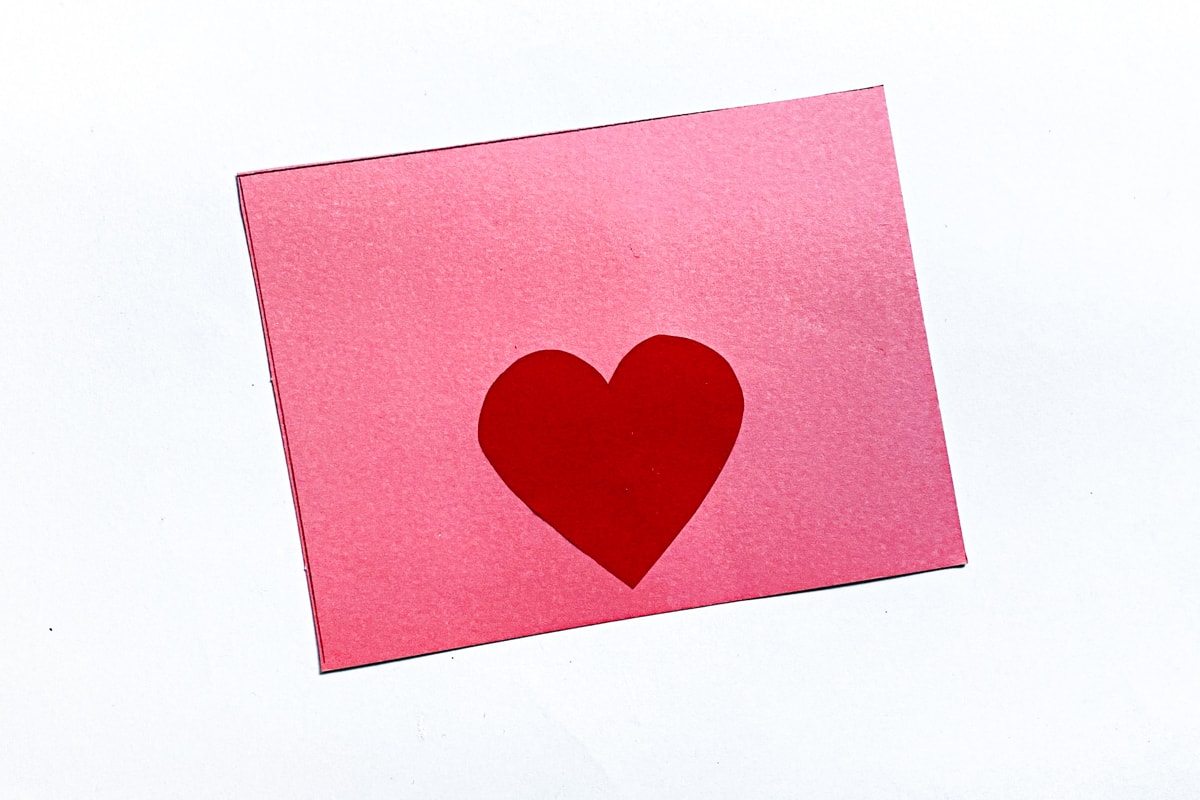 Next, put glue around the edges of the back of the rectangle and wrap it around your toilet paper tube, making sure it's secure.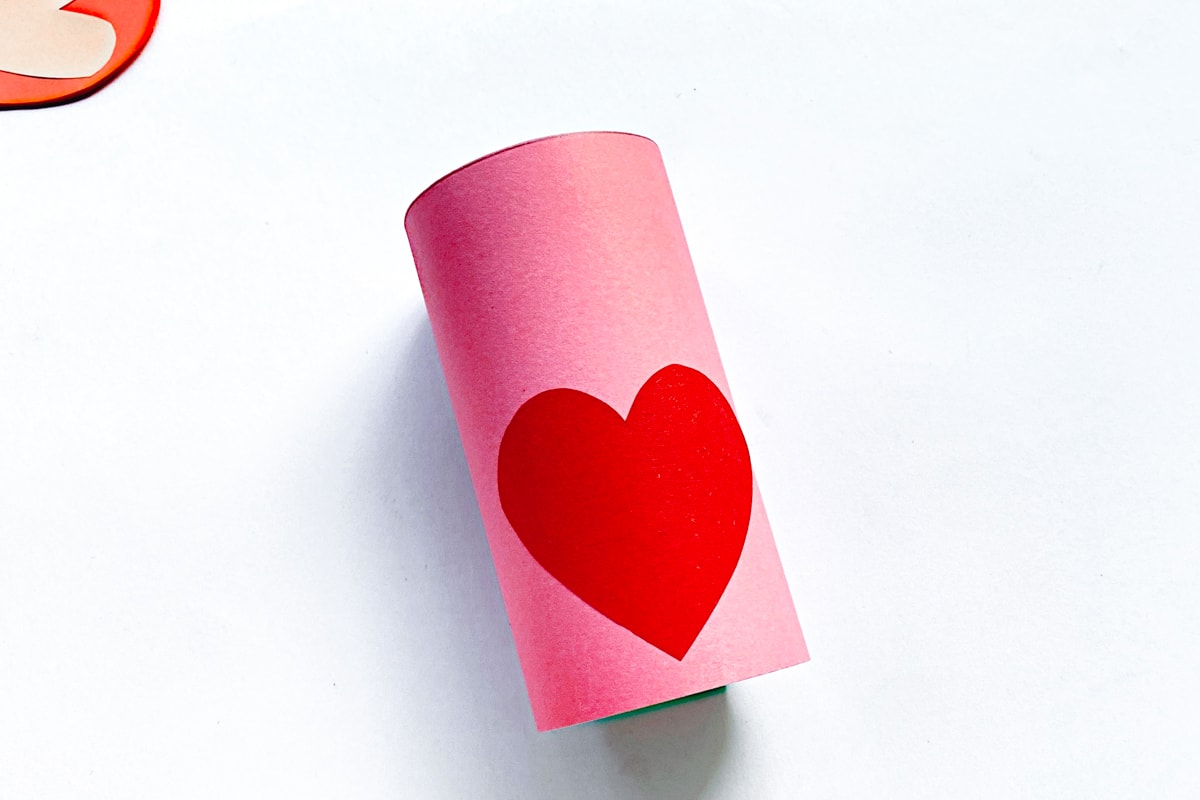 Next, grab the butterfly wings and place a strip of glue or double-sided tape down the center.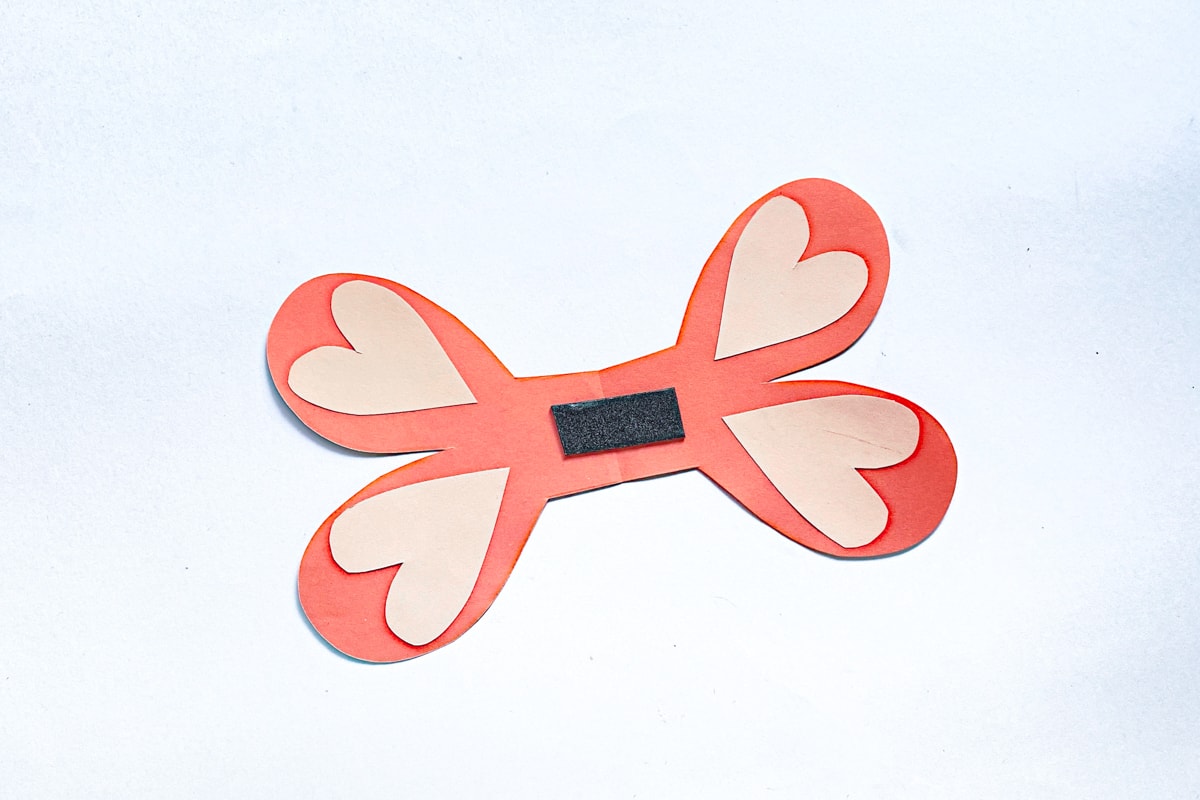 Then grab your pipe cleaner and cut it in half. Cur up one side of each pipe cleaner half really tight to create two curled-up antenna pieces.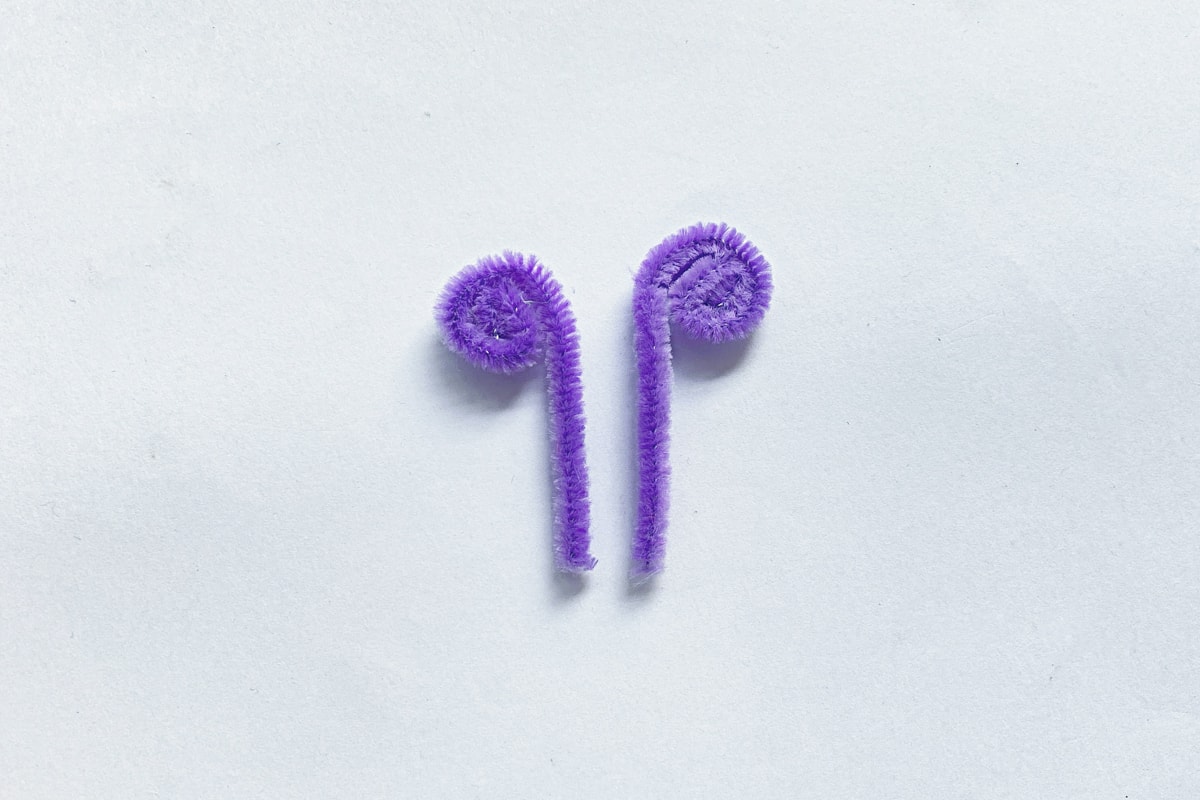 Attach the wings and antenna to your butterfly body.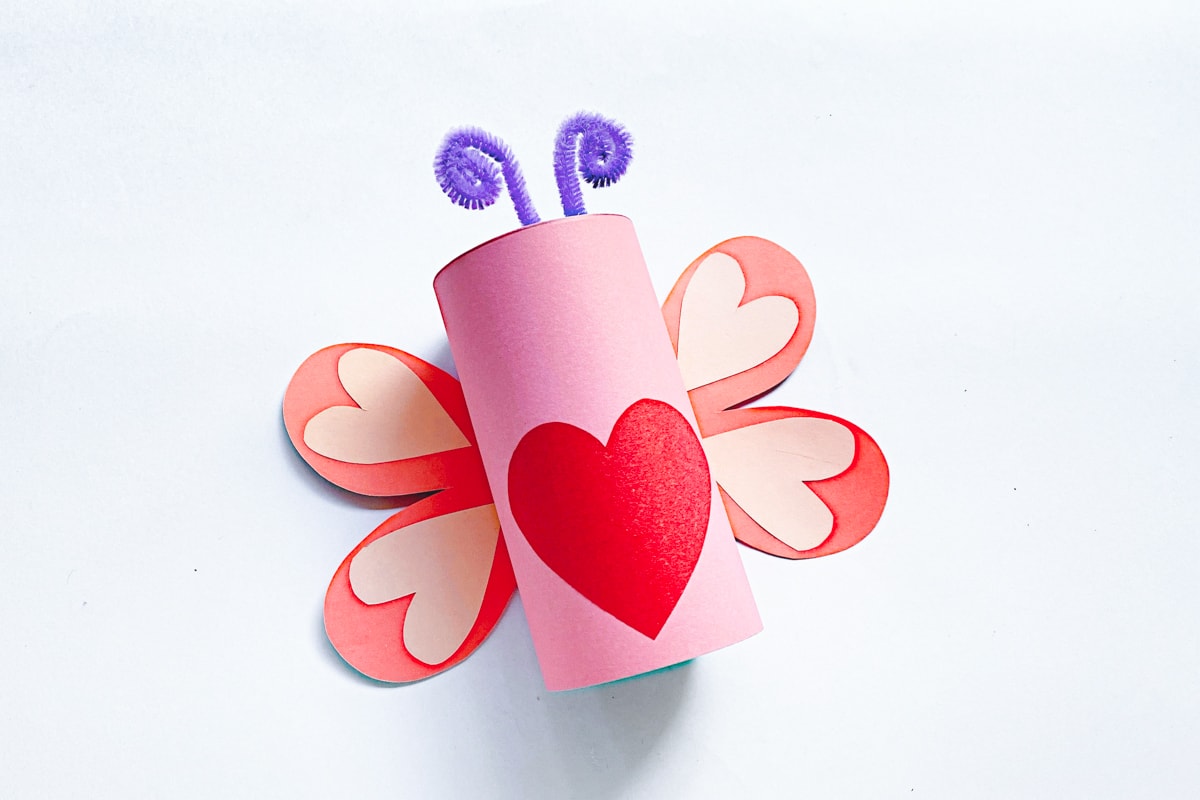 Next, add eyes to your butterfly. We used real googly eyes, but you can use printable googly eyes as well. Or just draw them on!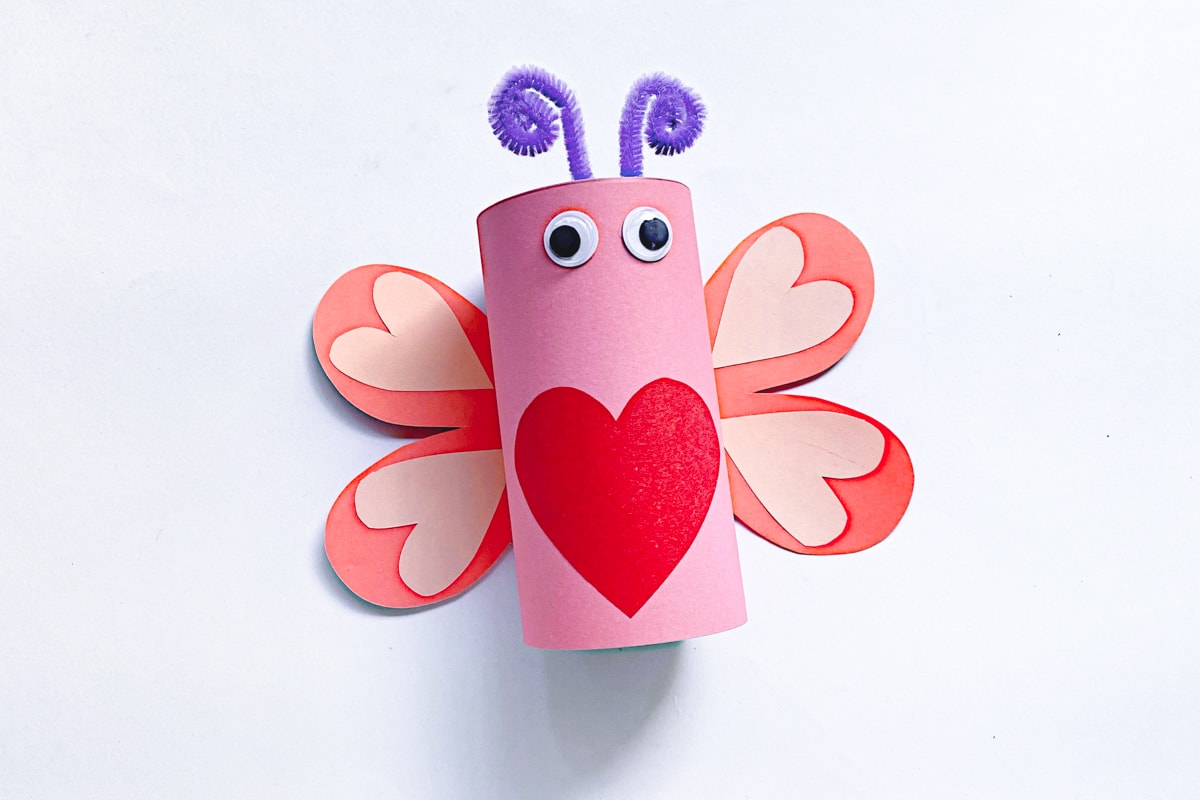 Finally, draw on a cute little mouth and cheeks to your butterfly's face.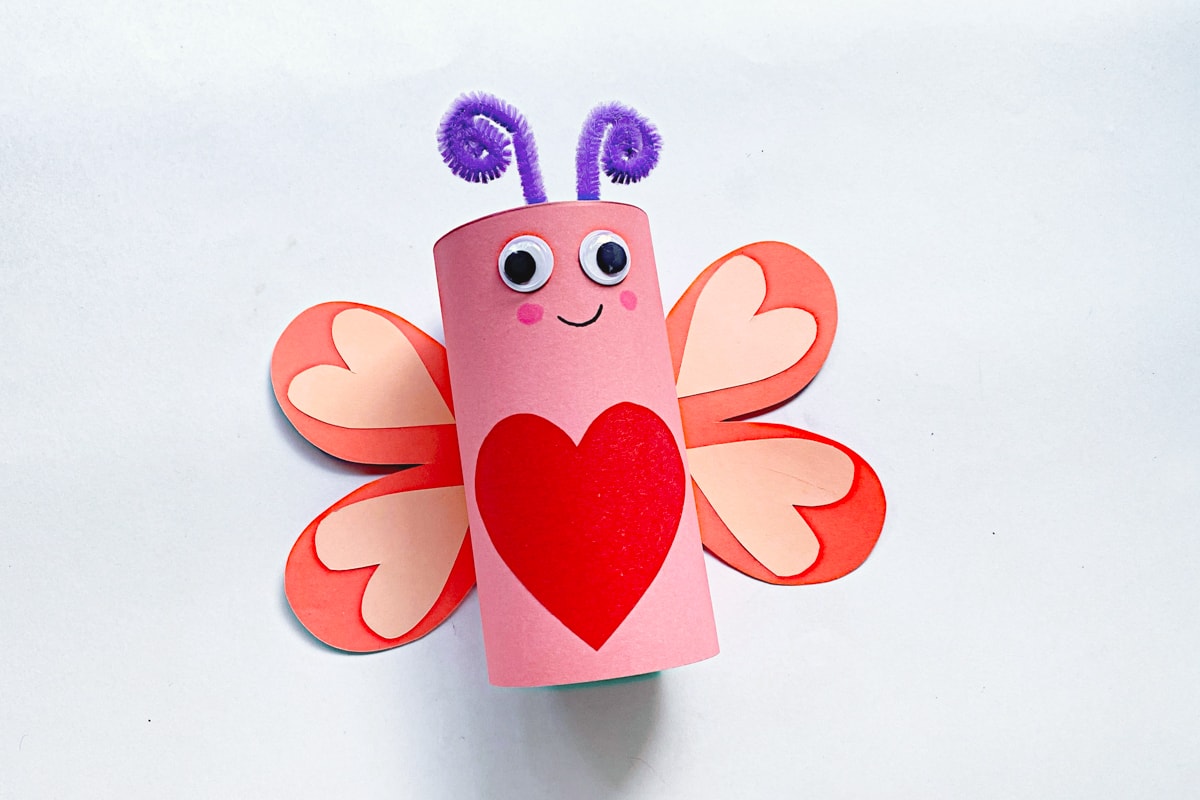 Isn't it just the cutest!!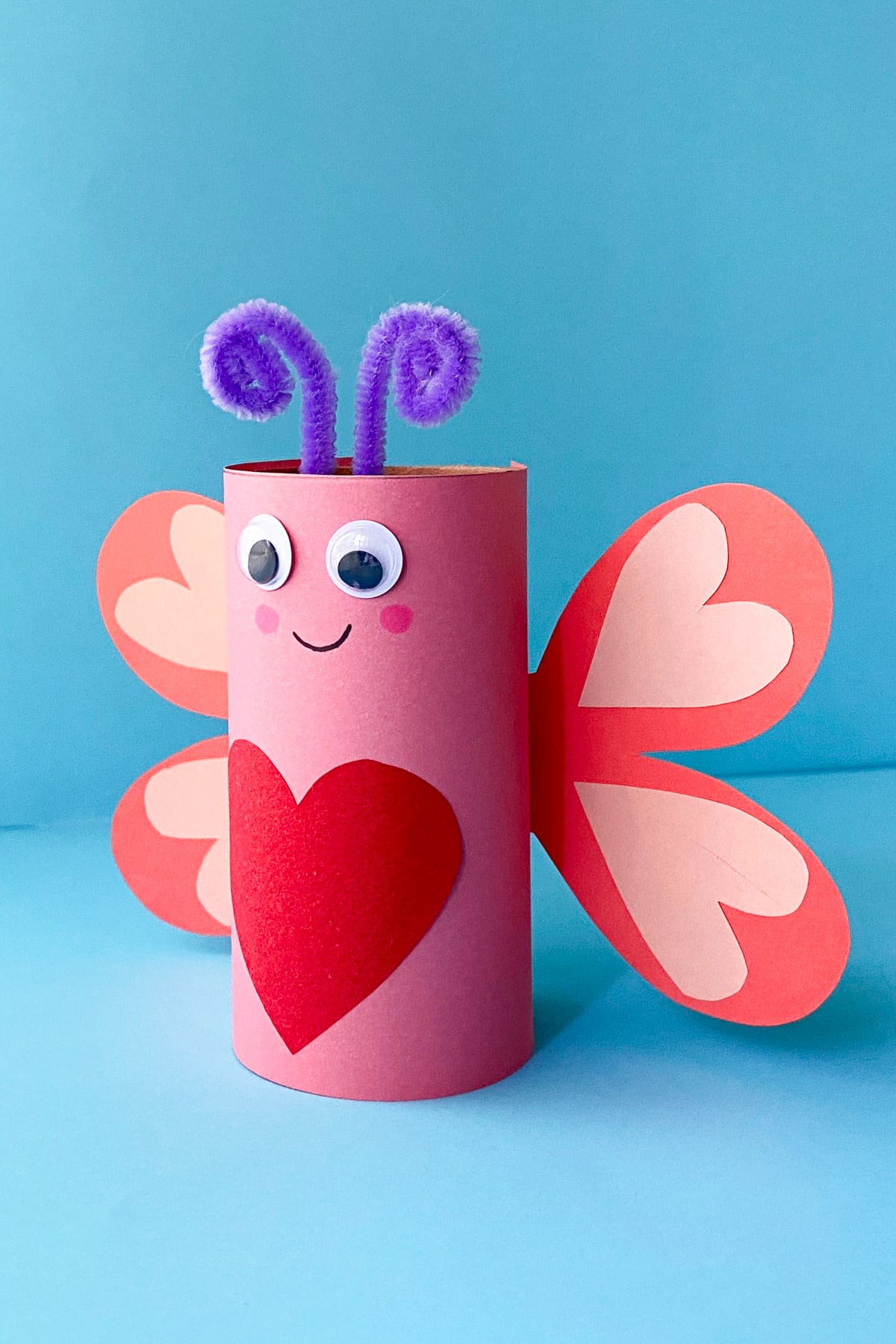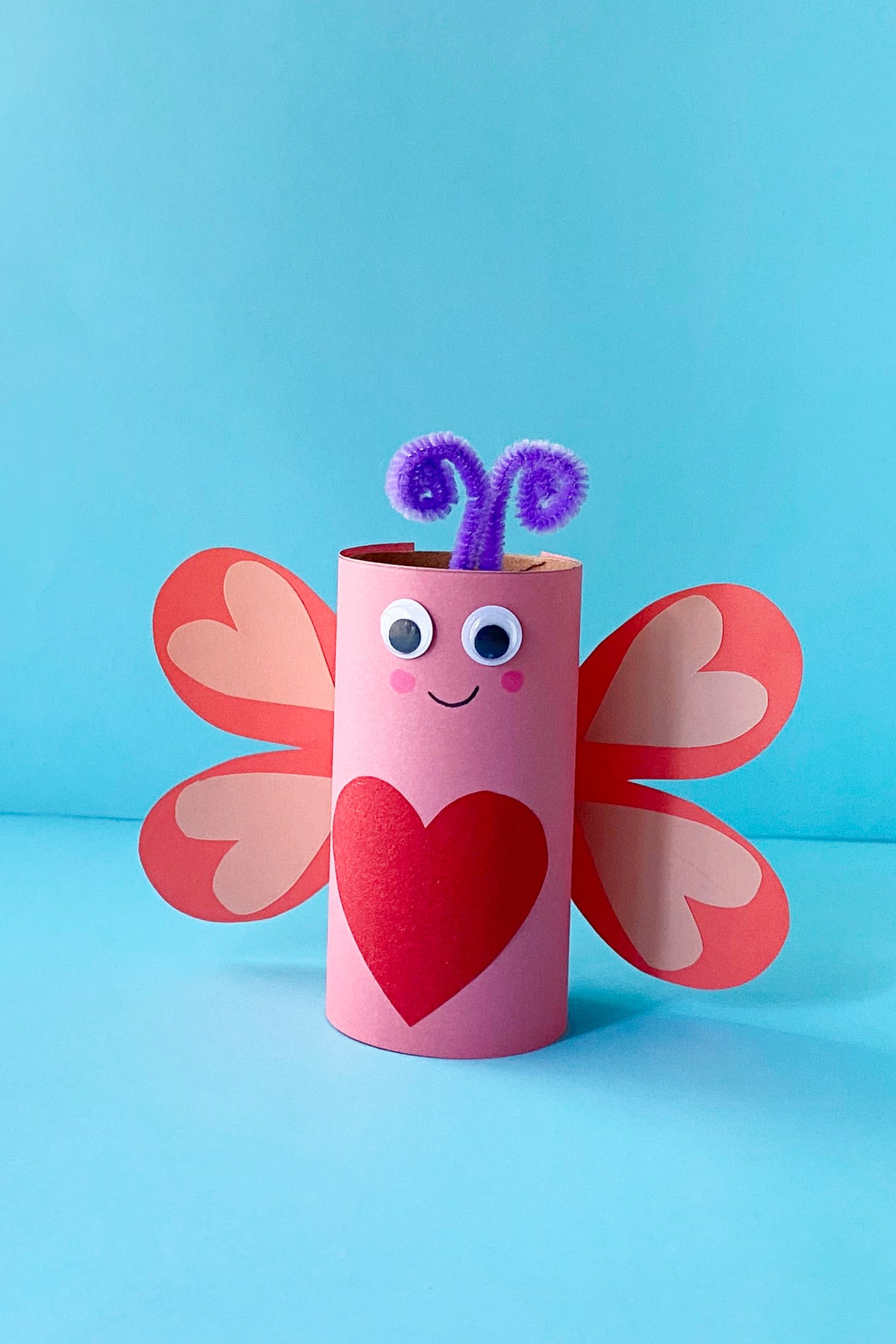 Since our little butterfly is also covered in hearts, this would be a great valentines day craft as well.
Grab the Butterfly Template
To grab the butterfly wing template, put your email in the box below. We'll send it straight to your inbox, along with other awesome free printables.
This is for personal or classroom use only, not for commercial use. Thank you!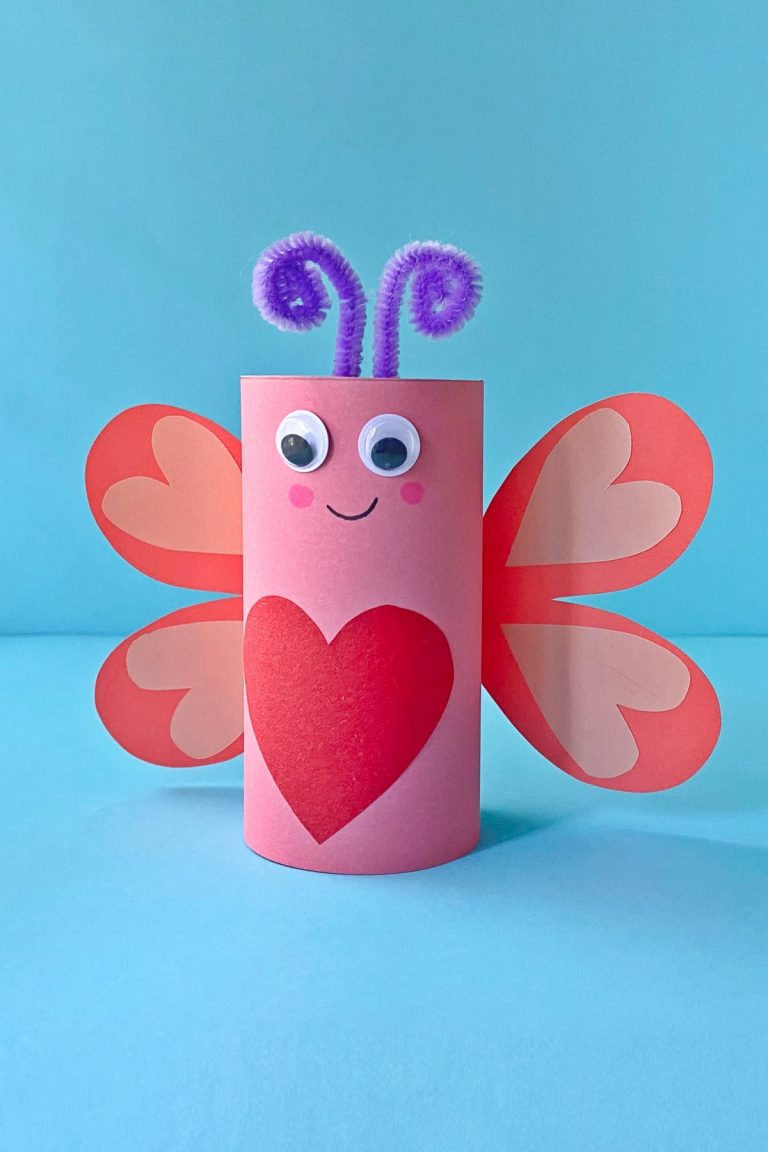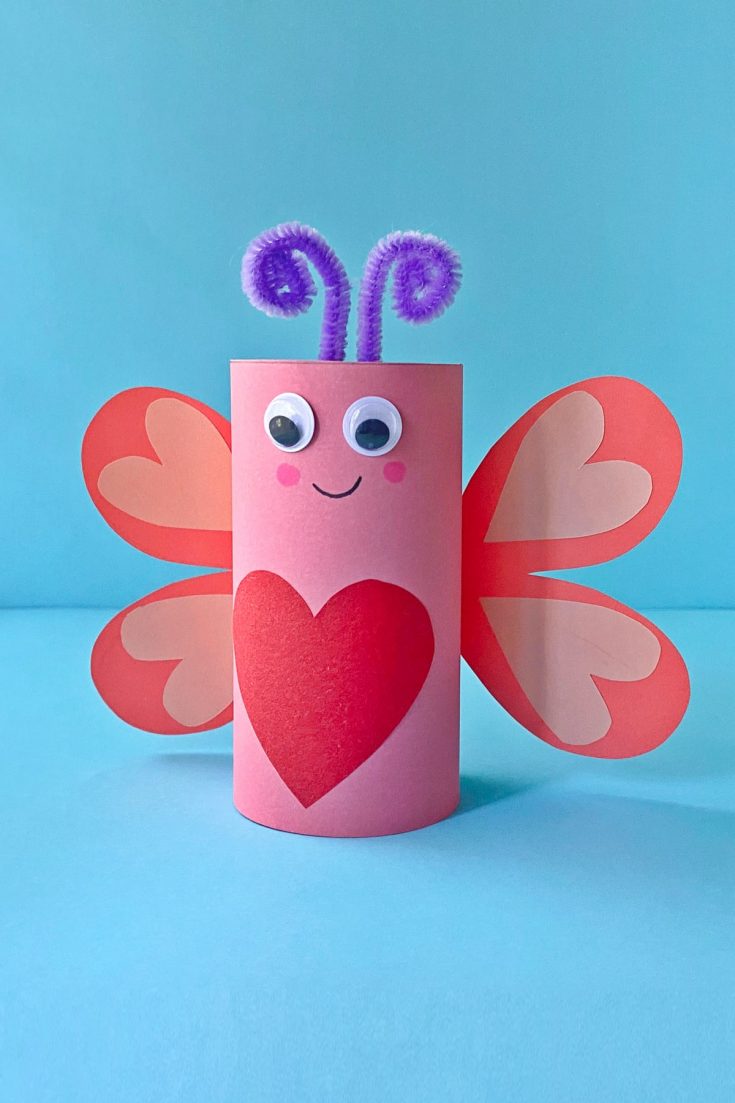 Yield:

1 TP Roll Butterfly
Toilet Paper Roll Butterfly
This adorable toilet paper roll butterfly craft is a fun and easy project for kids. Be sure to grab the free printable template.
Materials
Butterfly Wing Template
Colored craft paper
Empty toilet paper roll
Googly eyes
Pipe cleaner
Glue
Tools
Ruler
Scissors
Pencil
Black Marker
Colored markers (optional)
Instructions
Start by downloading and printing the toilet paper roll butterfly template.
Cut out the pieces and use them to trace the shapes onto pieces of colored craft paper. We used a salmon color for the wings, peach for the small hearts and red for the large heart. Cut out all the pieces
Attach the small hearts to the butterfly wing piece.
Cut out a piece of paper large enough to wrap around toilet paper roll. We used pink. Glue the big heart to the lower half of the rectangle, in the center.
Add glue around the edges of the back of the rectangle piece. Wrap around toilet paper roll and ensure it's securely attached.
Add glue or tape to the center of the butterfly wings. Set aside.
Cut pipe cleaner in half, and roll each half creating a curled up antenna.
Attach the wings and antenna to butterfly body.
Add eyes and draw on mouth and checks.
Enjoy your butterfly craft!
Notes
Have fun using all sorts of different colors for your butterflies!