Today we've found the best witch crafts for kids and put them all in one place! Hopefully, you'll find some inspiration and get to making your own witch craft today!
We love a good Halloween craft. And today we had witches on the brain.
So if you're looking for some fun Halloween witch crafts for kids? Look no further!
We've got a roundup of some of the most fun witch crafts for kids, perfect for any Halloween party or activity.
From witch hats and broomsticks to spell books and cauldrons, there's something for every little witch out there.
So whether you're looking for a craft to do with your child or wanting to find something fun to do at a Halloween party, be sure to check out our list of favorite witch crafts for kids!
Toilet Paper Roll Witch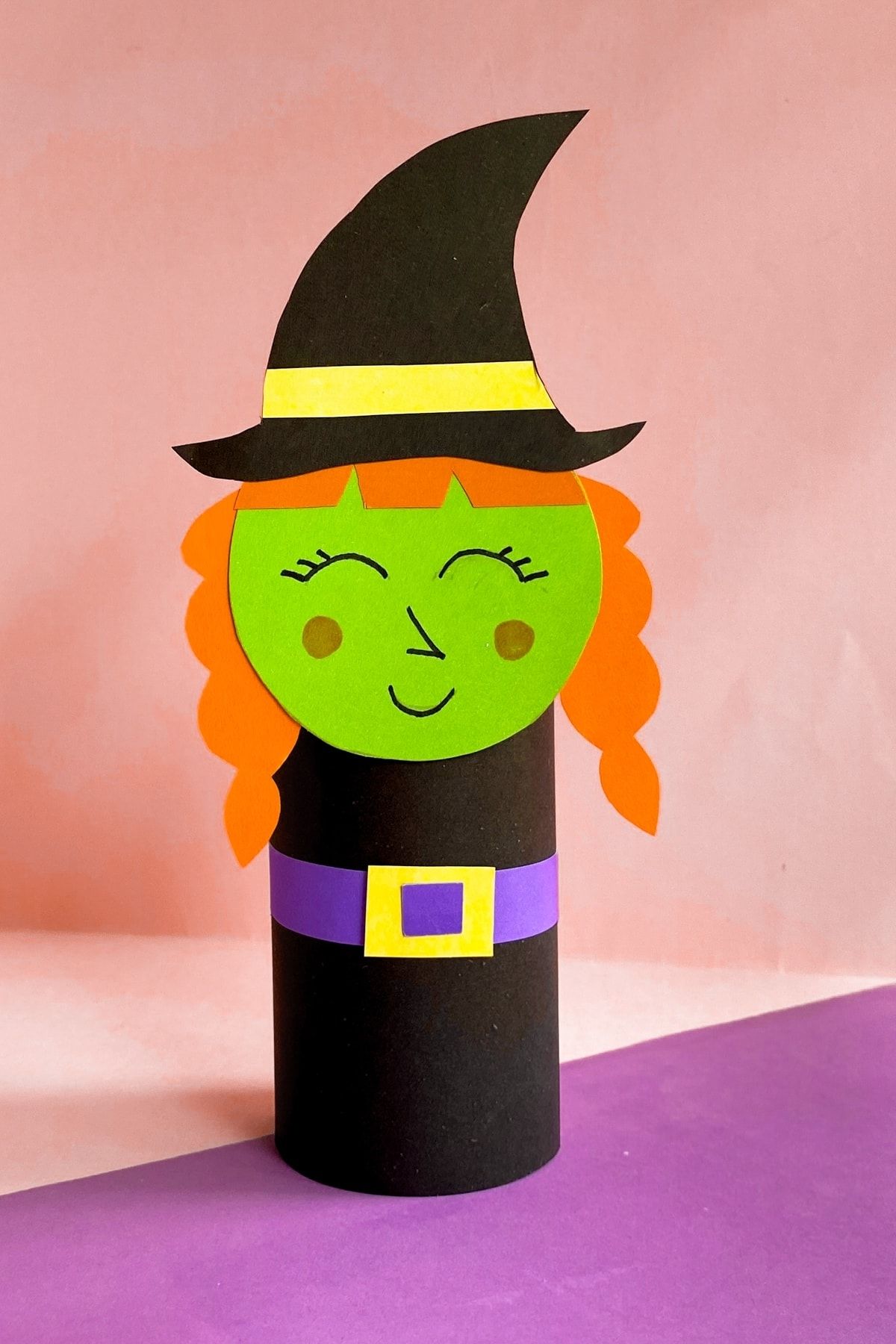 This adorable little toilet paper roll witch craft is a fun craft for preschoolers and elementary school children.
It comes with a free printable witch template so you can easily make all the pieces you'll need to build your own cute little witch.
Paper Witch Puppet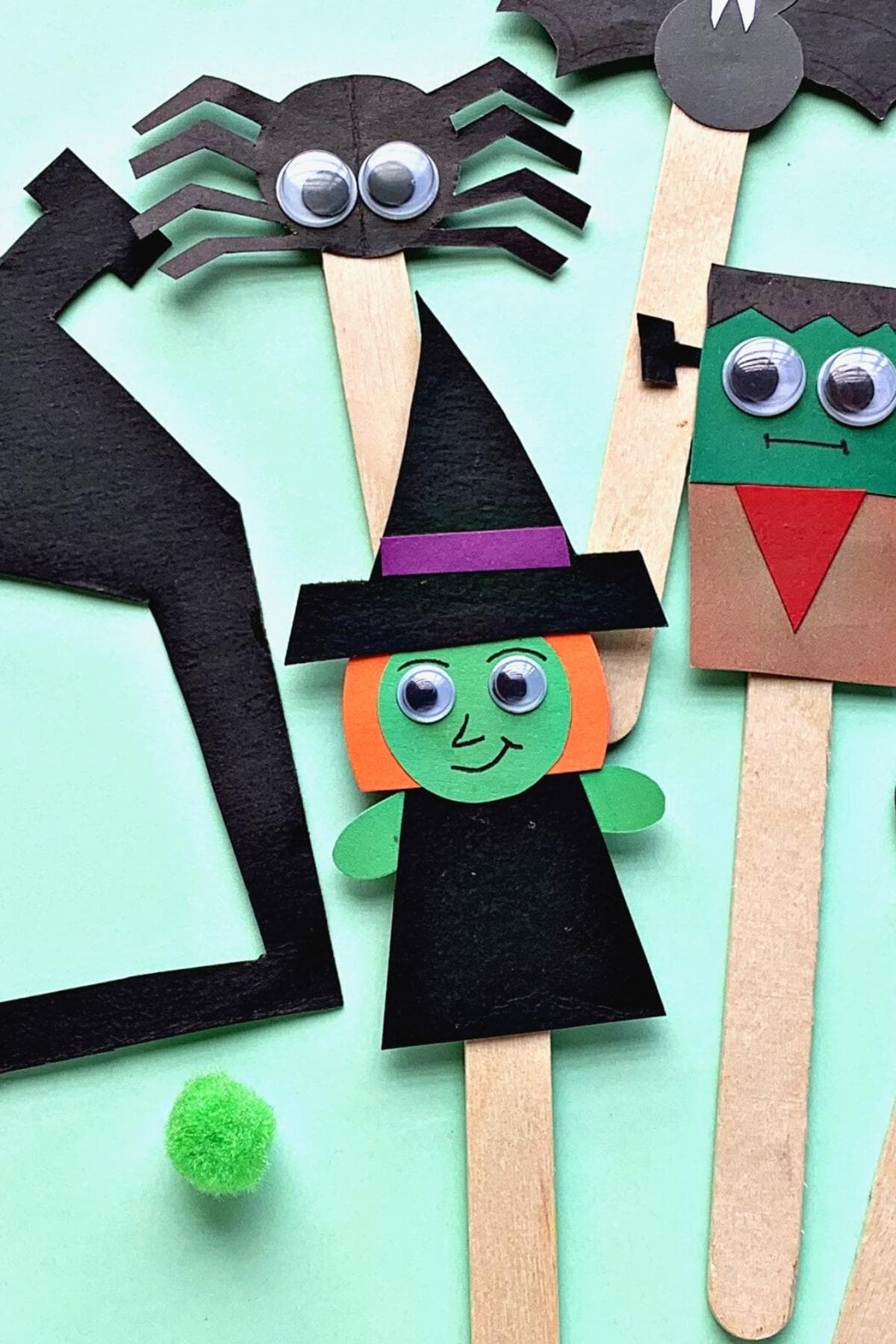 We also have a cute set of Halloween puppets that includes a cute witch puppet.
It's one of our favorite Halloween crafts as it makes for great story telling too!
Just download the printable template and cut out the pieces and put your little witch together.
Make sure to grab the haunted house for her to play in!
Printable Witch Craft Template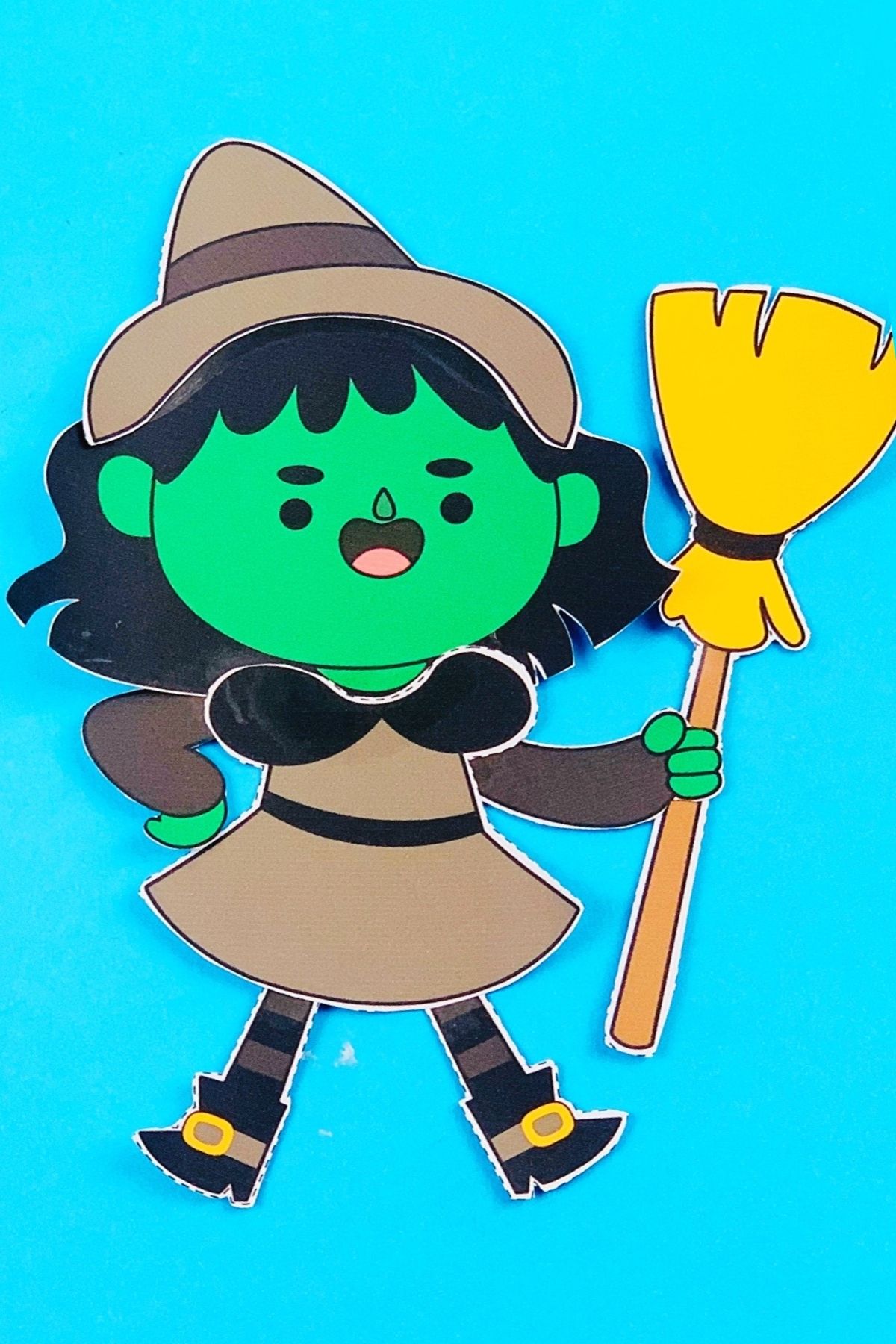 We also have this cute little printable witch craft template. It's a fun and super easy cut and paste craft.
It's one of our favorite Halloween printables.
You can then play with the witch paper doll, or attach her to a fun Halloween background.
Paper Plate Witch Hat
Another fun witch craft for kids is this paper plate witch hat craft.
Turn a paper plate and some paper into a cute and easy to decorate witch hat!
Kids have a ton of fun decorating the hat to fit their personal creative taste.
Moving Eyes Witch Craft
This fun craft features a colorful witch that has moving eyes! It's a fun craft that's also fun to play with.
Kids will love spooky effect of moving her eyes all around. It also makes for a fun coloring activity.
Make Glowing Nose Witches
These super cute paper cup witches have glowing noses!
Not only are they a fun witch craft, but they also make great Halloween decor for day or night!
Popsicle Stick Witch Craft
My kids love a good popsicle stick craft.
And this adorable popsicle stick witch is a fun and creative craft using the popular craft sticks.
Plus, the craft also includes a cute black cat to go along with your witch!
Paper Bag Witch Craft for Kids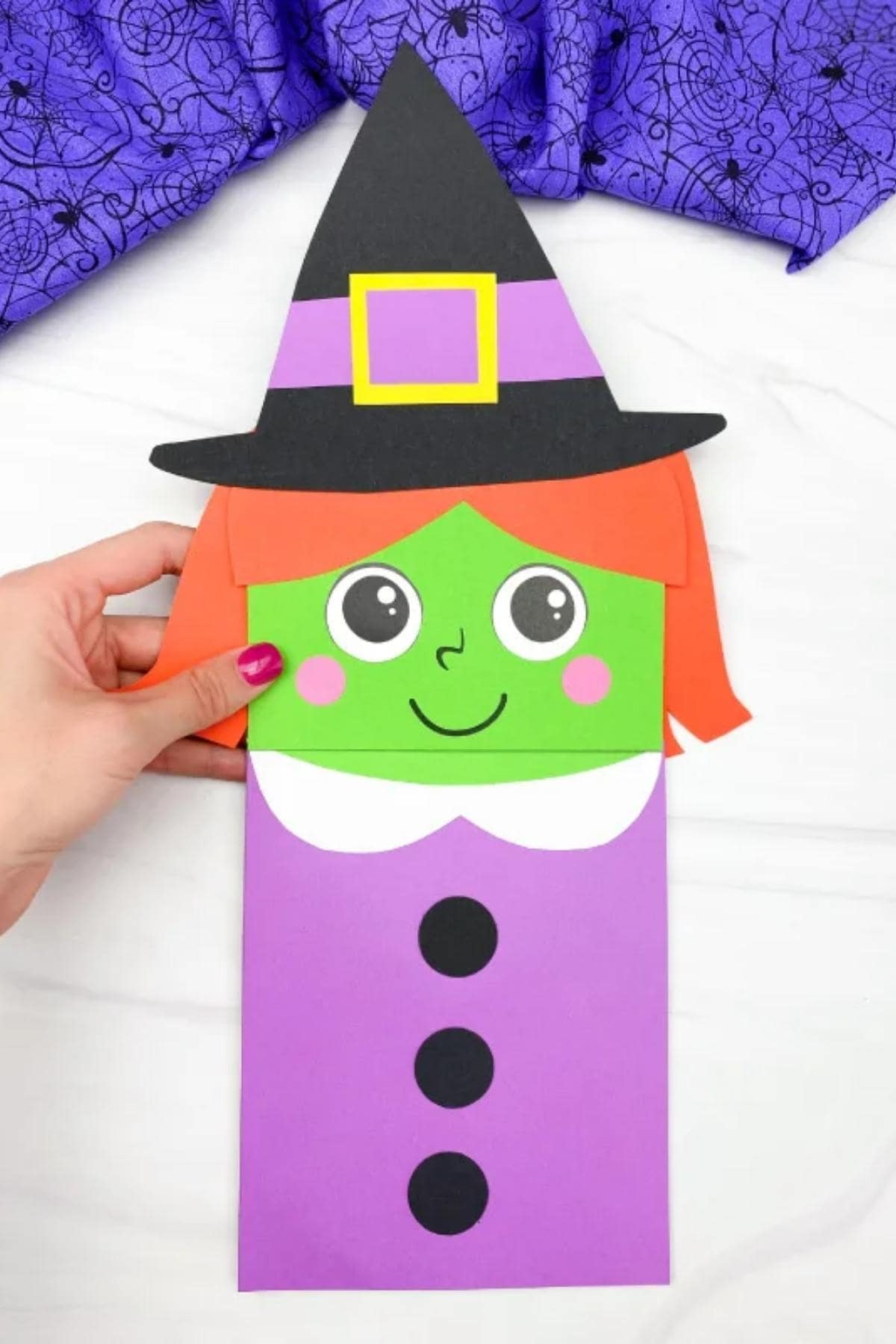 This paper bag witch craft is a perfect for Halloween craft.
It's easy to make, and lots of fun to play with.
This kids can spend hours playing with witches on their hands, coming up with both cute and creepy voices for their little puppets.
Paper Plate Witch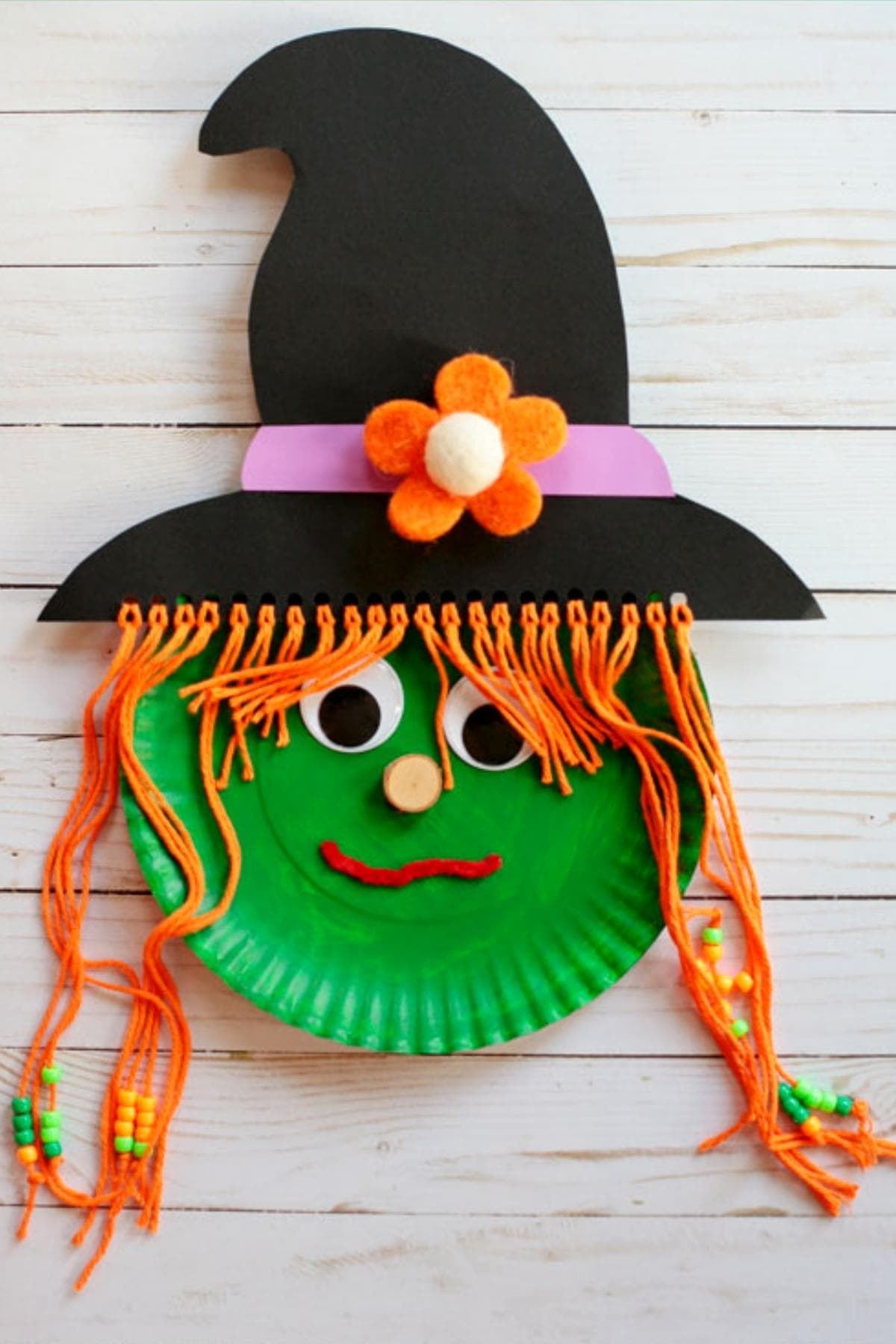 This paper plate witch is anther super clever and creative witch craft.
With just a few pieces of craft supplies you probably already have you can create your very own witches face.
I especially love the beads in her orange hair.
What a fun detail the kids will love adding, and will also get them to practice their threading skills.
Cute Unicorn Witch Pumpkins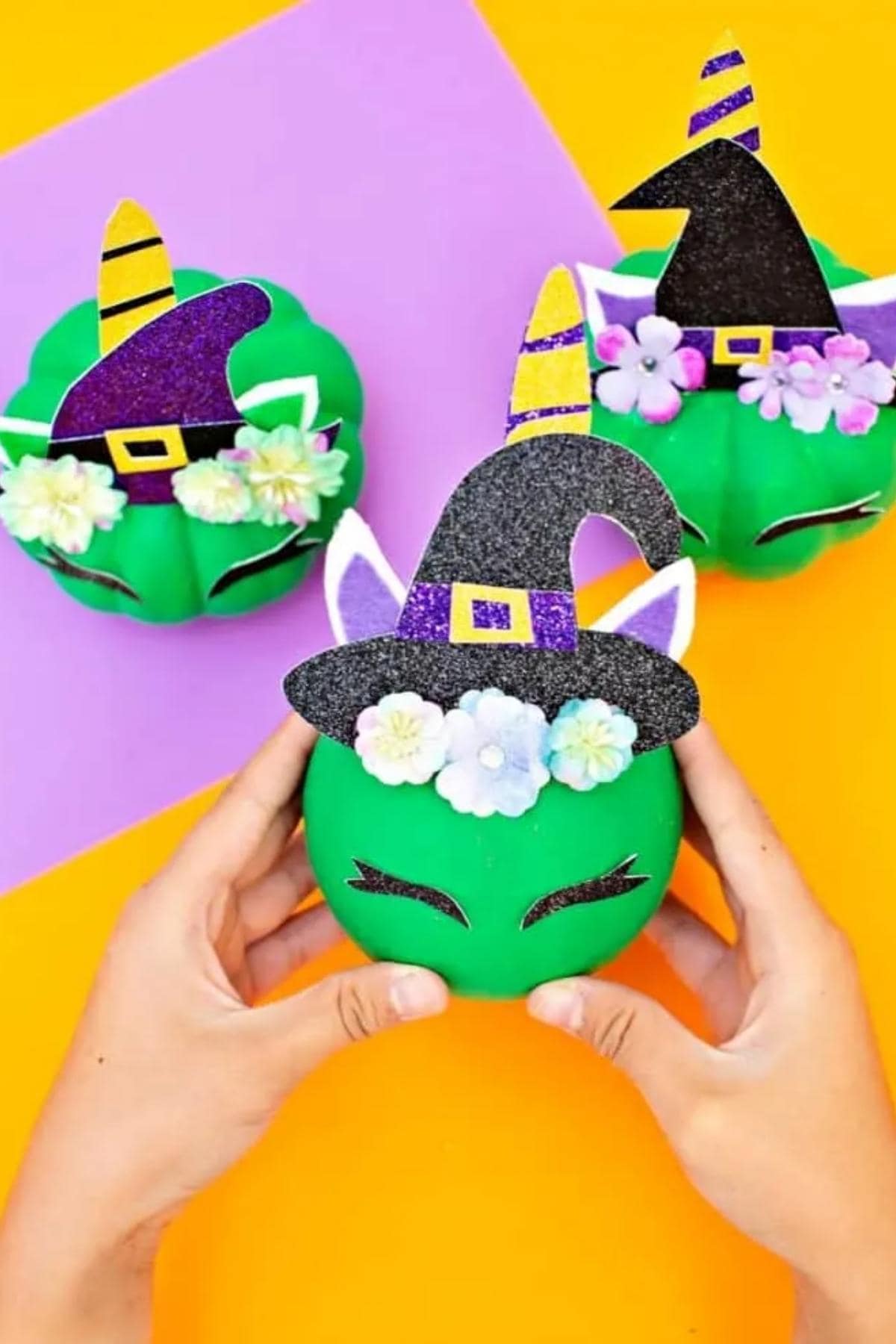 If your looking for an uber cute witch craft, these unicorn witch pumpkins will be right up your alley!
They ooze cuteness but make some darn cute little witches. Plus, what screams Halloween more than pumpkins!
Young kids will love painting the pumpkins and attaching the witch pieces.
Handprint Witch Craft for Kids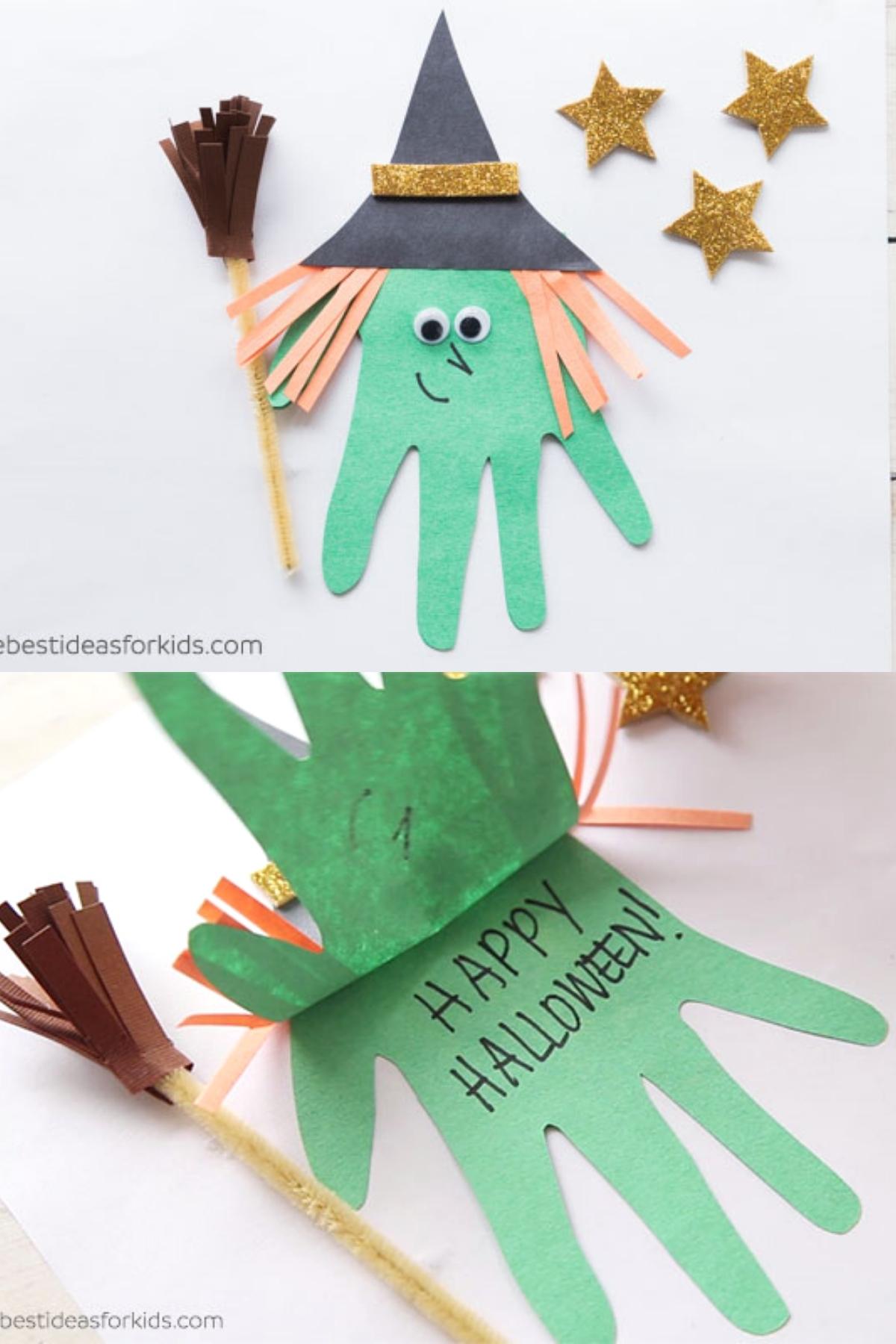 Another cute and easy witch craft for preschoolers is this handprint witch craft.
I love the little broom the witch carries using a pipe cleaner and a piece of paper! What a creative idea.
And kids just love using their handprints to create new and fun figures.
You can also turn it into a full Halloween card!
Mason Jar Witch Luminary
This DIY mason jar witch luminary is a great arts and crafts project for older kids. Or younger kids with some adult supervision.
I especially love the creative gem used as a wart on the witches nose!
Plus you end up with an awesome Halloween decoration to decorate the house or porch with!
Haunted Witch House Coloring Page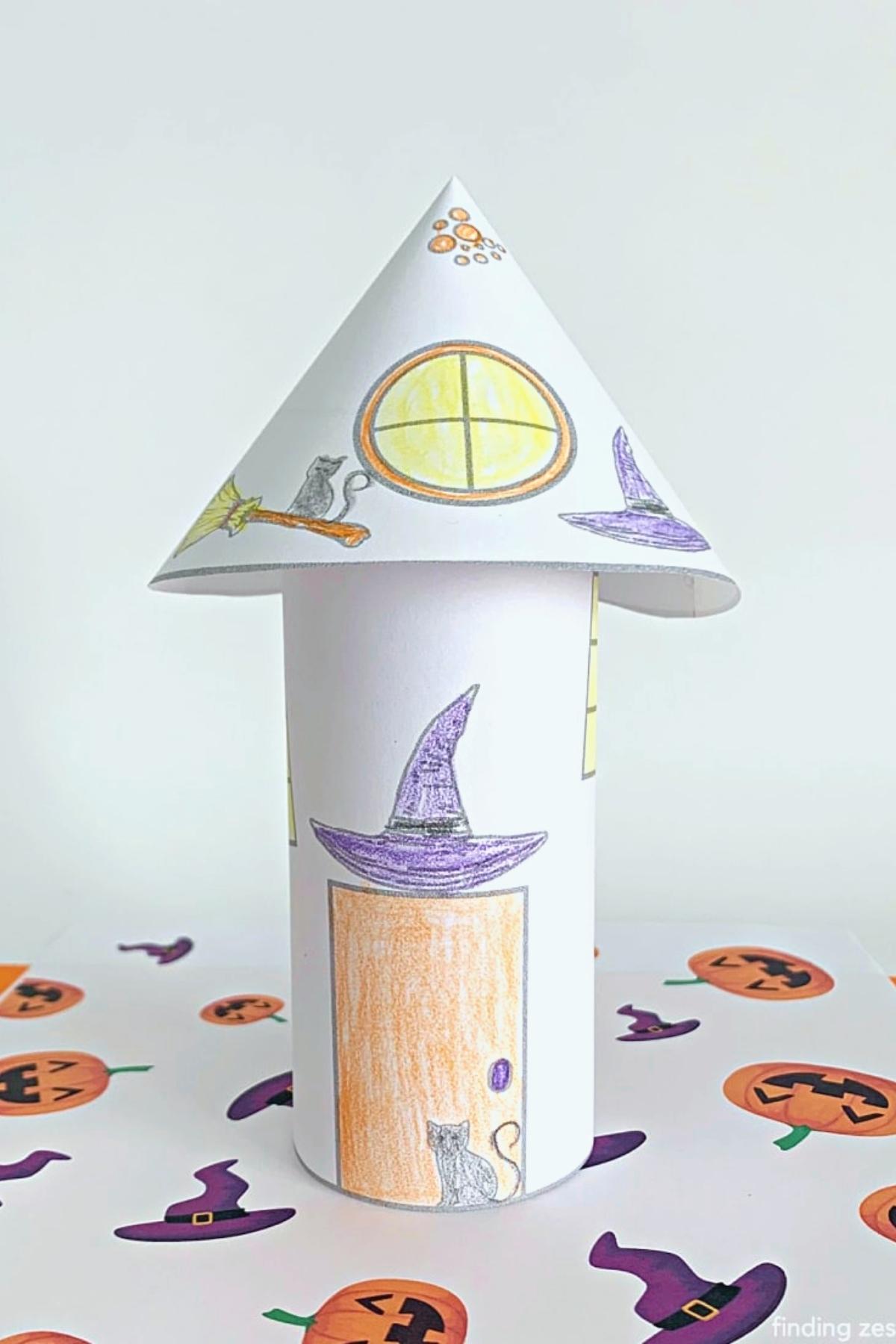 This printable Haunted Witch House Coloring Page turns into a 3D house the kids can color and build.
This is an activity that will keep them busy coloring, cutting, gluing and playing!
Paper Cup Witches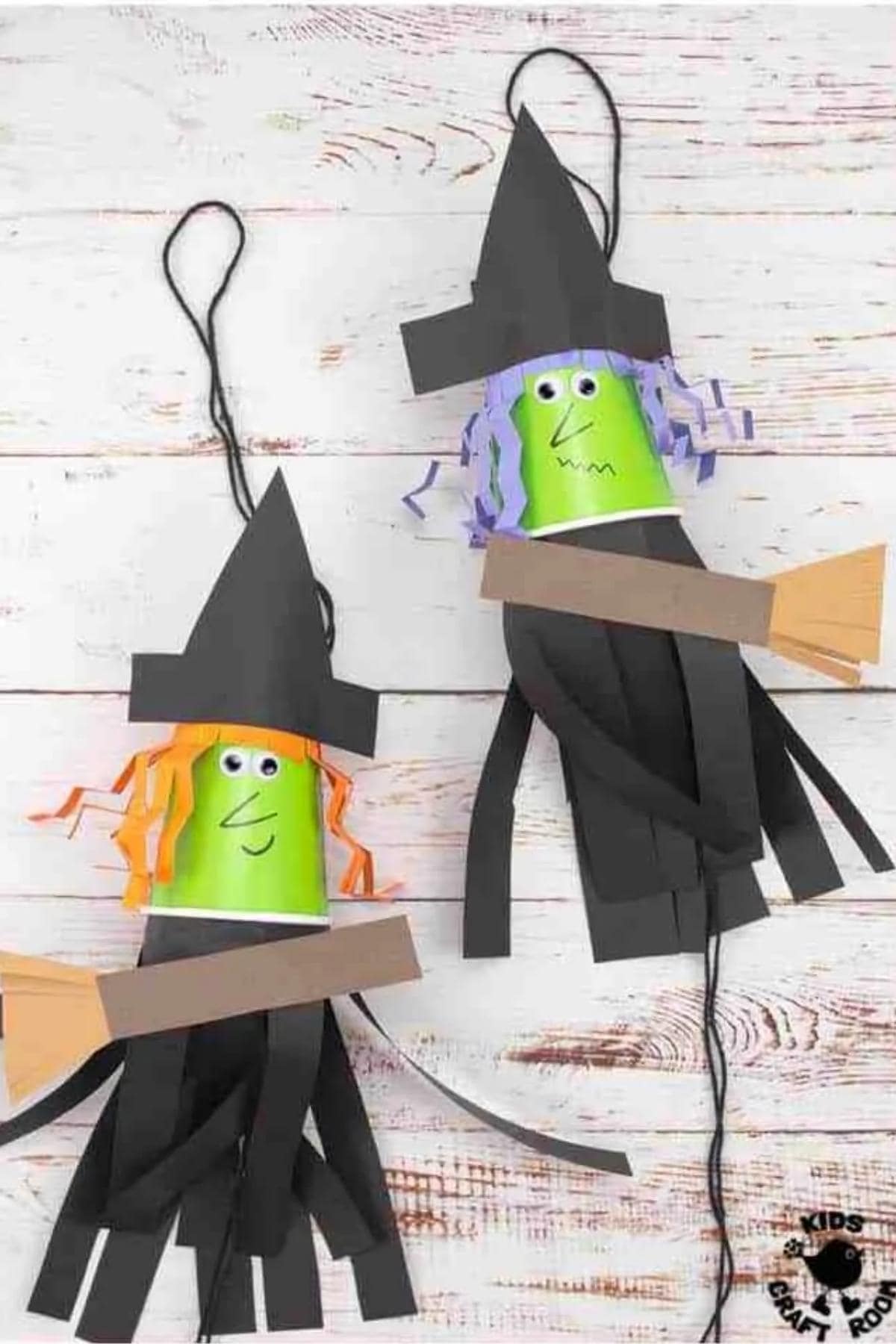 These paper cup witches are super cute and so easy to make!
And when you're all finished you can string them up and they look like they're flying!
Witch Hat Bookmark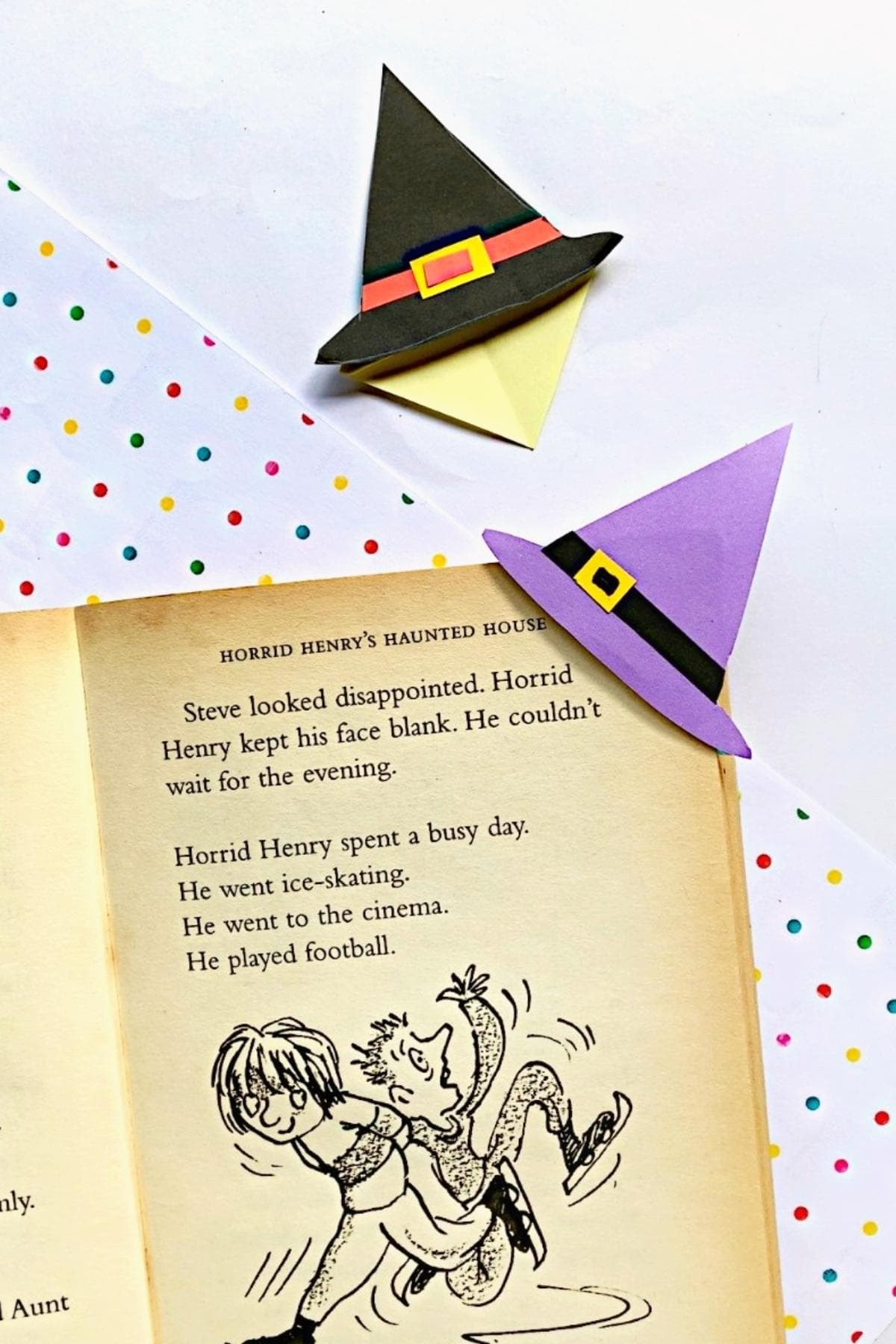 Another cute witch craft are these cute witch hat bookmarks!
You can make them in any color you'd like and they make Halloween reading a little more fun!
Origami Witch Craft
This fun origami witch is absolutely adorable! It's a fun fine motor skill activity and great for older kids.
The tutorial shows you step by step how to make your very own folded paper witch.
Witch Art Project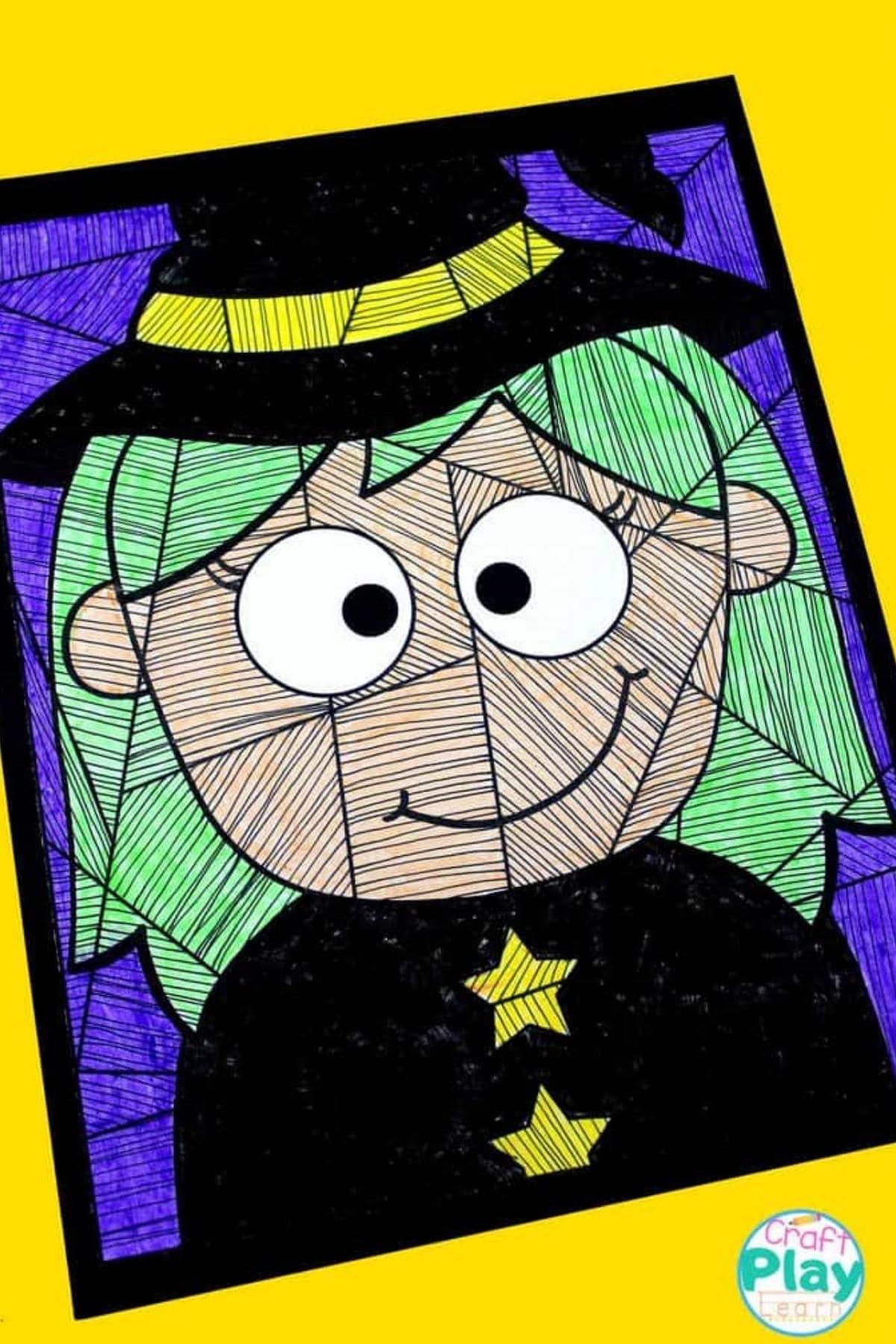 This printable witch line art is a simple but super cute witch arts and crafts project.
It's a quick activity to set up and let the kids take over.
Then the kids can go nuts drawing straight lines and coloring in the witch!
Witch's Spell Activity
If you're looking for a fun kids witch activity, check out our Witch's Spell kids printable.
It's a fun witch activity where the kids can create their own unique spells and then decide what the spell does!
It's a good exercise in creativity, and you'll be both impressed and amused at some of the stuff they come up with.