Today we have a fun popsicle stick turkey craft! Really it's more of a turkey puppet, but regardless it's a fantastic thanksgiving kids craft! We'll even give you a free turkey template so your kiddos can easily make their own turkey too!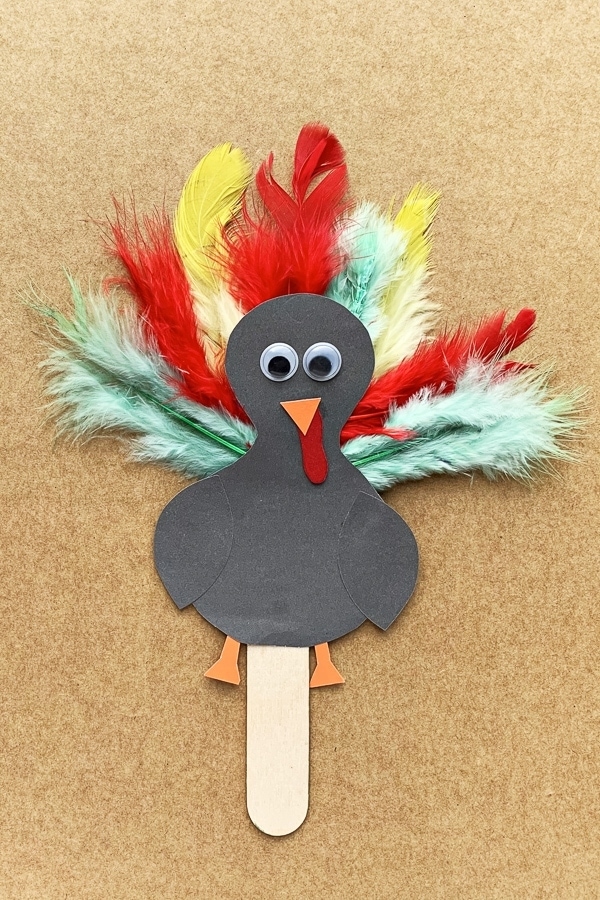 With Thanksgiving coming up, Turkey crafts are a must!
Today we are making this adorable popsicle stick turkey craft.
Make sure to check out some of our other turkey crafts for kids too, like our Paper Bag Turkey Craft and out Toilet Paper Turkey Craft.
Supplies Needed for Popsicle Stick Turkey Craft
To make this adorable little turkey craft, you'll need the following supplies:
Colored craft paper
Craft feathers
Googly eyes or our printable eyes
Popsicle sticks
You'll also need:
How to Make the Popsicle Stick Turkey
To make the turkey you'll need the supplies listed above, as well as our turkey template which is available in our crafty printable library!
Step 1: Gathering Your Materials
First, you'll need to select your craft paper colors.
We used gray for the body, orange for the turkey's beak and legs, and red for his wattle.
Then download, print and cut out the turkey template pieces.
Finally, cut each piece of the turkey template out and trace it to your color coordinating paper.
Step 2: Attach the Turkey Pieces
Attach the wattle piece to the head part of the turkey body piece.
Then attach the turkey's legs and toward the bottom half like shown below.
Step 3: Attach the Turkey's Beak
Now you can attach the beak on the top side of the wattle, slightly overlapping the top of the wattle.
Also, attach the turkey googly eyes.
Step 4: Attach the Turkey's Feathers
Now flip the paper turkey over.
Grab a few of the colored feathers and attach them on the backside of the paper turkey.
Making sure the feathers are visible from the front of the turkey.
See how we put the feathers up high on the turkey's body.
Step 5: Add More Feathers
Mix and match different colored craft feathers to make a fun pattern.
You can add as many or as few feathers as you like.
I think next time we make a turkey like this, we will add tons of feathers for a fun turkey tail.
Step 6: Grab the Wings
Now that your turkey has a face, legs and a tail, it's time to add a set of wings.
Step 7: Attach the Turkey Wings
Now attach the wing cutouts to each side of the turkey, like shown below.
Step 8: Attach Your Turkey to the Popsicle Stick
Now that your paper turkey is complete with all of it's body parts, attach your turkey to the popsicle stick.
Now you have an adorable turkey on a stick, or turkey puppet.
Whichever you prefer to call it.