Paper Plate Watermelon Craft (+Creative Activity for Kids)
Looking for a fun watermelon craft for kids? This paper plate watermelon craft is a cute and fun summer craft for kids. Its also super easy making it perfect for preschoolers.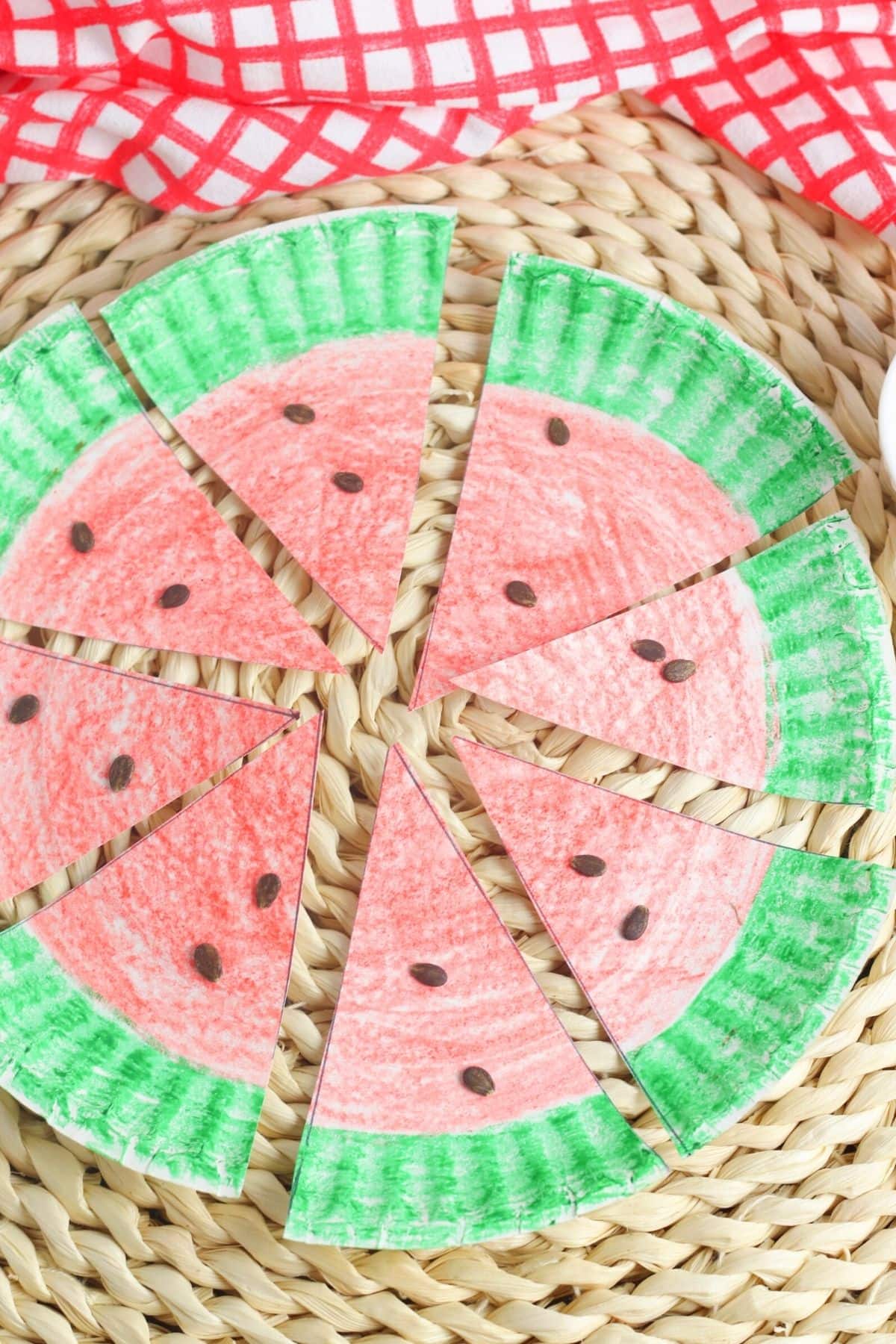 We love some paper plate crafts around here. There's just something so fun about transforming paper plates into other fun items.
Today we are making this cute little watermelon paper plate craft.
It's a fun and simple craft that only requires a couple of items you likely already have around the house.
It's also makes a great watermelon activity if you need something both fun and educational for the class room or home.
We are feeling this gorgeous summer weather and absolutely love eating watermelon during the carefree days. It's one of our favorite fruits and always an anticipated summer time treat.
And whipping up this creative summer craft was perfect for the occasion.
This is a great watermelon craft for preschoolers, as it's is not only fun but helps teach coloring, cutting and fine motor skills.
But it's also excellent as a tool for teaching older kids. It can help with fraction skills, addition skills, multiplication skills or practicing patterns!
Make sure to check out more of our paper plate crafts.
Supplies Needed:
To make your watermelon, you'll need a few of the following supplies. You can go about this one of two ways.
You can simply make a pretty paper plate watermelon, which is fun to play pretend with.
Or you can use the additional supplies and turn it into a learning activity.
So grab the following materials:
A paper plate: The inexpensive ones with no coating work best
Red and Green Crayon: You could also use green and red paint if you'd prefer.
You'll also need the following to make it a creative learning activity:
Pencil
Scissors
Ruler
Pack of watermelon seeds (Optional)
How to Make a Paper Plate Water Melon
To make your watermelon craft, start by gathering all of your supplies.
We used real watermelon seeds from a pack so we could practice counting and factions.
But you could also save some seeds after snacking on a real watermelon.
To make your paper plate watermelon, start by coloring the edge of the paper plate green. Only color the outer rim.
This will be the green rind of the watermelon.
Then color the inside of your plate red, to resemble a round watermelon slice.
Next, take your ruler and draw a line down the center of the plate.
Continue to use the ruler to split the plate into 8 pieces like shown below.
Now cut out all the slices so that you have 8 pieces of watermelon.
Watermelon Activity Ideas
Now that you paper plate watermelon craft is all done, you can have fun with different teaching lessons.
For preschool aged kid, you can have them practice placing watermelon seeds on the slices and practice counting the seeds on each slice.
You can also have them practice patterns with the number or placement of the watermelon seeds on the slices and then ask them to recreate the pattern.
For older kids, you can have them practice addition and multiplication.
For addition practice, place a different number of seeds on each watermelon piece. Then have them add the seeds together to find the correct sum.
To practice multiplication, place an equal number of seeds on each watermelon piece and use multiplication facts to find the sum of each equation.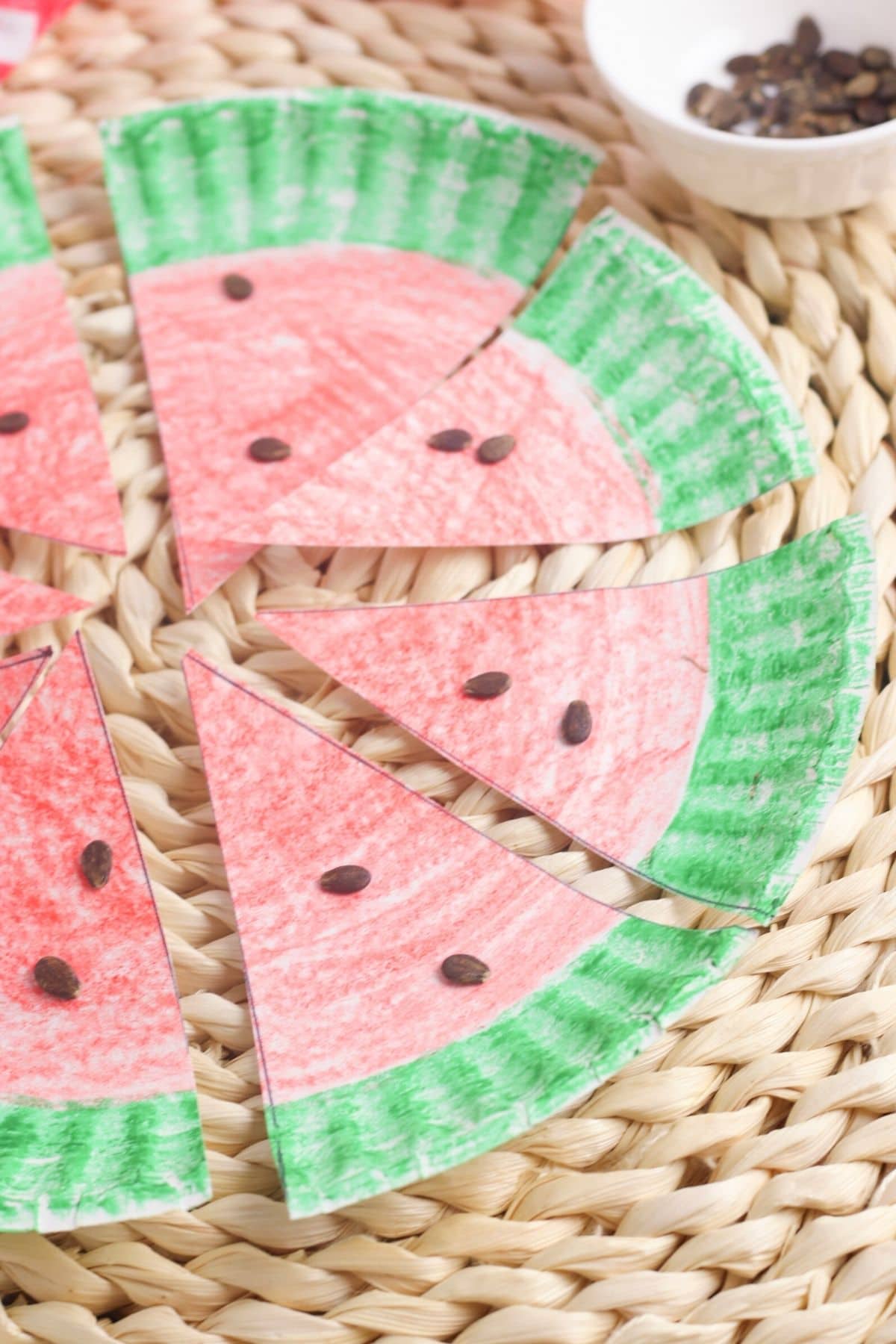 This is one of those fun and easy crafts that kids love, and don't realize they're doing math too!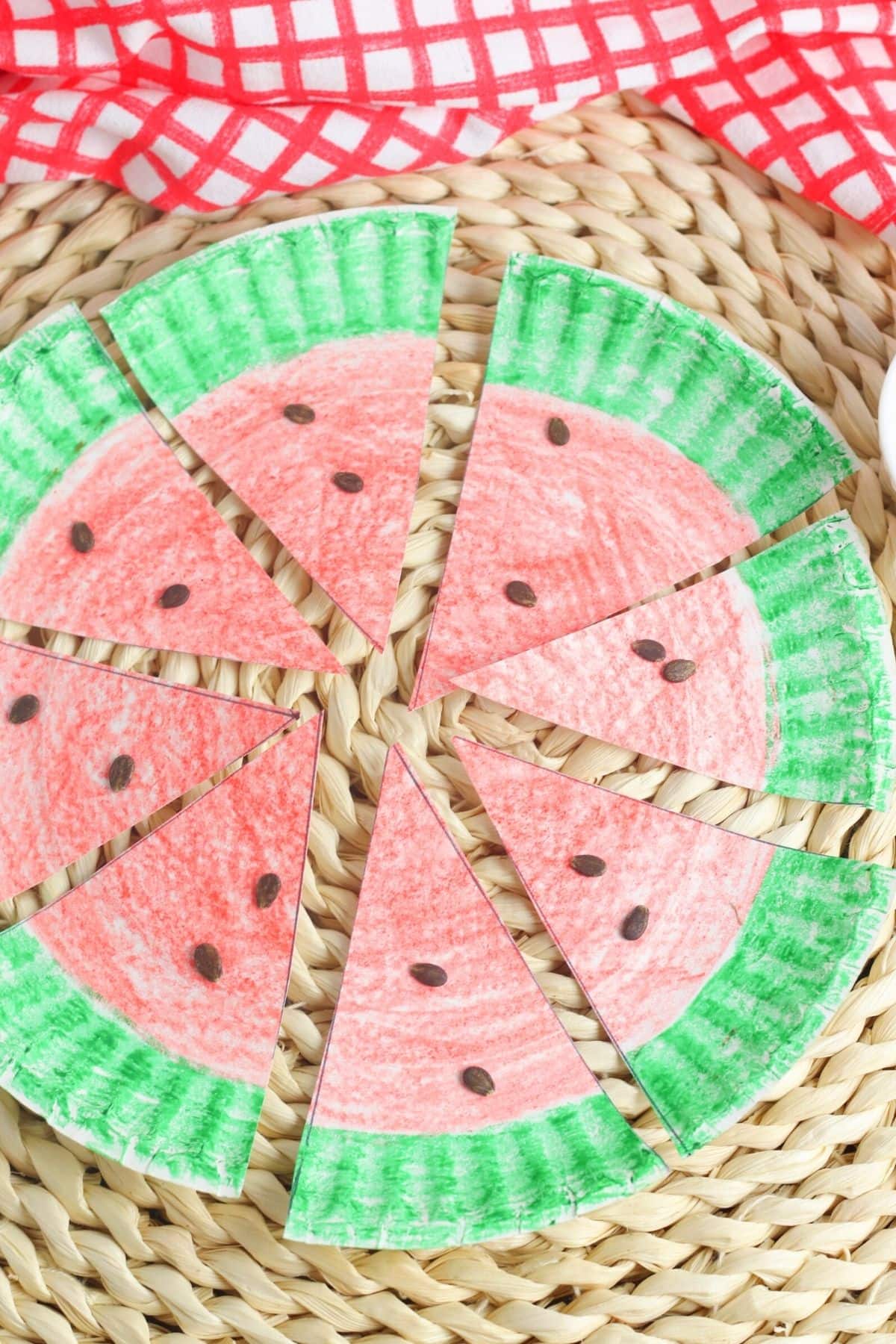 Yield:

1 Watermelon
Paper Plate Watermelon Craft
This easy paper plate watermelon craft is a fun and easy summer craft for kids. It also doubles as a fun learning activity for kids to practice fractions or other math concepts.
Materials
Paper plate
Red crayon
Green crayon
Watermelon seeds or Black beans
Instructions
Start by coloring the edge of the paper plate green.
The color the inside red to resemble a round slice of watermelon.
Divide the paper plate watermelon in half, then in half again.
Divide the remaining quadrants in half again, creating 8 slices of watermelon.
Decorate the water melon slices by gluing the seeds or black beans down.
Or use the seeds to teach the learning concepts mentioned above.
Notes
If you are looking for just and easy watermelon craft, then simply glue your seeds down onto your watermelon. Leave the seeds loose if you are wanting to talk about fractions or patterns with the kids.