Super Cute Paper Plate Spider Craft
Today we are making these adorable little paper plate spiders! Well, technically we are making a paper plate spider web with little pom pom spider puppets. Your kids will love to make these adorable spider craft.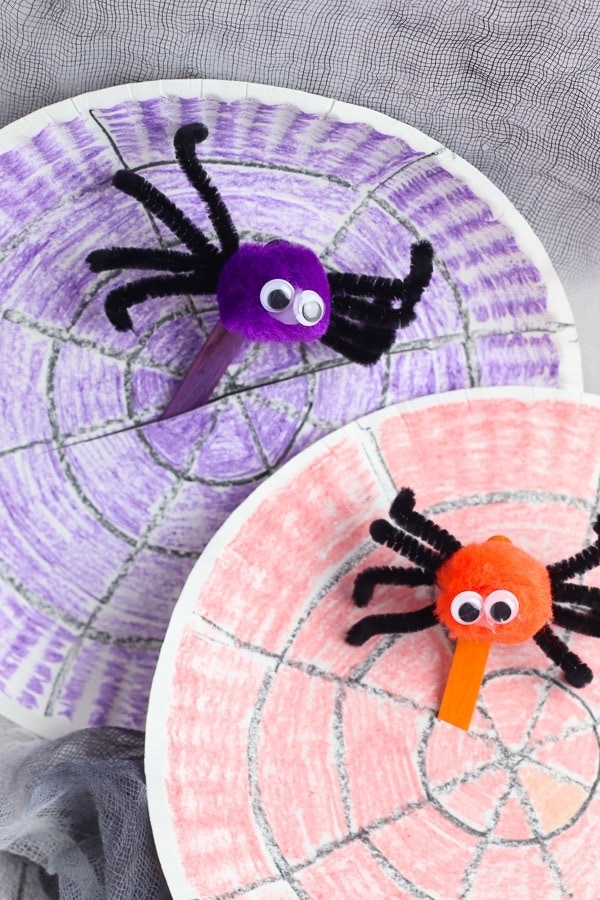 We have been having fun with paper plate crafts lately and today is no different.
Since October is right around the corner, we have been having fun with Halloween crafts.
This adorable little paper plate spider craft fits the bill for both!
It's a fun bug craft perfect for kids!
Instead of making the spiders out of paper plates, we turned the paper plates into spider webs and created cute fluffy spider puppets out of pom poms!
This turns our paper plate craft into a fun Halloween activity!
We'll even show you step by step how you and your kids can make your own paper plate spider puppets.
Make sure to check out the rest of our paper plate crafts for kids.
Supplies needed For Paper Plate Spider Puppet Craft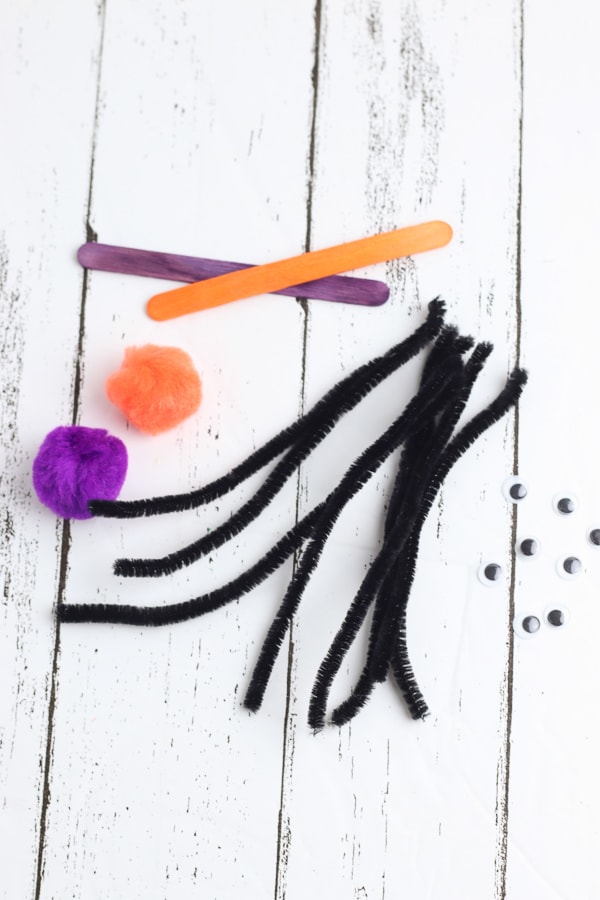 Black pipe cleaners
Large pom poms (we used purple and orange)
Small googly eyes (Or grab our printable eyes)
Popsicle sticks
Glue
Paper plate
Crayons (we used purple and orange)
Scissors
How to Make Your Spider Puppets
To make this adorable spider craft, first we'll start by making the spider puppets.
Grab your pipe cleaners and cut them in half. Then grab 4 of the halves and line them up, then twist in the center creating 8 spider legs, like shown below.
Then bend each leg to create "knees" for your little guy.
You can repeat with the other 4 halves if you are making a second spider puppet.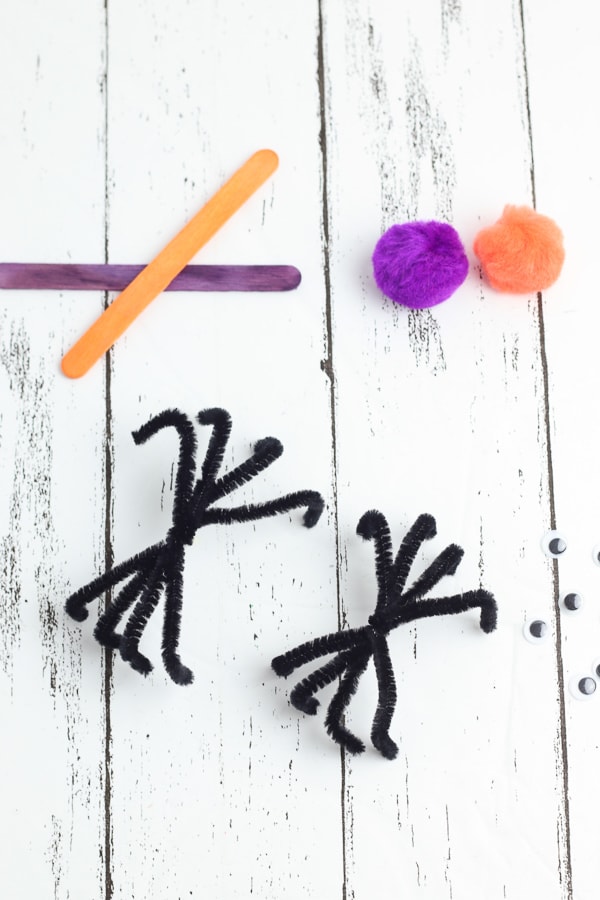 Next glue one of your pom-poms to the top of your pipe cleaner spider legs. This will be your spider's body.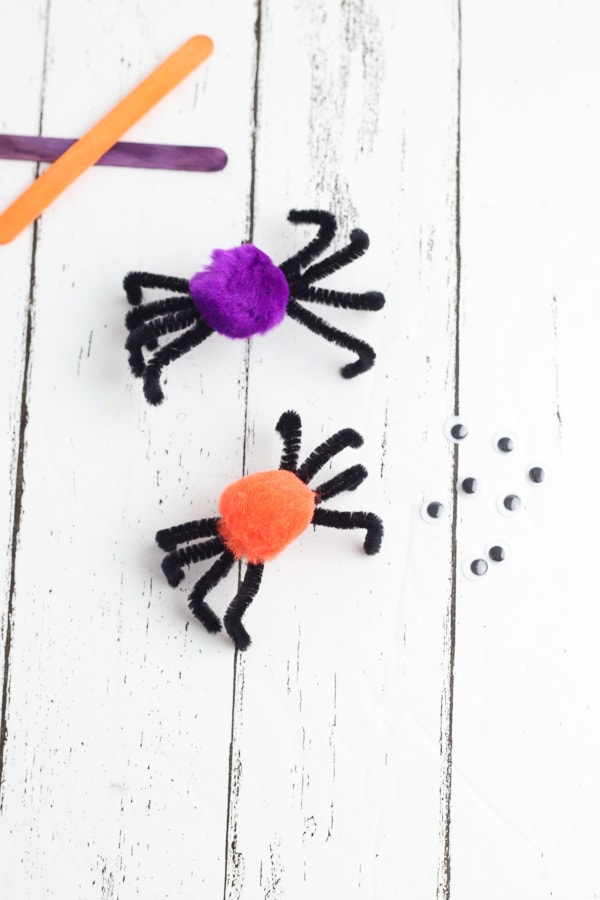 Now add some googly eyes to your spider puppets. I know spiders usually have eight eyes, however our little guys only have 2, and it works well.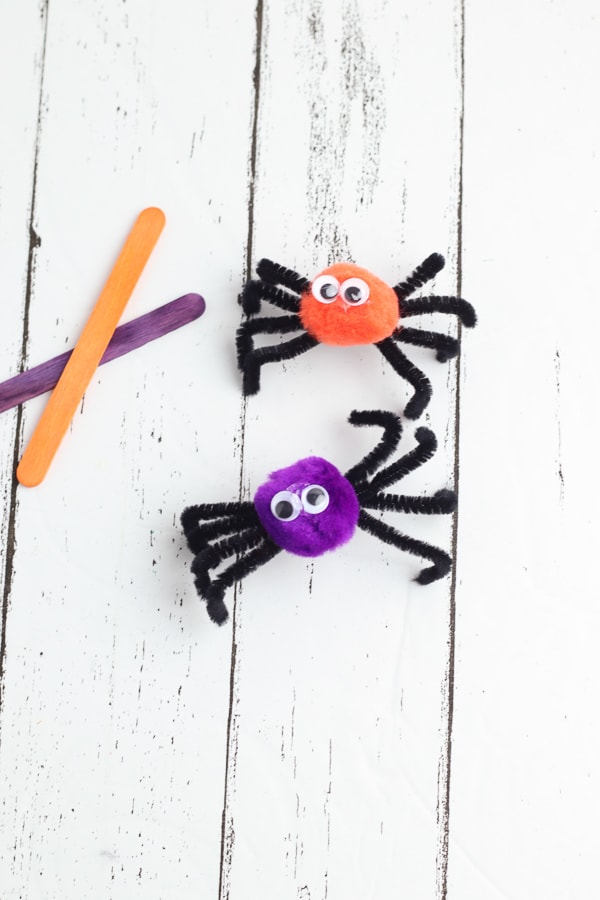 Now that your spiders have come to life, you can glue a popsicle stick to the back of them.
This will allow you to use stick your puppet through the paper plate spider web. (We're about to get to that below.)
Set your spider puppets aside while you create you decorate your paper plate.
Decorating Your Paper Plate
The paper plate is going to act as your spiders home, so the kids can decorate it any way they like.
We used a black crayon to draw a big spider web onto the center of our white paper plate.
Then we matched our spiders color to a crayon and colored in the background of our spider web.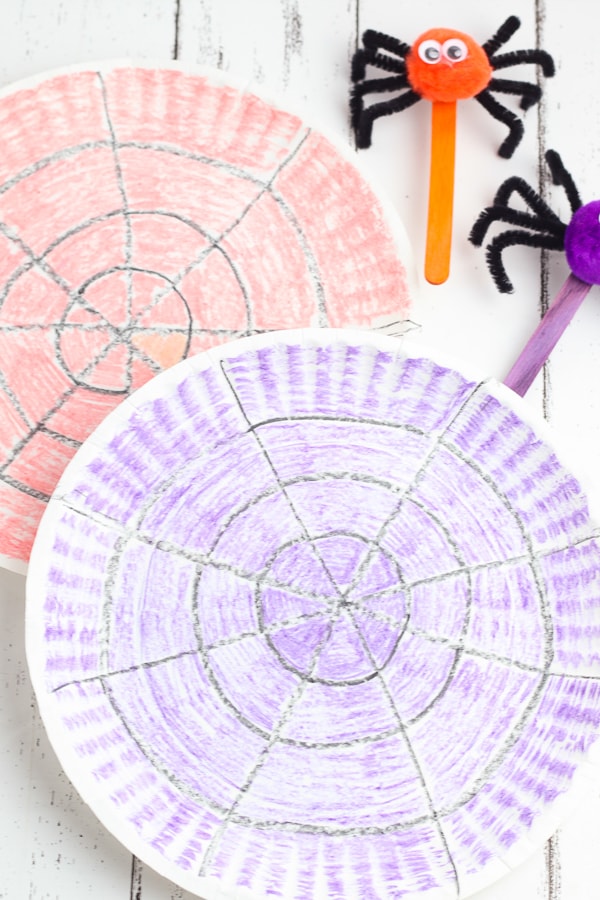 Next, use your scissors to cut a line in the center of your spider web. Make sure to keep the sides of the plate intact.
You want to cut just the center to allow your spider puppet to pop in.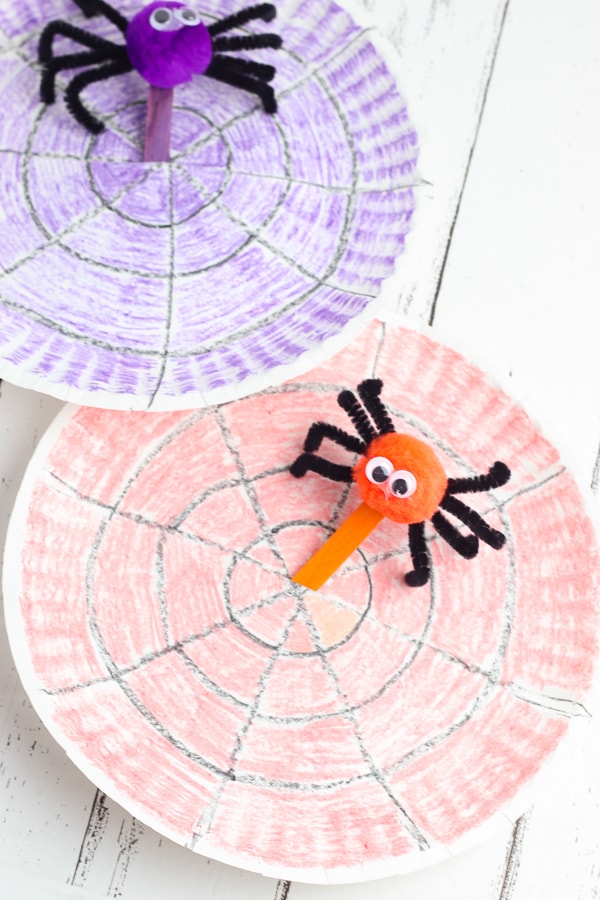 Now the kids can have fun playing with the spider by sticking the stick through the slit of the plate and moving it around.
We think using glitter and glue would have been a really fun way to make our spider web as well, but today we were keeping it simple, and mess to a minimum.
This is a great Halloween craft for preschoolers. The kids can have fun by singing songs like the itsy bitsy spider while making their spider puppets dance around.