Free Printable Shamrock Template for Crafts and Activities
Today we have free printable shamrock templates! These are totally free, click and print printables. Perfect for St. Patrick's day or to use as coloring pages.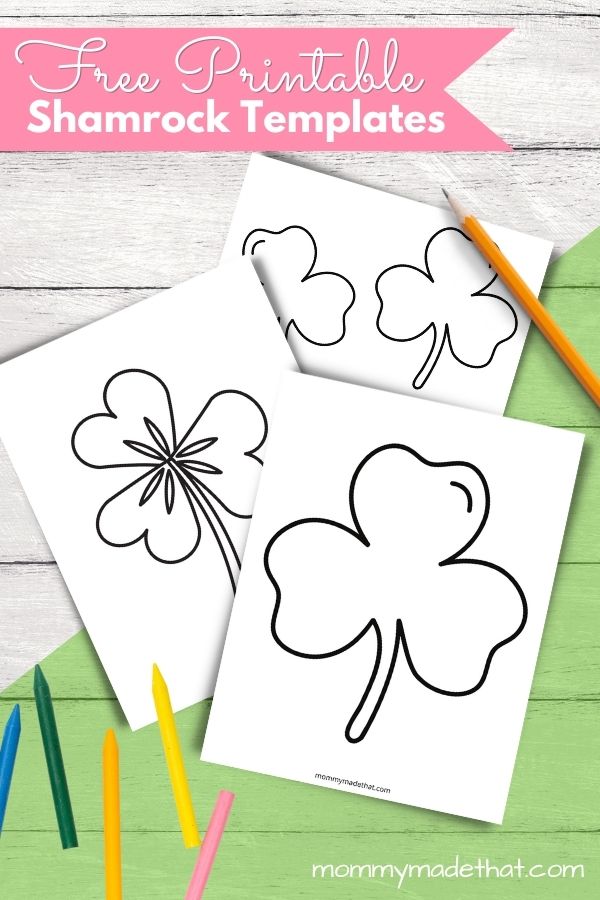 It's no secret that here on this site, we love us some free printables!
These printable shamrock templates are ideal for drafting and making craft projects with your children.
But we also have some four-leaf clover templates that would work great for many projects as well. And they'll pair perfectly with our pot of gold templates and rainbow templates as well.
If your looking for some printable St. Patricks Day activities also make sure to grab our St. Patricks day word searches!
Now, back to the shamrocks.
These templates are available in large, small and medium sizes to help you pick which suits you best.
We also include a few different shapes in case you want a different kind of look for your shamrock project.
You can use these shamrock printables for your own personal use or for classroom use. Print out as many copies as you like.
Make sure not to print from the photos themselves but to click the link to download the PDF file so you get clear crisp pintables.
How to Use these Shamrock Templates
There is a ton of things you could do with these shamrocks! You can print them and color them.
You could cut them out and write fun St. Patricks Day facts on them for school projects.
You can cut them out and laminate them and use dry-erase markers on them as name tags, dates for the month or loads of other things.
Use them with watercolor pencils or cut them out and use them as templates for tracing.
Using the Shamrock Templates for Parties or Decoration
You can print out and use the templates to create shamrock shaped name tags, place holders or signs for a class room party with a shamrock theme.
You could also print them, have the kids all color them and string them up all in a row to use as a festive bunting.
The kids will love having contributed to decorating for the party!
Using The Shamrock Templates as Coloring Pages
To use these as coloring pages simply print them out and get to coloring!
Its a fun way for kids to develop creativity, use their motor and focus skills and use practice color recognition.
The Large Shamrock Template
We include a large shamrock template so you can have plenty of space to work on in this one template.
You can download the Large Shamrock Template Here.
Medium Sized Shamrock Templates
We also include a sheet with medium sized shamrock templates.
These are much smaller than the large one above, but a good size when working on large group projects or crafts with several shamrocks.
You can grab the medium shamrock templates here.
We also have a second version of the shamrocks that less organized and a little more fun for coloring use.
These shamrocks overlap or turn away from each other offering a change up in size and shape.
You can grab the second set of medium size shamrock templates here.
Small Shamrock Template Printable
If you're looking for smaller shamrock templates, we have one printable that has 9 small sized clovers on it.
These are all neat and tidy and would be great for word practice activities and other crafts.
You can grab the small shamrock template here.
Shamrock Coloring Page Template
Our last shamrock template is more of a pretty shamrock and would make a lovely coloring page!
It has a little more detail than the others but would still make an interesting looking template by itself.
You can grab the coloring template shamrock here.
Grab all the Shamrock Template Printable downloads below!
We also have some fantastic four leaf clover templates you can check out.