Free Rainbow Template Printables (Lots of Designs!)
Looking for a good rainbow template you can download and print? Today we've got just the thing. We've created several rainbow outlines you can grab for all your crafting needs.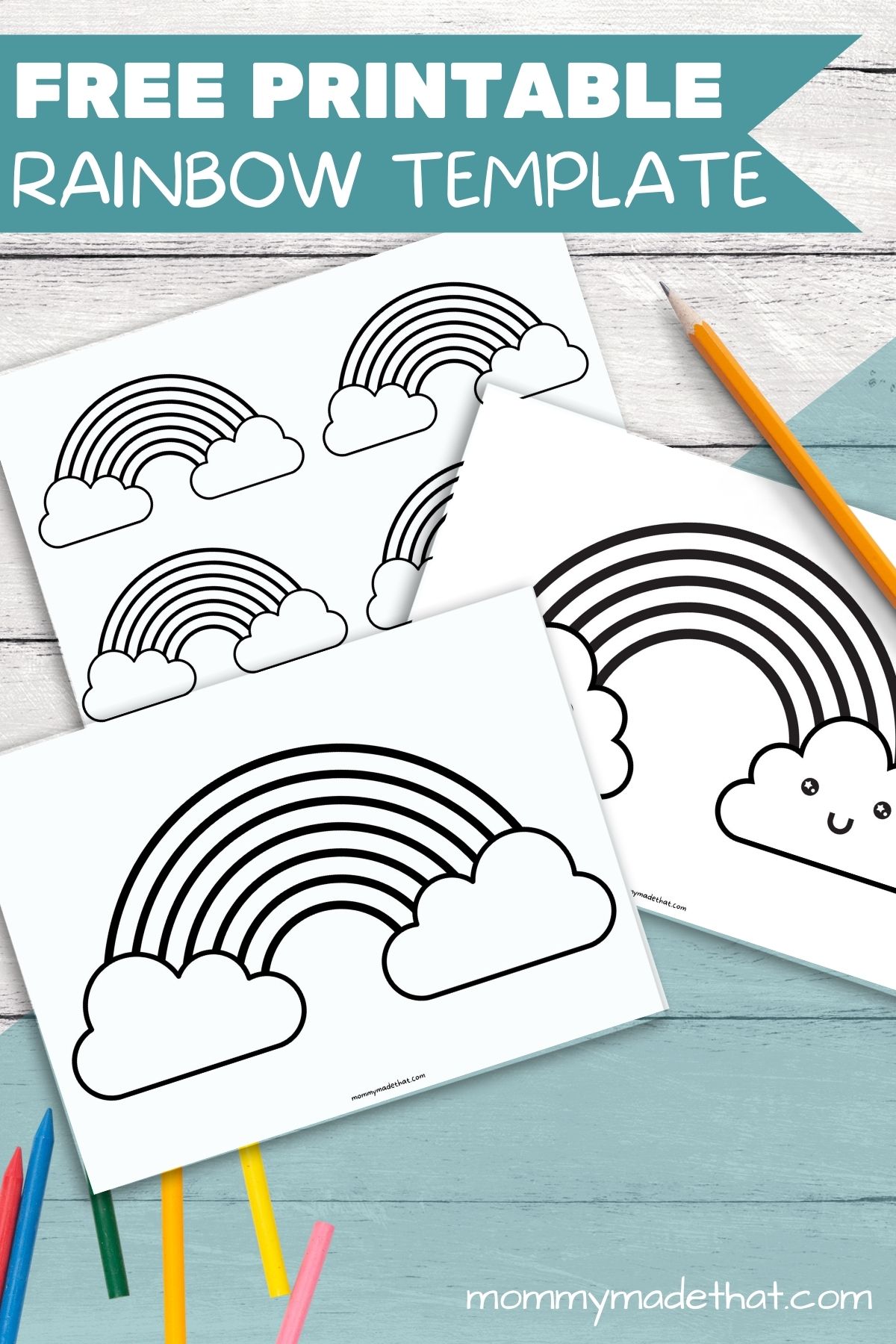 These rainbow templates are multifunctional and great for tons of different art projects, craft projects or learning activities.
They'd pair perfectly with our umbrella templates or our weather templates like our sun template and cloud templates. The best part is we've made these free rainbow outlines easy to download and again, totally free!
But they also go great with our pot of gold templates.
We like to print and use watercolor to color in our rainbows. But there are tons of craft ideas you can do with these babies. Here are a few of our favorite ideas.
These templates are all printer friendly, blank and white rainbow outlines that can be used as rainbow templates, stencils, cutouts, writing templates or activities for school aged children.
Activity & Craft Ideas
Rainbows are one of my favorite types of spring crafts. They are so full of color and hope, and kids just love them!
Of course, all of these templates would make fabulous coloring pages. Print out and color the large rainbow using crayons, markers, watercolors, paints or any of your favorite coloring medium.
You could also use white glue to fill in the rings one by one and sprinkling with rainbow colored glitter to create glitter art.
Use crumpled up tissue paper to make small balls of color and a few dots of Elmer's glue to line each ring of the rainbow in color. This is great for a fine motor activity.
Use the smaller rainbow cutouts and string them together using yarn and a hole punch to create a colorful and fun bunting or banner for the classroom.
If you're using in a classroom, you can have the kids color and cut out a rainbow of their own. They can then put their name in one cloud and their favorite color of the rainbow in the other ones.
You can use the rainbows to create a sign for your child's door, to decorate a spring time bulletin board at school, as a rainbow stencil or just to create fun designs inside the rings.
How to Download
We wanted to make downloading our free rainbow printables as easy as possible. Just find the templates that you'd like to use, and click the link below.
It should open up the download in a separate tab. And then just print away!
These templates are for personal use or classroom use only please, not to be used for commercial use.
Large Rainbow Templates
We have several large rainbow templates that take up the whole page. Here are the rainbow print outs we created: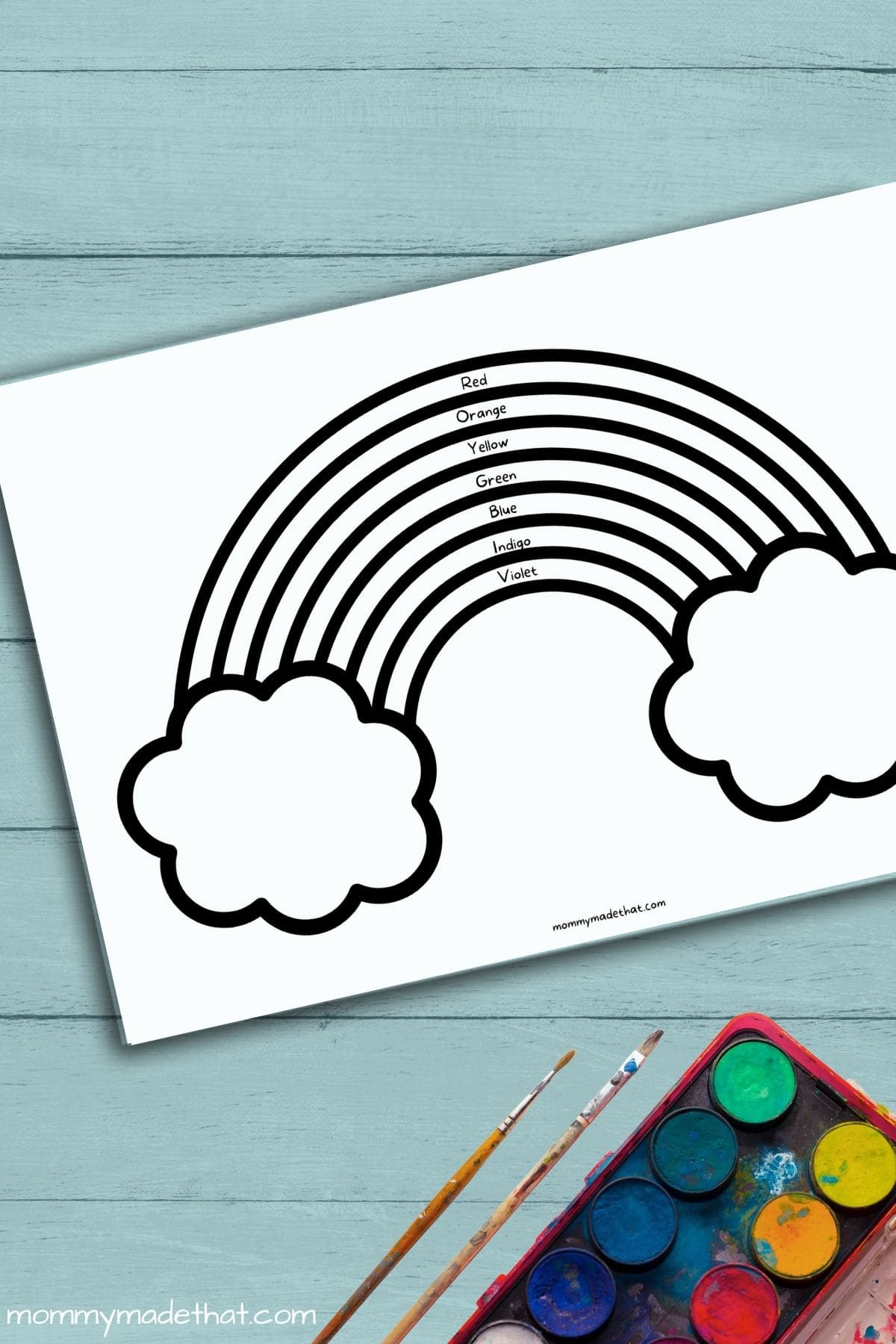 The first large rainbow template we have includes 7 district rings labeled with the official rainbow color names.
It's great for learning and memorizing the colors of the rainbow.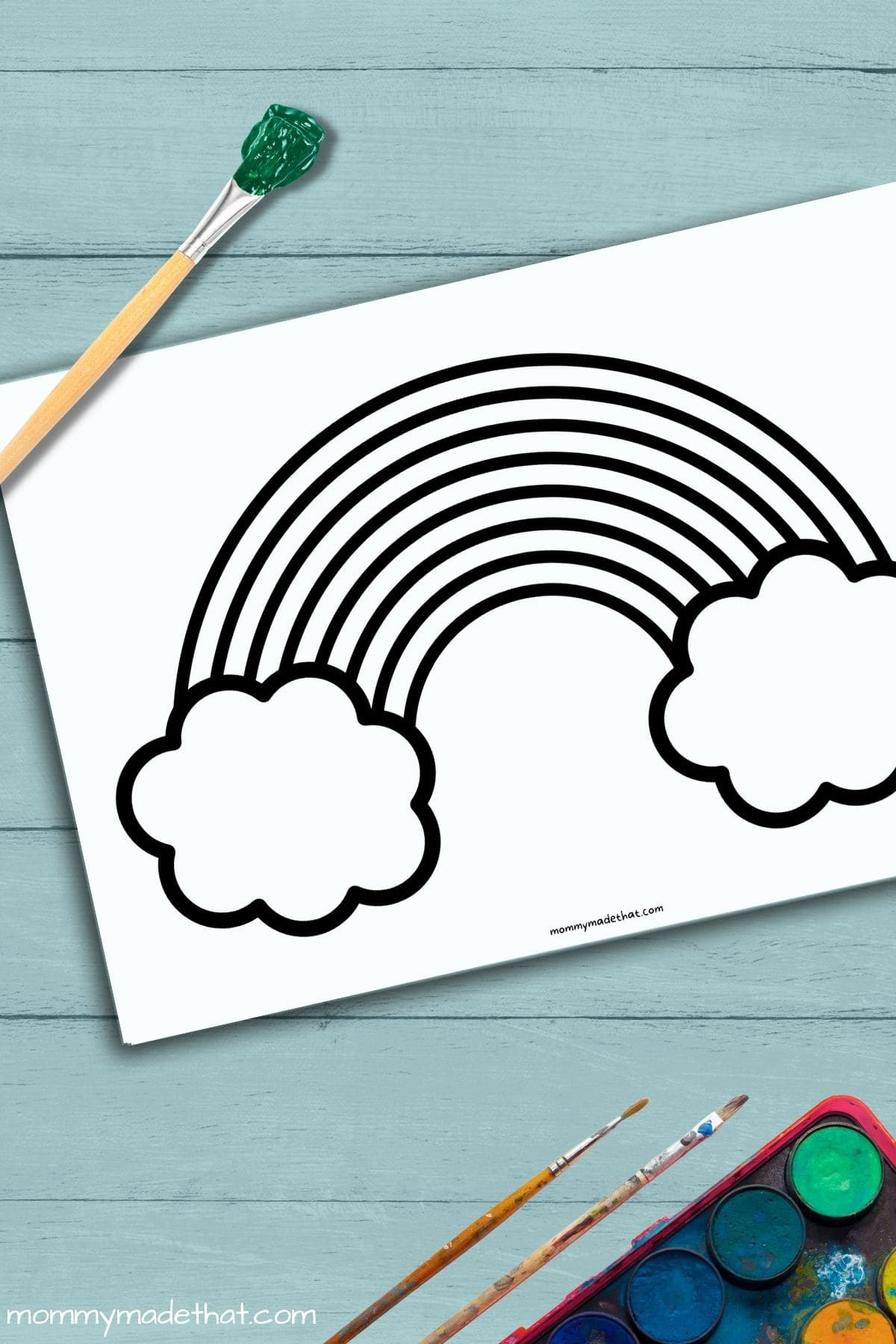 The second rainbow printable is just like the first, but without the colors being labeled.
It's another great rainbow pattern for learning activities since it has space for all 7 colors. But it also allows kids a little more freedom to what colors to color their rainbow.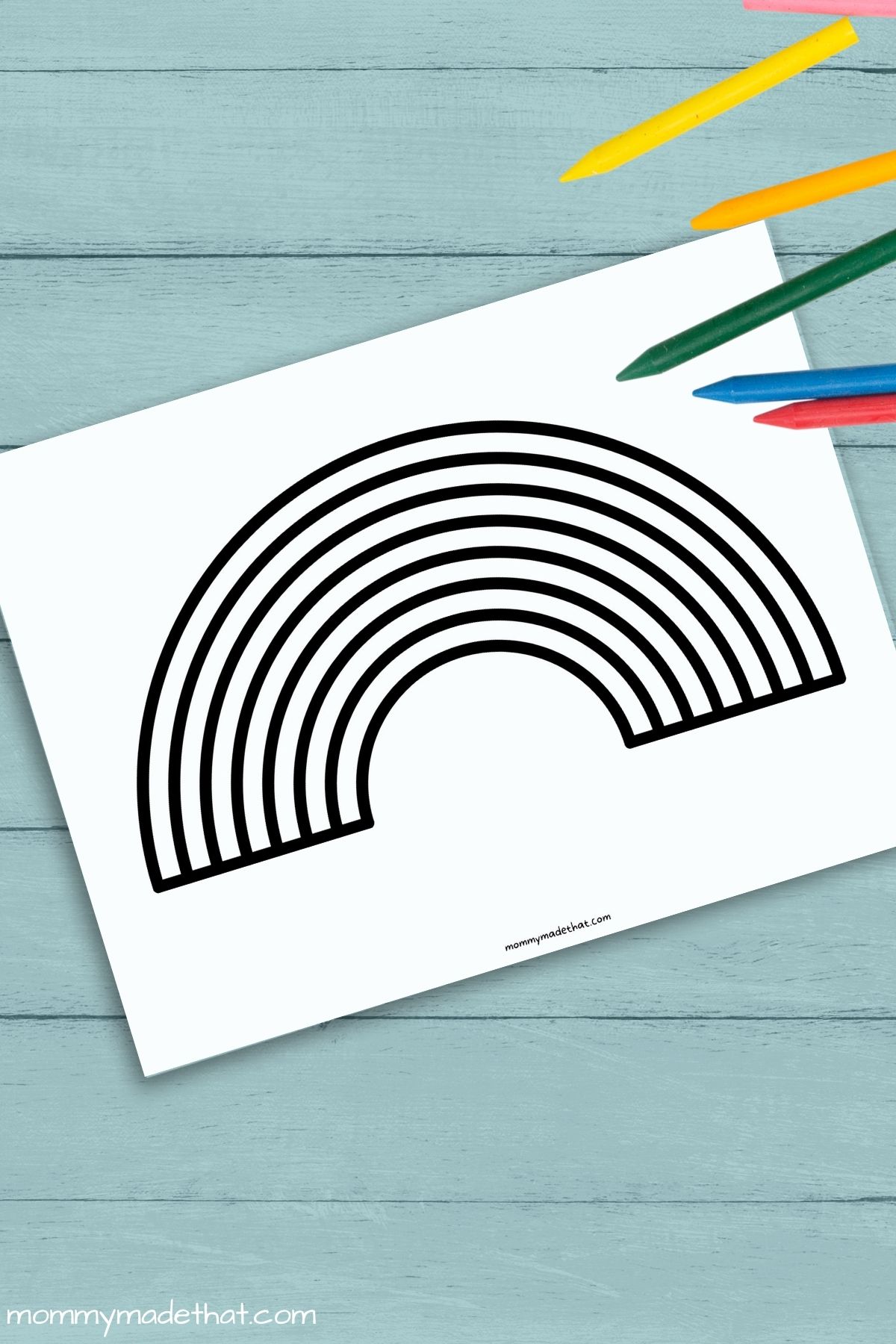 If your looking for a plain rainbow, we included one of those as well. This one is without clouds.
One fun craft project we did with this particular template was to color in the rainbow outline with the different colors and then use cotton balls to glue on big fluffy clouds of our own at the bottom of each rainbow.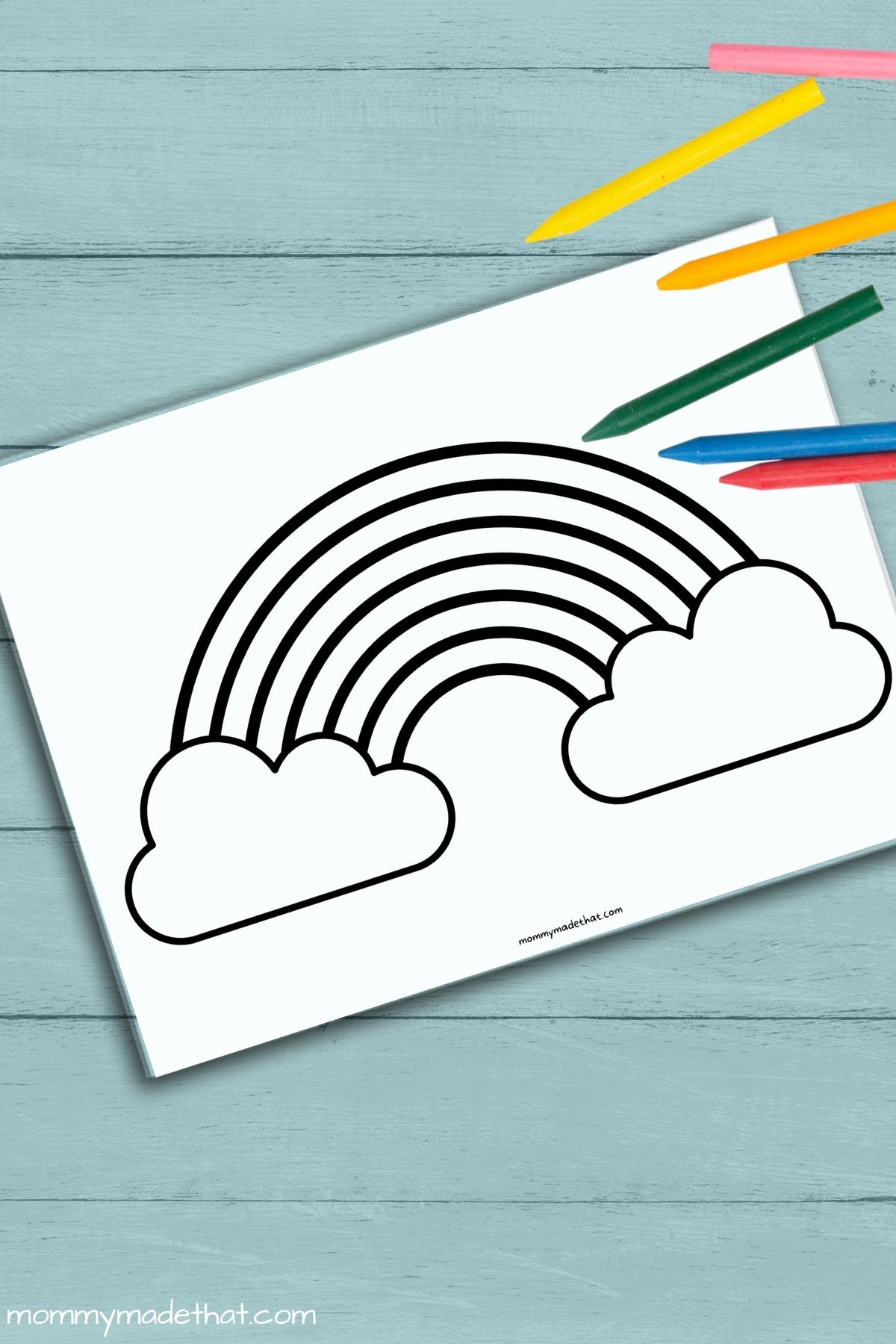 This template is a great rainbow with clouds that has larger areas to color in and pretty clouds with a flat bottom.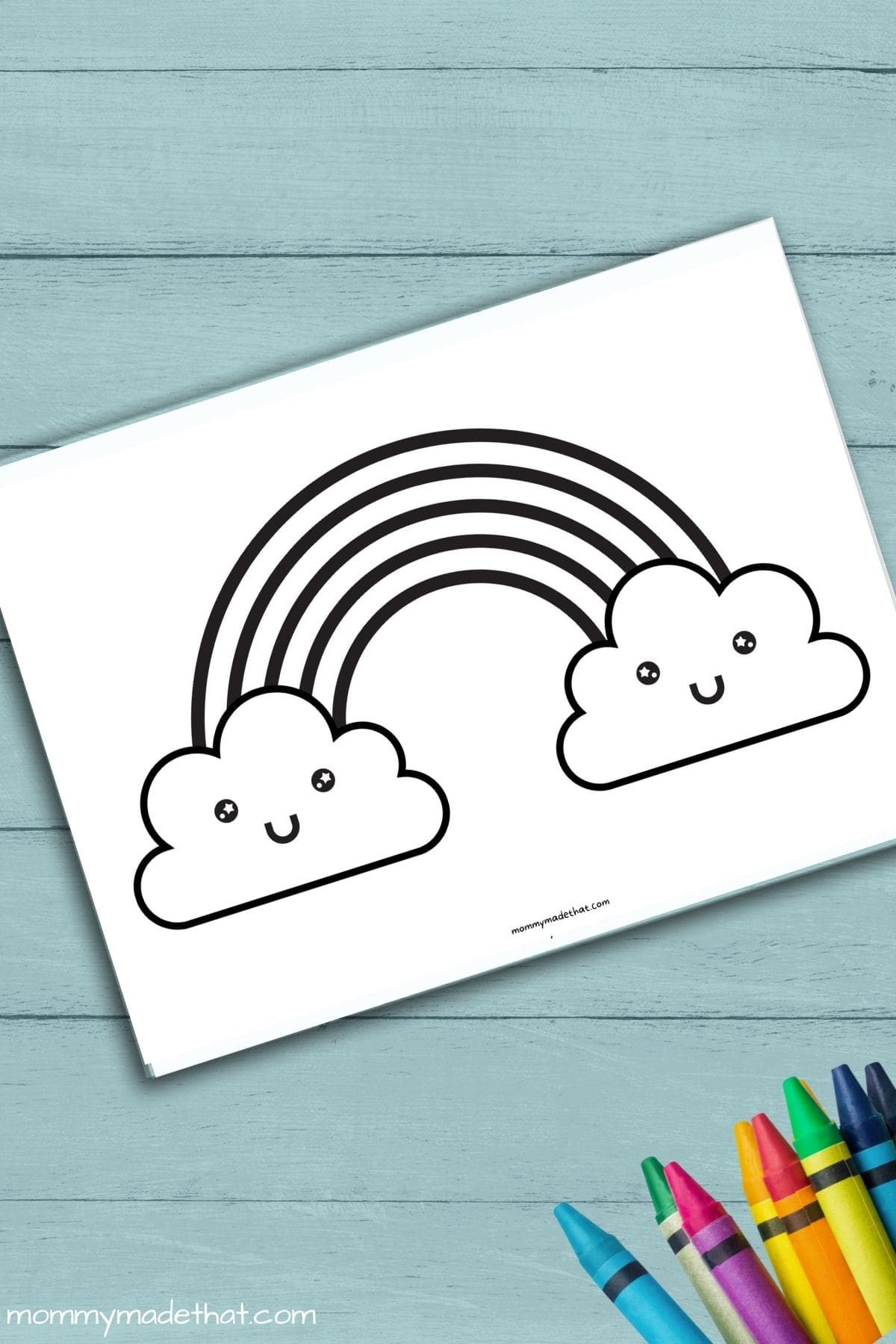 One of my favorite rainbow patterns is this one! This adorable rainbow with clouds has cute little happy faces in them. It's perfect if you are looking for a good rainbow coloring page.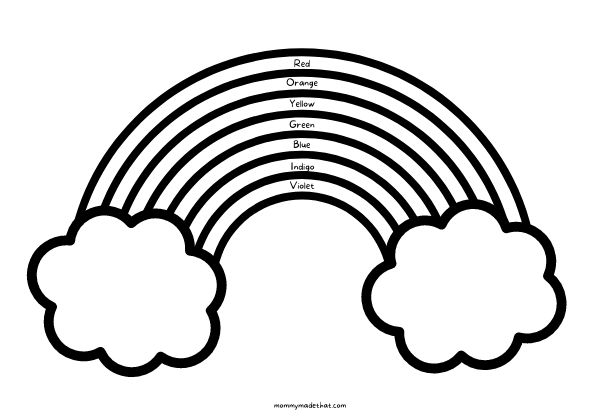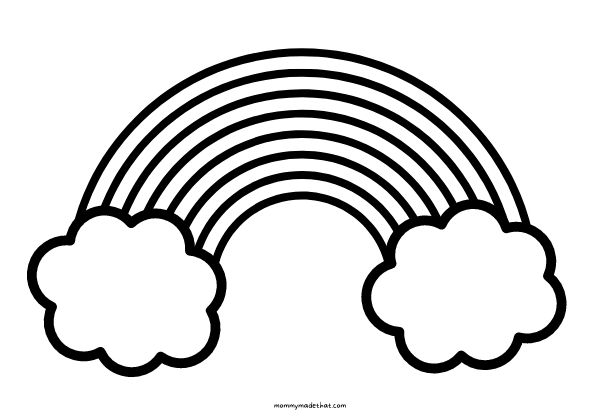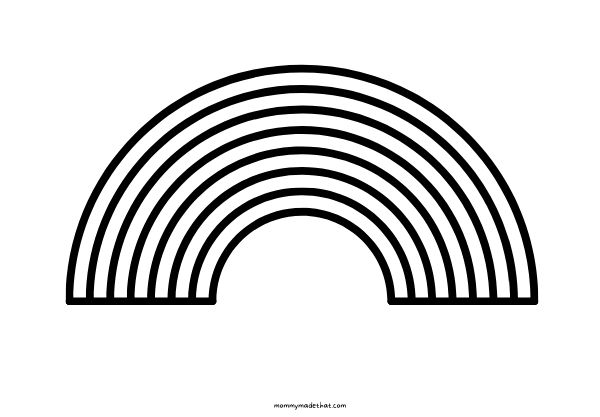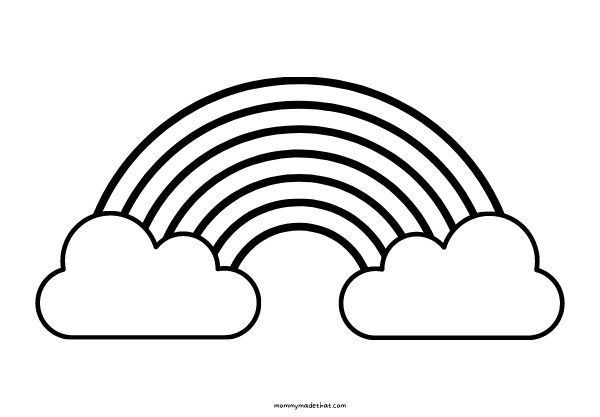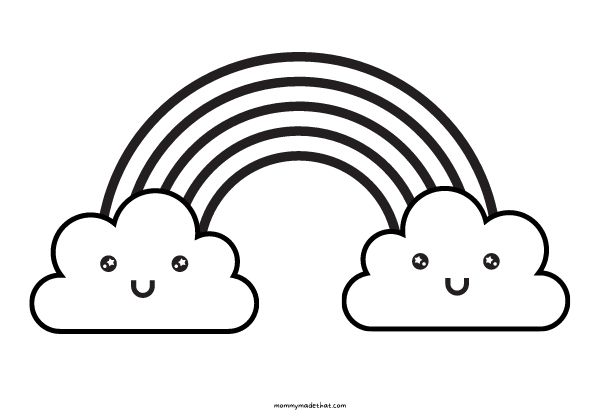 >> Download the large sized rainbow templates here.
Medium Sized Rainbow Outline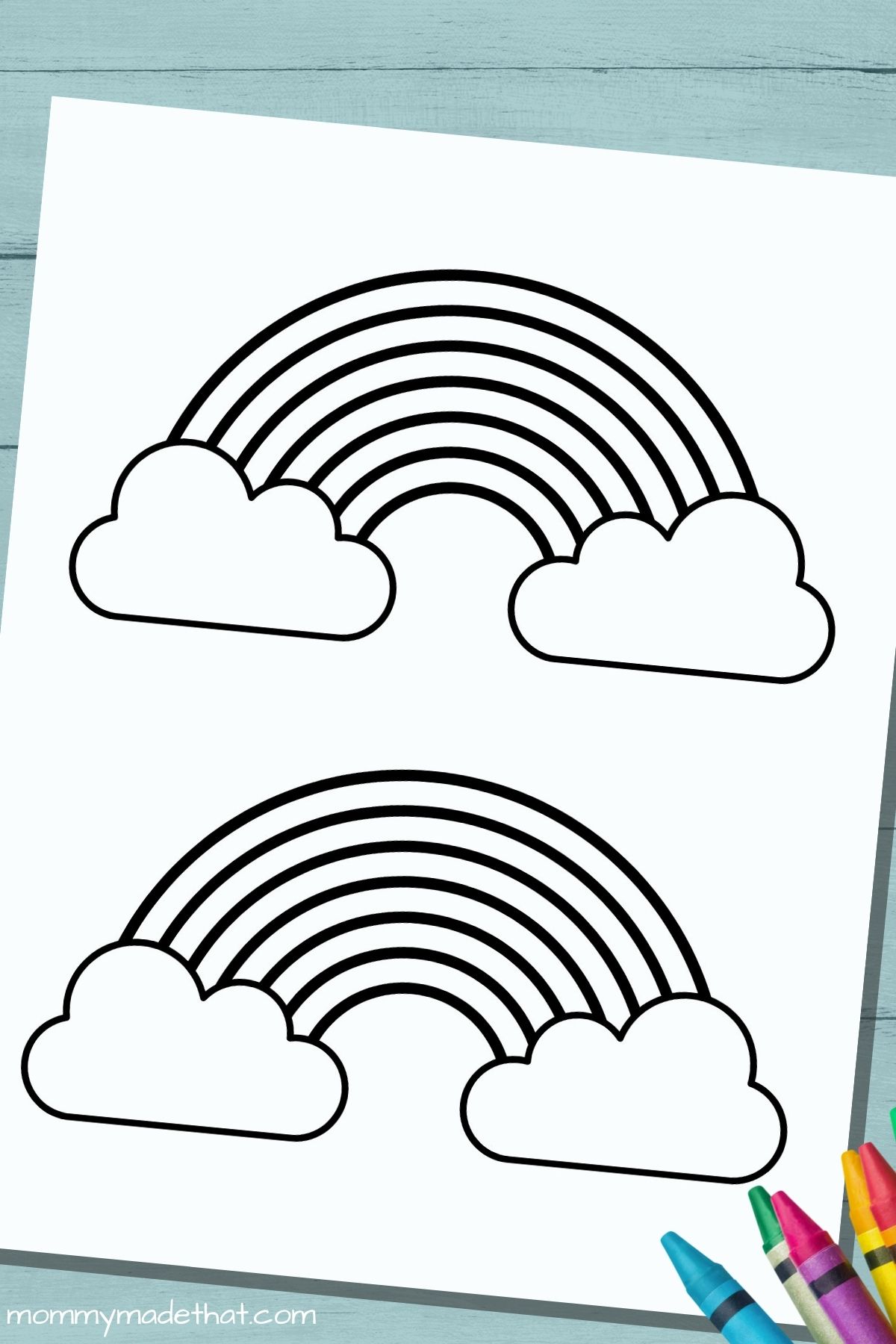 If you're looking for a good medium sized rainbow template, this one is perfect as it contains two on one page.
You can cut the page in half to create two separate smaller rainbow printables or leave them together for a fun comparison activity.
These ones in particular would be perfect for creating a card or for gluing onto colored craft paper to create an art scene.
Grab the medium sized rainbow printable here.
Small Rainbow Printable
Finally, we've also got smaller rainbow templates to use for smaller craft projects.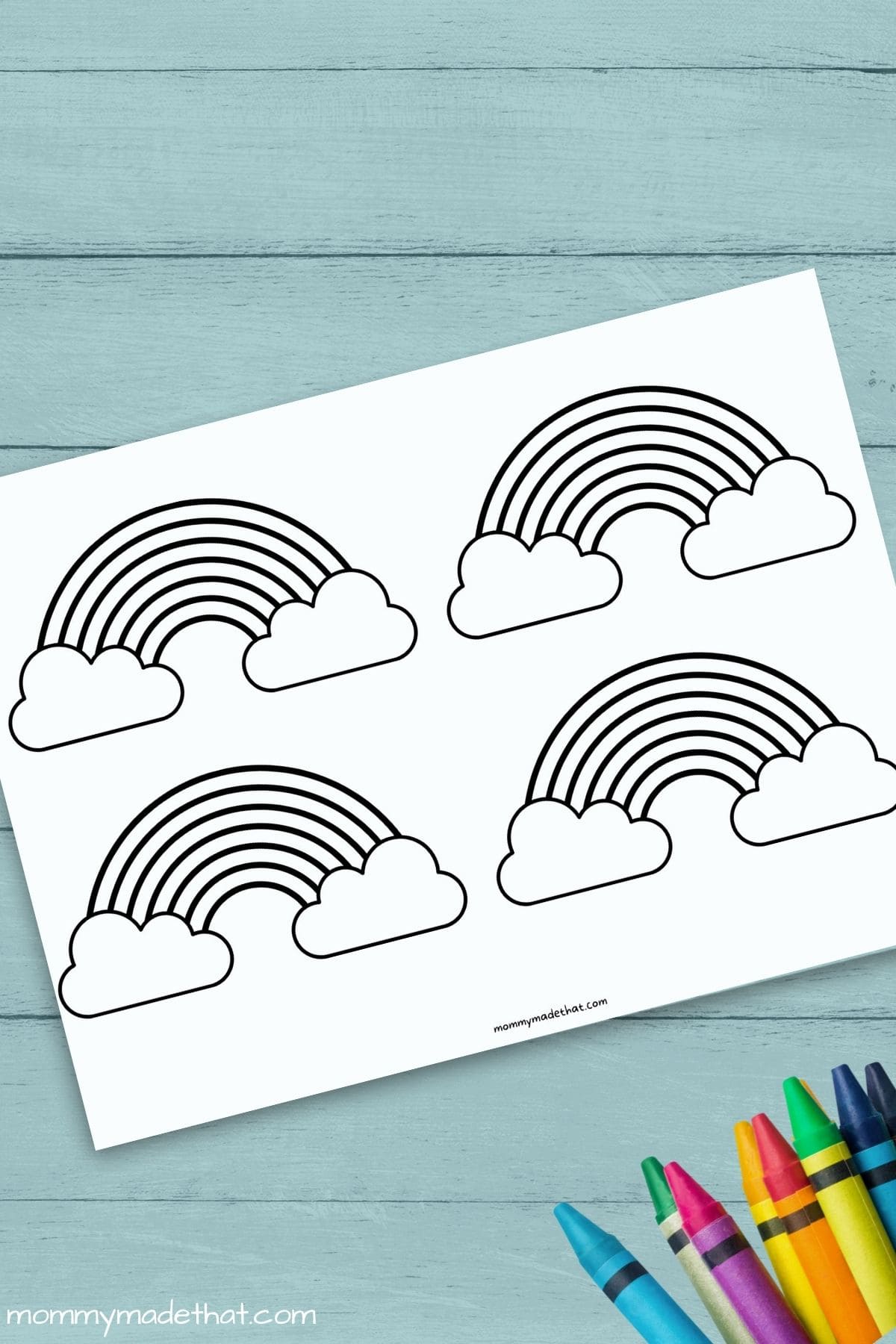 We included two smaller templates. One is smaller rainbows with clouds that have 4 rainbows in total per page.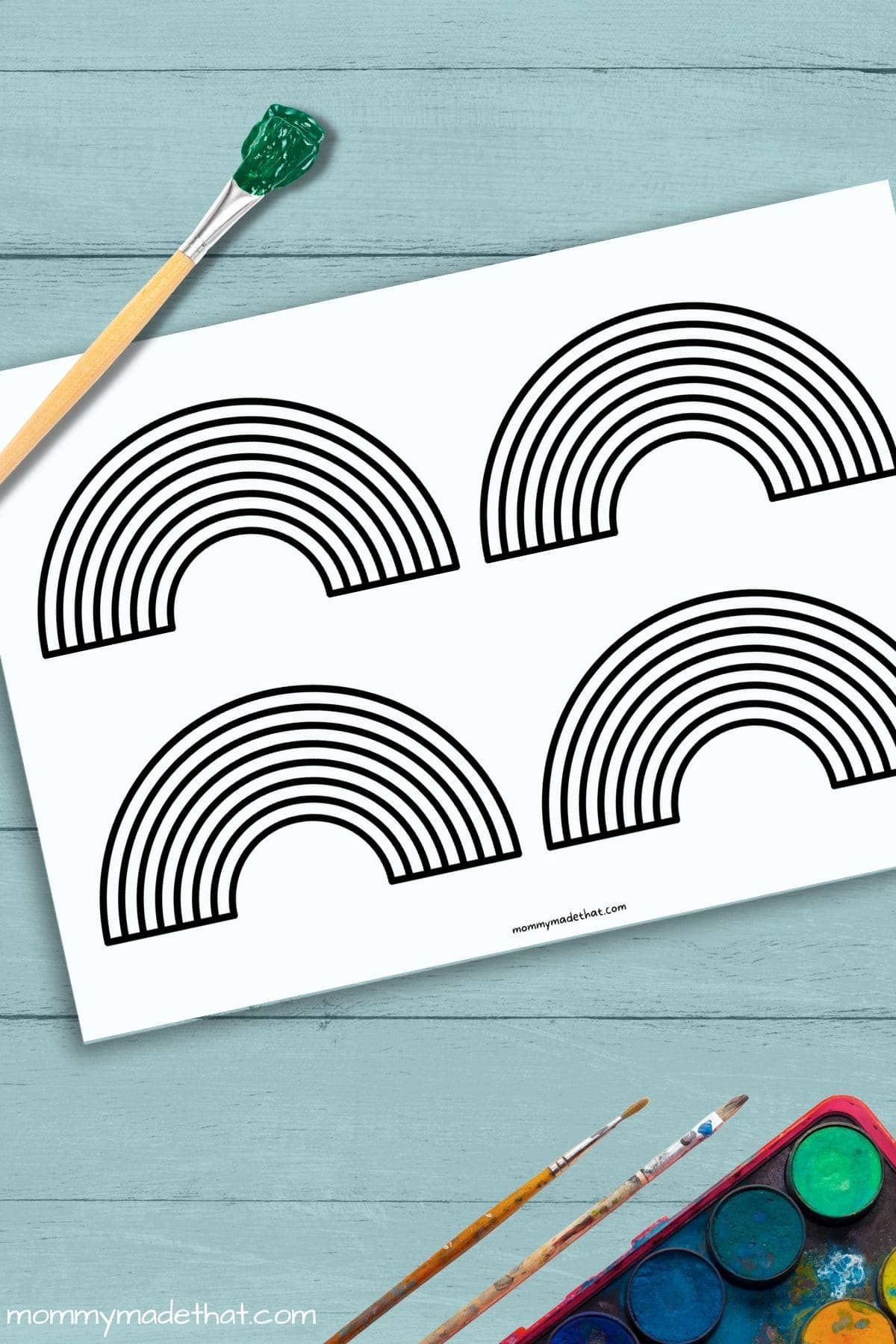 And the second one is plain, simple rainbows with out the clouds.
You can grab the small printable rainbow templates here.