Free Printable Four Leaf Clover Template
Today we are featuring these fun four leaf clover template printables! Perfect for crafts, activities and St. Patrick's day fun.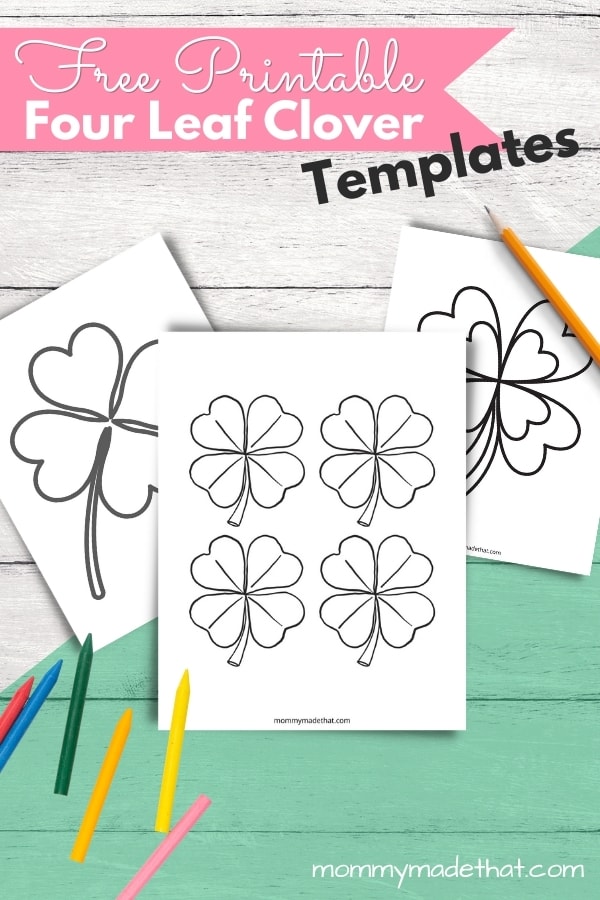 Here's a four leaf clover template that you can print and cut out. This is great for school activities and projects, crafts, or just to as fun coloring pages. It's a great St. Patricks day printable.
The four leaf clover template can be used as an addition to your scrapbook pages, photos, cards or crafts.
Whether you're celebrating St Patrick's Day or not, these four leaf clovers are sure to bring luck and happiness to all who use them!
I like to use these 4 leaf clover templates whenever it's nearing St. Patricks day.
Many people believe that four leaf clovers bring luck. There are various theories about four leaf clovers and luck.
The Luck that four leaf clovers are said to come from a combination of the weed's rarity and the belief that four leaves signify or represent some "lucky" number like four suits in a standard deck of cards, four seasons or even four traditional Irish blessings.
These pair great with some of our other St. Patrick's day themed templates too like our pot of gold templates, rainbow template and shamrock templates.
Creative uses for Clover Templates
There are so many uses for these four leaf clover outlines. Here are some of my personal favorite ideas for using these printables.
School Activities
You can use these printable templates for St. Patrick's Day themed activities in school activities but using them as flash cards for ABCs or numbers.
You could also use them to have the kids write facts on them about the current lesson plan. Just instruct them to write their 4 favorite things they learned. Or 4 things that make them feel lucky.
You could also print them on green construction paper and punch holes at the top of each one so you can string together with yarn.
Four Leaf Clover Craft Ideas
The templates are also great for crafts. You can cut the four leaf clover shapes out and color them with crayons, markers or even watercolor paint.
Then use them in scrap books or to create a fun collage.
They also make great clover shaped magnets for your fridge or to create wearable pins for St. Patrick's day so you always have a pop of green color no matter what you are wearing.
It's a nice way to avoid being pinched by tiny fingers.
Use them as coloring pages
Of course simply printing them out and coloring them is a fun activity by itself. I like coloring them in with the kids with water color pencils in different shades of green.
Then adding just a bit of water to blend the colors. Its tons of fun and they are always amazed by the effect.
Downloading the Free Printable Four Leaf Clover Templates
We have made several different types of free printable four leaf clover patterns and templates available.
All you have to do is check out the photos below and click the links below them to download the pattern you want.
Large Template Printable
We actually have 2 large free four leaf clover printable patterns you can choose from. Or you can grab both!
This template features four large heart shaped leaves that are plain on the inside and good for writing in or to make pretty designs inside.
Download and print the Large Four Leaf Clover Template Here.
The second template has more design to it and would make for a pretty coloring page.
Download the Large Coloring Clover Template here.
Medium Sized Template
If your looking for a bit smaller template to work with we have this four leaf clover cutout pattern that has 3 medium sized four leaf clovers.
These would be great to make a fun St. Patrick's day banner or bunting.
Download the Medium Sized Clover Templates here.
Small Four Leaf Clover Templates
If you are a looking for small four leaf clover patterns, these ones might fit your needs better. You can use them to make flash cards or write facts or things kids feel luck for inside the leaves.
These ones are just heart shaped clover leaves with no stems.
Grab these small blank clover templates here.
While these ones are detailed clovers with stems.
Grab the small four leaf clover templates here.
We hope you enjoy using these free printable four leaf clover templates!