21 Frighteningly Fun Halloween Party Foods
Having a Halloween party soon? We found some of the best Halloween party foods and rounded them up all in one place! We hope you find these recipes inspiring!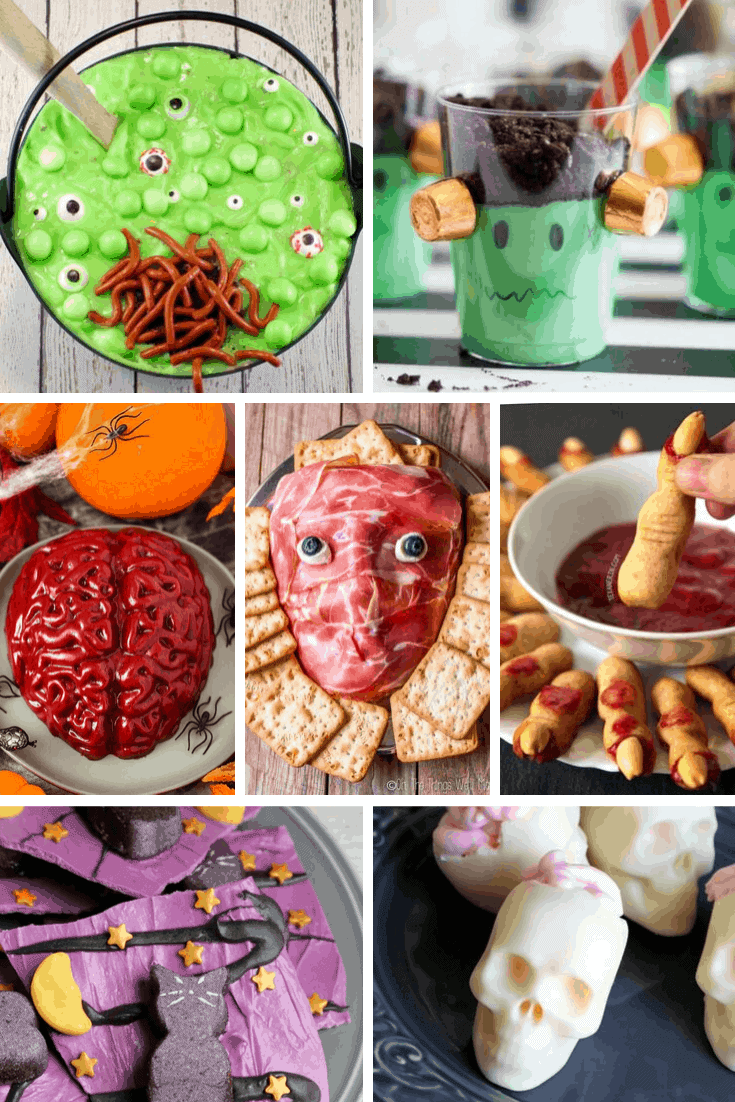 Halloween Party Foods
Finding fun halloween party foods can feel like a daunting task.
At the same time, it's so much fun to see all of the creative and fun halloween treats and snacks that are out there around the web!
Monsters and mummies and bats oh my! We already rounded up some of our favorite Halloween cupcake ideas.
Well, we found some of the most interesting foods that would be perfect for any halloween party!
We hope you find some great inspiration here.
Rice Krispie Mummies
These Rice Krispie Mummy Treats are really easy to make using premade rice Krispie treats and decorated with candy melts and candy eyes!
Put them on a popsicle stick and you have a wonderfully spooky, but very easy party treat.
Mummy Hot Dogs
These hot dog mummies are a Halloween party classic!
They are so easy to make and this particular recipe requires 2 ingredients!
They only take about 15 minutes of hands on time, and 15 minutes to cook and you'll have an instant party favorite.
Easy Bat Treats
These cute and easy Halloween bat treats are made from chocolate chips and snack cakes!
Put a few of these out on the table at your Halloween party for a fun batty display!
Halloween Jello Brain
This is a really cool party food! Jello Brains!!
Seriously, there's not much I can say about this one, but it just LOOKS awesome and creepy.
To make the brains look less like jello, they added a couple extra ingredients that really just too the jello to the next level.
Halloween Black Cat Bark
Homemade candy bark is an excellent party food!
It can be tapered to any theme. And this black cat candy bark hits the Halloween spirit on the mark!
Its gorgeous and adds a colorful pop to the party table.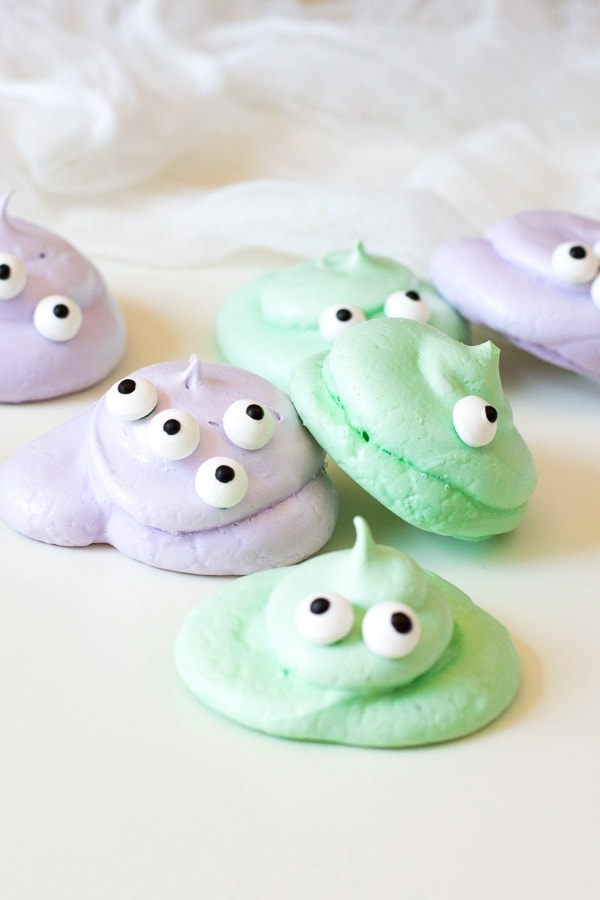 Monster Meringue Cookies
These adorable monster cookies are made from meringue!
They are actually much easier to make than they look and you can get as creative as you want with these guys!
Creepy Prosciutto Face
This would make a great center piece on the food table of a Halloween party!
Just look at that creepy prosciutto face!
It will sure creep out your guests, which is sorta the point right?
This creative but creepy face is a fantastic real food option your party guests will love!
Halloween Party Dip
This adorable Halloween party dip is easy to make and so stinkin cute!
After all, every good party needs a dip!
Top with a few ghost candies and you'll have a delicious sweet dip that's perfect with pretzels or cookies!
Witches Finger Cookies
These witches finger cookies are so spooky, and on the relatively on healthy side.
They are made with whole wheat and dye free!
These would made a nice, real food addition to any halloween party table.
Mummy Jalapeno Poppers
These Jalapeno popper mummies are so good!
They take a little more prep work than the mummy hot dogs, but they are totally worth it!
Plus they are super cute. Serve these with some ranch dip and your Halloween party with be a smash!
Monster Marshmallows
These monster marshmallows are so cute!
Kids are sure to gobble these little guys up.
The melted candy with the displaced eyes adds such a fun melted swamp monster feel.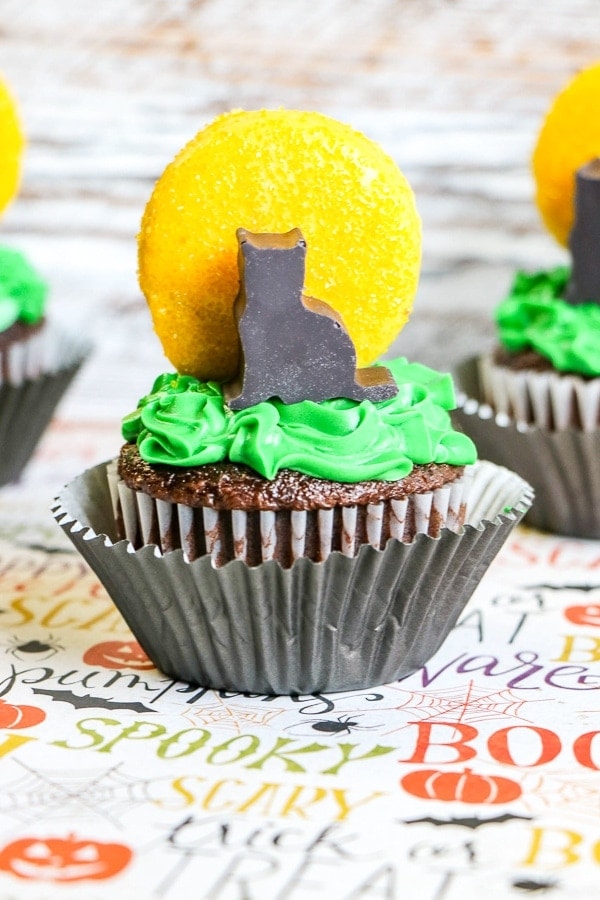 Black Cat Halloween Cupcakes
These black cat cupcakes are super cute if I do say so myself.
The feature a black cat made of chocolate and an eerie Oreo cookie moon.
These Halloween cupcakes are aren't even hard to make! Make sure to check out the full tutorial!
We've got lots of great Halloween cupcake ideas here.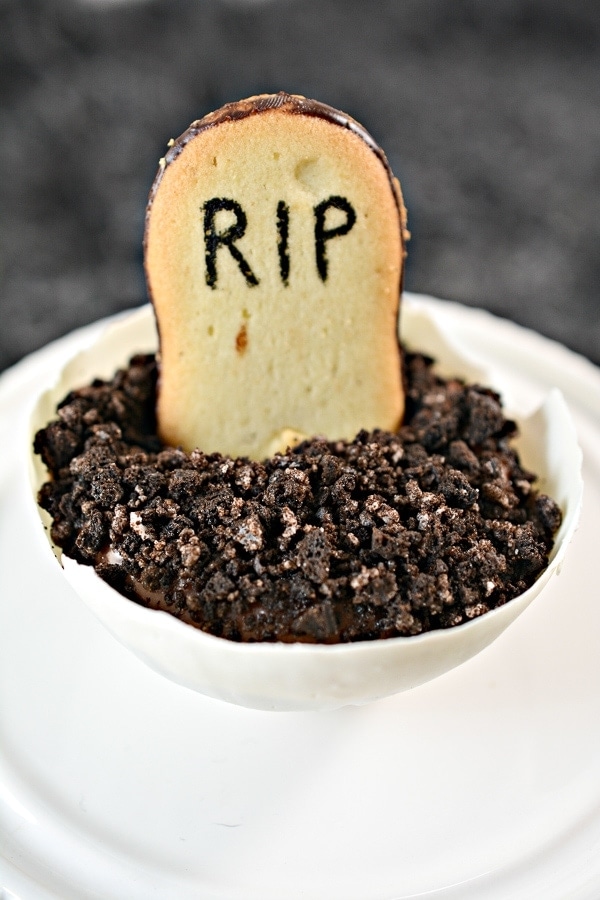 Graveyard Pudding Bowls
These cute little graveyard pudding bowls are so much fun.
The bowls are made from melted candy and balloons!
Add some pudding and cookies decorated to look like gravestones and your good to go.
Skeleton Veggie Tray
When picking Halloween party foods a balance of decadent snacks and healthy snacks is key.
This skeleton veggie tray is an excellent addition that'll give your guests a choice of healthy veggies with a creamy dip!
Halloween Oreo Monster Brownies
These Oreo Monster Brownies are perfect for a Halloween party!
Not only are these brownies cute, but they are made with a rich chocolate fudge and the Oreos give just the right amount of crunch.
Pumpkin Bread Rolls
These pumpkin bread rolls are perfect for a more intimate Halloween party!
The homemade does is made with pureed pumpkin and to shape the rolls into their pumpkin shape is surprisingly easy!
Halloween Popcorn
Popcorn is a wonderfully easy, crowd pleasing favorite.
And this Halloween themed popcorn is just too tempting!
It's candy coated and contains just the right amount of candy bits to make it feel decadent without being overly sweet.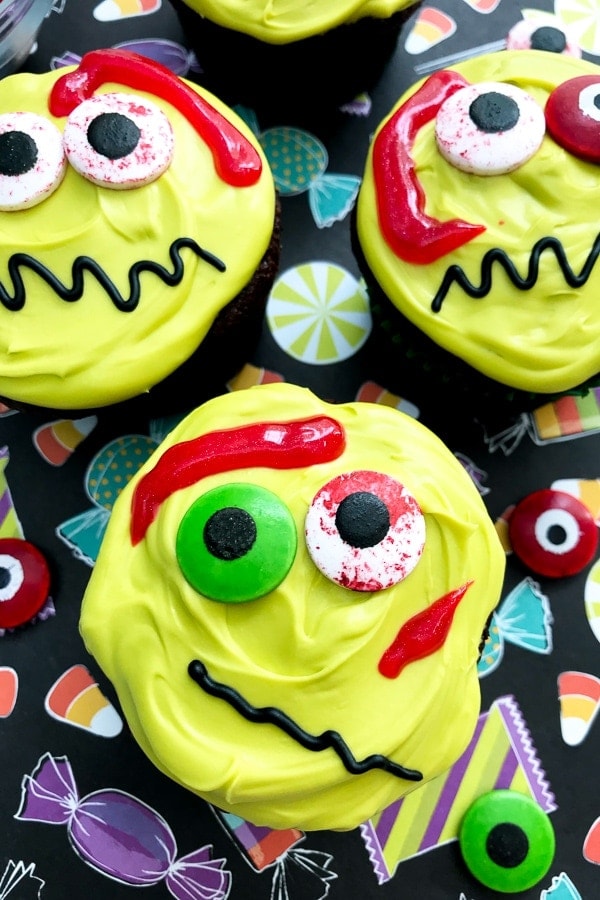 Zombie Cupcakes
These cute little zombie cupcakes are cute and bright and a perfect Halloween party snack!
These are sure to be a hit with kids as well as any adults!
Monster Brownies
Just check out these monster brownies!
What a cute Halloween party food!
I love that these brownies are so easy to make look so great!
You could easily make your own fab party brownies following the tutorial!
Frankenstein Pudding Cups
These adorable Frankenstein pudding cups are perfect for a Halloween party with kids.
They cute and easy to make, and scream Halloween monster treat, without being too scary.
Witches Brew Trifle
This fantastically gross dessert, is a fantastic Halloween party food.
This witches brew trifle contains layers of cake and pudding, mint eyeballs and jello worms!
White Chocolate Skulls
This fun dessert is surprisingly simple.
These white chocolate skulls are filled with a yummy pink mouse that looks like brains!
This dessert is creepy, but definitely classy and would look pretty on a halloween party table.