Free Printable Heart Template for Crafts and Activities
Today we have free printable heart templates! These are so easy to grab and print out and they are perfect for crafts and other creative activities.
We have large heart templates and small templates too so you'll be sure to find something to fit your needs here.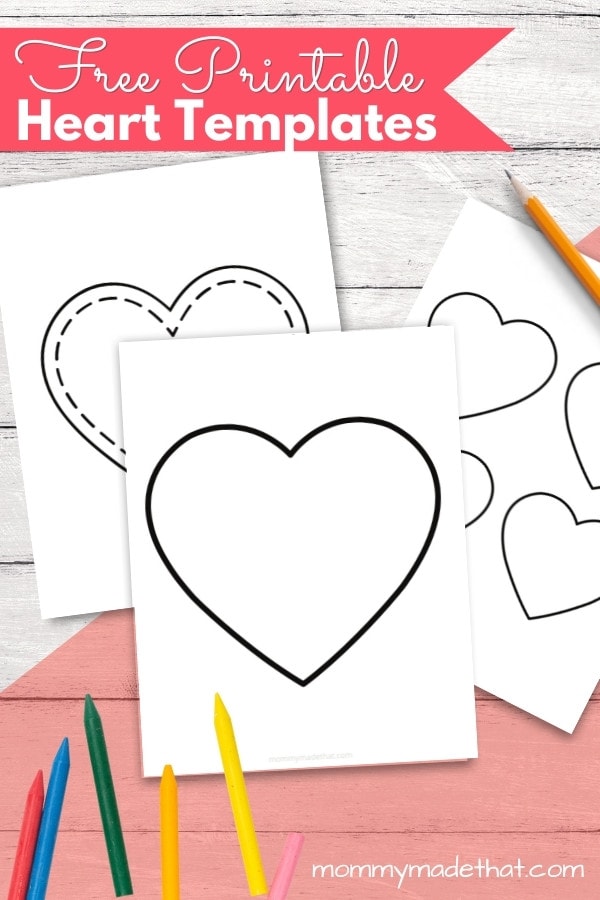 These heart templates are perfect for crafts, making art projects, or for kids school activities.
The heart shape is such a versatile shape that can create so many bigger shapes or represent love and affection for a family member or friend, or even represent all the things we love about our lives.
We also have other fun shapes like our circle templates and our printable star templates.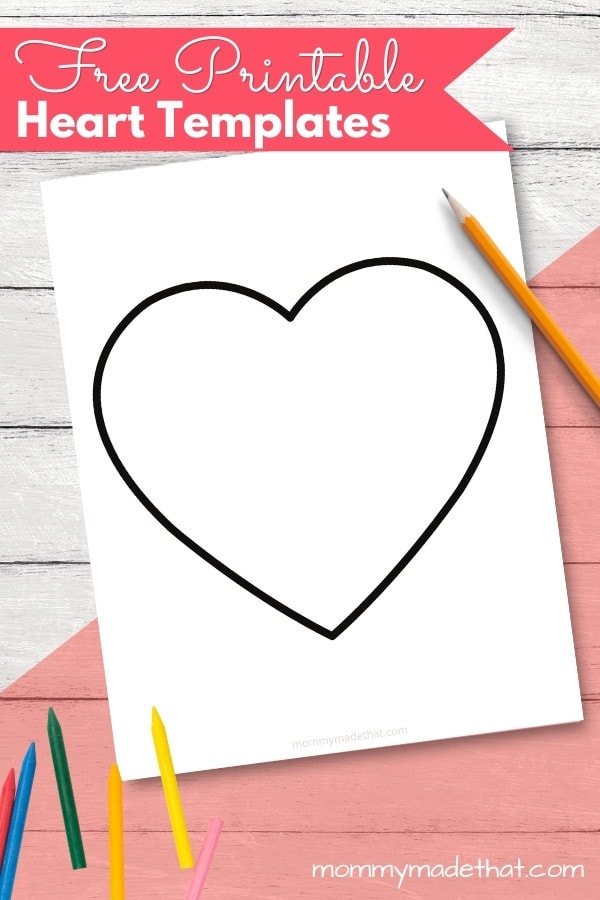 Using the Heart Templates for Art Projects
These heart templates are perfect for getting creative and making art projects
You can print out the template on paper, cut it out and then trace it on any type of material you like.
Cut the heart shape out and then trace it on your paper or cardstock.
Ink or paint over the tracing with crayons, markers, fabric paint, and whatever else you want!
You can get creative as you like and it'll look amazing no matter what you do with it.
Ideas for Using the Printable Heart Templates in Crafts
If you want to use the printable heart templates for craft projects, the possibilities are endless.
You can print out a bunch of the hearts, cut them out and decorate each of them. Then decorate a wall with all of the hearts!
Or attach string or twine to them and create a heart banner.
You could also have the kids decorate the hearts and put them on their bedroom door to represent them. Kids love showing off their individuality.
Or if you want to make them feel extra special, have them decorate the heart templates and then place them around the table at dinner time to show them off.
Using the Free Heart Templates for School Projects
These heart templates are also perfect for school projects! And not just during valentines day.
You can print out a ton of the large heart templates and have older kids write all the things they love inside the heart.
Then they can cut them out and put them up on a board with everyone else's hearts.
If they remain nameless, it would be fun to see if the other kids can guess whose heart is who's based on the things they love in their life.
This is a great teaching point to show how so many people have similar loves and interests as well as unique and individual ones as well and how important it is to acknowledge and accept others, as well as feeling accepted.
You can also use them to create a heart garland. Or as sewing patterns.
Create Heart Shaped Valentines Day Cards
For Valentine's day Ideas, you can print out the heart-shaped templates and trace them onto construction paper or colored craft paper.
The kids can cut out the shapes, fold them in half and create heart-shaped cards to give to their loved ones.
Make sure to have them write special words or love notes for their loved ones too.
Or they can decorate the heart templates with crayons or markers and put them into picture frames to create heart-shaped art.
You can also use the template, create a cute little message and tie it to some candy to make homemade Valentine's day gifts.
Using The Printables as Heart Stencils
Of course, since these are free heart templates, you can cut out the heart and use them as stencils.
We give you several sizes to choose from so you can grab your favorite and simply start cutting out the heart shape to create the heart stencil from the printable.
Downloading the Free Printable Heart Stencil Templates
We have made this super easy for you to download and print out the heart-shaped templates.
Make sure to click the link and download each page and print them.
If you print from the photos the quality won't be as sharp or as good.
Each one of the heart outlines and shapes are in their own PDF file on one page.
Large Heart Template Printable
We have several large heart shapes. These are perfect for larger crafts or for making big cards, or even just printing out and coloring!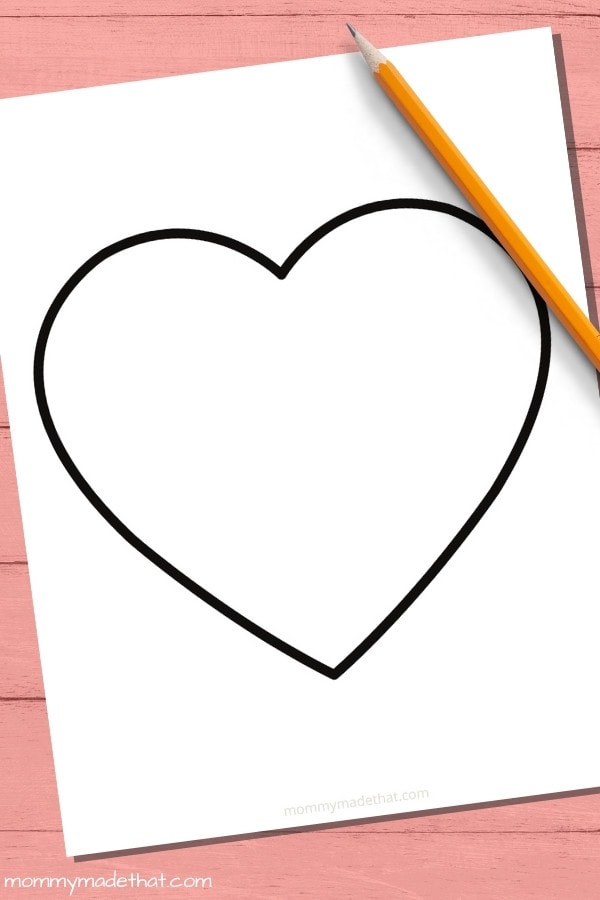 You can grab the basic Large Heart Template here.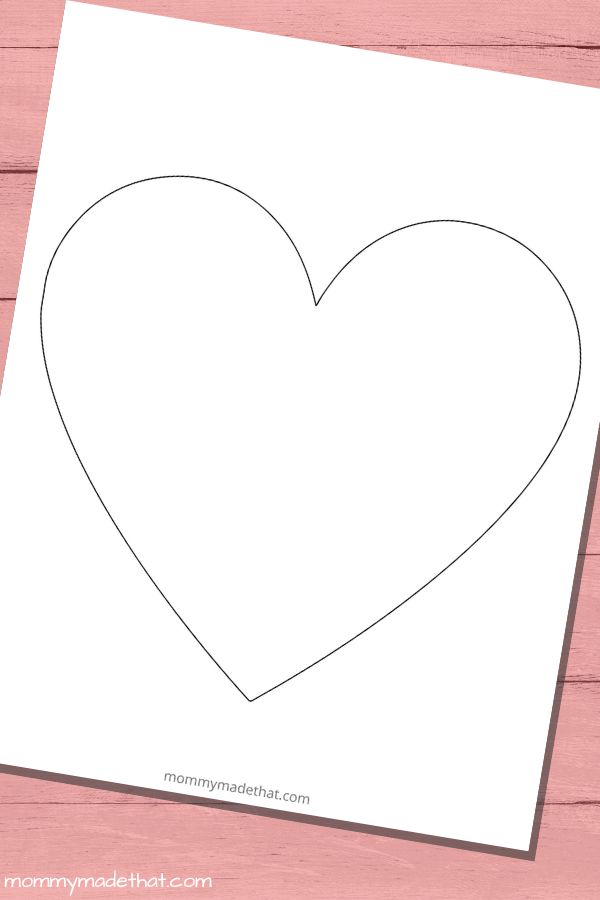 If you want a thinner heart outline we also have this one.
We also have a colorful pink printable heart you can grab here.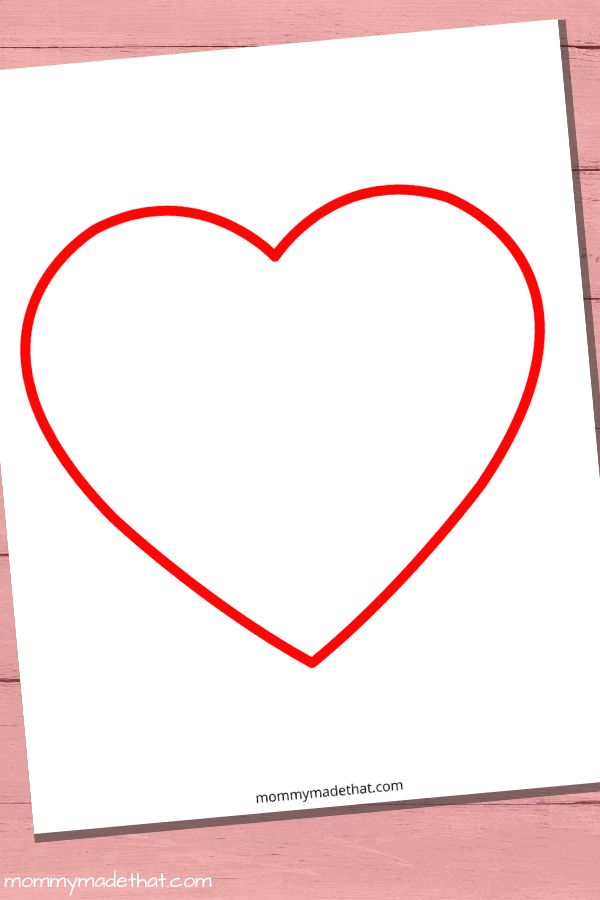 Or this free printable red heart outline here.
Detailed Free Heart Template Printable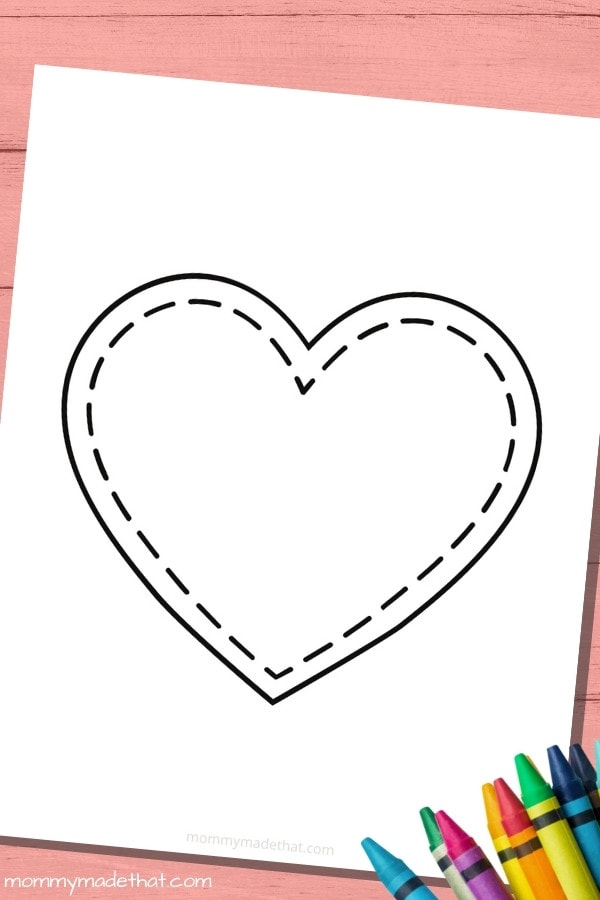 This heart template is my personal favorite. It has a pretty dotted out line and a nice round shape.
This template would look adorable filled with kids names and placed on a bulletin board! Or used as Valentines day Name Tags for their mail box.
You can grab the free heart template here.
Medium Sized Printable Heart Templates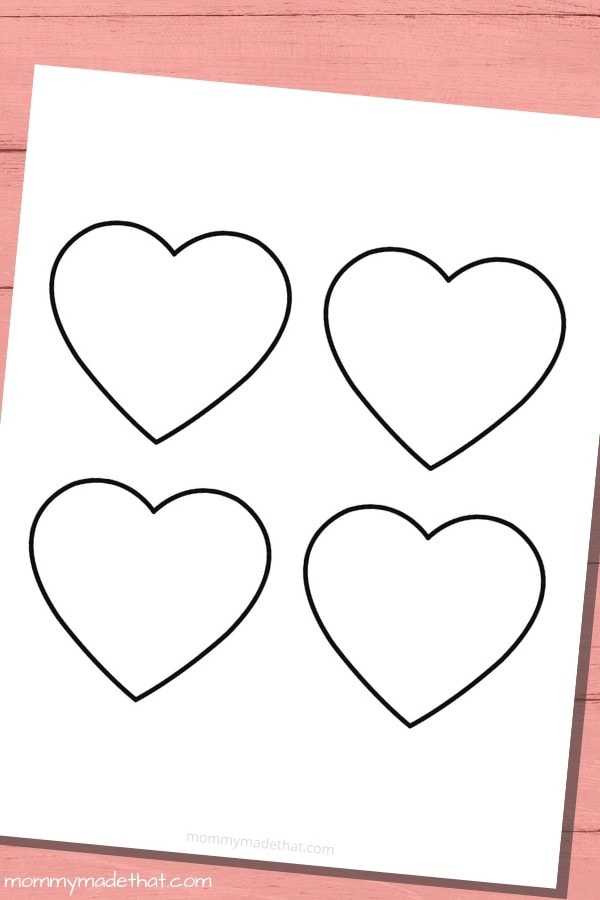 If you are looking for a medium sized heart template or stencil you can print these ones out.
They're quite a bit smaller than the large template and come with 4 heart shapes on each page.
You can download the medium heart templates here.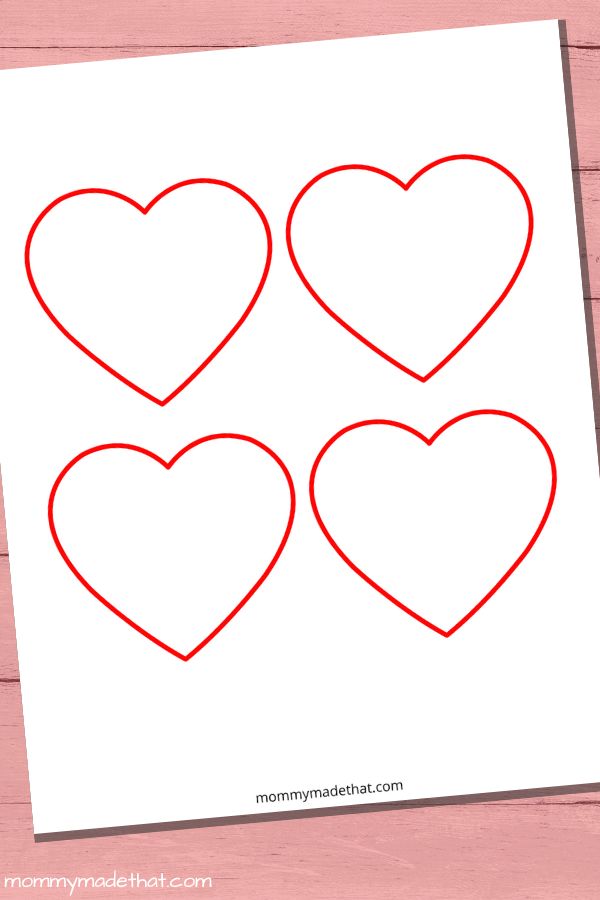 We also have other medium heart templates like this one in a red outline you can grab here.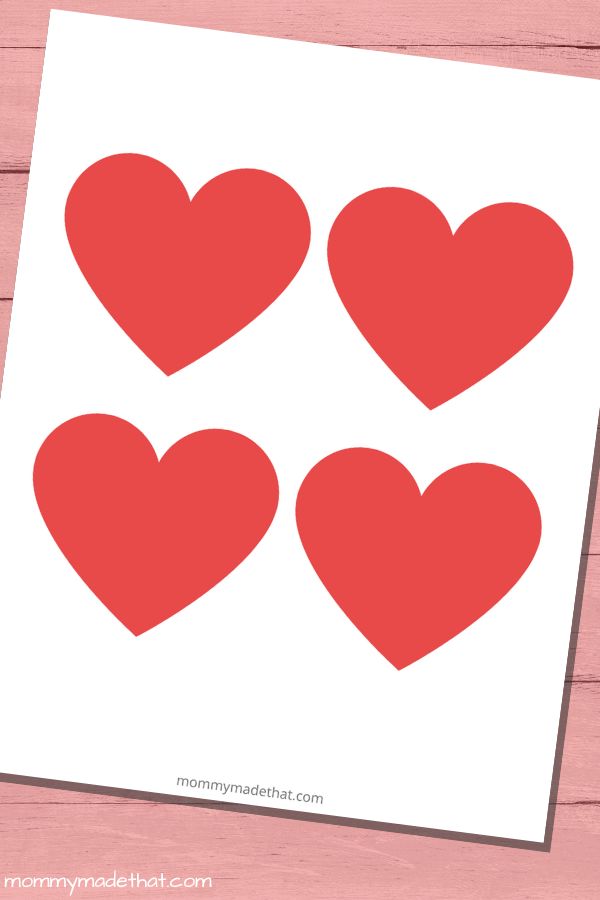 Or you can grab our solid red heart printables here.
Small Heart Shaped Printable Stencil or Template
Finally, the last printable heart templates we have are these small ones. These come 9 to a page and would be perfect for using as a banner.
For our little craft project we printed out the hearts, used watercolors in red and pink over the entire page and let them dry.
Then we cut out each heart and taped each one to a long piece of string. It made an adorable valentines day decoration.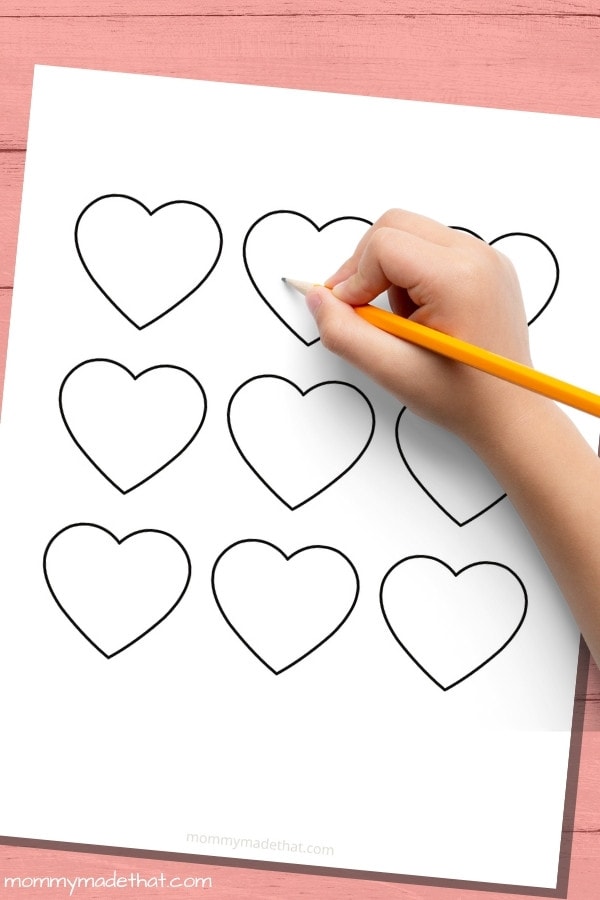 And if you need more small hearts, uou can grab the small heart templates here.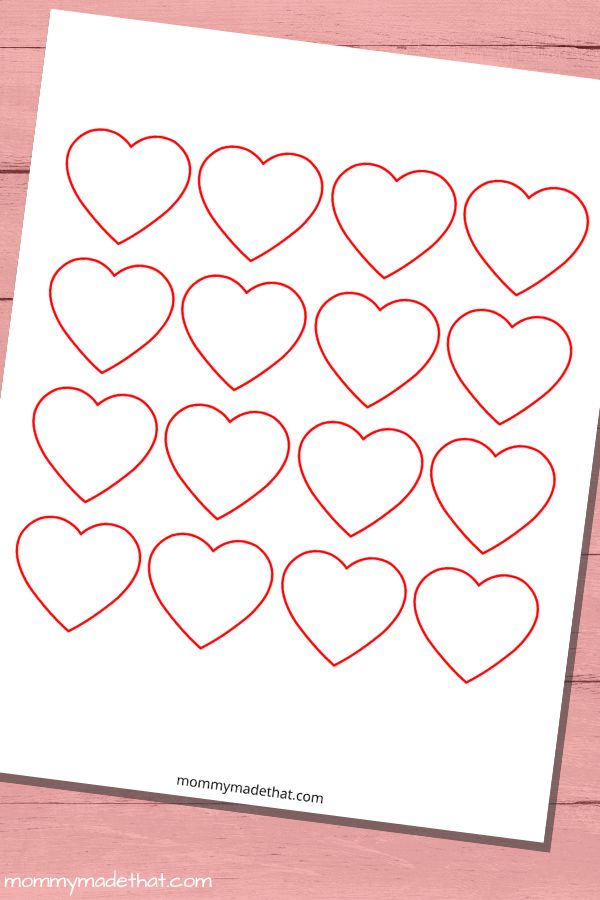 Or these mini hearts here.