Cute 3D Paper Heart Craft (Free template included!)
This 3D paper heart is easy to create using just pieces of layered paper. It makes for an adorable heart papercraft or art project. Make sure to grab our free template and create some of your own hearts to display.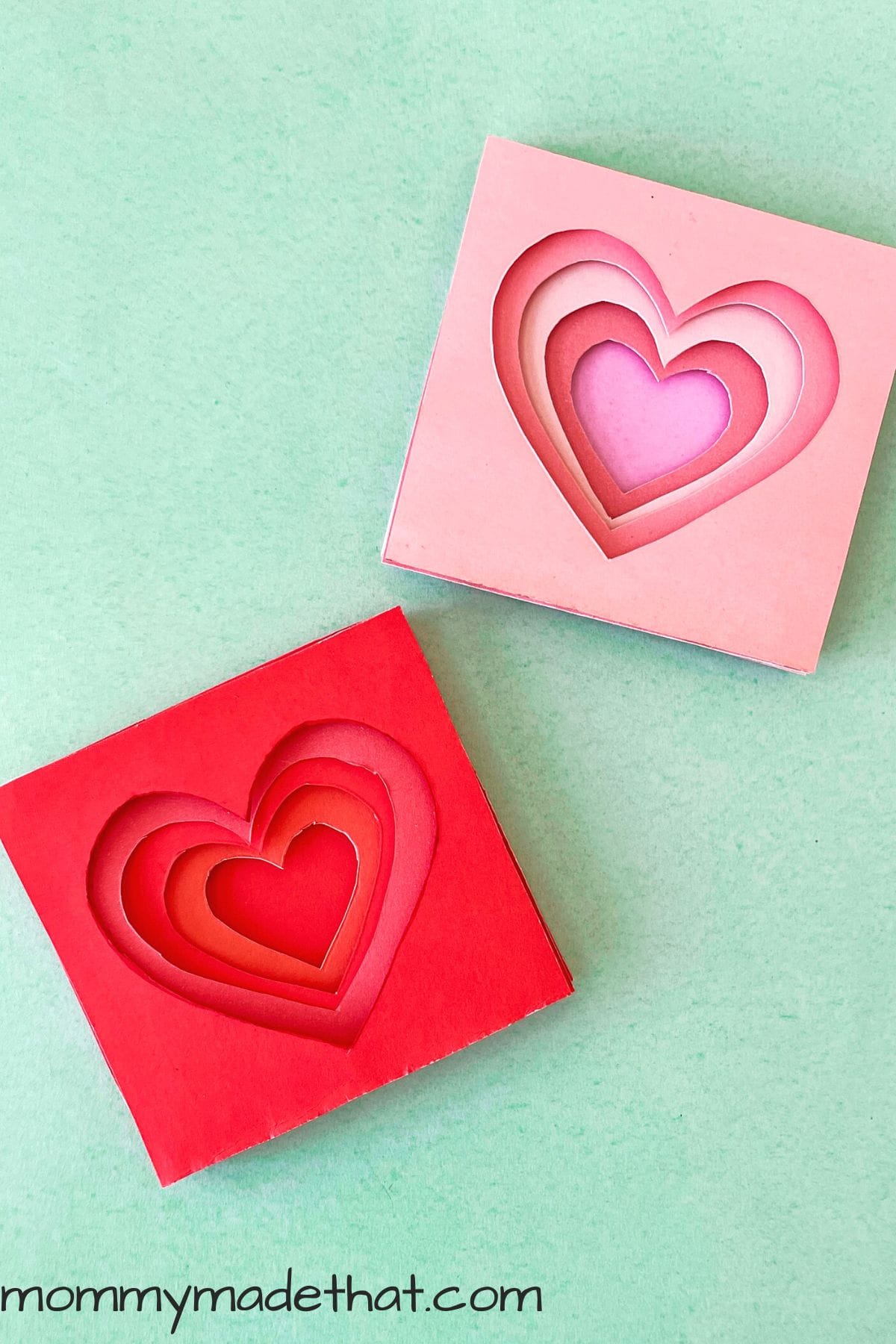 Creating art out of paper is a great way to express your creativity.
With just a few simple materials, you can make something beautiful and unique that will stand the test of time.
One project that's particularly popular right now is 3D paper art. We'll show you how to make a 3D paper heart by transforming ordinary pieces of paper into extraordinary art pieces by cutting, gluing and assembling them into a layered project.
Plus, you can proudly showcase your artwork on any wall for a unique decor piece!
It's an easy project that anyone can do at home, with results that look like they were made by a professional artist!
In this tutorial, we'll show you how to create stunning 3D paper heart art in no time at all!
This is a craft for Valentine's day, but creating paper heart crafts is fun any time.
If you want to create this same 3D heart in different shapes or sizes, make sure to grab some of our heart templates and swap out the center heart shape.
Materials
To make this 3D heart craft, you'll need the following supplies
Colored cardstock: Pick a few different colors to become the different layers of your 3D heart. We used various shades of pink, red and purple.
Craft glue: Any kind will work
Craft foam sheet: To add dimension to your heart layers
3D heart template: You can grab the free printable at the end of the tutorial
You'll also need the following supplies
Pencil
Xacto knife or other scoring tool
Scissors
How to Make a 3D Paper Heart
Start by figuring out which colors of cardstock you want your 3D paper heart to be.
If you don't have cardstock you can use thicker colored paper. If you only have white cardstock, you could glue your colored paper to the cardstock and then cut out the templates.
Our 3D heart template includes 4 layers for the heart and a base layer for the very smallest heart.
So you'll need 5 pieces total.
Step 1: Trace out the Template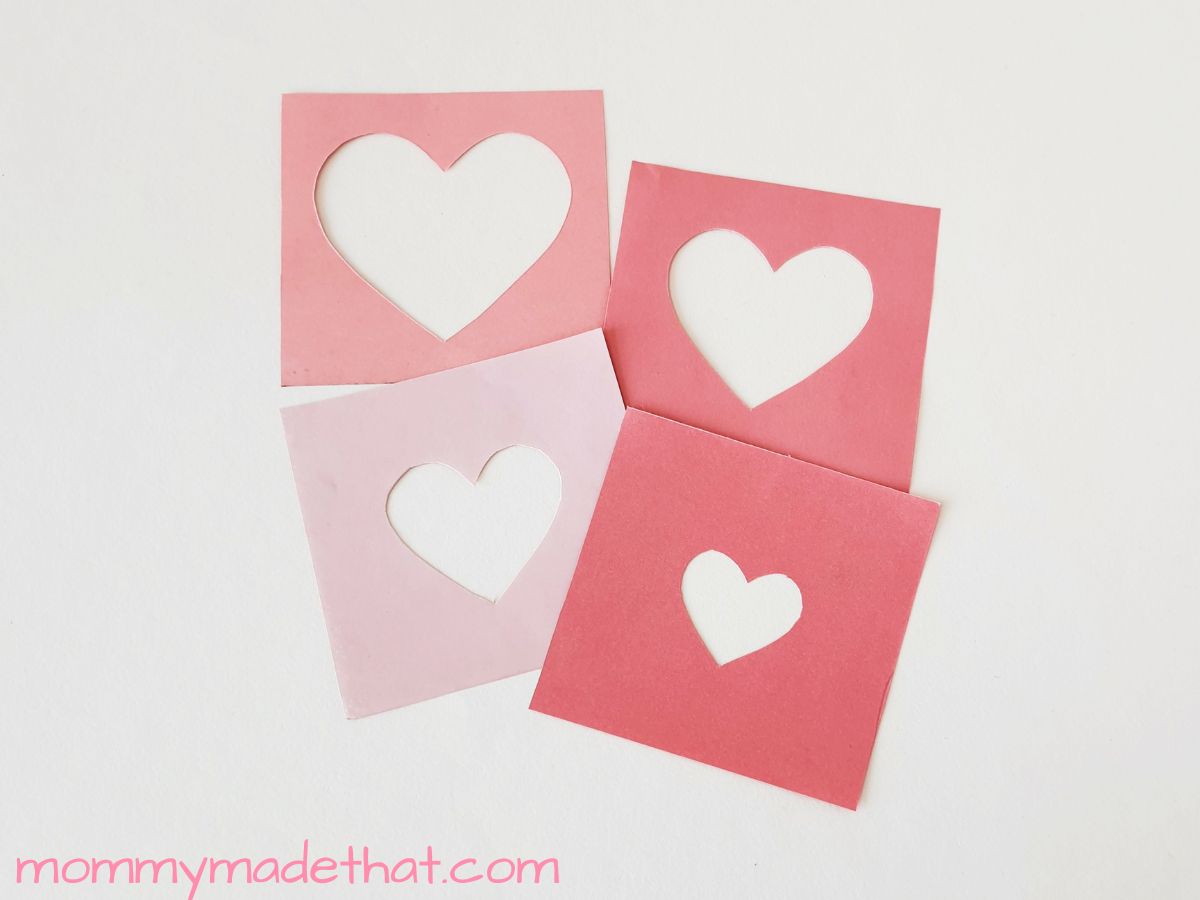 Start by tracing out the template pieces onto your colored pieces of paper. Then cut them all out.
Step 2: Cut up the foam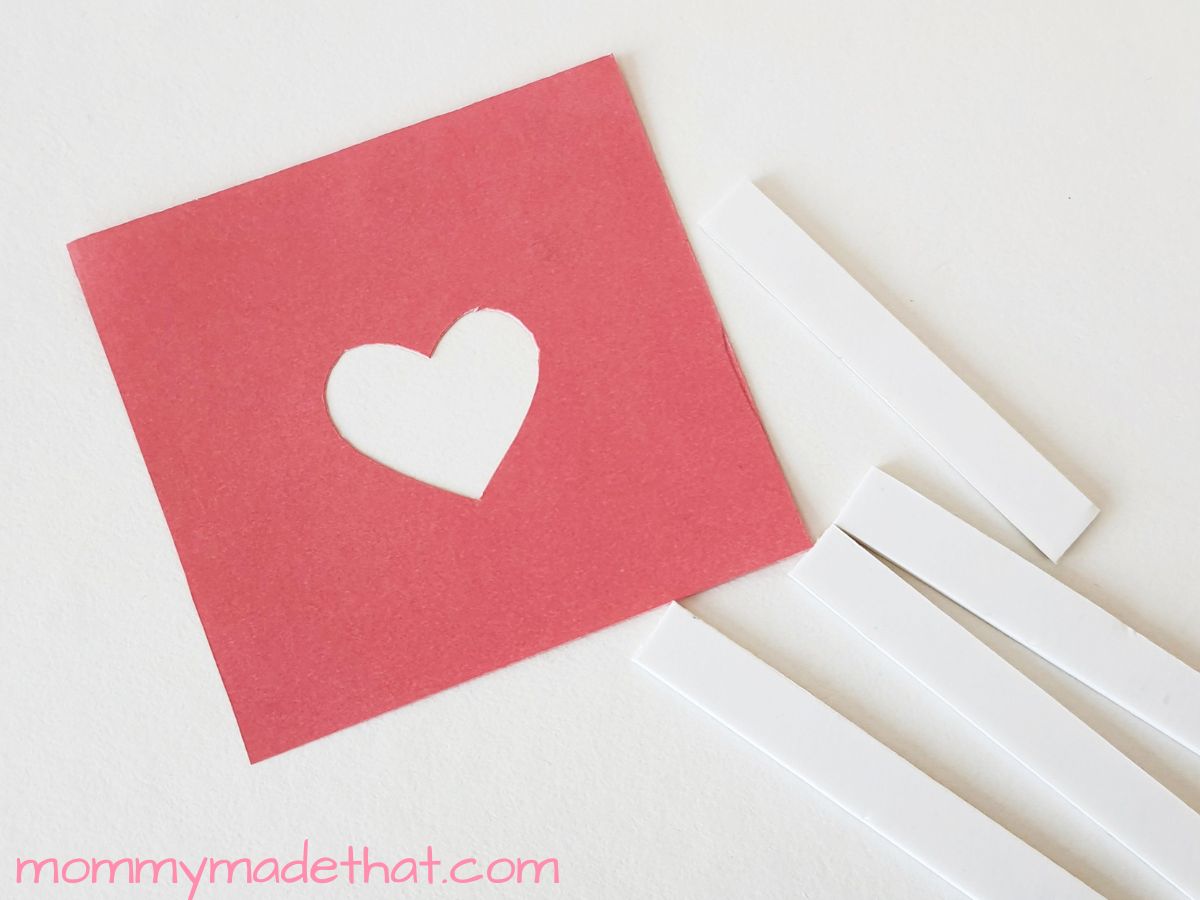 Then start making thin strips out of the foam sheets. These will be added along the edges of your layered hearts to creat depth and make them look more 3D.
Step 3: Start Layering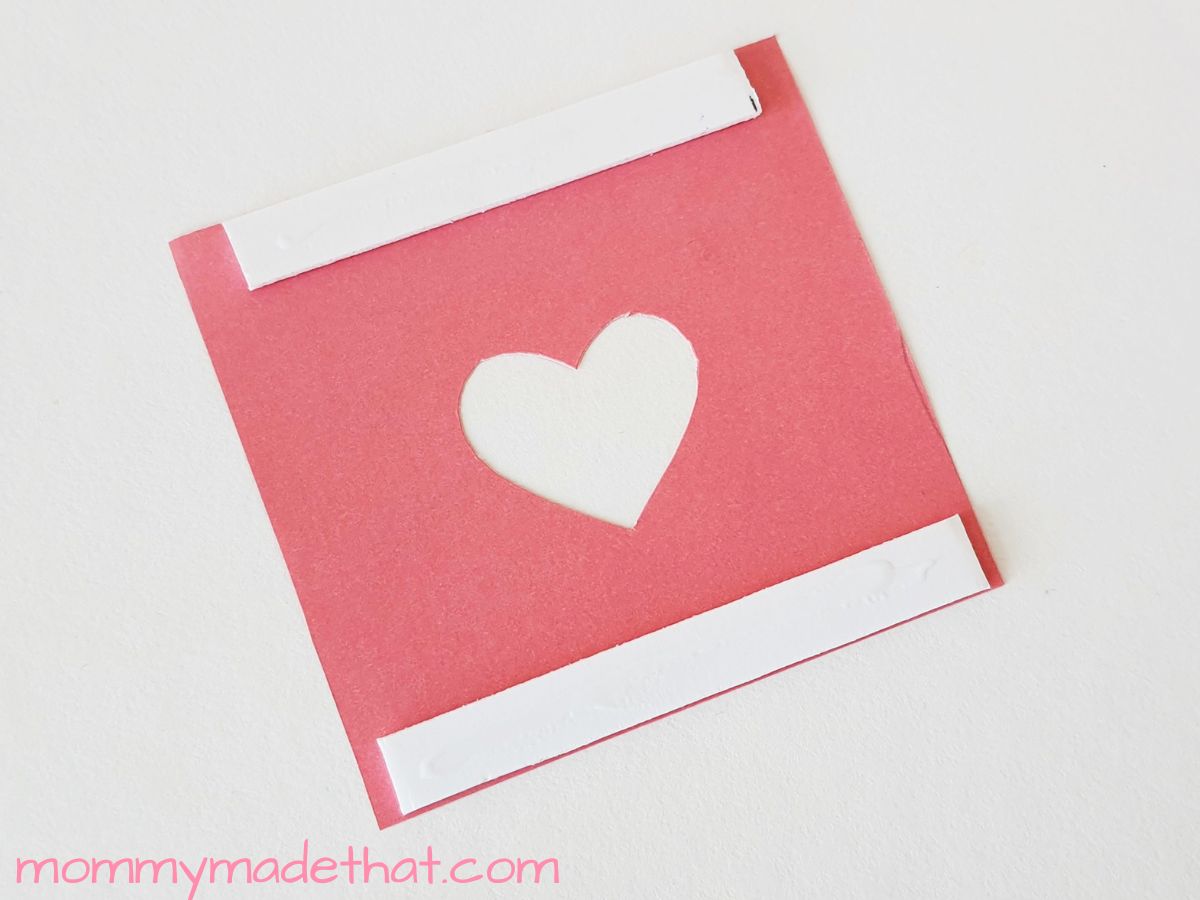 After all of your template pieces are cut out, grab the one with the smallest heart shape on it and attach 2 of the foam strips on all 4 sides.
(You could use only 2 on opposite sides if you don't have enough foam. But 4 works better.)
Step 4: Add another Layer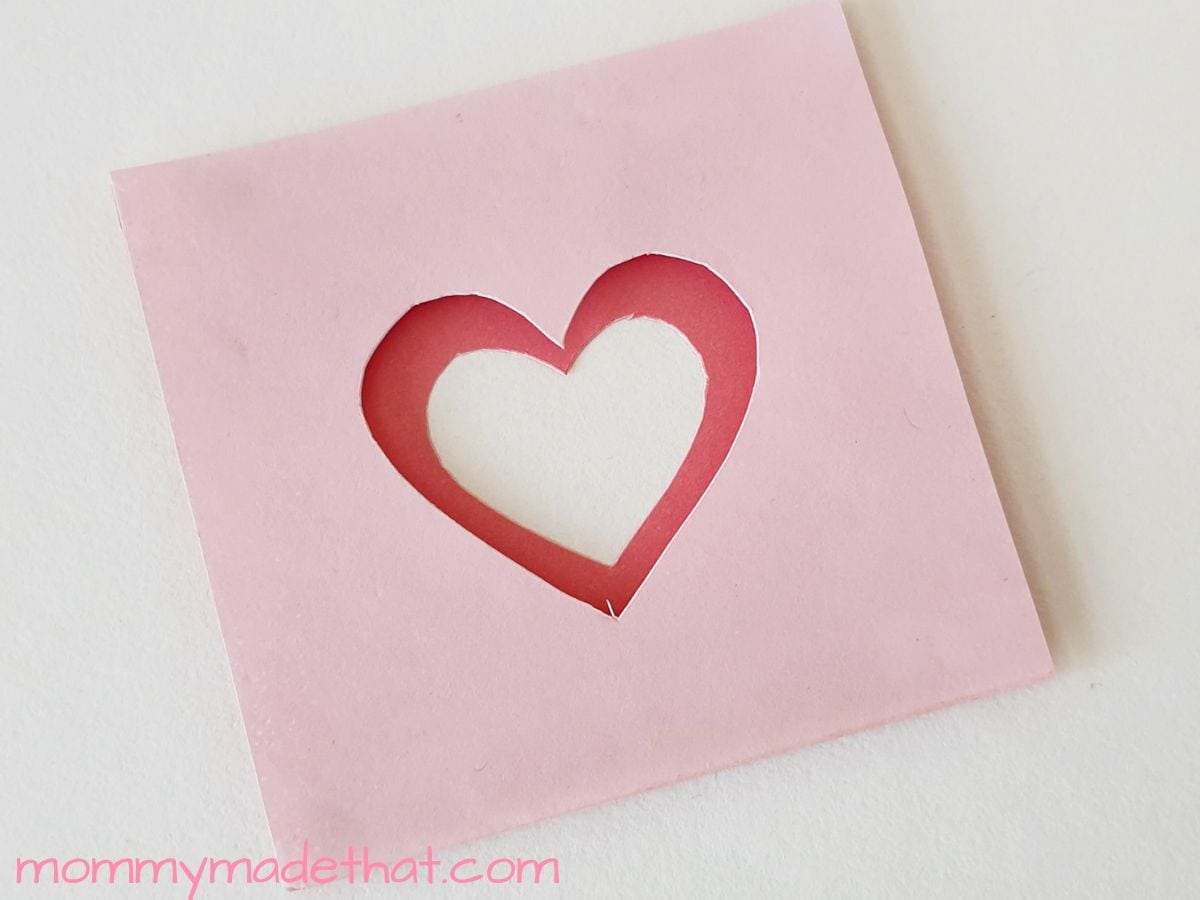 Add a strip of glue on the top surface of all the foam strips you added to your first layer.
Then attach your second layer with the next smallest heart on it. It should look like the photo above.
Step 5: Keep layering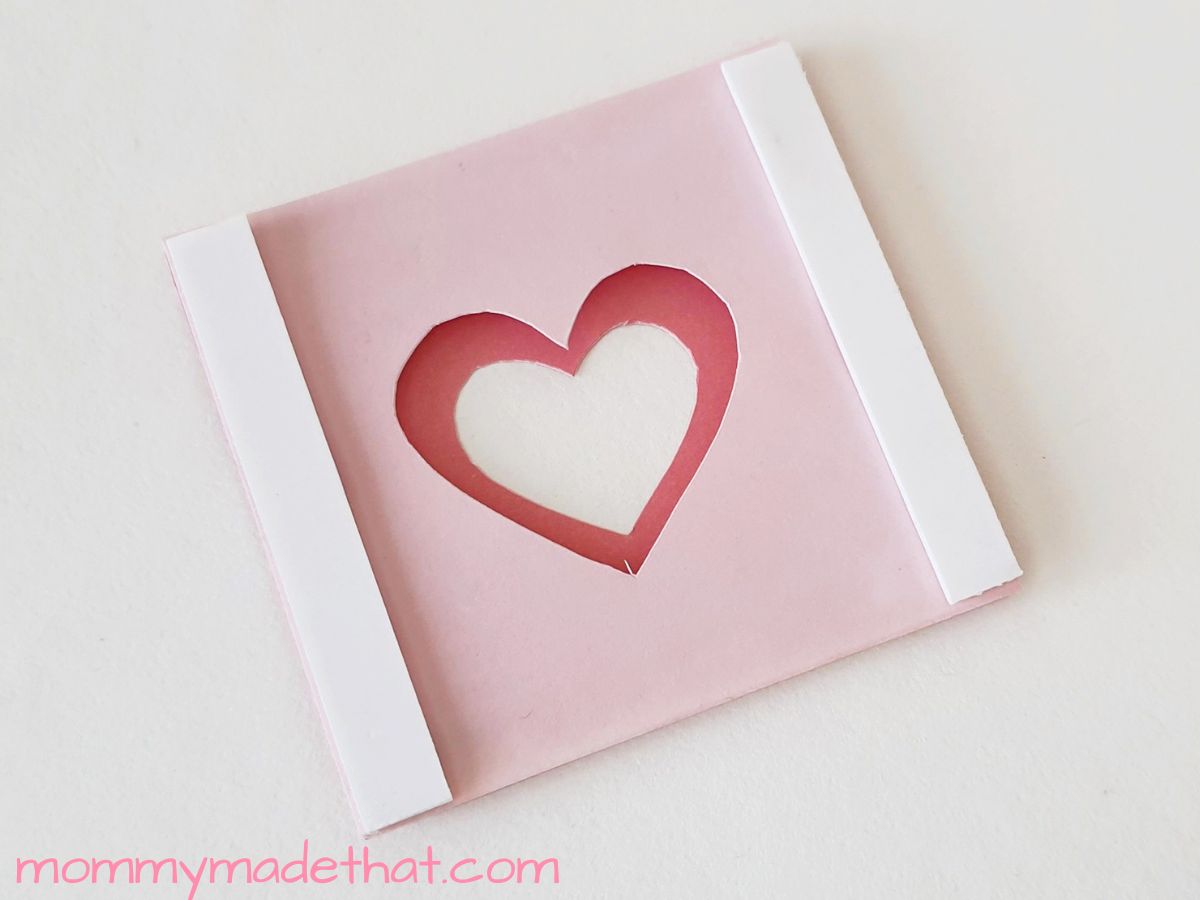 Repeat adding the foam pieces to the next layer.
If you are only using 2 pieces, try alternating which sides of the square you're putting your pieces for more stability.
Step 6: Layer the 3rd Heart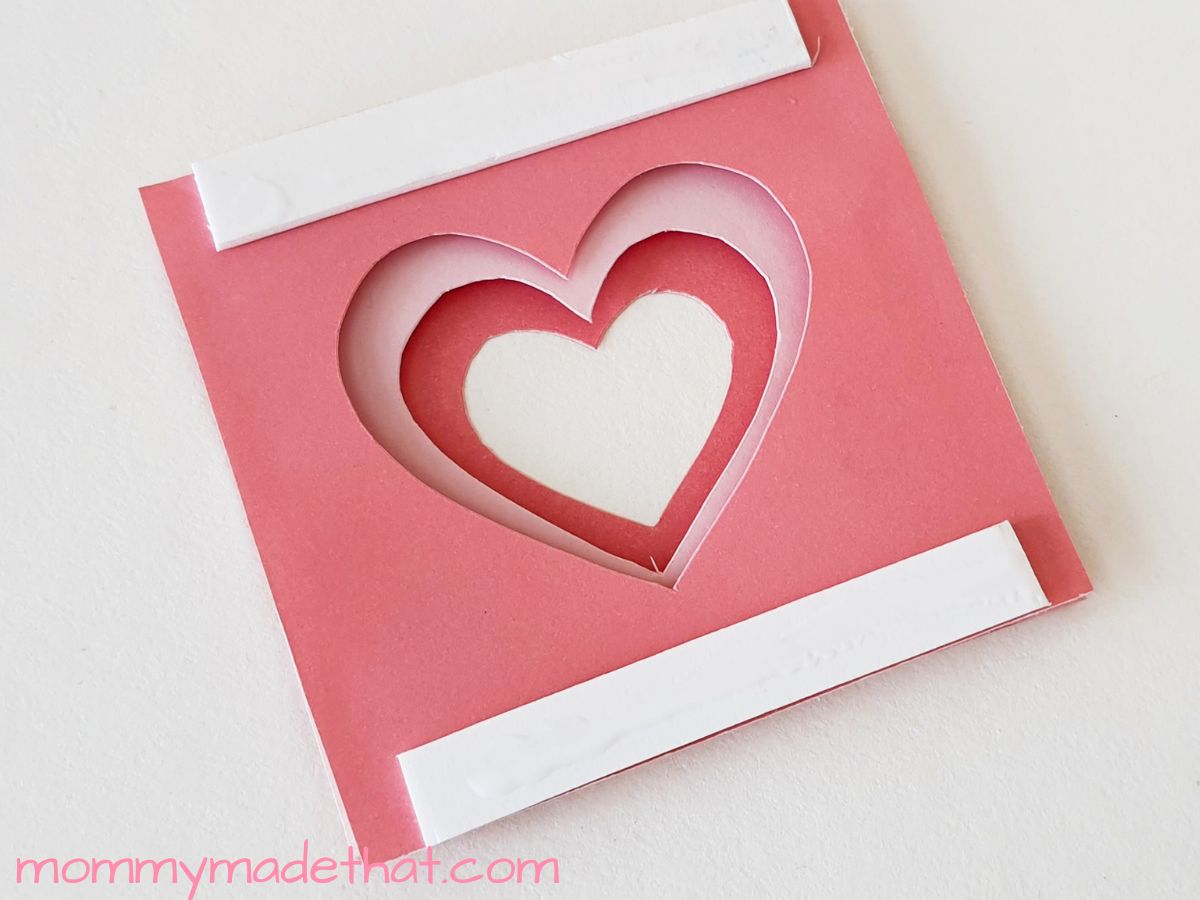 Next, attach the 3rd heart layer and add your foam strips.
Step 7: Attach the Last Layer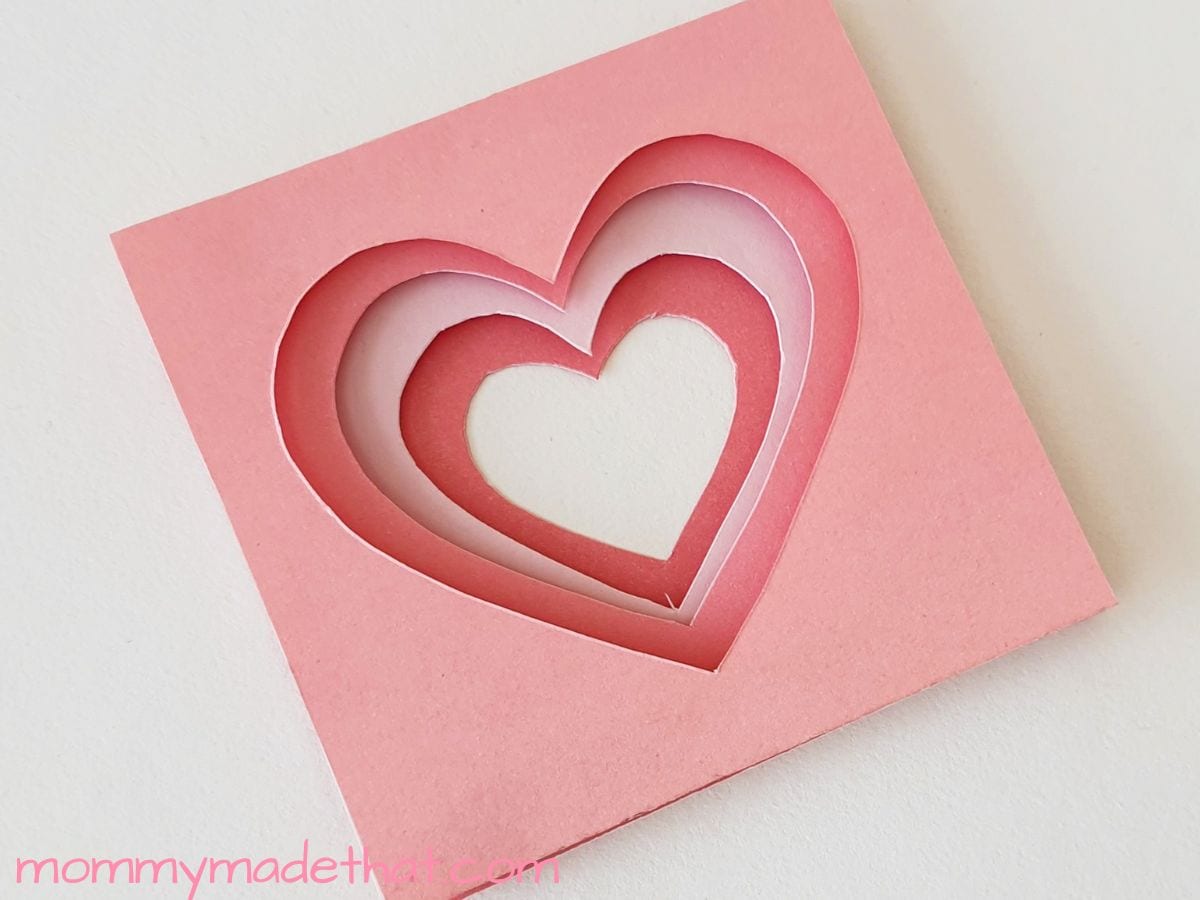 Then add on the last layer and top it off with the largest heart pieces.
Step 8: Create a Base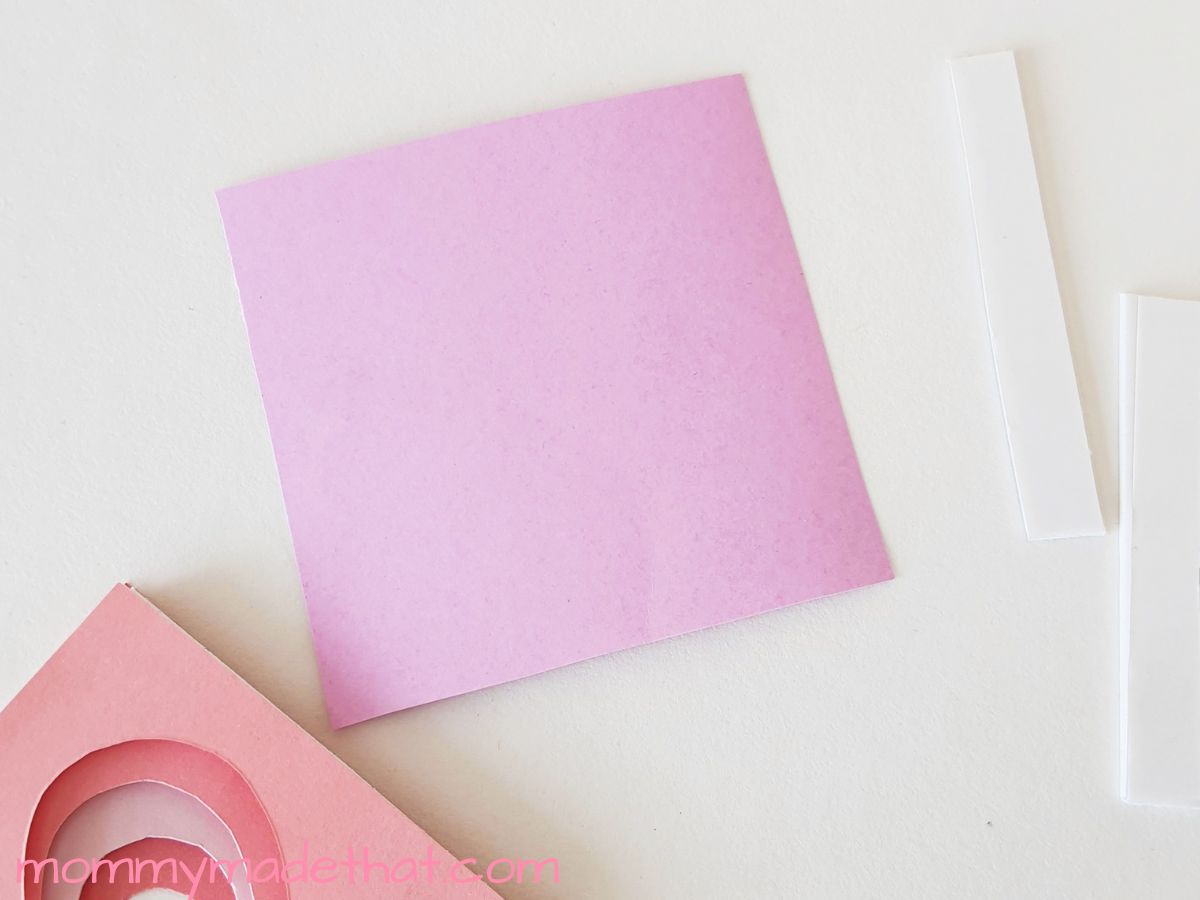 Create a base heart for your art project by grabbing a colorful piece of paper as your bottom layer.
Step 9: Finish Up 3D Heart Craft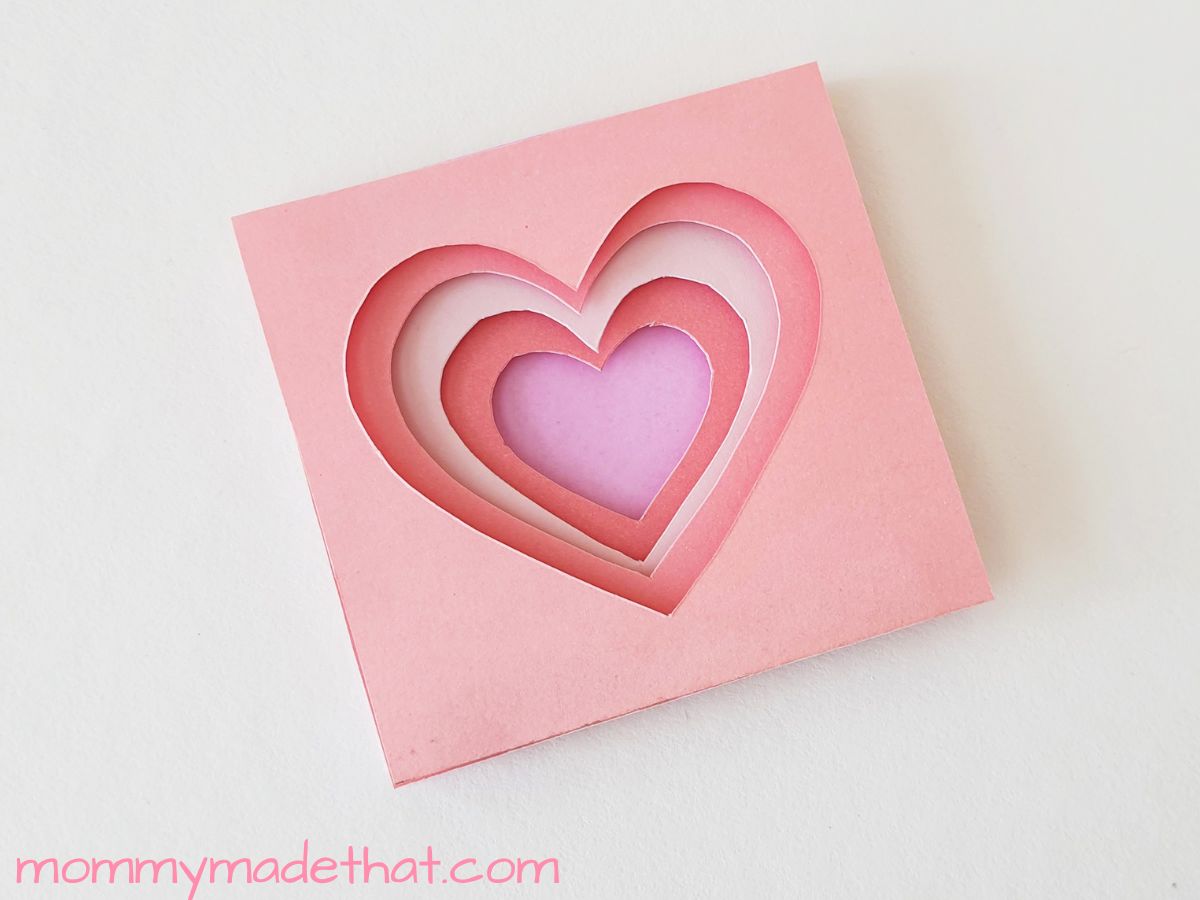 Attach the base color to the backside of the very bottom layer.
You could optionally add more foam strips if you'd like to add more dimension. But it's totally up to you.
And that's it. Your 3D heart art is all done!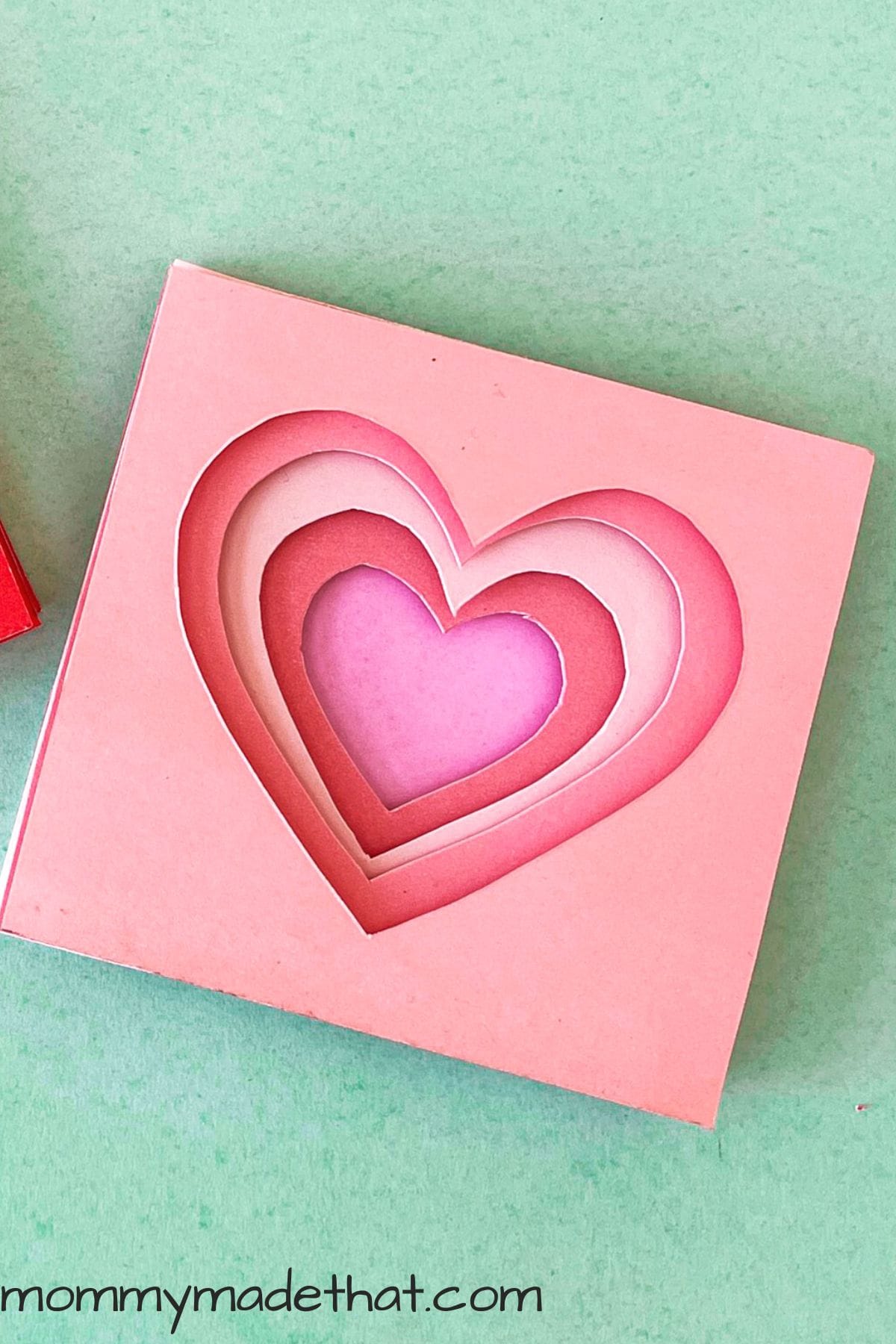 Here are our finished 3D paper hearts. We did two different versions. One red and one a variety of pinks. But go wild with your color choices.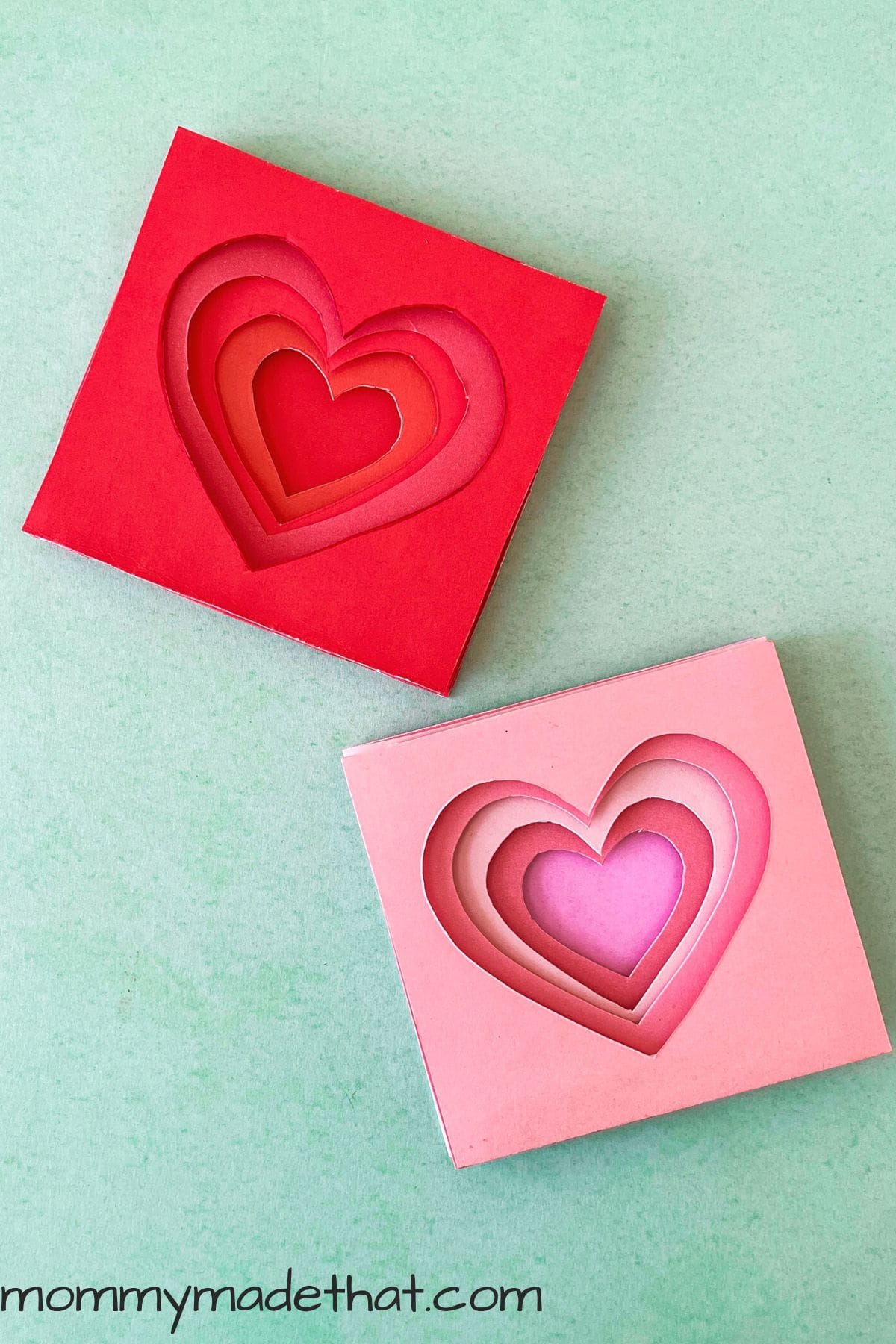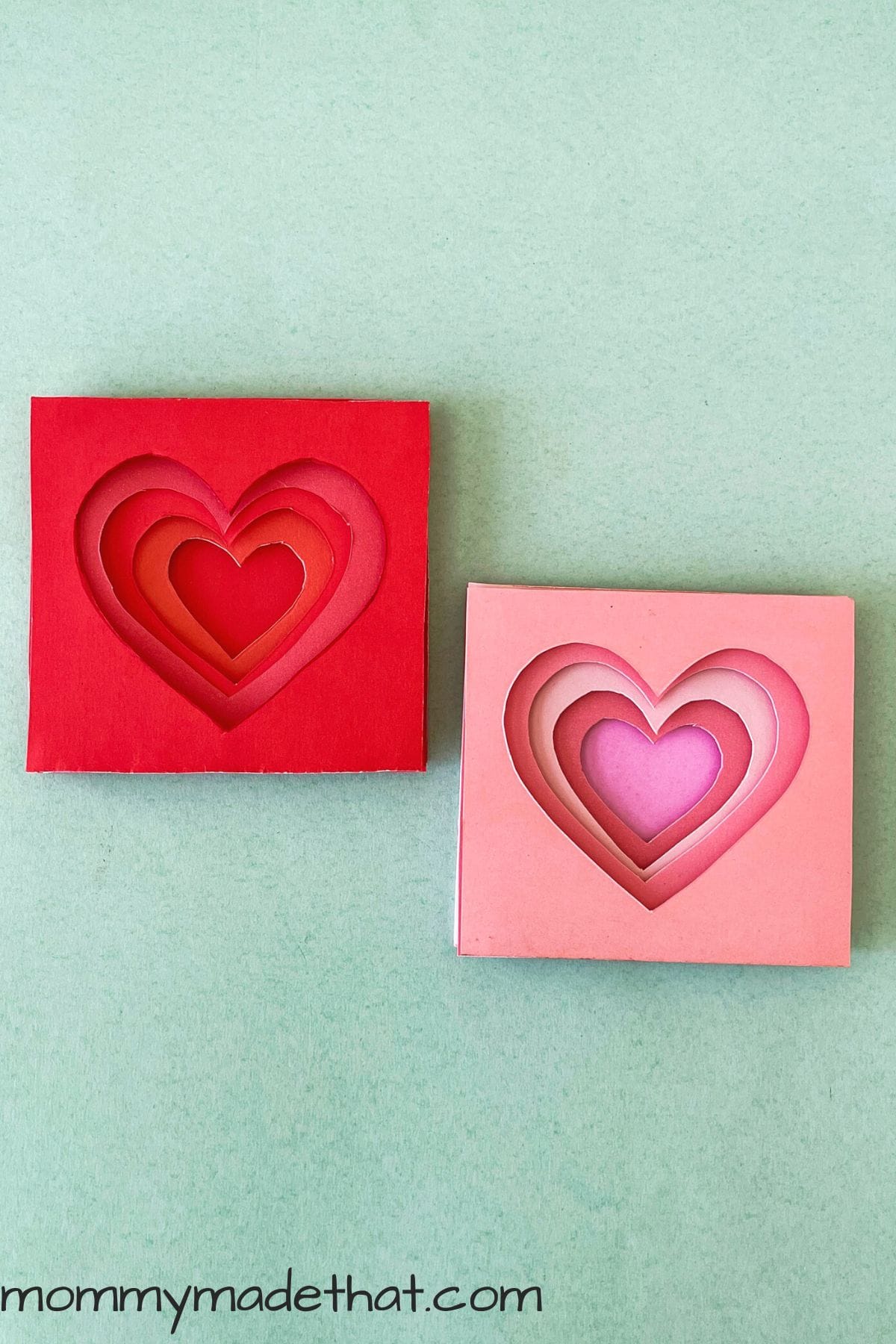 These make great handmade gifts for Valentine's day or to use as Valentine's day decorations.
Grab the 3D Paper Hearts Template
To grab our printable 3D heart template, put your email in the box below. We'll send it straight to your inbox.
This is for personal or classroom use only, please. Not for commercial use. Thank you!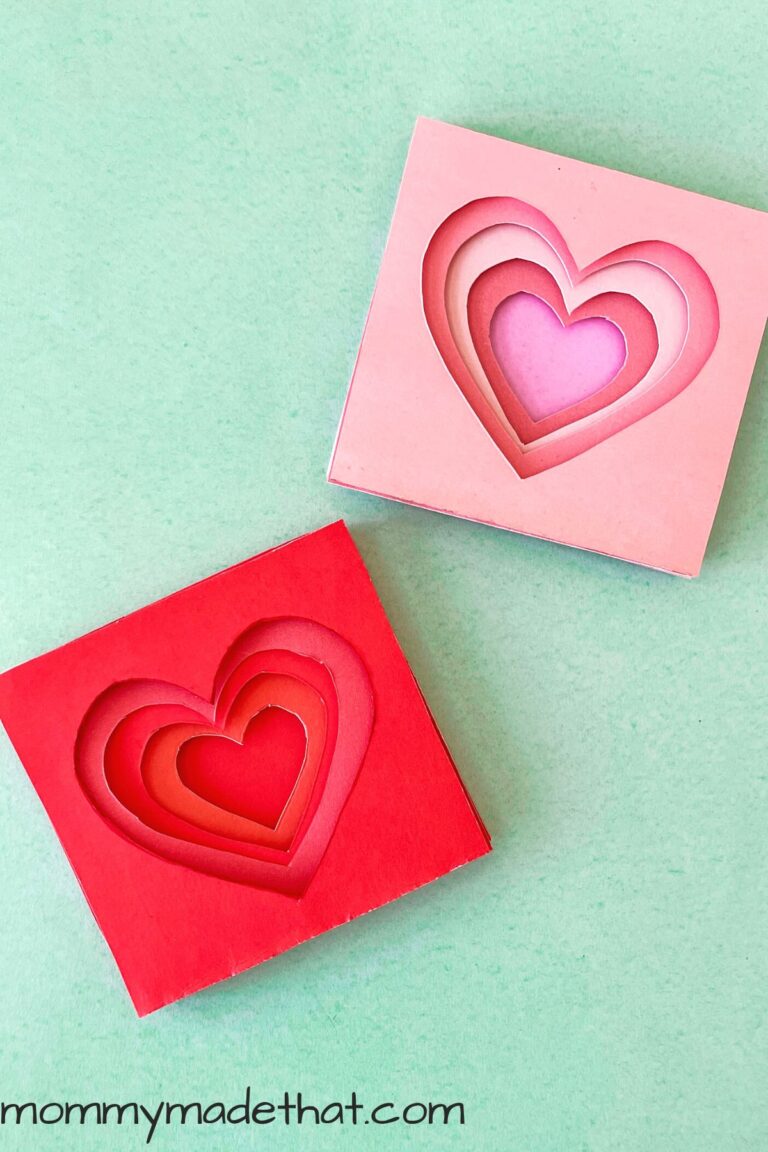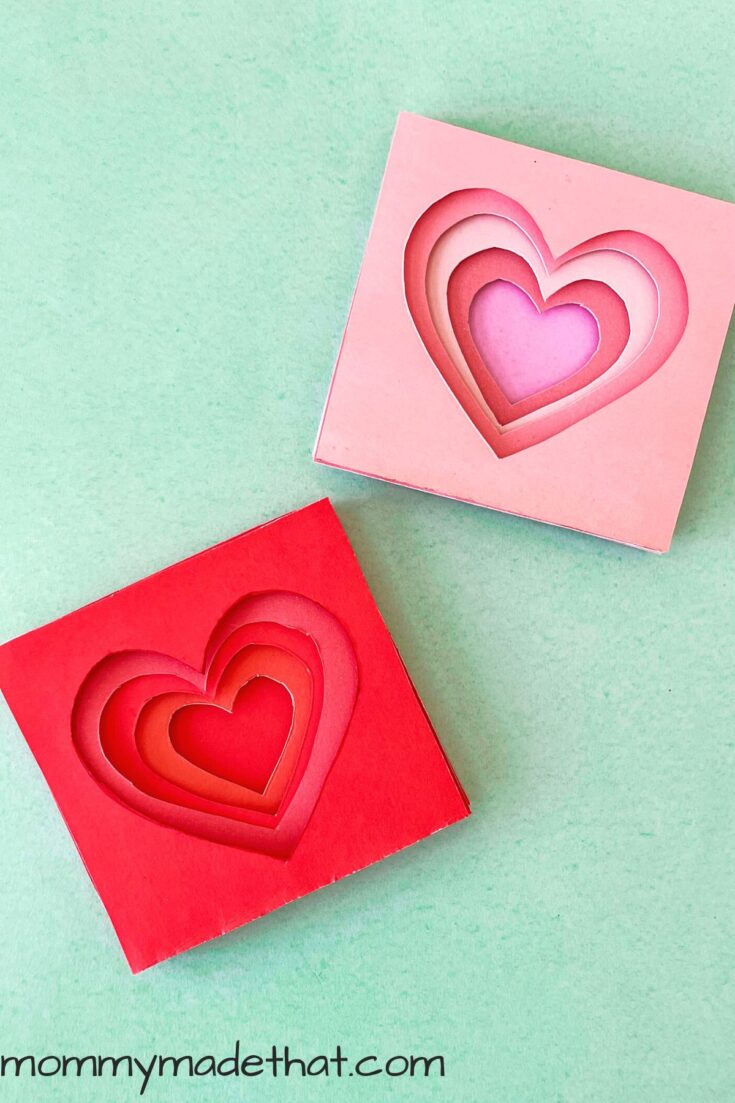 Yield:

1 Heart
3D Paper Heart Craft
This adorable 3D heart makes for a sweet gift or Valentine's Day decoration. Craft one up using just paper layers.
Materials
Colored cardstock
Printable 3D heart template
Craft foam paper
Craft glue
Tools
Xacto knife
Scissors
Pencil
Instructions
Trace out the template pieces onto your chosen colors of cardstock and cut out.
Cut the foam craft paper into strips.
Start laying the 3D heart template pieces starting with the smallest heart layer.
Add foam strips to the edges of the template and add the next smallest heart layer.
Keep repeating the layers by adding foam in between each heart cut out layer.
Once you've finished adding all the layers, use a colored piece of paper to create a base.
Attach the base under the very bottom layer of the hearts.
That's it, you're all done!
Notes
Cardstock or very thick paper works best for this craft. Thin paper won't stand up well to create a 3D heart structure.