Today we have these super adorable Santa cupcakes! They are easy to make and look super adorable, making them perfect for a Christmas party or school function.
Here is an easy to make Christmas cupcake that are so cute and festive.
Red cupcakes dressed up with a bit of decorative icing, turn into Santa belt cupcakes!
We used a box cake mix as a short cut. But you could easily switch it out with your favorite cupcake recipe.
What makes the difference is the icing! The red icing act's as Santa's suit and the black stripe with yellow square gives these cupcakes the iconic "santa's belt" look.
Ingredients Needed
Box white cake mix (calls for eggs, oil, and water)
White vanilla marshmallow frosting (regular vanilla works fine too)
Wilton black gel icing
Betty Crocker yellow icing
Red gel food coloring 
Decorating bag
Small plastic circle decorating tip for yellow icing
How to Make Your Santa Cupcakes
To get started decorating your cupcakes to look like Santa's belt, start by premaking your favorite cupcake mix.
We used a white cake box mix.
While your cake bakes, add a few drops of red food coloring to your white frosting.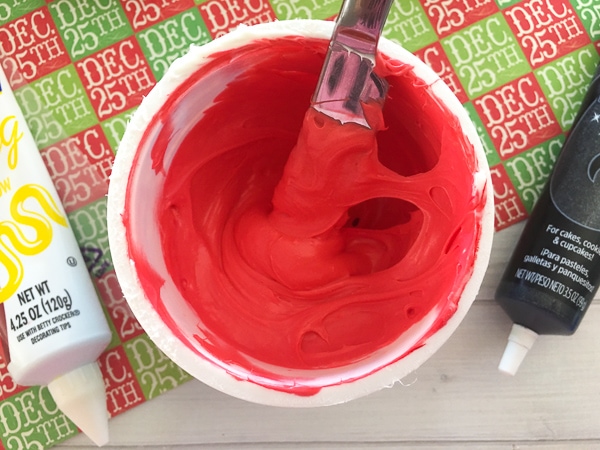 Mix well and scoop into a decorating bag.
Cut the tip of the bag off and frost each of your cupcakes with a generous "swirl" of your red frosting.
Using your black gel icing, draw a line across the middle of your cupcake.
We made ours about 2 lines thick to be thick enough to look like an actual belt.
Now use your yellow icing to draw small squares across each of your "Santa's belts" to create a buckle on the belt.
Now repeat the process with each of your cupcakes.
You'll end up with a bunch of absolutely adorable Santa cupcakes that are super cute and ready to tote to a Christmas party.