I'm so excited about today's post. We are showing you how to make friendship soup in a jar! It's a wonderfully warming soup that makes a wonderful gift!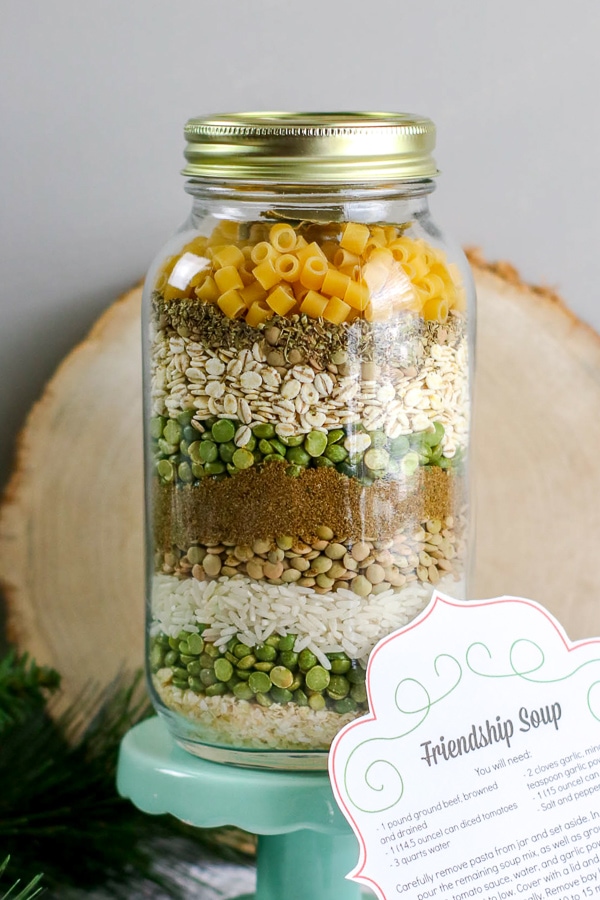 Looking for a great mason jar Christmas gift?
Much like our M&M Cookies in a Mason Jar, this easy soup mix is a popular favorite of ours!
This friendship soup recipe is a hearty soup that just feels wholesome.
I love this recipe because it's easy to layer in a mason jar and give as a gift to a friend.
In fact, I think food is one of the best gifts to give a friend. What else says love than giving a gift that nourishes the body and soul.
We are going to give you today:
The recipe for the friendship soup mix
Instructions for layering the mix in a jar
How to make the friendship soup
And a free printable gift tag with the instructions for your giftees!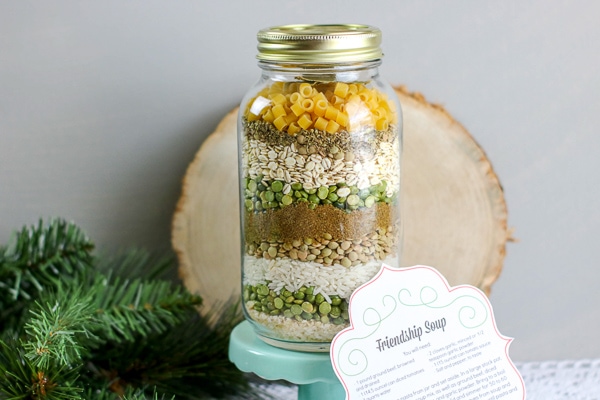 Ingredients Needed for Friendship Soup Gift
We're going to split the ingredients needed for your friendship soup into 2 parts.
One part is the dry soup mix, which will be layered into your gift jars.
The other part is a list of ingredients needed to make the soup after your dry mix incorporated.
This will be the party your gift receiver will need to make their soup into an actual soup.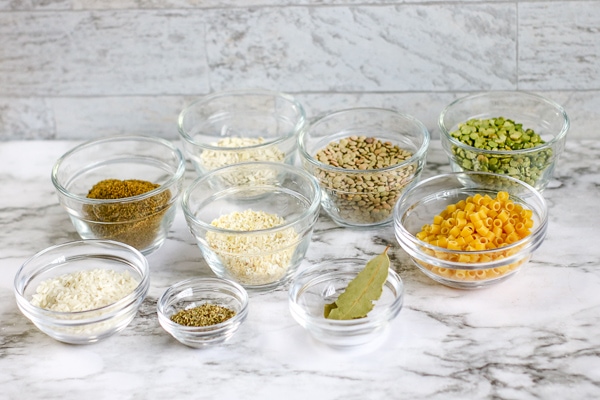 Ingredients Needed for Making Friendship Soup Mix in a Jar
The ingredients listed here will make enough soup mix to put into one jar.
If you plan on making several to give out as gifts to friends and family like we'll be doing this Christmas, then simply multiply the recipe by however many gifts you'll be making.
For each soup mix in a jar gift you'll need:
Large Mason Jar: We used a 32 oz jar for each gift jar
Printable Gift Tag: You can grab the printable in the resource library!
Dried Split Peas: We used green split peas, but you can also use yellow split peas. Don't substitute this with regular dried peas though, it's not the same.
Dried Lentils: This adds a nice heartiness to the soup
Pearl Barley: Using pearl barley instead of regular hulled barley. It'll cook faster in the soup without having to be soaked first. It'll also thicken the soup as it cooks.
Beef Granules: Adds flavoring for the base of the soup. You can substitute it with chicken granules if you prefer, but the taste will come out differently.
Dried Minced Onion: This will add a flavor to the soup
Italian Seasoning: And some more flavor
Uncooked White Rice: Another hearty grain. You could substitute barley instead of the rice, however it may thicken the soup too much
Bay Leaves: Adds another layer of flavor
Small Uncooked Pasta: We used Ditalini
Additional Ingredients You'll Need to Make Friendship Soup
These additional ingredients aren't once that you'll give with the gift (Unless you want to) but are items that many people already have in their kitchen.
These are other ingredients that the gift receiver will add to the soup to make it yummy and taste like friendship soup.
Ground Beef: Browned and drained
A Can of Diced Tomatoes: Adds some moisture and veggies to the soup
Diced Garlic: Fresh garlic always tastes amazing in soup. They could also used minced garlic.
Tomato Sauce: Adds more moisture and body to the soup
Water or Beef Stock: Because of the beef granules already in the soup mix, using water is fine. However if they add stock, it'll give it a more intense flavor.
Salt and Pepper to taste: Letting the gift receiver add in their own salt makes sure the soup is seasoned to their liking.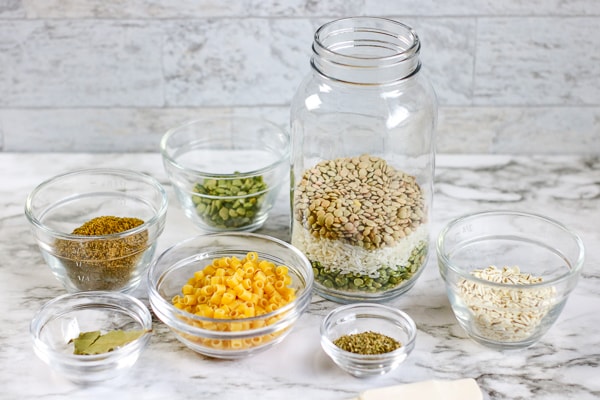 How to Make Your Friendship Soup Mix Gift
To turn the mix into gifts, you'll just need to gather and measure out all of your ingredients.
Then simply layer the ingredients into the 32oz Mason Jars and seal.
Next, you'll want to print out our free gift tag to tie with a pretty decorative ribbon or string to the mason jar.
Make sure to grab it out of our big craft printable resource library.
Here is a closer photo of our gift tag.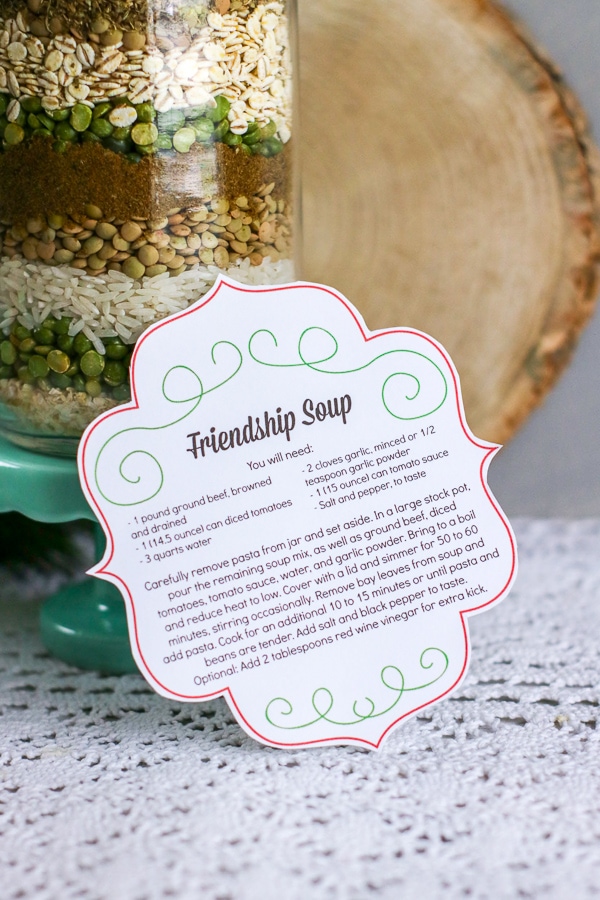 Now you have a wonderful gift to give the Christmas season.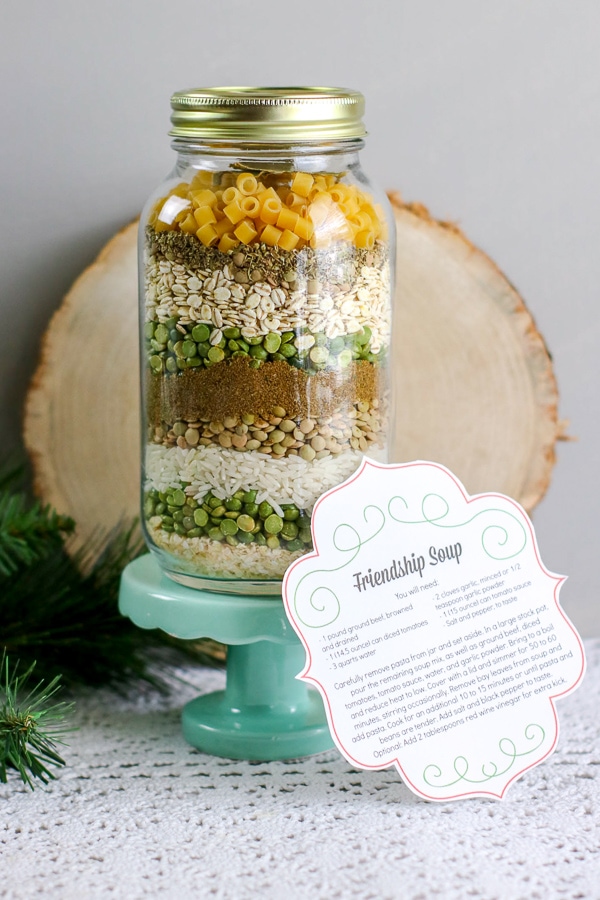 Tips for Layering Your Friendship Soup Mix in a Jar
When layering your ingredients for your soup mix the order of ingredients is important to keep the jar looking pretty.
Mostly you'll want to avoid having the seasonings sift through the beans.
We recommend layering your soup in this order:
Onion

½ cup split peas

Rice

½ cup lentils

Beef granules

½ cup split peas

Barley

½ cup lentils

Italian seasoning

Finish off with the pasta.
If you like, you could place the pasta in a separate storage bag to make it easy to remove from the rest of the mix.
Which is one of the steps for making the soup.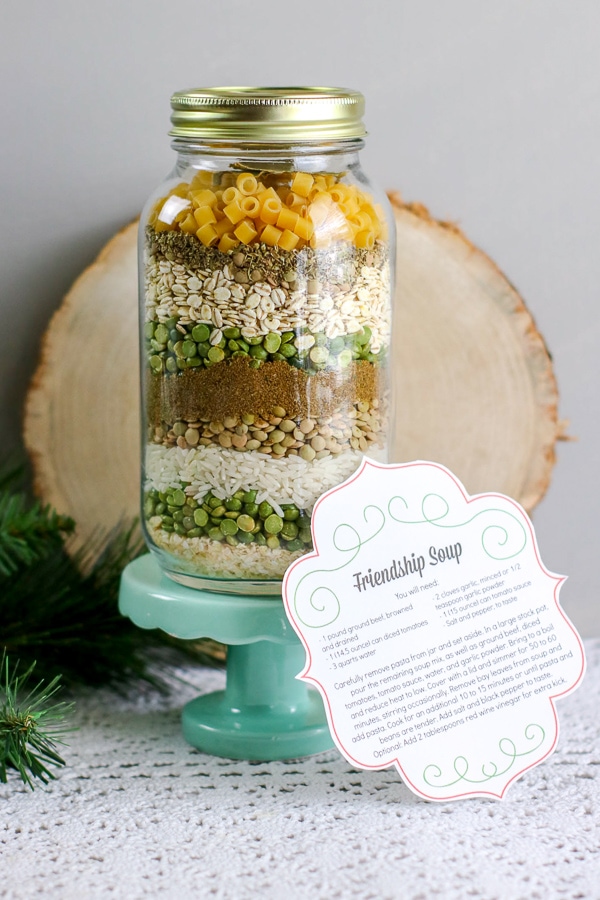 How to Make the Friendship Soup
We include these instructions on the printable gift tag for your soup.
You can make this soup for yourself too as its delicious and a great gift to give yourself as well!
Carefully remove the pasta from the jar and set to the side.
In a large stockpot, pour the remaining soup mix, as well as the ground beef, diced tomatoes, tomato sauce, water and garlic powder.
Bring to a boil and reduce heat to low.
Cover with a lid and simmer for 50 to 60 minutes, stirring occasionally.
Remove the bay leaves from the soup and add in the pasta.
Cook for an additional 10 -15 minutes, or until pasta and beans are tender. Add salt and pepper to taste.
Optional: Add 2 tablespoons of red wine vinegar for extra kick.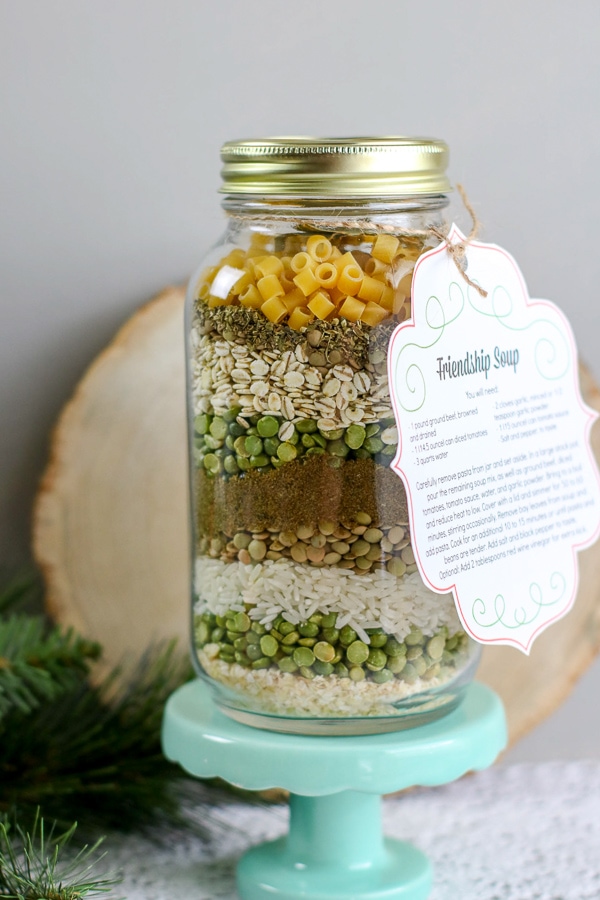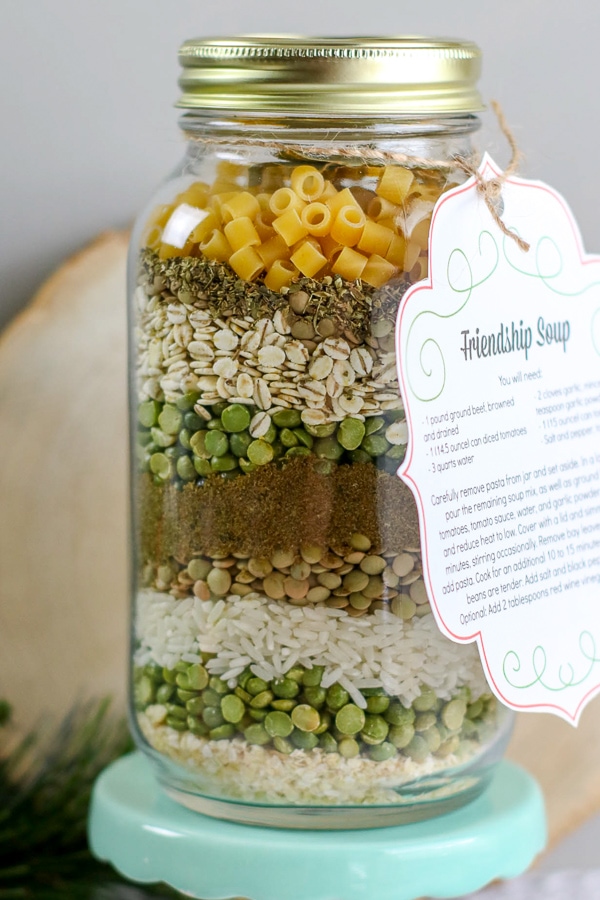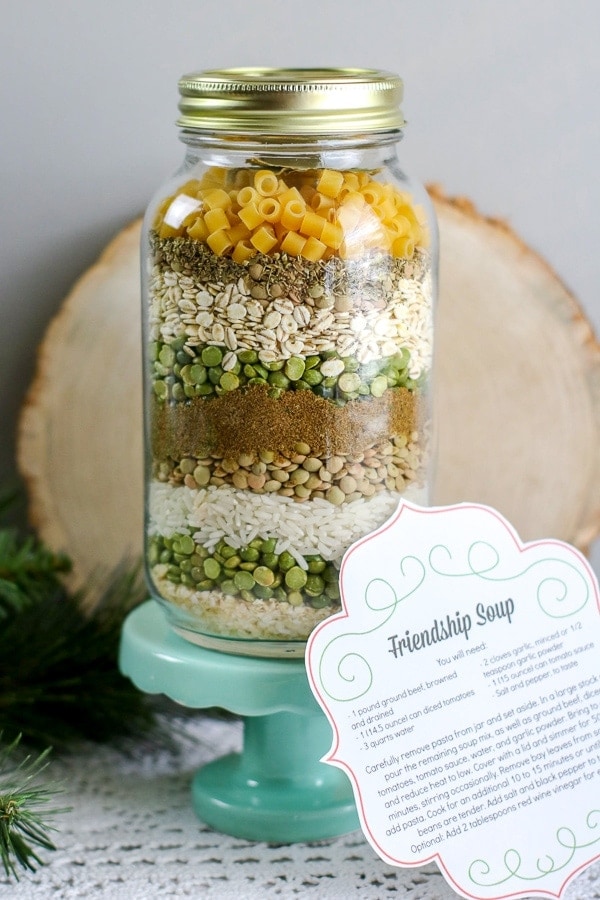 Yield:

1 Mason Jar
Friendship Soup in a Jar
This hearty soup is perfect given as a gift during the holiday seasons. The gift receiver adds a few things to their soup mix and they have a lovely, wonderfully easy dinner perfect during the cooler seasons.
Ingredients
Ingredients for the Soup mix in a jar
1 cup dried split peas
1 cup dried lentils
½ cup pearl barley
⅓ cup beef granules
¼ cup dried minced onion
2 teaspoons Italian seasoning
¼ cup uncooked white rice
2 bay leaves
½ cup uncooked small pasta, like Ditalini
Additional ingredients to make the soup
1lb ground beef browned and drained
1 (14.5oz) can diced tomatoes
2 cloves garlic, minced or ½ teaspoon garlic powder
1 (15oz) can tomato sauce
3 quarts water or beef stock
Salt and pepper to taste
Instructions
Gather and measure out the soup mix ingredients.
Layer the soup ingredients into your mason jar.
Notes
We used a 32oz Mason jar. You can grab the printable gift tag in our free printable library. Your gift receiver will then make the soup based on the instructions on the gift tag. Enjoy!