Easy Mermaid Rice Krispie Treats
Today we have a fun treat! Mermaid Rice Krispie treats!! They're even in the shape of mermaid tails! But these are fun, cute and perfect for a mermaid party!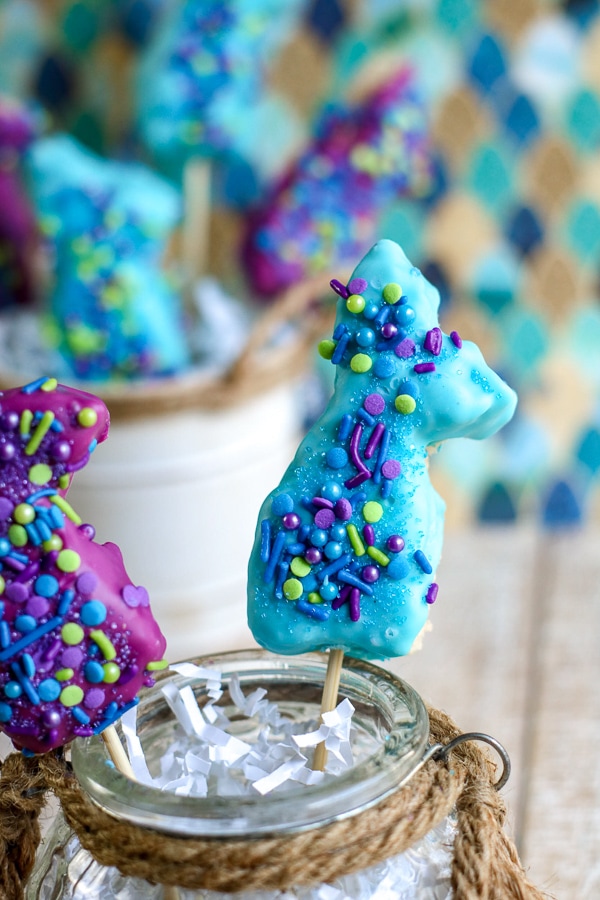 These fun mermaid Rice Krispie treats are perfect for a mermaid party, or any ocean themed party really.
Plus they are so easy to make.
Don't they look great in these fishbowls?
The fun colors of the mermaid tail along with the bright sprinkles just scream cheery mermaid.
We'll even show you how to make mermaid rice Krispie treats with this quick and easy tutorial.
This post may contain affiliate links. This means if you click a link and make a purchase we may earn a commission. You can read our full disclosure here.
Ingredients needed for Mermaid Rice Krispies
For these Rice Krispie treats we used our favorite Rice Krispie recipe plus a few ingredients to decorate the Rice Krispie treats to look like mermaid tails.
You'll need:
6 cups of Rice Krispie cereal
Bag of mini marshmallows (10oz)
3 tablespoons butter
Wax paper
I prefer this brand of candy melts over the Wiltons brand personally.
I find they are easier to melt and spread a little better, but you can use your favorite brand.
For the mermaid sprinkle mix, you can use a mix of bright ocean colored sprinkles.
For these Rice Krispie treats, we suggest a mix of blue, green and purple sprinkles and sanding sugar.
Or you can buy a ready-made mermaid mix like this one.
Here's what our mix looked like.
How to Make Mermaid Rice Krispie Treats
To make these mermaid rice krispie treats, start by making a regular batch of rice krispies!
Prepare a baking sheet with wax paper and lightly coat with oil.
In a saucepan over low heat, melt your butter.
Once the butter is fully melted, add in the marshmallow and melt, stirring the mixture slowly.
Once the marshmallows are completely melted, removed the mixture from heat.
Stir in the Rice Krispie cereal until it's covered in the marshmallow mixture.
Use a buttered spatula smooth the Rice Krispie cereal out evenly across the baking sheet.
Let cool completely.
Next, use the mermaid cookie cutter to cut out mermaid tails out of the Rice Krispies.
If the treats end up loose, press additional Krispy mixture into the cookie cutter before popping the shape lose.
To minimize waste, you can keep reshaping the Rice Krispie mixture to where you can cut more mermaid tails from it until you have used it up.
Decorating the Rice Krispies to Look Like Mermaid Tails
Now that all of your Rice Krispie mermaid tails are ready, it's time to start decorating them.
Start by placing your candy melts in a microwave-safe bowl.
Melt the candy on high, stirring every 30 seconds until the candy is completely melted.
Do not overheat the mixture, it burns quickly.
If your melted candy is too thick to work with, you can add vegetable shortening or refined coconut oil to thin it out a bit.
Only add in one teaspoon at a time, up to 1 tablespoon.
Dip one side of your Mermaid Rice Krispie treat into the melted candy.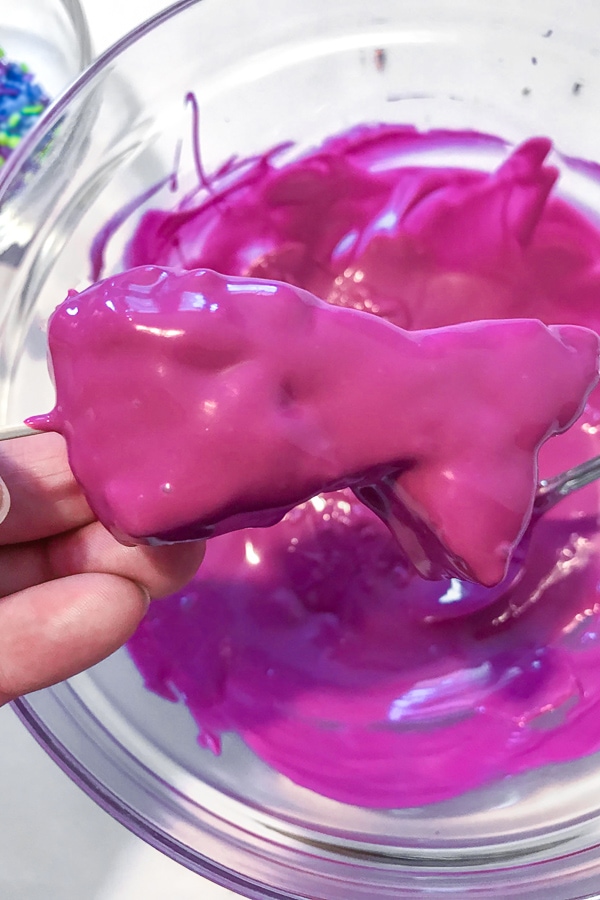 Immediately decorate with your mermaid sprinkle mix.
Set aside to dry completely.
You can work a cake pop stick into the bottom of your treats and display in a fun fishbowl like we did, or any other fun cup or jar.