Today, we are making unicorn lollipops! These are fantastic and fun treats that are perfect for any unicorn themed party. Or just because. Because, well, pink and rainbow unicorns are just plain fun.
Making fun and interesting unicorn treats always seems like a good idea!
Not to long ago we made unicorn Rice Crispy treats. And today we are trying out unicorn lollipops!
These adorable pink unicorn lollipops are perfect to make for a unicorn-themed birthday party.
They are super easy and oh so cute!
We'll show you step by step how to make unicorn lollipops of your own!
How to Make DIY Unicorn Lollipops
For the most part, it's really easy to make unicorn lollipops. All you really need is some sugar, corn syrup and a candy mold plus lollipop sticks.
Of course, there are a few other ingredients that will make them extra fun!
For example, today we made pink unicorn lollipops, but we've also made white mini unicorn lollipops too!
To make our lollipops pink, we simply added a little food coloring, and of course to make them really pop, rainbow sprinkles!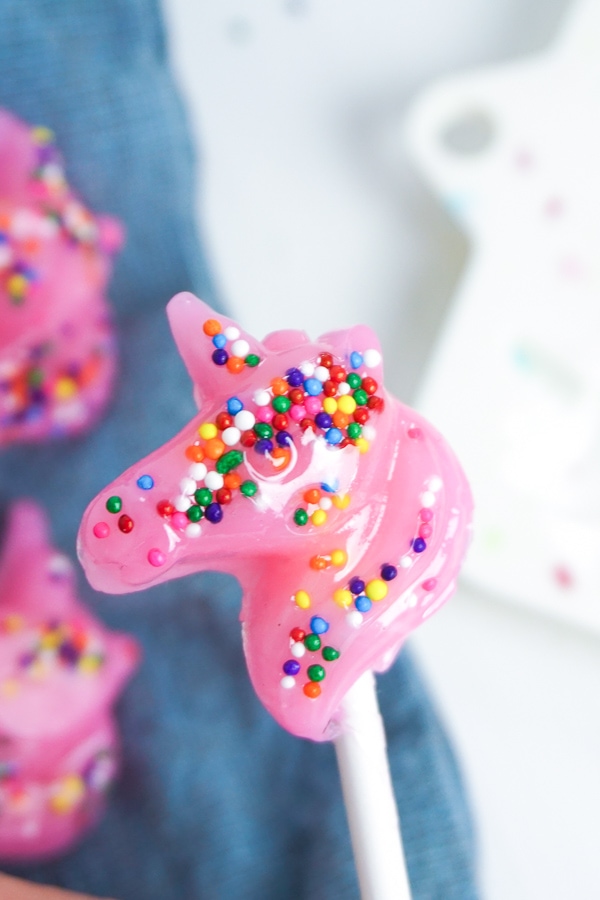 Supplies Needed for Pink Unicorn Lollipops
2 cups of plain white sugar (the granulated kind)
2/3 cups light corn syrup
3/4 cups of water
Pink GEL food coloring
Non-Pareils Rainbow Sprinkles
Cake Pop or Lollipop Sticks
A candy thermometer is useful if you have one
I know the photo shows gold sprinkles, but we switched them out for rainbow halfway through as we thought they would look better. (I think we were right!)
Basically, to make your unicorn lollipops you'll combine your sugar, corn syrup and water and bring to a boil.
Once your mixture hits about 300º. This means it's hit the "hard crack" stage of the candy process.
From here, you'll make your lollipops in their molds! We go into more detail below.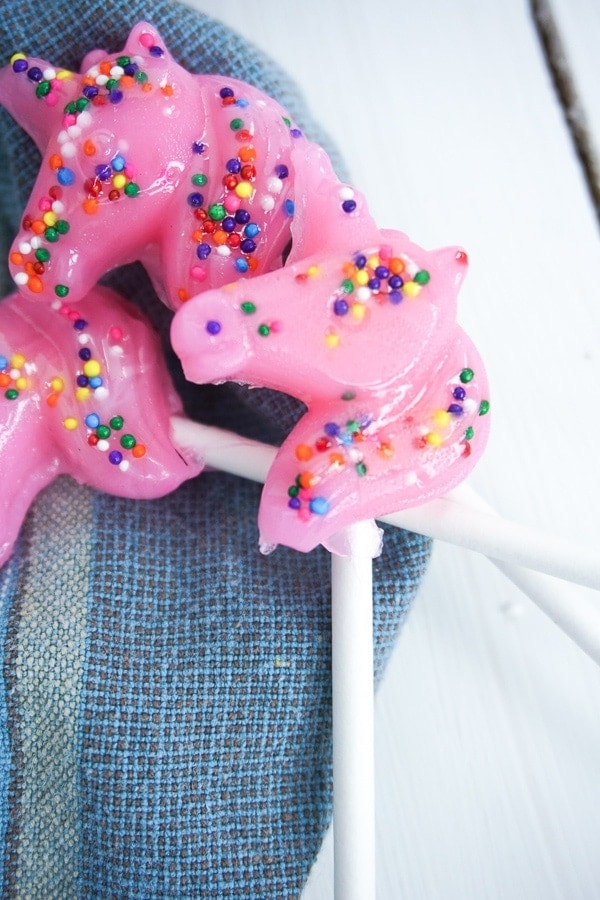 Yield:

18 Unicorn Lollipops
How to Make Unicorn Lollipops
We show you how to make these adorable pink unicorn lollipops. Your kids will love them! These would be especially cute as homemade favors for a unicorn themed party.
Materials
2 cups of white sugar
2/3 cups light corn syrup
3/4 cups of water
Pink GEL food coloring
Non-Pareils Rainbow Sprinkles
Tools
Spoon
Unicorn Candy Molds
Candy Thermometer
Lollipop sticks
Instructions
In a saucepan combine your white sugar, corn syrup, and water.
Bring your sugar mixture to a boil. If you have a candy thermometer, insert it to keep track of your candy mixture's temperature.
Occasionally stir while boiling.
Add sprinkles to the mold.
Once your candy mixture reaches 300 degrees or the "hard crack" stage, remove from heat and add your pink food coloring.
Immediately spoon your pink unicorn lollipop mixture into the unicorn molds.
Press a cake pop stick or lollipop stick into the lollipop mold cups while the mixture is still hot.
Allow your unicorn lollipops to sit until completely hardened, usually about 2 hours.. Make sure your lollipop mold white they sit. Once they are completely cool, pop out and enjoy your unicorn lollipops!