St. Patricks Day Inspired Oreo Cookie Pops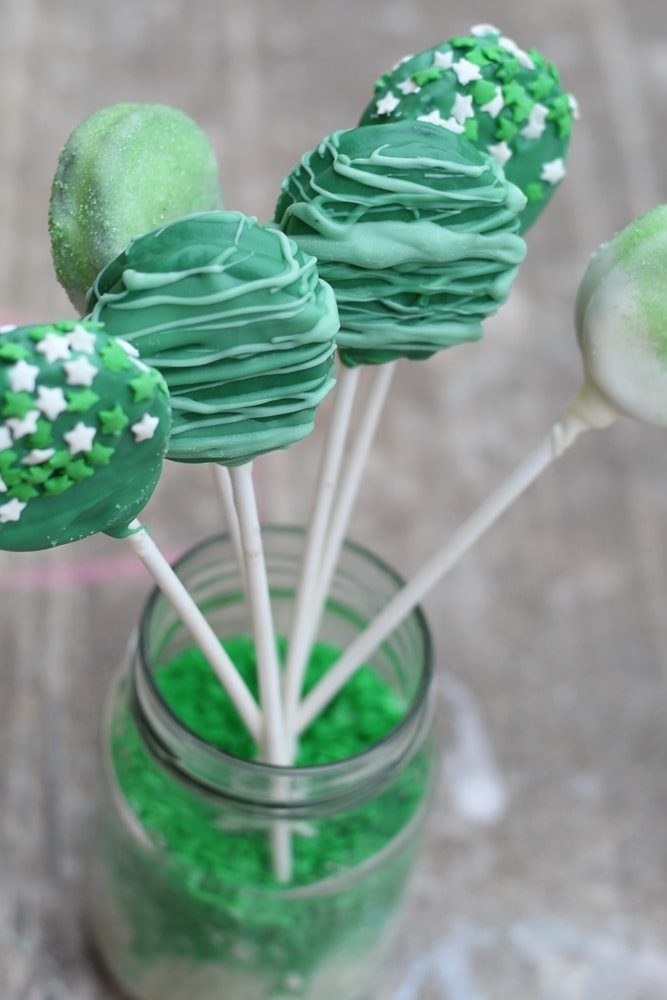 These Oreo Cookie Pops are surprisingly tasty and not hard to make.
We made this batch green since St. Patricks day is right around the corner!
Ingredients
1 Package of Oreos
Lollipop sticks
2 Bags of Candy Melts (We used 1 green bag and 1 white bag)
Fun Sprinkles
Directions
To make these candy dipped Oreos, start by melting a small amount of your candy melts. About 1 oz, or 7-8 large chips.
This small amount of candy is going to act as your glue to keep your stick and your cookies together.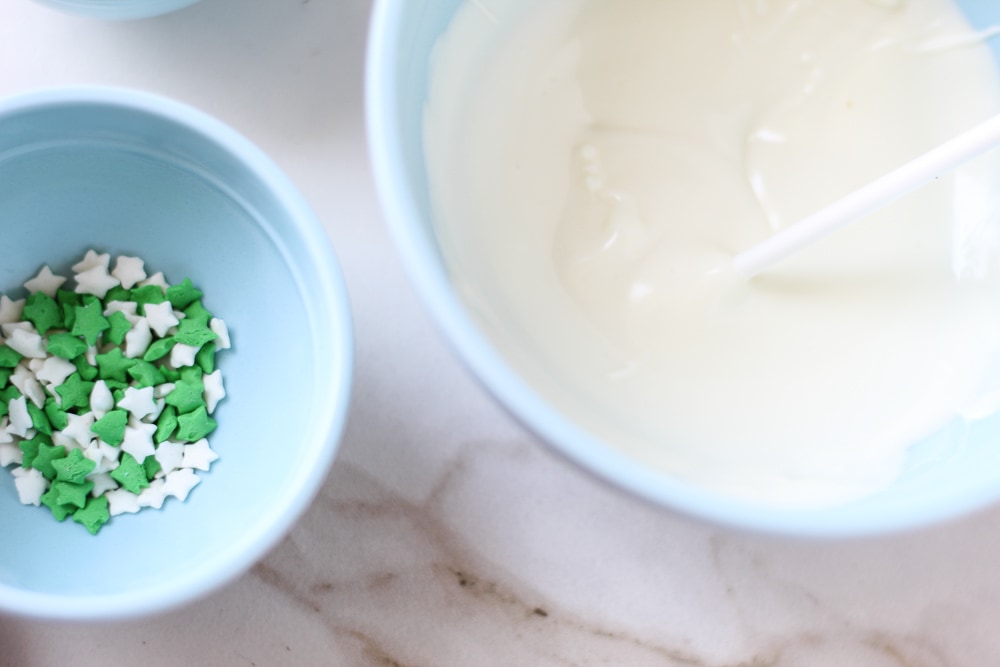 You are going to use this small amount of melted candy to "glue" the sticks to your cookies.
I tried a few different ways and ended up with a lot of broken cookies.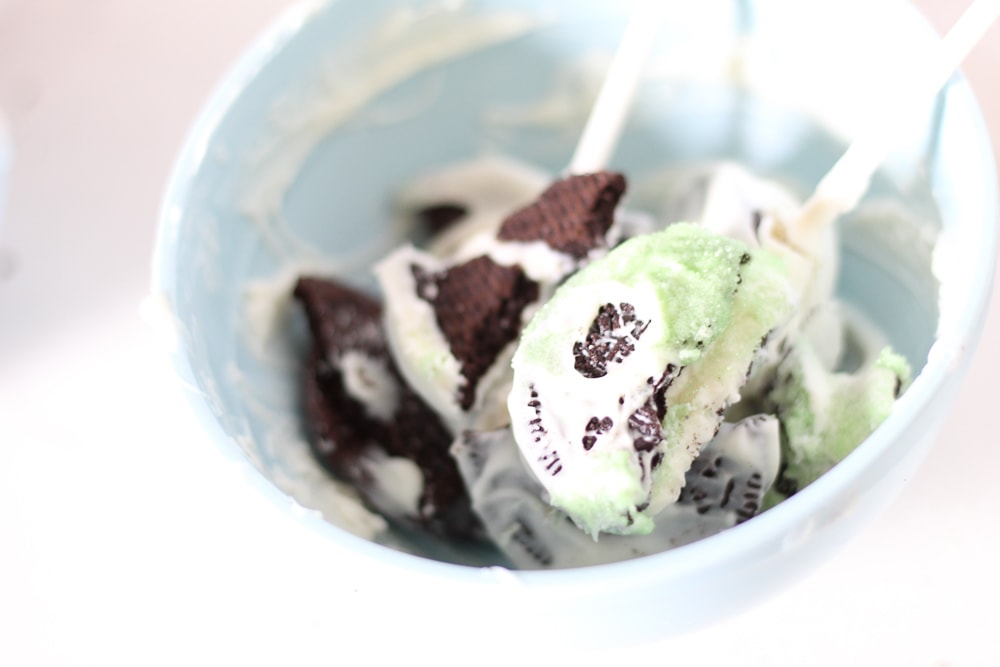 I tried opening the cookies and putting the candy and stick in there to seal the stick inside, and it didn't work out well for me. I also tried "making space" for the stick my removing some of the filling. No go.
I found the best way to get the stick into the cookie was to slowly and gently twist it into the cream filling with a small amount of candy coating on it.
This helps to glue the stick into the cookie.
Once that was done with each cookie, I then went back and "painted" more melted candy to the bottom of each cookie to make it nice and strong.
You can also fill any cracks in your cookies by gently filling them with a bit of candy painted onto the broken areas.
This helped create a nice strong base for the cookie. You'll be thankful you did this extra step when you start covering your cookies. It makes them surprisingly heavy.
Once those are completely dry (about 10 minutes) melt a larger batch of your candy melts.
Now Create a drying area for your cookies before you get started. You only get a small amount of a time to work after you melt your candy.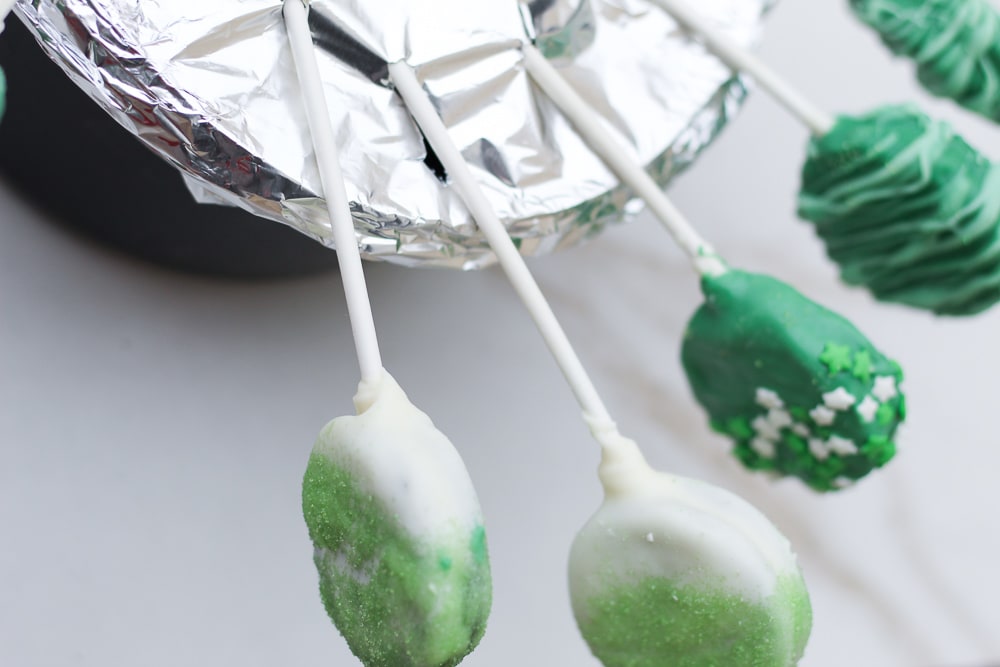 We used a pot double layered with tin foil with small holes created by poking it with a pen. A cooling rack with large holes or a big colander turned upside down would work nicely too.
Next can cover your cookie with the candy. I found it best to spoon the melted candy onto the Oreos instead of dipping them.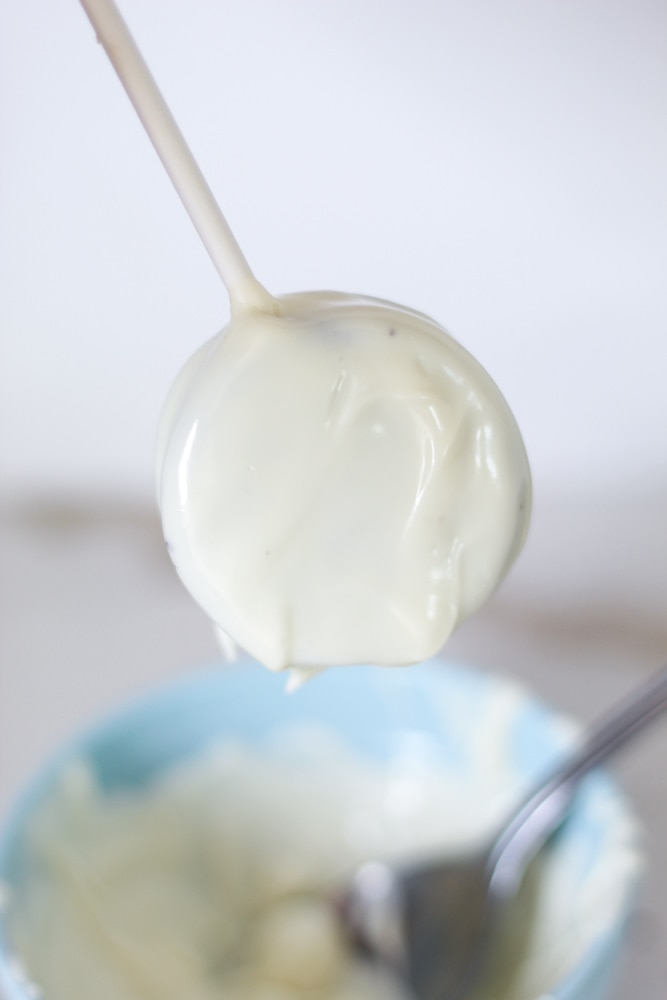 Now slowly rotate your cookie stick and completely cover with your melted candy. I used the back end of the spoon to smooth out the candy a little thinner.
If the candy isn't spreading easily, the candy may need to be reheated.
If you are going to be adding sprinkles, now's the time you can add them.
We added green sugar sprinkles to our white candy cookies and star sprinkles to half of our green covered candy cookies.
For the other half of our green Oreo pops, we allowed the green base candy to dry completely. Then we melted a small amount of white and green candy melts together to form different shades of green.
Then we drizzled the colors over the Oreo pops with a spoon quickly to make lines.
The fun part about these little treats is that you can get as creative or as simple as you want.
Plus they are surprisingly delicious. I made these for the kids and thought they'd be too sweet for me. But I found myself enjoying these too!
A cool factoid. The candy melts are gluten-free.
These little treats were so good I think I'll be using the Glutino (gluten-free Oreos) version of this next week so my husband can enjoy the fun too! He'll be thrilled.
Yield:

12 Oreo Cookie Pops
St. Patricks Day Inspired Oreo Cookie Pops
Additional Time:
30 minutes
This step by step how-to will show you how to make your own Oreo Cookie Pops!
Materials
1 Package of Oreos (We used 12, but a few broke)
Lollipop sticks
2 Bags of Candy Melts (We used 1 green bag and 1 white bag)
Fun Assorted Sprinkles
Tools
Bowl to melt candy in
Candy drying Rack
Spoon
Paper plate to catch sprinkles
Instructions
Melt down a small amount of your candy melts. This will "glue" your Oreo and stick together.
Dip your lollipop stick into your melted candy and using a twisting motion, insert into the bottom of your Oreo cookie.
Repeat with remaining cookies and sticks.
Once the candy on your cookie pops has dried, go back and "paint" more candy around the area where your stick meets the cookie. This will give your cookie pop a nice strong base. You can also "repair" any small cracks in your cookies by "painting" the candy onto those areas as well.
Once this coat of candy has dried well for each cookie, you can now melt a larger amount of candy coating. We did three separate batches. You can get as creative as you want, and do the next steps in what ever way inspires you! We'll go over what we did.
First we melted a half cup of the white candy melts. We covered four of the cookies with a white coating. Then we sprinkled each one with green glittery sugar sprinkles.
Then we used the green candy melts and made covered four of the cookies with this candy coating. Then we sprinkled each one with green and white star sprinkles.
Next we added half green and half white candy melts into a bowl and melted and mixed those together. We then coated 4 of those cookies with this candy coating and allowed it to dry completely.
Then mixing various shade of green we used a spoon to "swipe" candy coating across the solid green ones to create a stripey effect.
Allow to dry for a few hours.
Enjoy your delicious St. Patricks Day Cookie Pops!
Notes
Prepare a "drying rack" before you start this project. We used a pot with tin foil over the top to poke our sticks into. They have drying racks you can buy too. An overturned colander with large holes would also work well.
Have all of your supplies ready and easily at hand before melting your candy melts. The package says they will stay melted for a while, but the candy becomes difficult to work with after it has cooled for a few minutes.
Freshly opened Oreos work best, and are less likely to crumble when you are working with them.
For a gluten-free option, try using the gluten-free version of oreos. The candy melts we used were also gluten free.
Depending on how much candy coating you use on your cookies, the candy may drip off of your cookie pop, so dry your cookie treats over a cleanable surface.