Today we are going to show you how to make these super cute zombie cupcakes! These are perfect for Halloween or a zombie-themed party!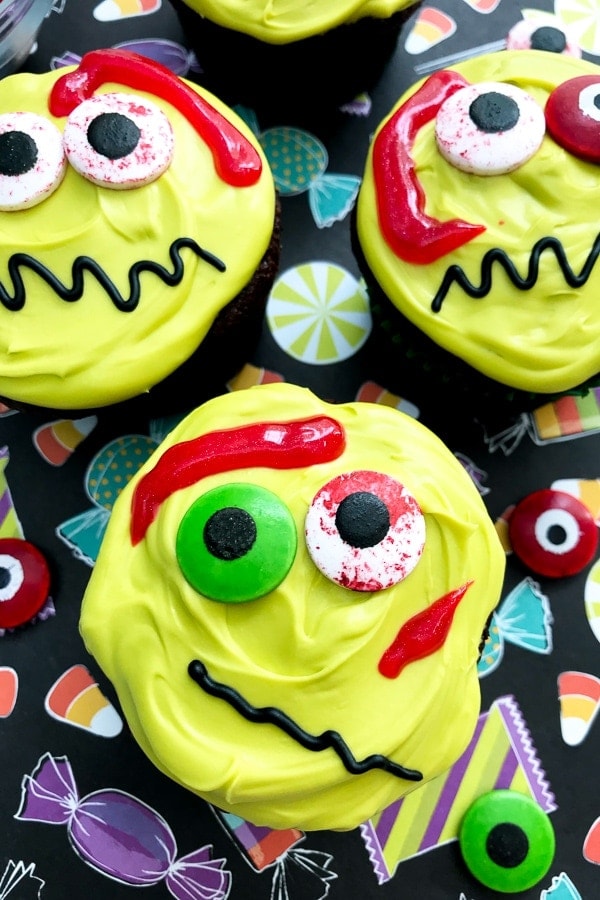 I am a zombie move fanatic! Seriously. I'm obsessed with all things zombie.
I'm positively sure I've seen every zombie movie that's ever existed. The good, the bad and yes, the very, very ugly.
So today I'm super excited to be rolling out this fun little tutorial on making your very own DIY zombie cupcakes!
These are surprisingly easy to make.
And they can be whipped up pretty quickly. Especially if you use a box cake mix. (Or even premade store bought ones!)
You can definitely use any cupcake recipe you like. The important part for these babies are the frosting!
Using various colored frosting and food coloring let us create these fun little zombie faces on top of our cupcake.
Ingredients Needed for Zombie Cupcakes
To create your zombie cupcakes, start by creating 24 of your favorite flavor of cupcake.
We used chocolate, but red velvet would be a fun twist too!
24 Premade cupcakes in your favorite flavor
1 tub of white frosting
Yellow gel food coloring
Green gel food coloring
Black gel food coloring
Wilton red sparkle gel
Large Halloween candy eyes (We used Wilton, you can find them in a lot of different craft stores and even Walmart)
Fun cupcake liners (Black or green work well)
How to Make these Zombie Cupcakes
To start, make your cupcakes according to the recipe. Or like us, according to the box.
Let your cupcakes cool completely. If they are still warm when you start decorating them, the zombie faces will melt right off.
Scoop up your white frosting and place into a mixing bow.
Add a few drops of yellow food coloring and 1 drop of green.
If you are making more cupcakes, just keep a 3 to 1 ratio of yellow to green.
Stir well to combine.
Frost each cupcake with a generous amount of the neon green frosting.
Now give each of the zombie cupcakes two eyes. You can have fun mixing up the different types of eyes if you like.
After all, these zombies are your creation, get creative and have fun making them how you please!
Using the black gel icing create a mouth for each of the zombies toward the bottom half of each of your cupcakes.
You can make smiles, zig zaggy mouths, or even just straight lines.
It's fun to play with the different designs and create silly zombies, cute zombies and a few scary ones too!
Now use the red sparkle gel icing to create bloody lines on your zombies.
This adds a bit of fun, and the sparkly icing is a fun touch. Although regular red decorator icing would work too.
Most of all, just have fun creating your little zombie cupcake army.
I think this would make a really fun party activity too.
Allowing all the kids (Or even adults!) to decorate their own zombie cupcake would certainly be entertaining.
And a lot less work for you.
Although, making these hardly feels like work.
If you do decide to turn it into a zombie or Halloween party activity, make sure to get extra gel tubes.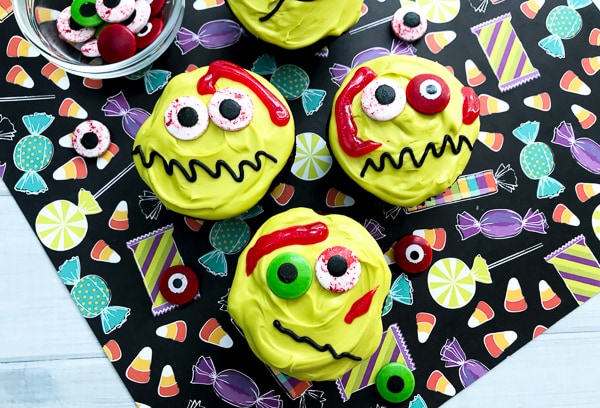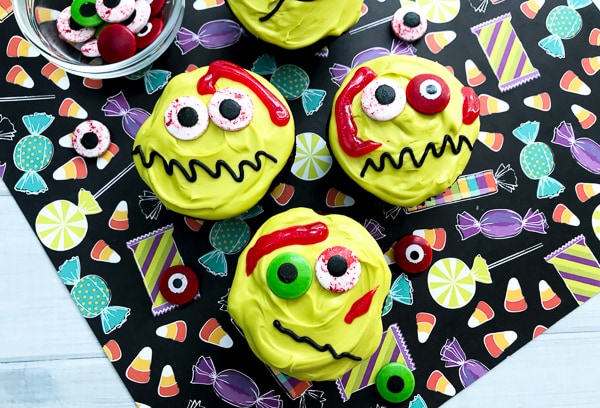 Yield:

24 Zombie Cupcakes
Silly Zombie Cupcakes
Total Time:
1 hour
10 minutes
These adorable zombie cupcakes are so easy to make and so much fun to eat! These littlbe babies would be perfect for a zombie themed party or your next halloween party!
Ingredients
24 premade cupcakes (we used chocolate)
1 tub of white frosting
Yellow gel food coloring
Green gel food coloring
Black gel icing or frosting
Wilton red sparkle gel
Large Halloween candy eyes (I used Wilton, you can find them in a lot of the craft stores and even Walmart)
Cupcake liners
Instructions
Start with 24 premade cupcakes
Next, scoop the white frosting into a dish. Add 3 drops of yellow food coloring and 1 drop of green.
Stir to combine and repeat if necessary.
Generously frost each cupcake with the bright yellow/green frosting.
Give each zombie cupcake two candy eyes.
Use the black get icing to make mouths on the cupcakes.
Use the red sparkle gel icing to give the zombie cupcakes some blood.
Repeat with each cupcake.
Notes
If you are making all 24 cupcakes yourself, I suggest batching little groups of them. For instance, decorate the zombies in groups of 4. For the first 4 cupcakes, decorate them to be "silly zombies" with grins and decorate all 4 the same. Then decorate the next batch to have serious faces and extra blood. This will make it easier to decorate them quickly without having to put too much thought into each zombie.
Nutrition Information:
Yield:
24
Serving Size:
1
Amount Per Serving:
Calories:

325
Total Fat:

17g
Saturated Fat:

5g
Trans Fat:

1g
Unsaturated Fat:

10g
Cholesterol:

17mg
Sodium:

281mg
Carbohydrates:

45g
Fiber:

2g
Sugar:

34g
Protein:

3g
If you are looking for more awesomely creepy snacks, checkout our best Halloween party foods post.