Today we are making M&M Cookie Mix and putting in a Jar to give as a gift! We love giving friends and family food in a jar as gifts. And cookies make the gift just that much sweeter.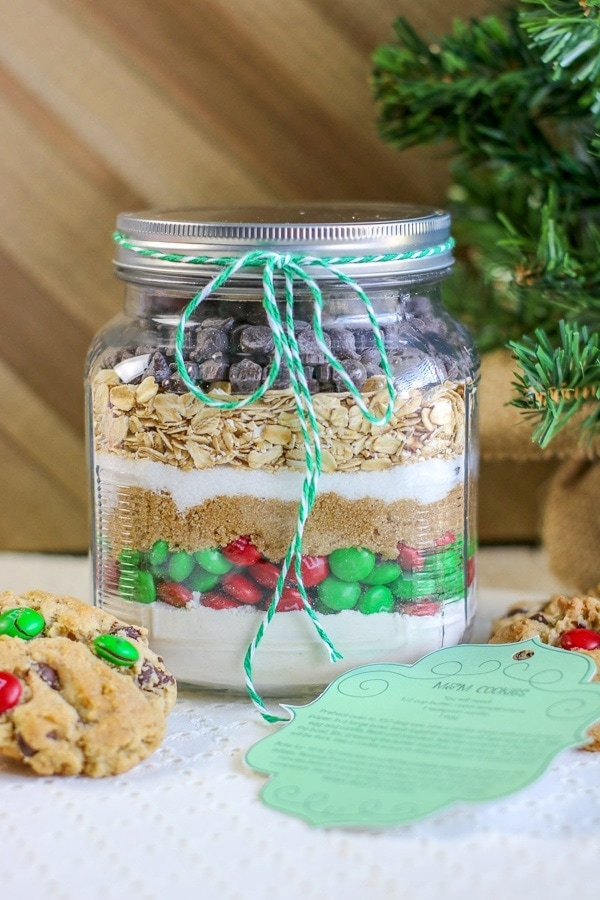 I love homemade cookies. Especially fresh out of the oven!
Cookies are a wonderful gift for the holidays.
But making cookies ahead of time and giving them as gifts means the cookie receiver misses out on that fresh out the oven cookie experience.
That's what makes the cookie mix in a jar recipes so popular.
You can give the gift of cookies, but in a way that makes it convenient for your gift receiver to enjoy their cookies fresh.
Plus it's fun to give Christmas gifts in mason jars for some reason.
This M&M cookie recipe is delicious and we show you how to make the mason jar gorgeous to make a good looking gift.
P.S. We also have a lovely friendship soup in a jar gift too!
How to Make a Cookie Mix in a Jar Gift
To make this cookie mix you'll need some basic cookie ingredients.
You'll also need a 32oz Jar to put your cookie mix in.
Ingredients for Cookie Mix
1 ⅓ cup of white flour

1 teaspoon baking soda

1 teaspoon baking powder

½ teaspoon salt

1 cup old fashioned oats

½ cup granulated sugar

½ cup brown sugar

¾ cup chocolate chips

¾ cup M&M candies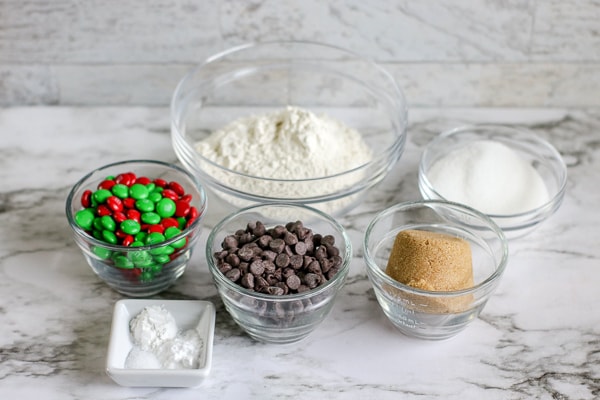 These ingredients are just for the cookie mix itself. This isn't the complete cookie recipe.
For the M&M's we used the Christmas color ones.
They are available in packages during the holiday season.
However, you could easily pick out the red and green ones from a few big bags, and save the other colors for something else.
Of course, the extra M&M's are a fantastic treat to snack on while baking!
Here's a brief list of the other ingredients that your cookie maker will need, they most likely already have in their fridge.
This recipe made exactly will make you 1 jar of cookie mix that should yield about 20 cookies when made.
Additional Cookie Recipe Ingredients
½ cup of butter (at room temperature)
1 teaspoon of vanilla
1 egg
These are the wet ingredients, that you won't be giving as part of your cookie mix gift.
However these are pretty standard ingredients they probably already have.
These will be listed on your printable gift tag along with the instructions
Other Supplies Needed for Cookie Mix Gift
Now that we have all the supplies and ingredients covered, lets go over assembling your cookie mix into your gift jars.
How to Assemble Cookie Mix in your Mason Jar
Being that this is probably a Christmas gift or other type of gift, you don't want to mix all of your ingredients willy nilly.
This will create a sloppy presentation.
Instead, you want to layer your cookie mix in thoughtfully so that they will look appetizing and beautiful.
Here are the steps we recommend for making a pretty cookie mix gift.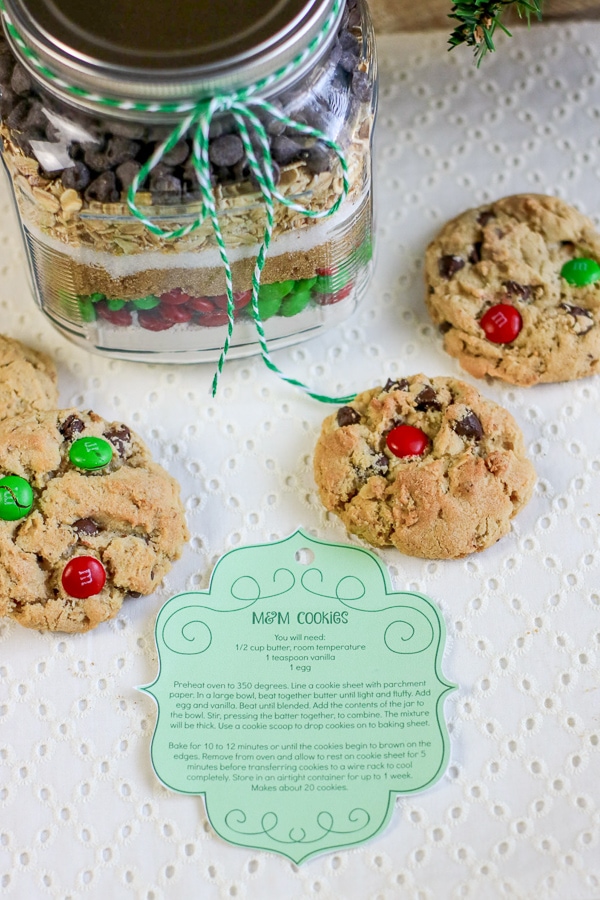 Step 1: Mix the Base ingredients
In a large bowl, mix together the flour, baking powder, baking soda and the salt.
Step 2: Start Layering
Now grab your mason jar. Now you are going to layer your ingredients.
Make sure to press down each layer, making sure it's even before adding the next layer.
Start layering your ingredients in the following order:
The flour mixture

M&Ms

Brown sugar

White sugar

Oats

Chocolate chips
We recommend using a funnel to pour in the powedered ingredients, especially the flour mixture!
Finally, cap your Mason jar and tie your printable gift tag to the jar.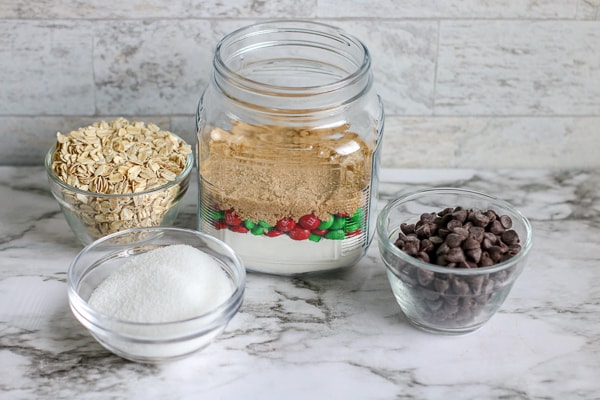 Printable Gift Tag
You can find the printable gift tag in our free printable library.
If you are wanting a more personal touch and want to handwrite your tag here is what we recommend putting on your gift tag (It's the same thing our printable tags say):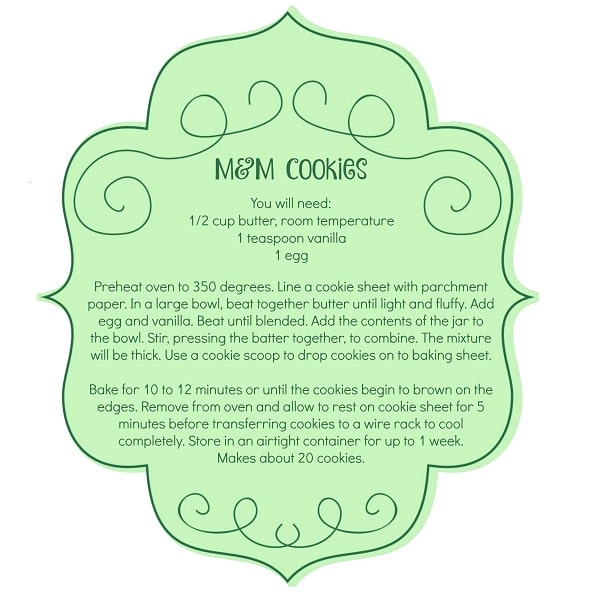 M&M Cookies
You'll need:
½ cup butter, room temperature
1 teaspoon of vanilla
1 egg
Preheat oven to 350 degrees. Line a cookie sheet with parchment paper. In a large bowl, beat together butter until light and fluffy. Add egg and vanilla. Beat until blended. Add the contents of the jar to the bowl. Stir, pressing the batter together to combine. The mixture will be thick. Use a cookie scoop to drop cookies on to a baking sheet.
Bake for 10-12 minutes or until cookies begin to brown around the edges. Remove from the oven and allow to rest on cookie sheet for 5 minutes before transferring cookies to a wire rack to cool completely. Store in an airtight container for up to 1 week.
Makes about 20 cookies.