This snowman wish list spinner is just too cute! The kids can make out their wish list and put it on this little guy! It's a fun craft and lets them put down their wish list in a fun and creative way.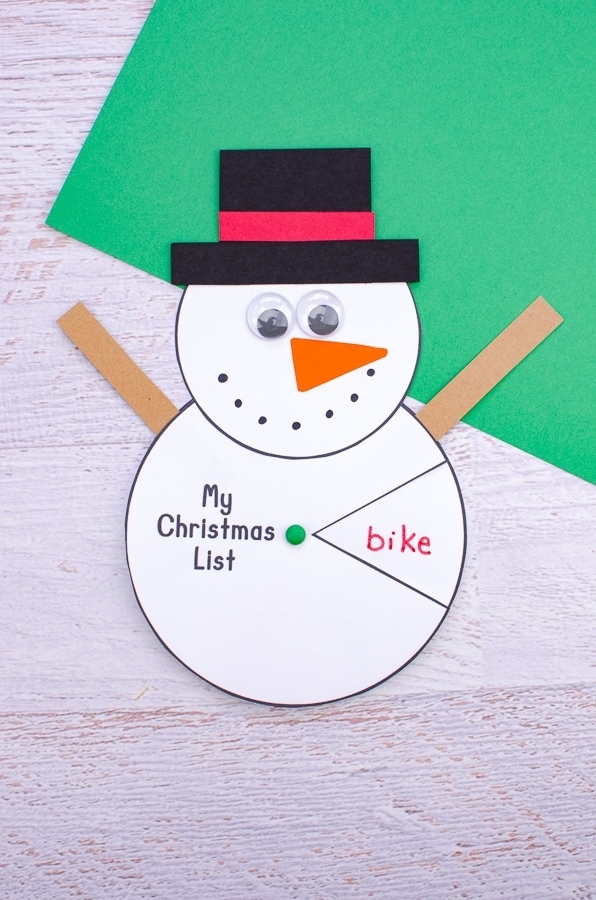 This adorable little snowman craft is great snowman craft for kids! It's one of my kids favorites Christmas printable activities that we offer here on the site.
You use the cutouts from our free printable template to make this craft super easy!
Simply cut out the snowman's body and other pieces from cardstock.
Then the kids can write out their wish list and assemble the snowman!
Supplies Needed for This Snowman Spinner Craft
Template printed on white cardstock
Cardstock in Black, Brown, Orange and Red
Scissors
Red, Green and Black markers
Glue stick
Google eyes
1 green brass fastener
How to make the Snowman Spinner Wishlist
To make this snowman wishlist spinner, start by gathering all your supplies.
Step 1: Print and Cut the Snowman Pieces
First, print out the free printable craft template onto white cardstock.
You can get our template in the free resource library.
Then cut out the pieces.
Next, trace to snowman's arms out on brown cardstock. They are the long skilly rectangles.
The other 3 rectangles will be the parts of the snowman's hat.
Trace the really skinny one onto red paper, and the other two-piece onto black paper.
And finally cut out the small triangle from a piece of orange paper.
Of course, if you'd rather, the kids could color the piece instead of tracing and cutting.
The pieces should look similar to the ones below.
Now you can start assembling the snowman's hat. Glue the long black rectangle to the bottom of the black square.
Then glue the red belt (the long red rectangle) right above the long black rectangle.
Now glue the finished hat to the smaller of the white circles.
This will be your snowman's head.
Attach the googly eyes and the orange triangle to make a carrot stick nose.
To finish off the snowman's face, be sure to add a smile! We added a dotted smile to represent little piece of coal.
But you can get creative as you want with your snowman's mouth.
Now that the snowman's head is complete, grab the circle that says "My Christmas List.
Glue the snowman's brown arms to the back of the circle.
Then line up the other circle behind the Christmas list circle and fasten with the brass fastener in the center of the two circles.
It should look like the picture below.
Next, glue the snowman's head to the spinner body.
Your snowman is now complete!
Use the empty space that spins to let the kids write in their Christmas list items!