Hulk Cookies a Delicious Avenger Treat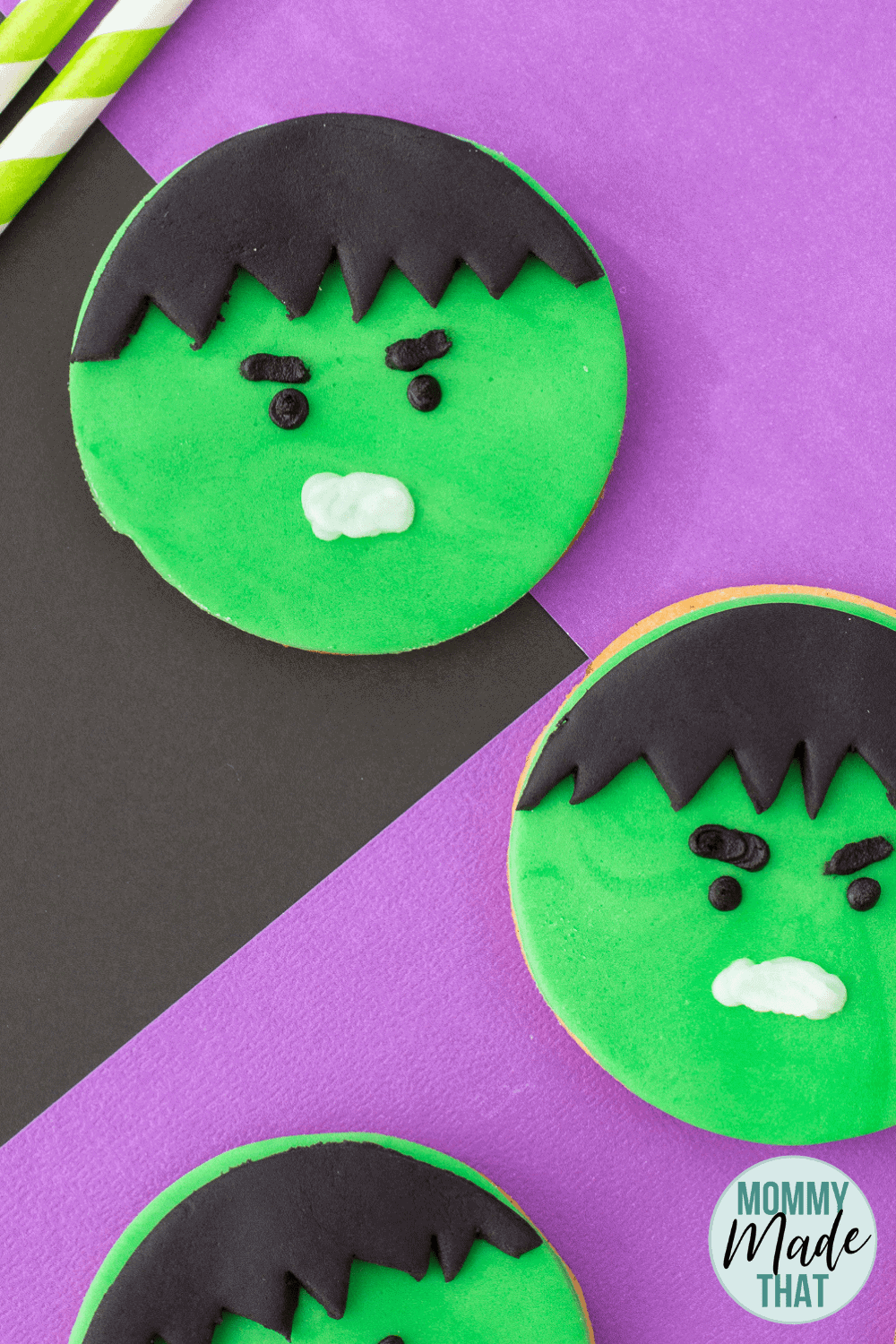 We love a good decorated sugar cookie for any kind of themed party.
These Hulk cookies are no exception! These would be perfect for a superhero themed birthday party, avengers party or a straight up Hulk party!
Plus they are pretty easy to make and kinda hard to mess up. A combination I like in our household.
Here we'll show you how you can make your own Hulk sugar cookies. These babies are decorated with fondant, but don't let that put you off.
Fondant is actually pretty easy to work with, and a lot of fun. Plus I find it to be more forgiving than royal icing.
If you mess up, you simply roll it up and try again!
You can find packages of pre-colored fondant in Walmart, or even here online.
It's pretty affordable too for a custom cookie that will wow your little ones and any guests you may have.
Hulk Cookies from The Avengers
Ingredients
Your favorite sugar cookie recipes, enough for 1 dozen cookies
4-5 oz of green fondant
2-3 oz of black fondant
Circle cookie cutter, 2 inch ones work really well
Supplies
How to Make Hulk Sugar Cookies
To start with, prepare your sugar cookie dough according to your recipe's directions. You could also probably use premade cookie dough to cut out this step.
Roll it out onto a floured surface so that it's about a quarter of an inch thick.
Using your cookie cutter, cut out 1 dozen circular cookies and place on a parchment-lined baking sheet.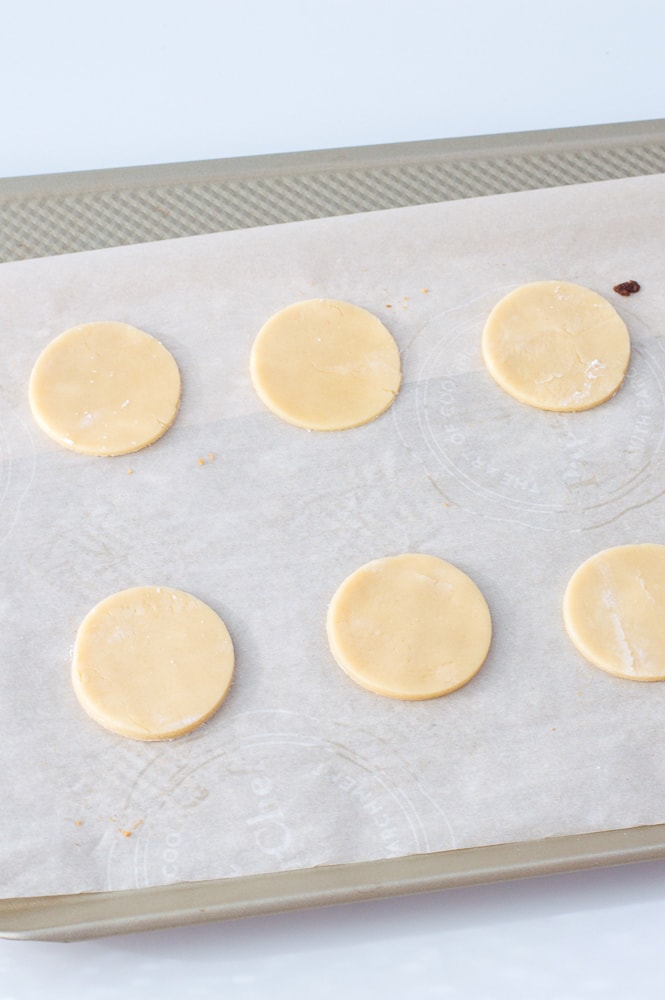 Bake your cookies according to their directions and allow to cool completely before you start decorating.
Using a clean fondant mat (or wax paper could work in a pinch) roll out your green fondant to about a quarter of an inch thick.
Using the same cookie cutter you used to cut out your hulk cookies, cut out 12 green fondant circles. These will be your Hulk face.
Press one green hulk face onto each of your baked cookies.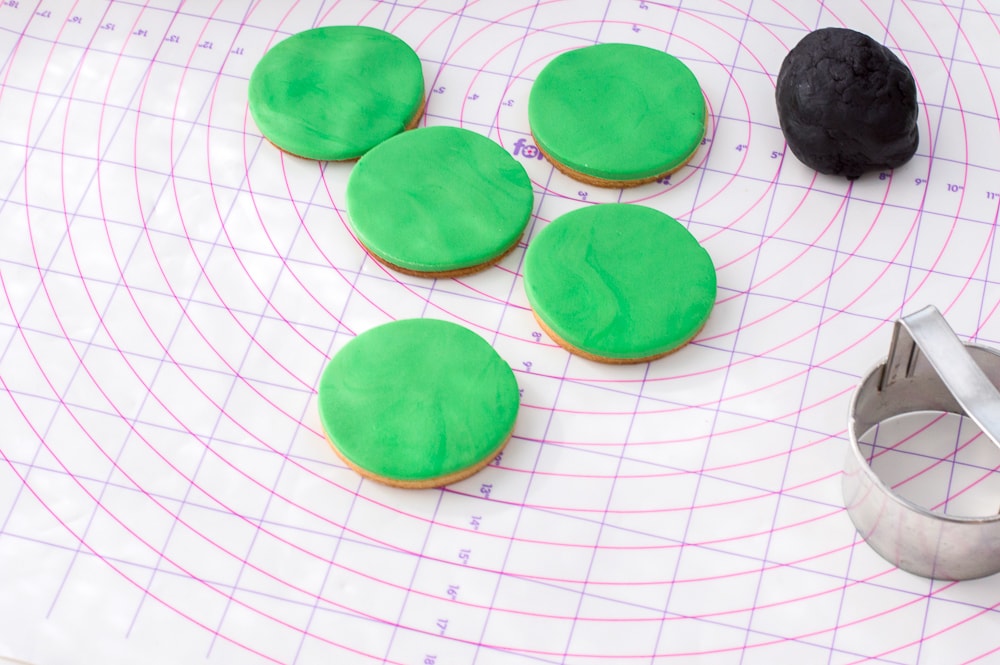 Now, roll out your black fondant and use your cookie cutter to cut out 6 circles.
Now cut off the top and bottom 1/2 inch of each of your black circles. This will be your hulk hair. You should end up with 12 of them.
Using a paring knife, cut random triangles to make your Hulk hair have fringe, as pictured below.
Press one into each of your green hulk cookies.
Now use your black decorating frosting to create 2 black dots for eyes, and 2 diagonal lines to create angry eyebrows for each cookies.
If you really wanted happy hulk cookies, you could make the eyebrows less "angry." (We used a #4 Wilton tip)
Now use your white frosting to make a small rectangular mouth on each cookie. This will make your mini hulks look like they are growling! (Again, Wilton tip #4 makes this easier)
Now your cute Hulk sugar cookies are all decorated and ready to serve!