Easy DIY Grinch Ornaments
Today we have these DIY Grinch ornaments. These little DIY Christmas ornaments are super cute and so stinkin easy! It would make a lovely Christmas gift for a Grinch loving friend or just a new addition to the Christmas tree.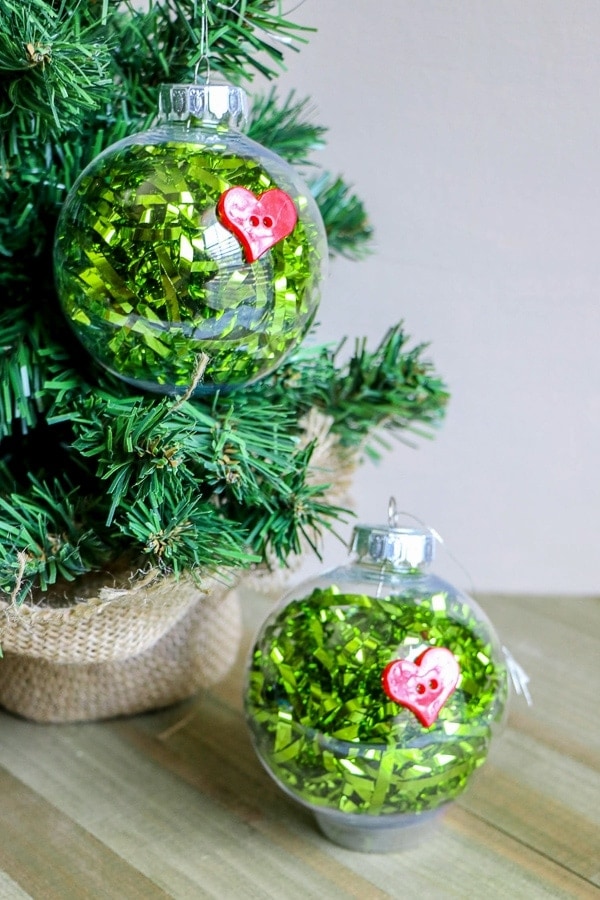 The Grinch movie is a Christmas classic, and for good reason.
It teaches such a wonderful lesson about the true spirit of Christmas.
Instead of focusing on all of the "stuff" surrounding Christmas, focus on the joy of togetherness and loving those you have.
It also has a wonderful lesson in forgiveness. I mean, even after the grinch stole Christmas, the Who's of Whoville where filled with joy.
All around, I enjoy having little reminders around us to encourage finding the joy in all the right places.
The cool thing about this ornament, even the kids can help make them from start to finish! It's perfect for a kid's Christmas craft.
It's a Grinch great craft to do after reading the book together and discussing the lessons while filling your empty Christmas ornaments.
In this tutorial, we'll show you step by step how to make these easy DIY ornaments.
This post may contain affiliate links. We only recommend products we think you'll use and love. You can read our full disclosure here.
Supplies Needed
The clear ornaments we used we found at Hobby Lobby. You can use glass or plastic, it's all based on your preference.
Since we have little kids in the house, we prefer plastic ones.
You can get the green foil shreds there too, along with the red heart buttons.
Of course, you can order most of the supplies online as well.
How to Make Grinch Christmas Ornaments
This is seriously one of the easiest ornaments ever to make!
Start by grabbing your clear ornaments and uncapping them.
Fill them with the green foil shreds or whatever other green material you'd like to use. We'll give you more ideas below!
If need be, you can use the butt end of a pen or paintbrush to push the shreds down into the ornament bulb.
Recap your ornaments after filling with the green foil shreds.
Heat up your hot glue gun and grab your red heart buttons.
Now glue the heart button to the front of the Christmas ornament.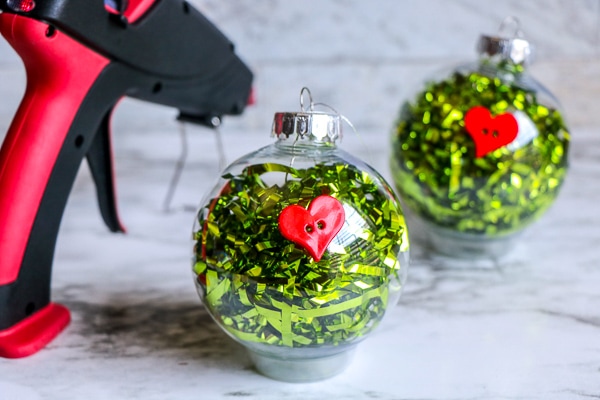 That's it! Your handmade grinch ornaments are ready in all of their Grinchy Christmas spirit. They're fantastic as homemade gifts or DIY Christmas decorations.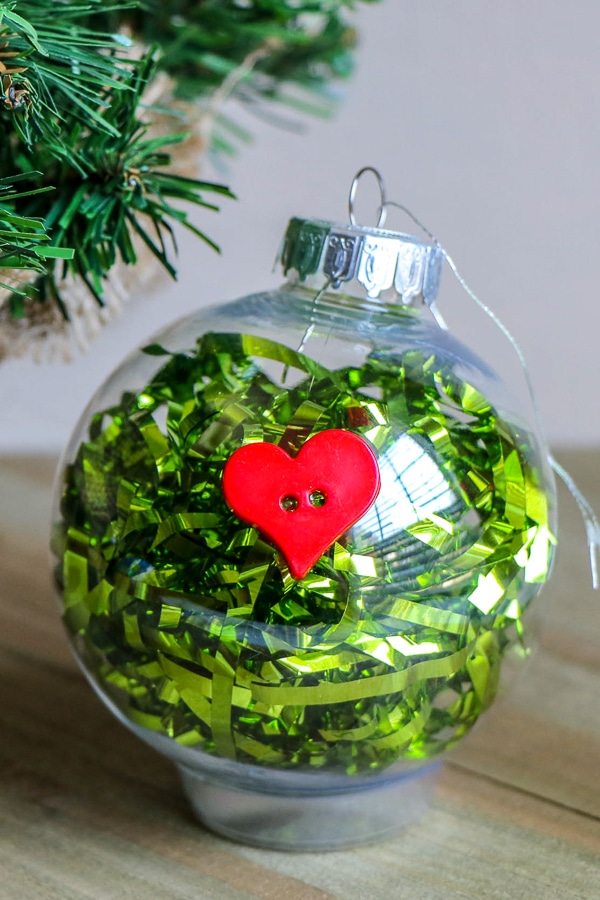 Tips for Improvising your Grinch Ornaments
If you want to try making your own version of these grinch Christmas ornaments, you can totally use other materials and they would look fantastic!
You could fill your ornaments with pretty much anything green. Pom poms, fabric, candies, yarn, beads. Anything green would be pretty!
And as far as the red heart, we used a button.
But you could easily paint a red heart onto the front of your ornament.
You could also cut out a heart from paper, fabric or foil.
The possibilities are endless! You can literally make your own DIY Grinch Christmas ornaments using pretty much anything you find at the craft store or in the scrap draw.
Green base, red heart, you're good to go! So have fun with the holidays and creating lots of fun crafts with the family!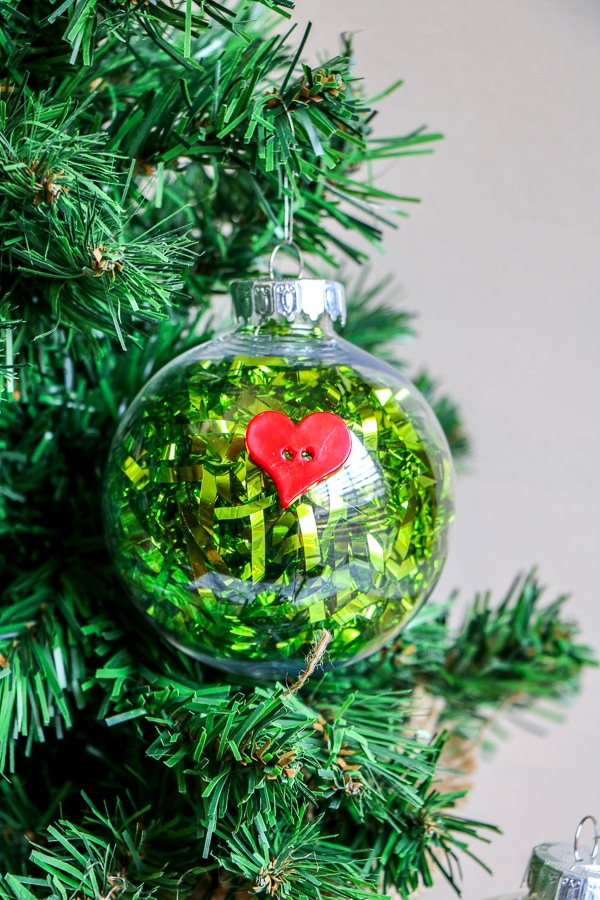 This Grinch Christmas ornament is going to look so good hanging on the Christmas tree!
Make sure to check out our other fun Grinch Christmas tree ornament made from pipe cleaners!
These adorable Homemade Grinch Ornaments are perfect to hang on your Christmas tree or to give as handmade gifts this holiday season.
Materials
Clear plastic or glass ball ornaments
Green foil shreds
Red heart buttons
Instructions
Start by gathering all your supplies.
Remove the cap from your clear, empty ornament.
Fill ornament with green foil shreds.
Place cap back on ornament.
Glue large red button heart onto the center of your ornament.
Enjoy all the grinchy goodness.
Notes
Don't be limited to just the green foil shreds. You can use green craft paper cut into thin strips, green beads, pom poms, etc. The possibilities are endless!
If you can't get your hands on the red buttons, you can also paint a red heart onto the face of the ornament. Have fun!