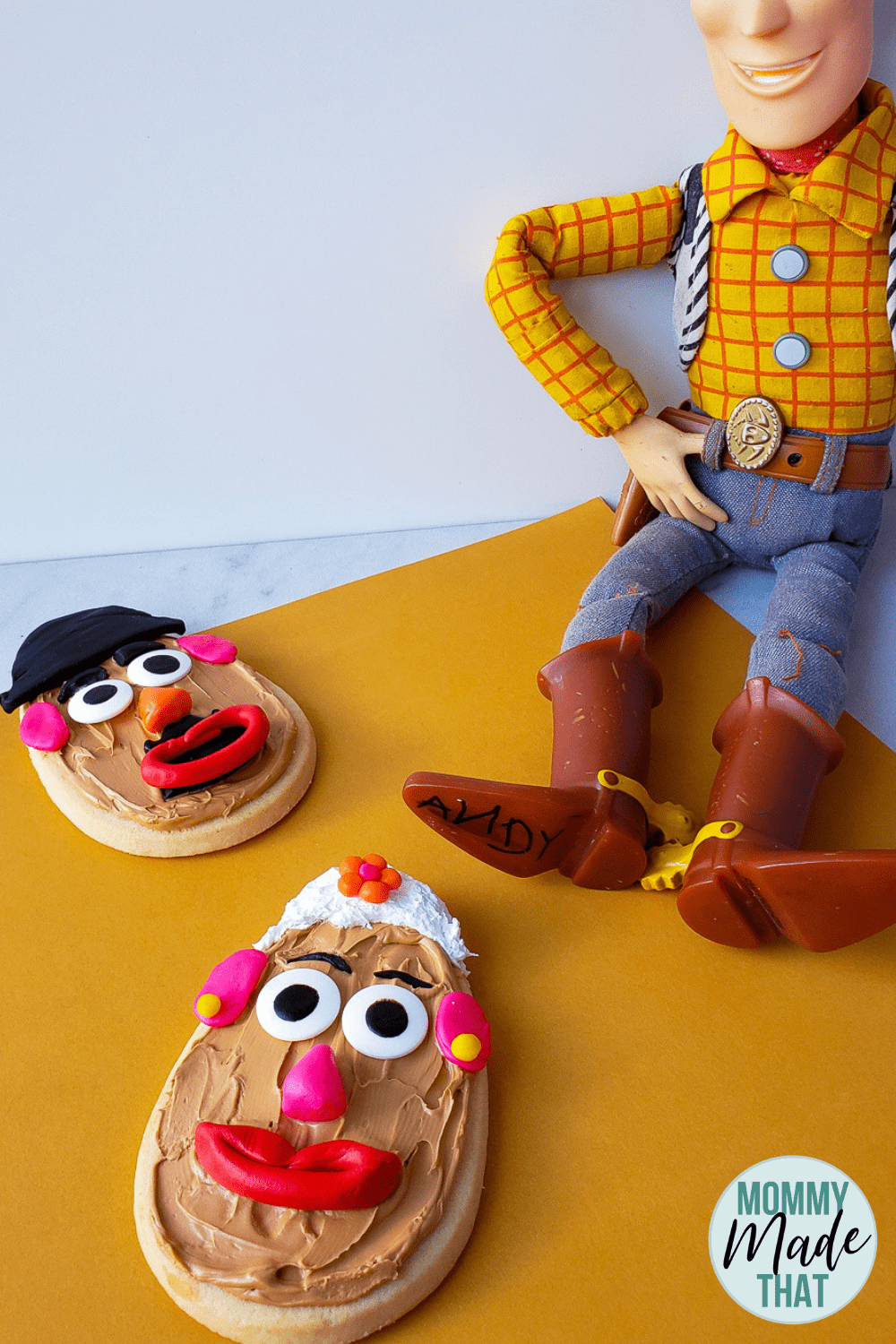 Toy Story is one of those movies that has just dragged out across generations, yet still seems young, fresh and fun.
Especially with the new movie coming out!
If your looking for Toy Story party ideas, here is a great tutorial on these adorable Mr. potato head cookies.
All through these cookies look complicated, they are really just sugar cookies, decorated with frosting, fondant, food coloring gel and (optional) candies.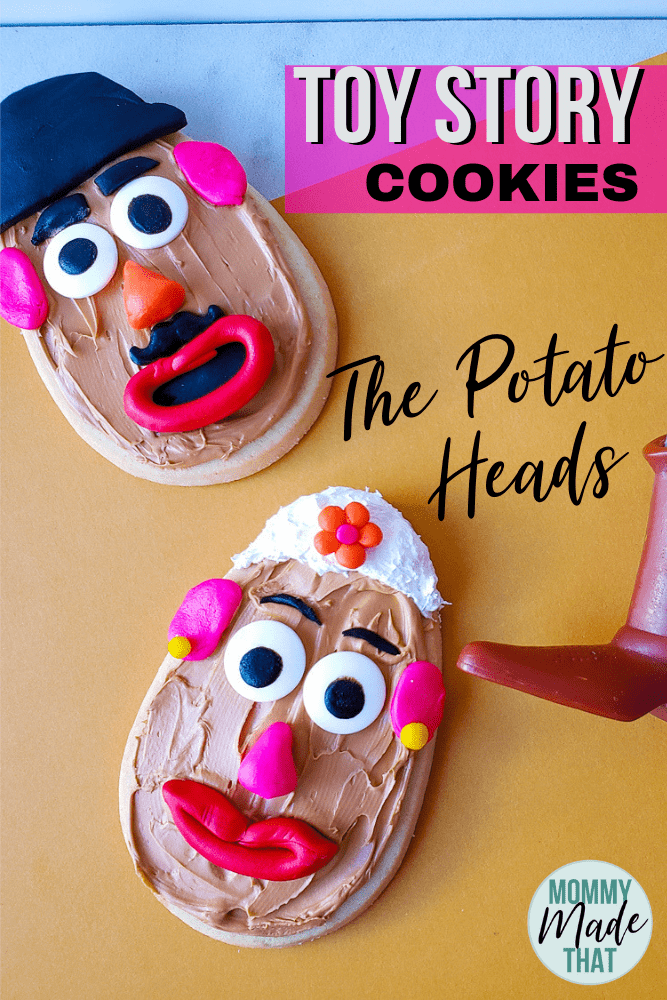 Mr. & Mrs. Potato Head Toy Story Cookies
Supplies
Favorite sugar cookie recipes, the kind that you can cut out
White frosting (this kind makes it super easy)
Fondant (In black, pink, orange, red and yellow)
Brown food coloring gel
Yellow food coloring gel
Candy eyes (Or you can use fondant)
Candy Mustaches (Or you can use fondant)
Step 1: Make your Sugar Cookies
Roll out your sugar cookie dough and cut out egg-shaped cookies.
Bake your cookies according to the recipe and set aside to cool completely.
While your cookies are cooling, place your frosting in a bowl and add in your brown and yellow food coloring to make a "Mr. Potato Head" light brown.
Step 2: Frost your Cookies
Frost your cookies evenly, leaving room along the edges.
Step 3: Add Eyes to Mr. Potato Head
Place 2 of your eye candies about ⅓ of the way down you your cookie potato head.
Step 4: Make your Fondant Noses
Roll out a piece of your pink fondant into a pyramid for your Mrs. Potato Head cookies.
Then roll out your orange fondant and create noses for your Mr. Potato Head cookies.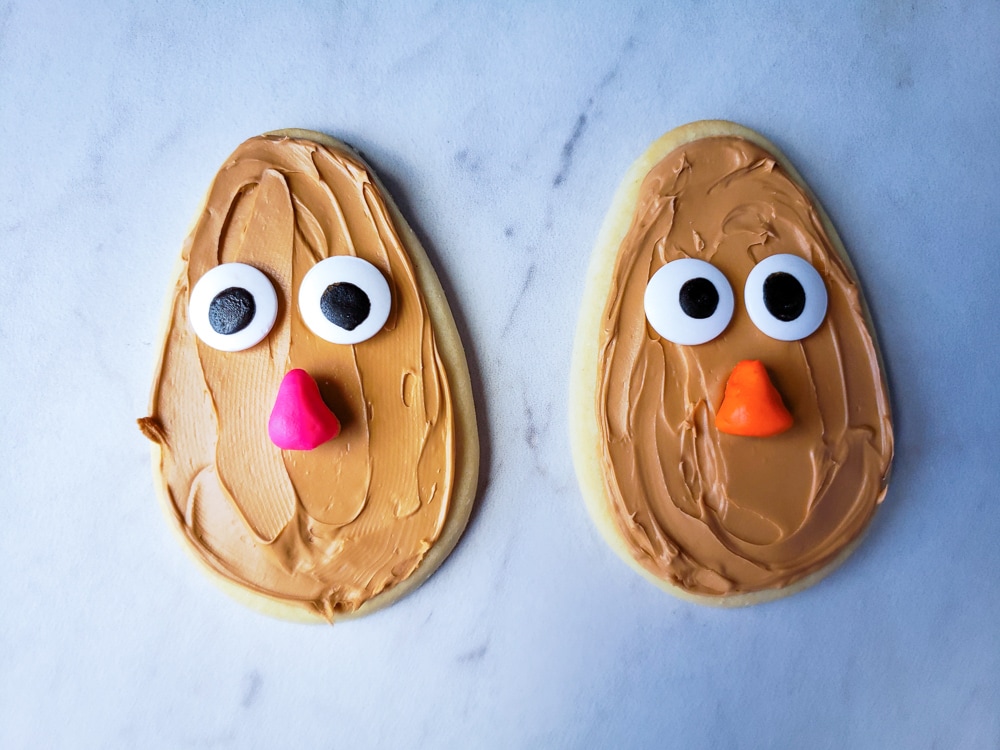 Step 5: Place Ears
Now start making pink fondant balls and flatten. Cut them in half and round your edges. These will be your ears for all of your potato heads.
Using tiny pieces of yellow fondant, roll into small balls for Mrs. Potato Heads earings.
Step 6: Add a Moustache and Lips to Mr. Potato Head
Now place mustache candies on your Mr. Potato Heads in between their nose and mouth.
Now take some medium sized pieces of red fondant and roll out into long snakes. Use these pieces to form the mouths of your Mr. and Mrs. Potato Head cookies.
For Mrs. Potato Head I like to form lips and for Mr. Potato Head I like to keep his mouth open. To do this, place a thin piece of black fondant behind his mouth to make it look like he's talking.
It adds a cute personality to the cookies.
Step 7: Adding your Eyebrows
Now roll thin pieces of black fondant and place them above your cookies eyes to make eyebrows.
We like using thinner ones for Mrs. Potaoto head, and Thicker ones for Mr. Potato Head.
Now roll out large pieces of black fondant into a shee. Cut out a hat shape for your Mr. Potato Heads.
You can ues your white frosting to create a hat for your Mrs. Potato Head cookies.
Then roll out five small orange balls of fondant and place them to form a flower for her hat. Add a small pink ball to the center to top it off.
Enjoy your super cute Toy Story cookies!