4th of July Cake Pops: A Fun Red White and Blue Treat
These 4th of July cake pops are a yummy and patriotic way to celebrate the 4th of July. We made ours with cake mix, frosting some white chocolate and red white and blue sprinkles!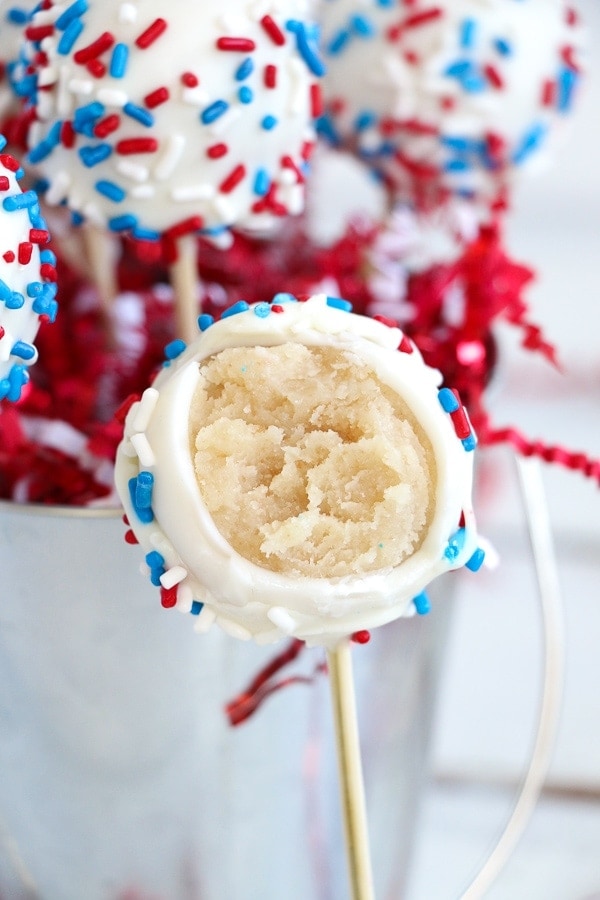 We love celebrating holidays around here! And Independence day is no different.
Last week we made some 4th of July poke cupcakes. Today we are making some 4th of July cake pops to show our patriotic spirit!
These cake pops are easy to make and would look great on any party table.
For our recipe, we used a box cake to speed up the prep time. After all we have a lot more to make then just these babies for our big 4th of July BBQ!
But you could substitute any of your favorite from scratch cake recipes.
And now we'll show you step by step how to make this delicious 4th of July dessert.
4th of July Cake Pop Ingredients
1 White cake (already made, any recipe will work)
2-3 Tablespoons of white frosting
11oz bag of white chocolate chips
Red and blue sprinkles
Wooden skewers or cake pop sticks
How to Make Your Patriotic Cake Pops
To start with bake your white cake in a large 13×9 inch pan. Allow your cake to cool completely after it's done baking.
Use a fork and start crumbling up the entire cake.
In a mixing bowl place your crumbled up cake and add in your 3 tablespoons of frosting. Mix well until the dough is able to be formed into balls.
We just used our hands to mix it, as it was easier to knead the icing into the cake, but a wooden spoon would work well too.
Once your dough is fully mixed, roll the dough into 1 inch balls.
If you want symmetrical and unicorm cake balls, an ice cream scoop is a great way to measure out just enough dough for each cake ball.
Line up your rolled dough balls on a baking sheet lined with a layer of wax paper until you have used up all of your dough, or made as many balls as you will need.
Now melt a small amount of your white chocolate chips in a microwave safe bowl. Only cook until just melted.
Overcooking your chocolate will make it seperate and create a gloopy mess.
Now stick your skewer or cake pop sticks into your melted chocolate and stick into your cake balls.
This will create a "glue" making your cake pops stronger.
Once you have used the white chocolate to "glue" each of your sticks into your cake balls, stick your baking tray in the fridge for 1 hour allowing them to fully set.
Melt the remaining white chocolate chips in a microwave-safe bowl.
Again, only cook long enough to melt the chocolate but not overcook it. 30 seconds to 1 minute is usually pleanty of time, but check every 10-15 seconds or so.
Once your chocolate coating is melted, roll each of your cake pops into the melted chocolate.
Allow the excess to drip back off into your bowl tapping you cake pop gently against the edge of the bowl.
White your cake pop chocolate coating is still wet, add on your red and blue sprinkles. This will give it that "4th of July" feel.
Chill your cake pops until you are ready to serve them.
To help out cake pops really stand out on the table at 4th of July we served them in a galvenized metal bucket with red confetti strips.