Today we are sharing our fun roll a dice Christmas Playdough mat! You can even grab the printable to share with your own kids!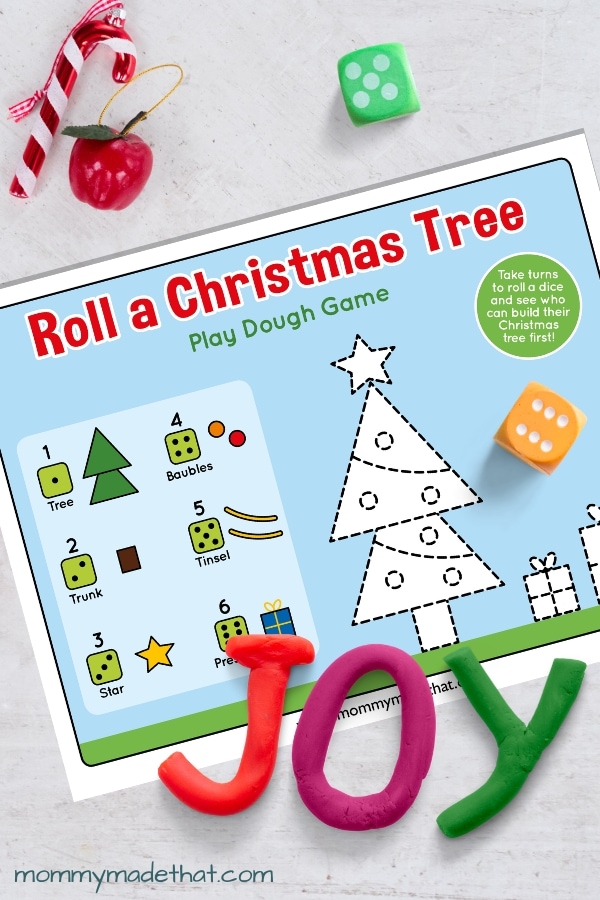 We love a good free printable. It's why we offer tons of Christmas printables on our site. In addition to that, this playmat is great for kids.
Our kids love playing with playdough! It's a great hands-on activity that serves 2 very big purposes in our house.
1. It keeps them busy with a fun screen-free activity.
2. It helps them build and develop their fine motor activity.
This particular playdough mat serves an additional purpose.
It's a fun Christmas activity as well!
This playdough mat is meant to serve as a Christmas game. And if you enjoy this printable, be sure to grab our printable Christmas trees for another fun activity.
How to play the Christmas Playdough Roll a Dice Playdough Game
To play this roll a dice Christmas game, simply print out our fun Christmas playdough mat.
I also suggest laminating it if possible. This will keep the mat full functioning for use after use.
If you don't have a laminator (they are surprisingly cheap) you can still print and play.
But your playdough mat may not hold up after more than one or two games.
Then grab your play-doh in a few different colors and a die. If you don't have any dice on hand you can grab our printable dice template and make your own.
If you are playing with solo then simply roll the dice and start building up the Christmas scene.
If you are playing with a teammate then take turns rolling the dice and see who can finish the entire scene first.
In this case, you'll want to make sure the first layer of the Christmas tree is created from your playdough.
For example, you can't make the ornaments until the Christmas tree base is made, making the player have to roll a 1 before they can continue.
So if you roll a 5 and get tinsel, you'll have to skip your turn until you roll a 1.
Then keep taking turns until your playdough mat is filled and all of the numbers have been rolled and the Christmas items made from the playdough.
So to recap the rules of the Christmas tree roll a dice game
Printout the Playdough mat printable
Laminate if possible
Roll the dice and start building your Christmas scene out of playdough!
Of course, you can totally play but whatever rules you decide!
Grab our Christmas Playdough Mat Printable
To grab our free playdough mat printable, simply head on over to our free resource library.
It's loaded with tons of fun free printables and craft templates.