Candy Jar for Teachers (Free Printable)
This candy jar idea for teachers is great way to show your appreciation in a sweet and super affordable way. Grab our free printable and tie it around your mason jar and you'll have a cute and sweet gift to give your favorite teachers.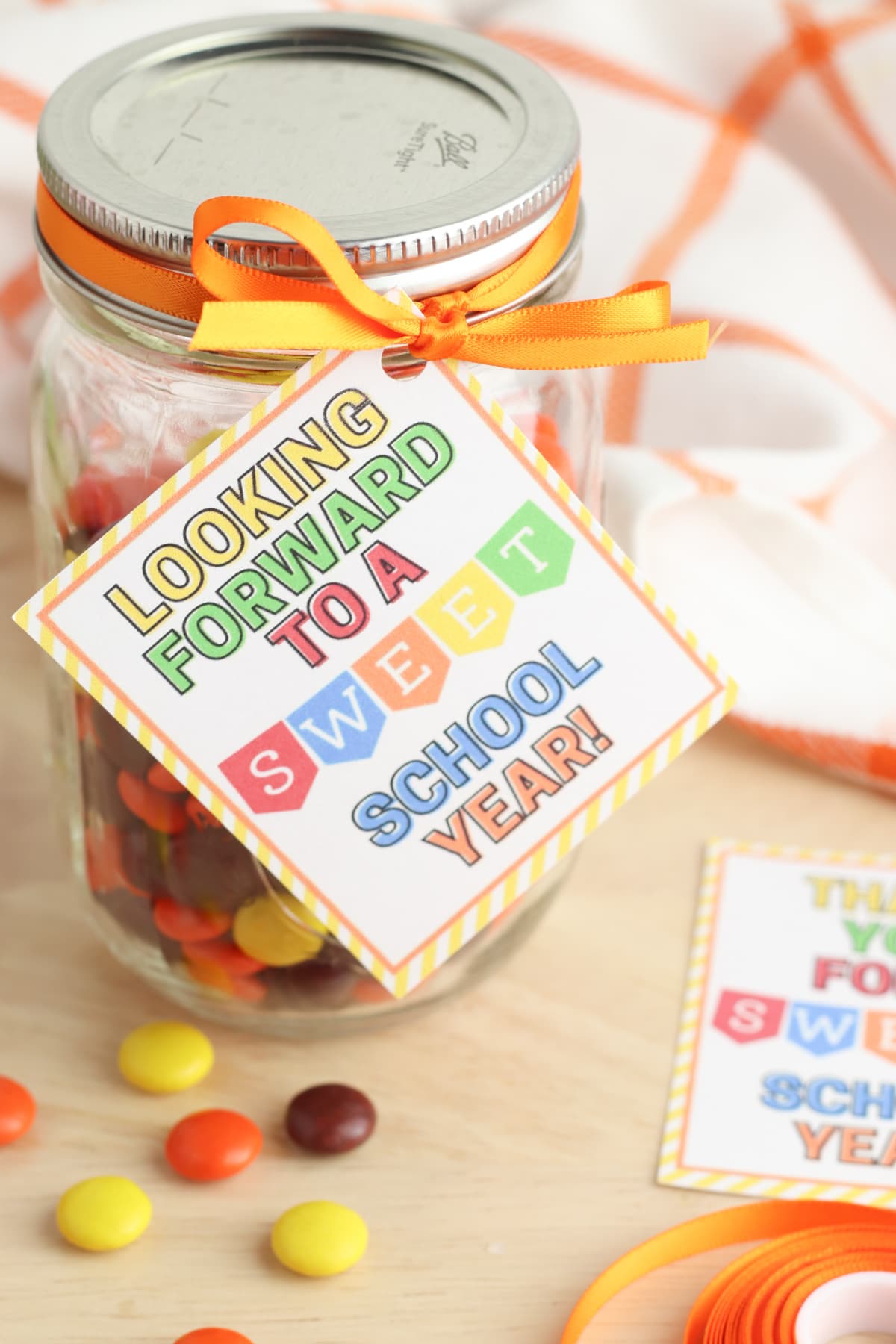 It's that time of year again! Today we have a sweet and easy candy jar gift idea for teachers. It's a great mason jar gift idea.
We even include a free printable you can grab attach to your candy jar to make it cute and express your appreciation.
So if you're looking for how to thank a teacher, this is for you!
Make sure to check out more of our teacher appreciation crafts so you can whip up just the right gift for your teacher.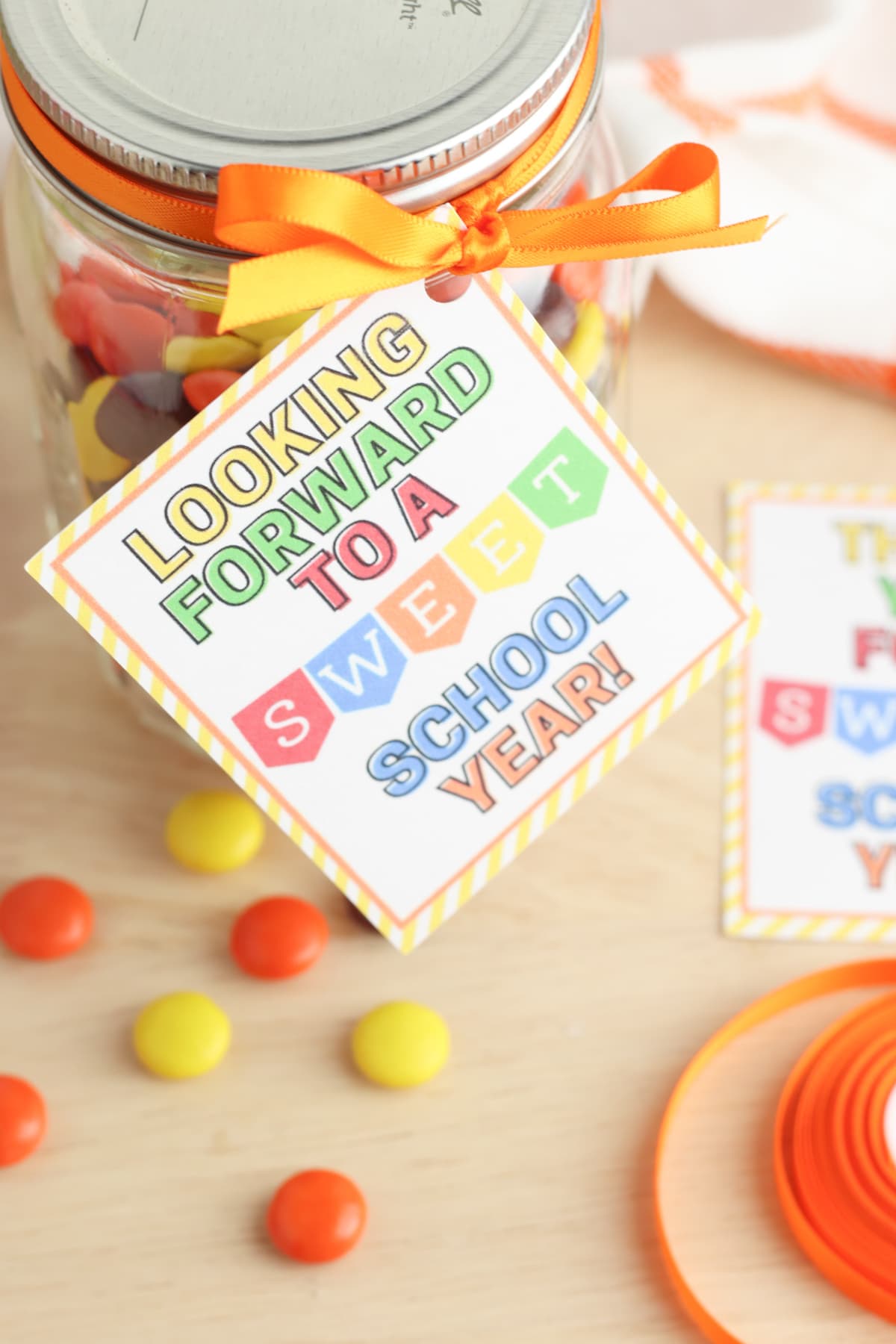 Candy Jar for Teachers
To create this candy jar for your teacher, you simply find a smaller mason jar and fill it up with some yummy candy.
If you know your teachers favorite candy, even better!
If not you're pretty safe choosing a colorful fun candy that most people enjoy.
Think M&Ms, Skittles, Milk Duds.
Since we used ours for a back to school gift for our teacher, we used Reese's Pieces. It gave our candy jar a pretty fall look with the brown, orange and yellow colors.
This looks best with small bite sized candies.
It's a great little gift to give your child's teacher, along with sending a thank you note to the teachers from parents.
If your child wants to say thank you too, make sure to check out our thank you messages to teachers from students.
Using the Candy Jar for Teachers Printable
We create a cute and fun printable that says "Looking forward to a sweet school year."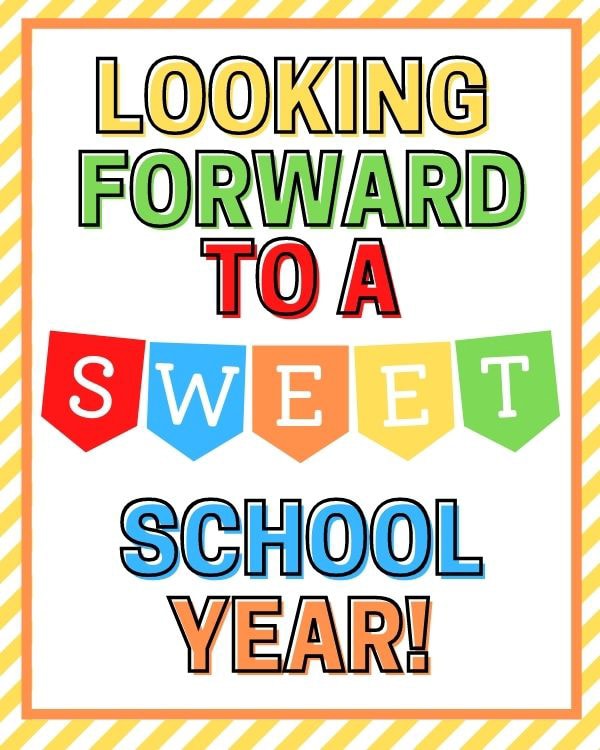 Cute, simple but still fun.
We also made another printable that says "Thank you for a sweet school year" in case your looking for an end of the year gift for your teacher.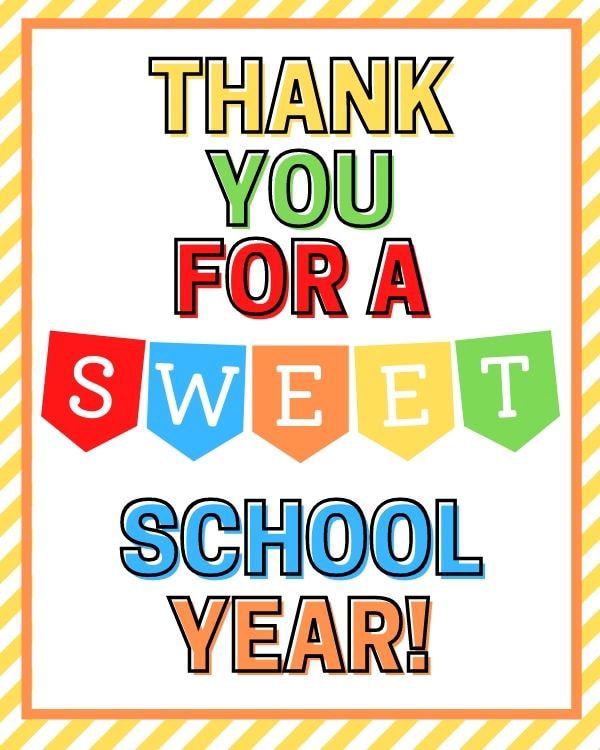 To use these printables, simply download our free printable teachers candy jar gift tag from our printable library and print. Then
Don't print the images from the photos, the quality won't be as good.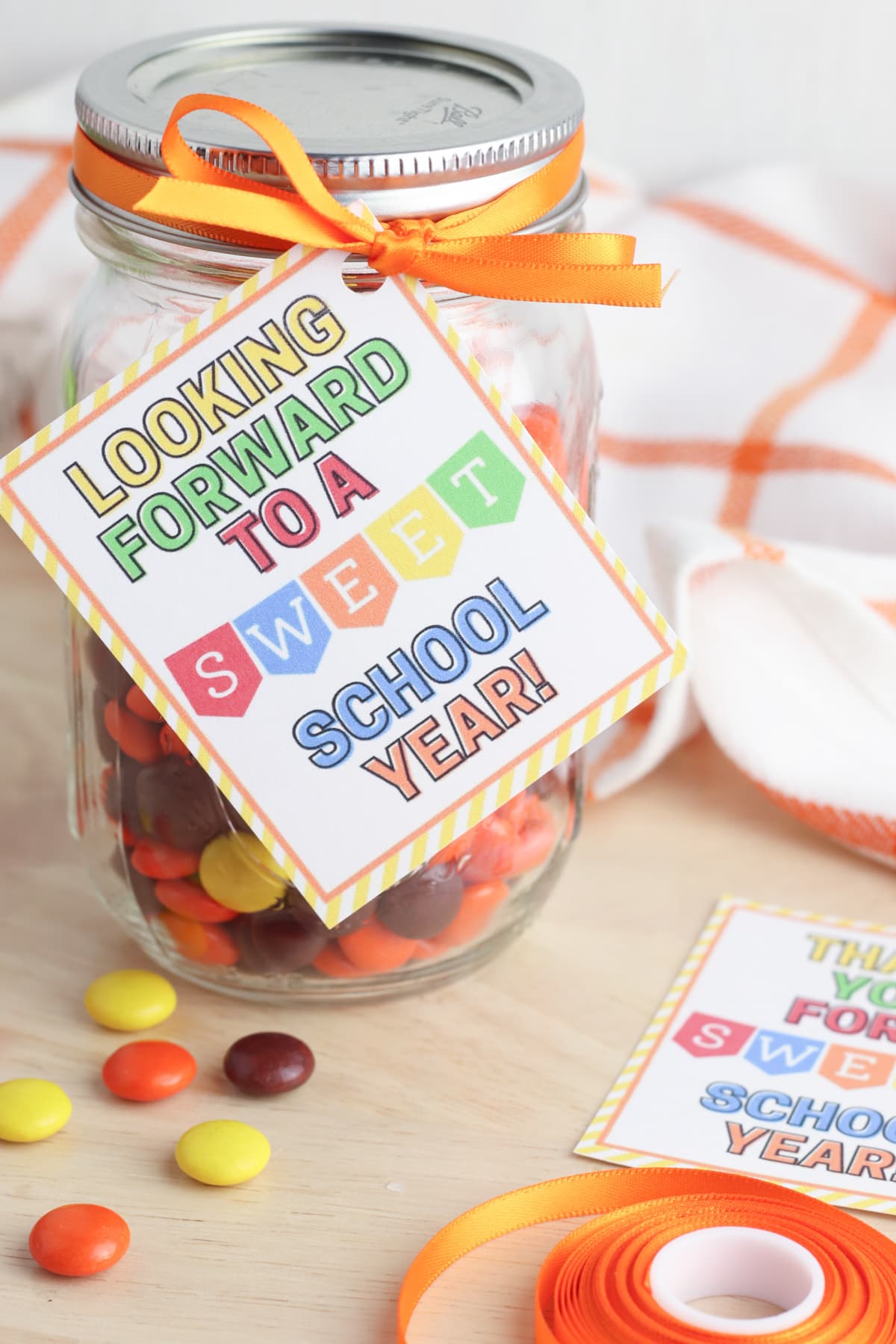 Making your Candy Jar Teachers Gift
These candy jars are so easy to make! If your child has multiple teachers you can simply grab a pack of the small mason jars and a large amount of your candy pieces.
Fill each jar with the candies and screw the lids on. Printout however many gift tags you'll need.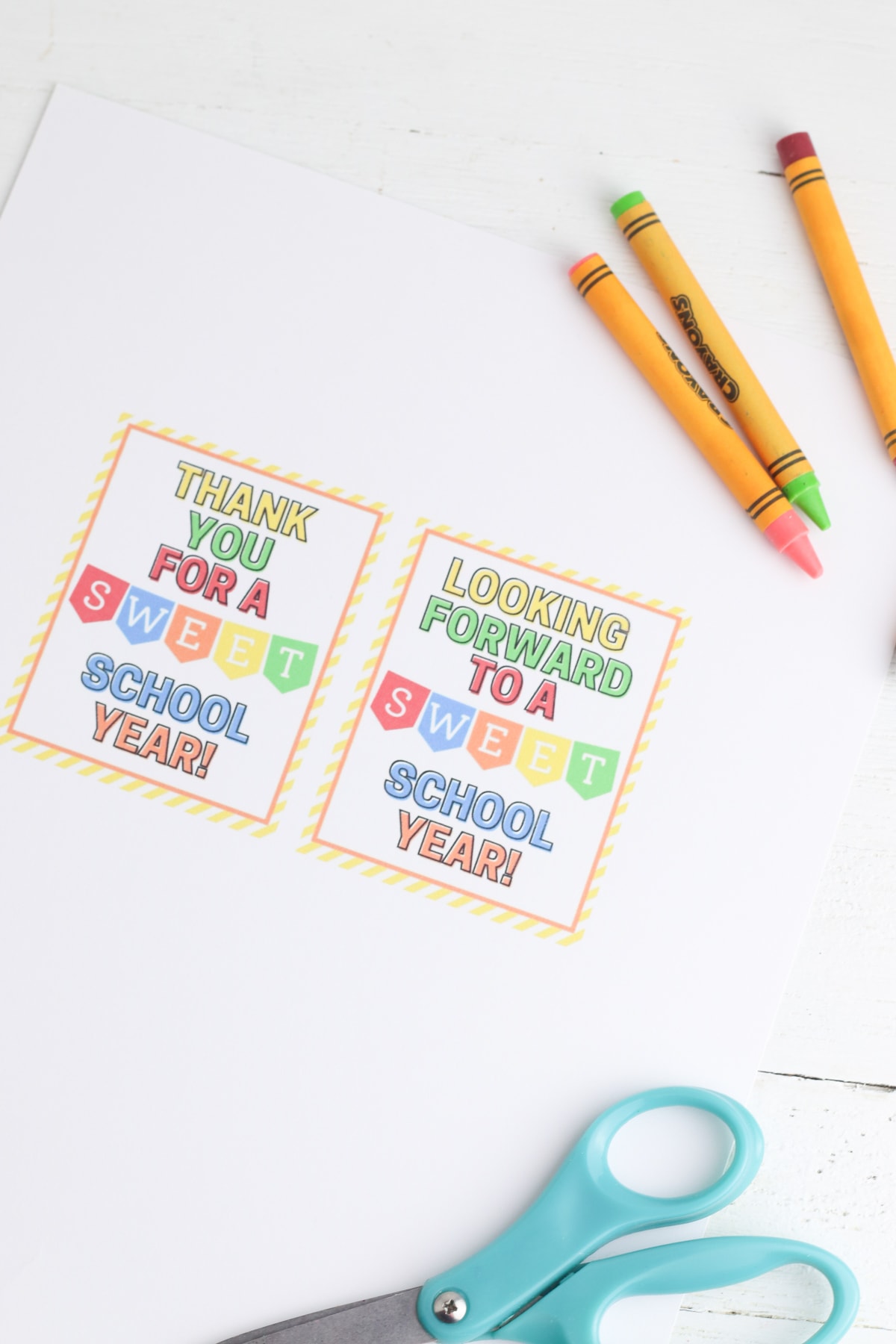 Then cut out each gift tag from our printable.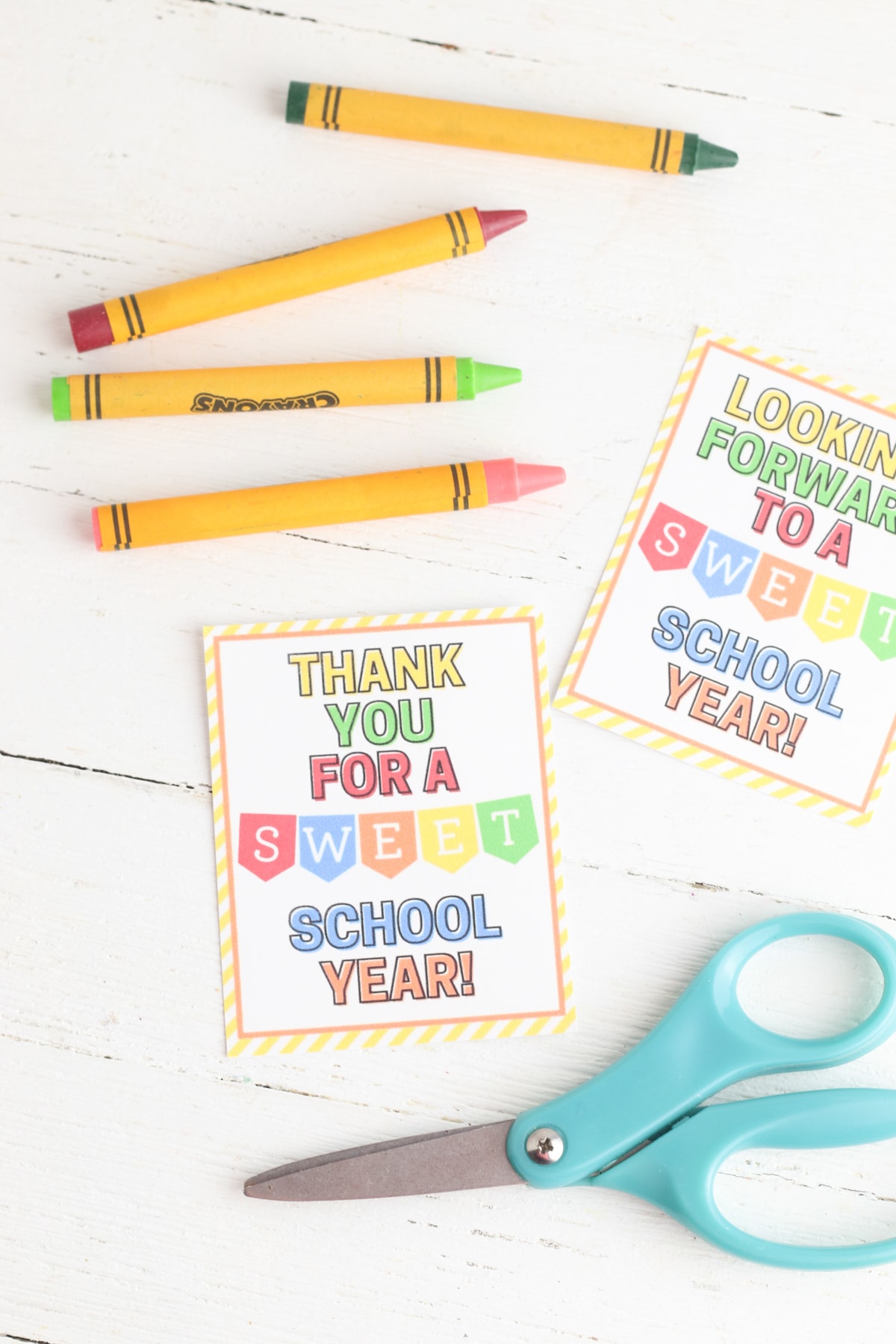 Next, punch a hole in the top right corner of each candy gift tag.
Using some pretty colored ribbon or twine, slip one end of the ribbon or twine through the punched hole and wrap a few times around your candy jar.
You'll end up with a great looking gift your teachers will love.