How to Thank a Teacher (50 Heartfelt Ways to Say Thanks)
Looking for how to thank a teacher in the best way? We've got lots of heartfelt ideas for you to say Thanks to those teachers who've influenced you most.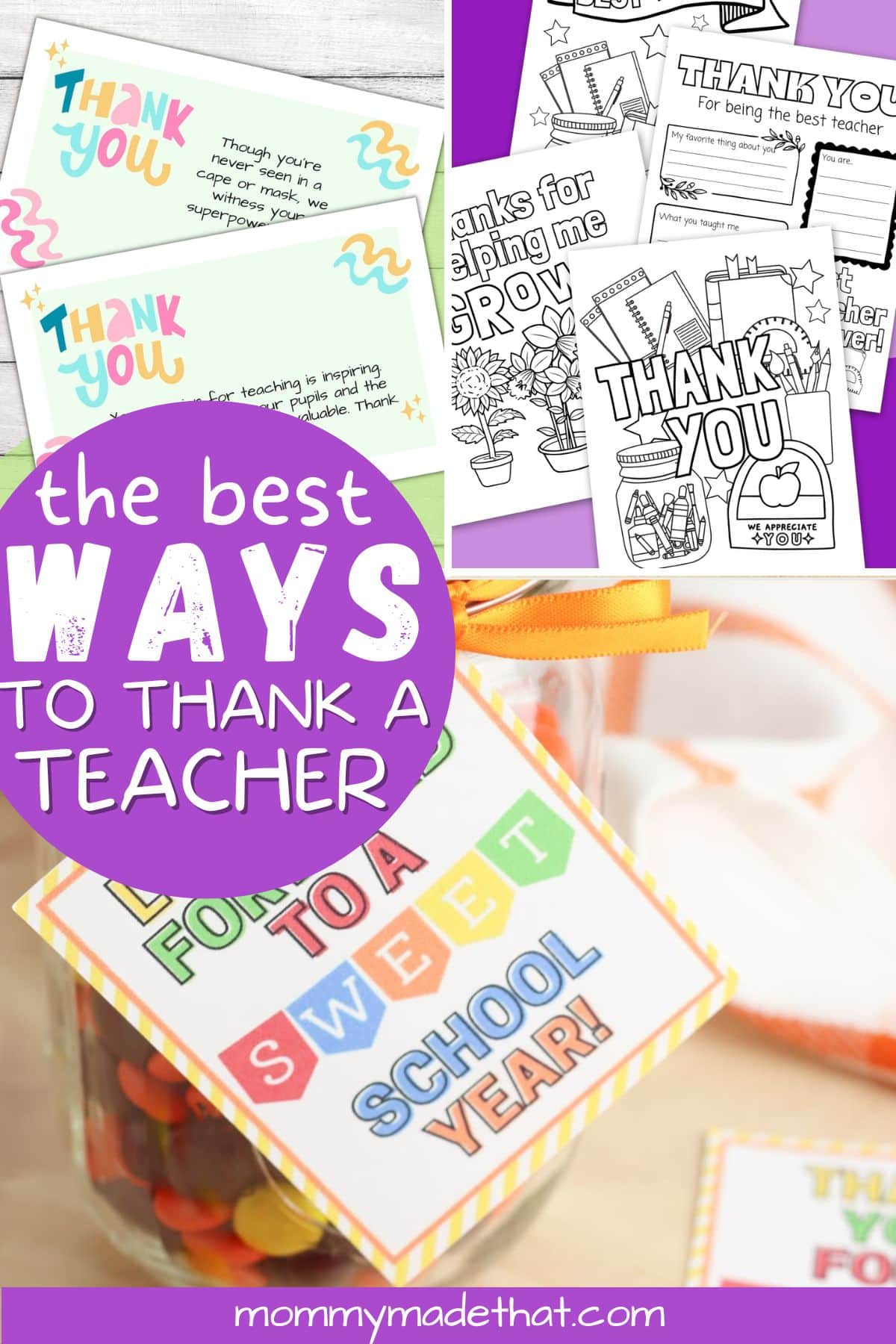 Teachers play a crucial role in our lives, guiding and nurturing us on our educational journey.
They dedicate countless hours to helping us learn, grow, and succeed. As such, it's essential to show our gratitude and appreciation for their unwavering support.
Here are some of our favorite ways to thank your teacher, from inspiration for gestures big and small that will make a lasting impression.
From small tokens of appreciation to grand gestures, there are countless ways to express your thanks to a teacher who has made a difference in your life.
Let's dive into this long list of ideas on how to thank a teacher.
Handwritten Notes and Letters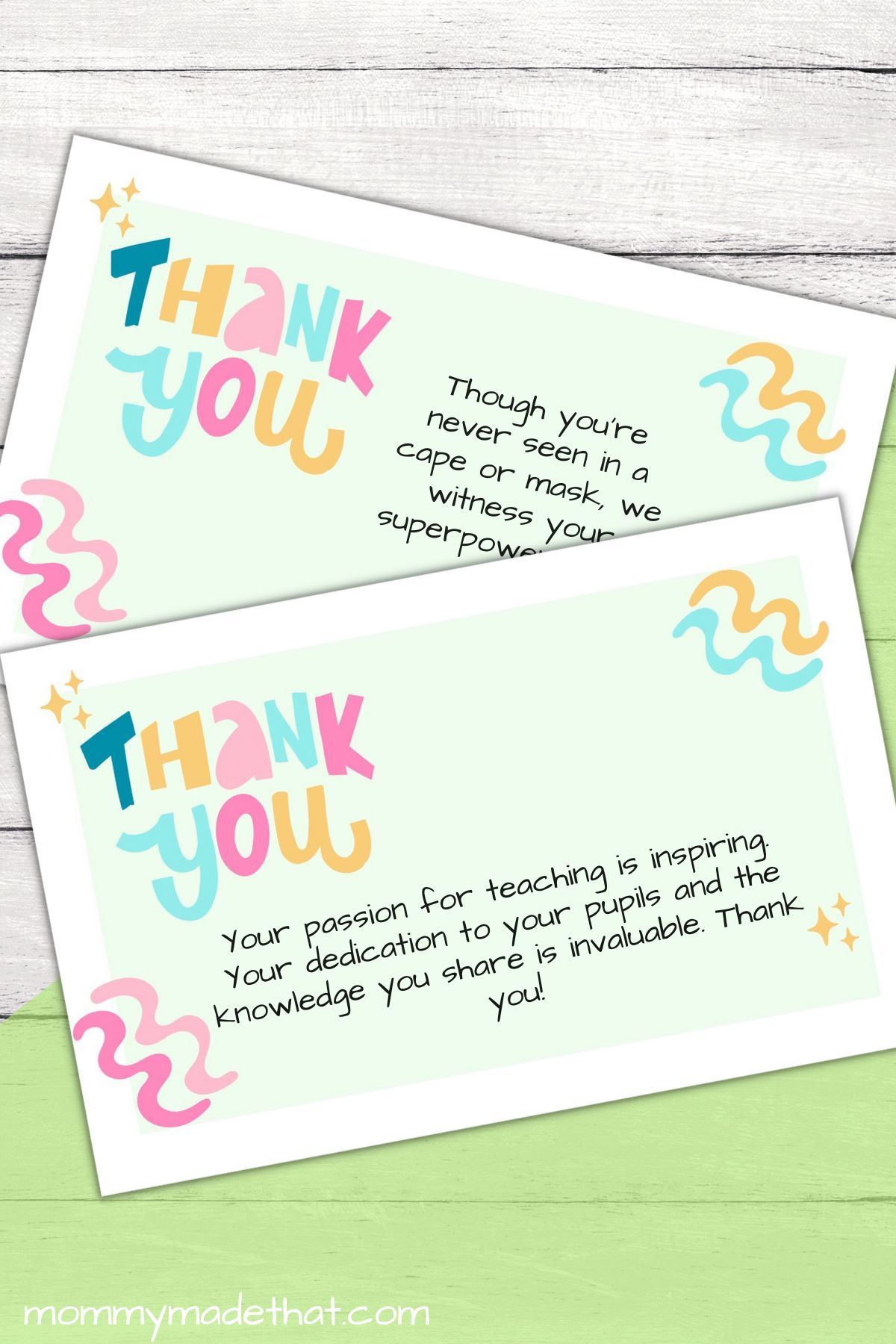 Thank You Card: Write a heartfelt thank you card or thank you note to your teacher, expressing your gratitude for their guidance and support.
Be sure to include a thought-out thank you message that expresses just how you feel.
Personal Letter: Pen a longer, more personal letter detailing the impact they've had on your life and education.
We've got an entire guide on writing a beautiful teacher appreciation letter that'll touch their heart and express your thanks.
Poem: Compose a poem dedicated to your teacher, celebrating their qualities and achievements. We've got lots of great teacher appreciation poems you can take a look at to grab the perfect one for you.
You can read some of our teacher appreciation quotes to help get your gears started.
Memory Book: Compile a memory book filled with notes, photos, and mementos from your time as their student.
Gifts
Gift Cards: Give a gift card to their favorite store, restaurant, or coffee shop as a thoughtful token of appreciation.
There are tons of great teacher appreciation gifts you give your teacher.
You can use one of our teacher appreciation printables for a great no cost teacher appreciation idea.
Books: Gift a book that reflects their interests or one you've enjoyed together in class.
Classroom Supplies: Contribute to their classroom by donating supplies like markers, notebooks, or tissues.
Personalized Items: Present them with a personalized item, such as a custom mug or engraved pen, to show your gratitude.
Acts of Service
Volunteer: Offer to help out in the classroom, assisting with tasks like grading papers or organizing materials.
Organize a Clean-Up: Coordinate a clean-up effort to tidy and refresh their classroom or workspace.
Lend a Hand: Offer your assistance with extracurricular activities, such as chaperoning school trips or helping with clubs.
Thank Your Teacher Publicly
Social Media Shout-Out: Give your teacher a shout-out on social media, highlighting their positive impact and thanking them for their dedication. It's a great way how to thank a teacher and show them some love.
Nominate Them for an Award: Nominate your teacher for a local or national teaching award, showcasing their accomplishments and commitment to education.
Public Recognition: Coordinate with your school to publicly recognize your teacher during an assembly or event.
Creative Expressions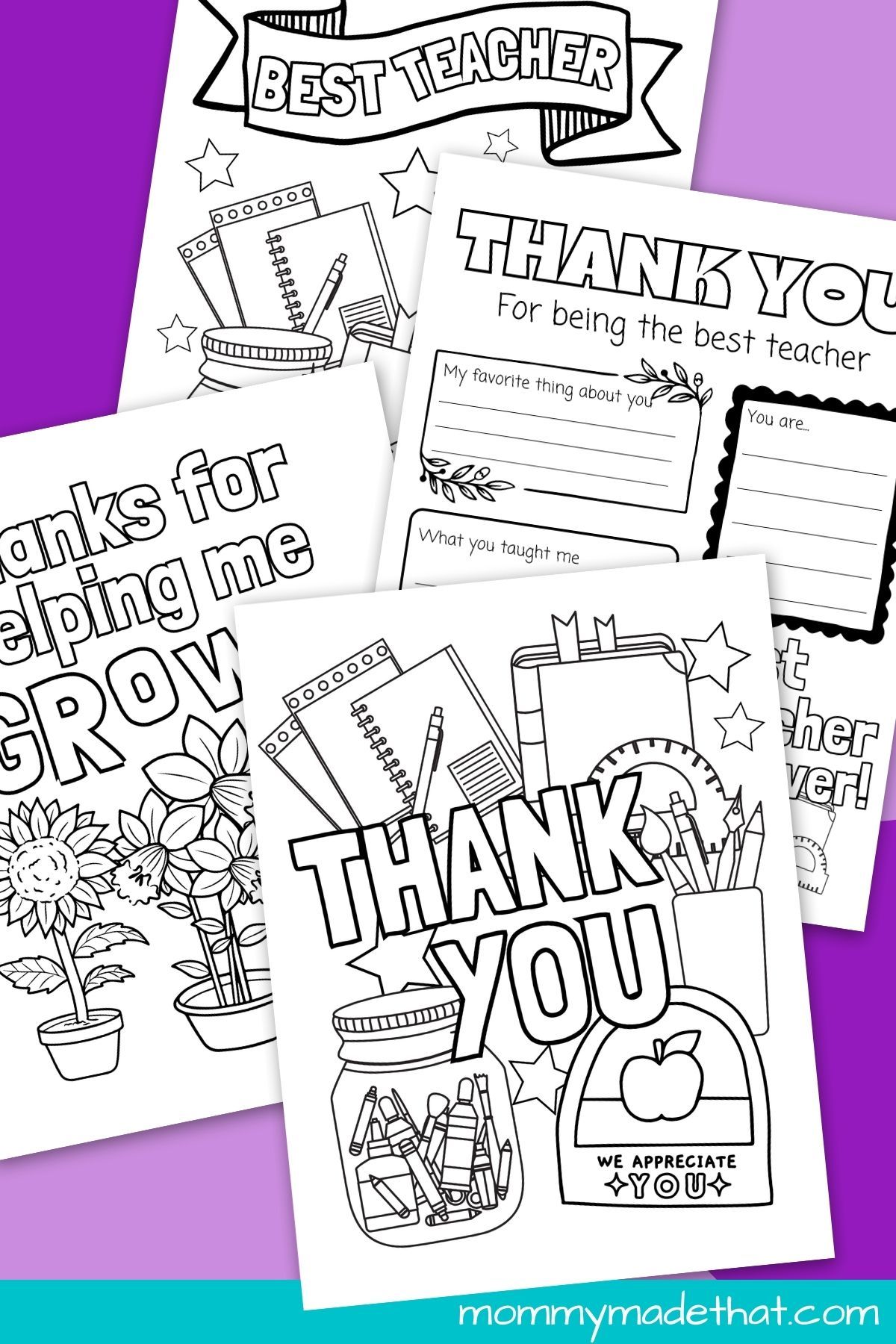 Artwork: Create a piece of art inspired by your teacher or their subject matter, and present it as a unique gift.
You can grab one of our teacher appreciation coloring pages and color in a pretty message to give your teacher.
Or check out some fun teacher appreciation crafts to express your thanks in your own creative way.
Song or Performance: Compose a song or perform a skit dedicated to your teacher, showcasing your gratitude in a creative and entertaining way.
Video Montage: Compile a video montage of students sharing their thanks and memories, creating a touching keepsake for your teacher.
Events and Celebrations
Surprise Party: Organize a surprise party or gathering for your teacher, inviting current and former students to celebrate their impact.
Appreciation Day: Coordinate a teacher appreciation day, encouraging students and staff to participate in various acts of gratitude and recognition.
Fundraiser: Host a fundraiser in your teacher's name, raising money for a cause or project close to their heart.
Collaborative Gestures
Group Gift: Collectively purchase a meaningful group gift, such as a piece of artwork or a special experience.
Classroom Makeover: Work together with your classmates to revamp your teacher's classroom, adding new decorations and resources.
Thank You Mural: Collaborate on a mural or large-scale artwork expressing your gratitude, which can be displayed in the school or classroom.
Personal Touches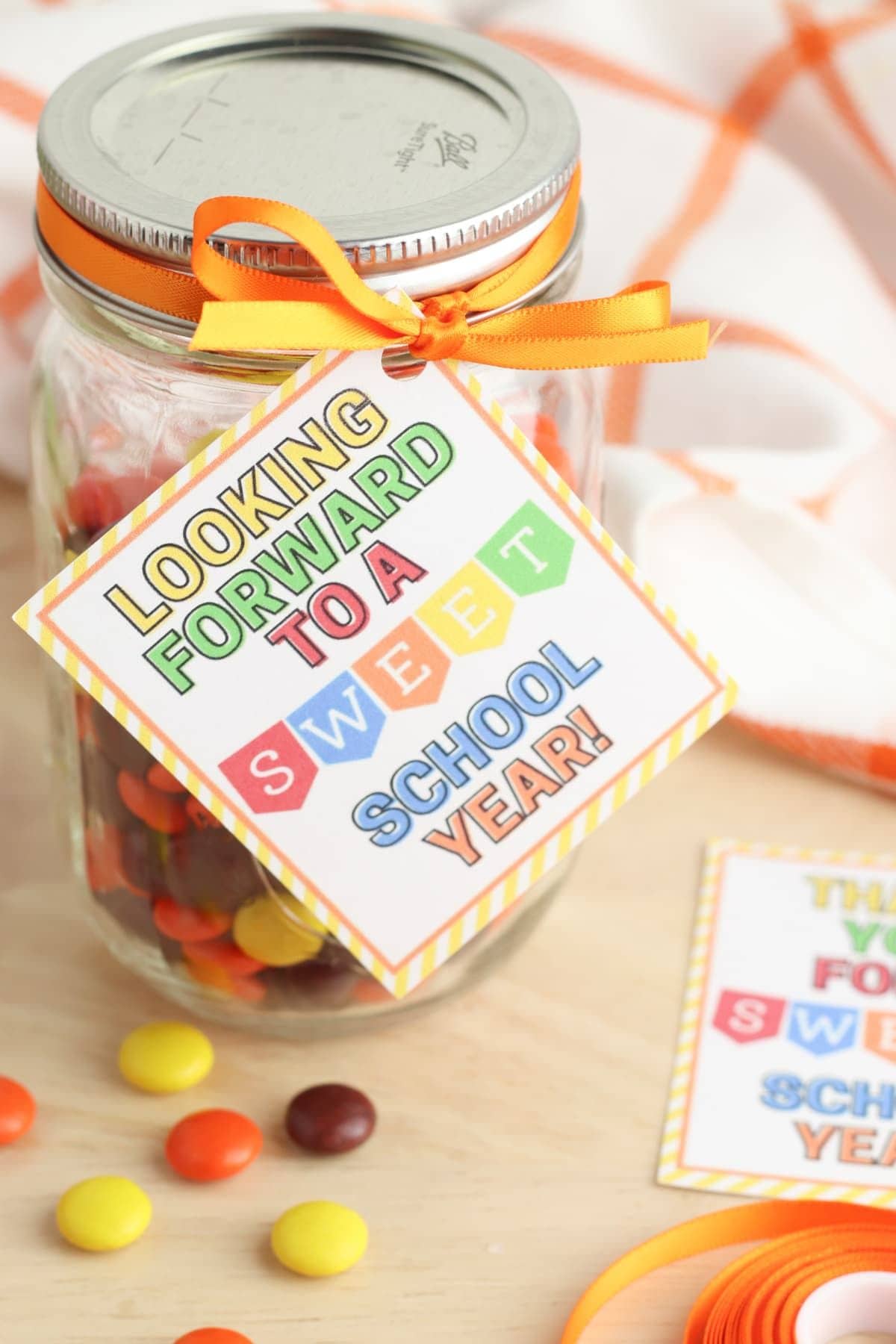 Favorite Treats: Bring in your teacher's favorite snack or beverage as a thoughtful surprise, like our easy thank you teacher candy jar.
It includes a free printable gift tag that says "thank you for a sweet school year."
Hobby-Related Gifts: Present them with a gift related to their hobbies or interests outside of teaching.
It'll show that you recognize they are more than "just a teacher" and that you w
Memory Jar: Create a memory jar filled with notes, quotes, and memories from your time as their student.
Professional Development
Workshop or Course: Sponsor your teacher's attendance at a professional development workshop or course, supporting their growth as an educator.
Conference: Contribute to your teacher's attendance at a relevant educational conference, allowing them to network and learn from their peers.
Subscription: Gift a subscription to a professional magazine or online resource related to their subject area or teaching interests is a great way to thank your teacher.
Quality Time
Lunch or Coffee: Invite your teacher for a lunch or coffee outing, providing an opportunity for one-on-one conversation and bonding.
Group Outing: Organize a group outing with fellow students and your teacher, creating a fun and relaxed atmosphere to express your thanks.
Additional Ideas
Photo Album: Compile a photo album documenting your time as their student, including candid moments and special events.
Quilt or Blanket: Create a quilt or blanket featuring squares designed by each student, representing their individual gratitude and memories.
Recipe Collection: Gather favorite recipes from your teacher's students and compile them into a personalized cookbook.
Plant: Gift a potted plant, symbolizing growth and the nurturing role they've played in your life.
Inspirational Quote: Frame an inspirational quote or saying that reflects your teacher's values and teaching style.
Charitable Donation: Make a donation to a charity or cause in your teacher's name, honoring their commitment to making a difference.
Memory Box: Present your teacher with a memory box filled with mementos, notes, and small gifts from students.
Scrapbook: Create a scrapbook chronicling your teacher's career, including photos, awards, and special memories.
Ornament: Gift a personalized ornament for their holiday tree, celebrating the season and their impact on your life.
There are countless ways to express your gratitude and appreciation for a teacher who has made a difference in your life.
From heartfelt notes and thoughtful gifts to acts of service and creative expressions, the possibilities on how to thank a teacher are endless.
Your heartfelt gesture, no matter how big or small, is sure to leave a lasting impression on your teacher, reminding them of the incredible impact they've had on you and your fellow students.