Short and Thoughtful Teacher Thank you Notes From Parents (+Free Printable)
Today we have a list of thought thank you teacher messages from parents. These are perfect to write in a simple card to express your gratitude for outstanding teachers. Make sure to grab the printable notes cards!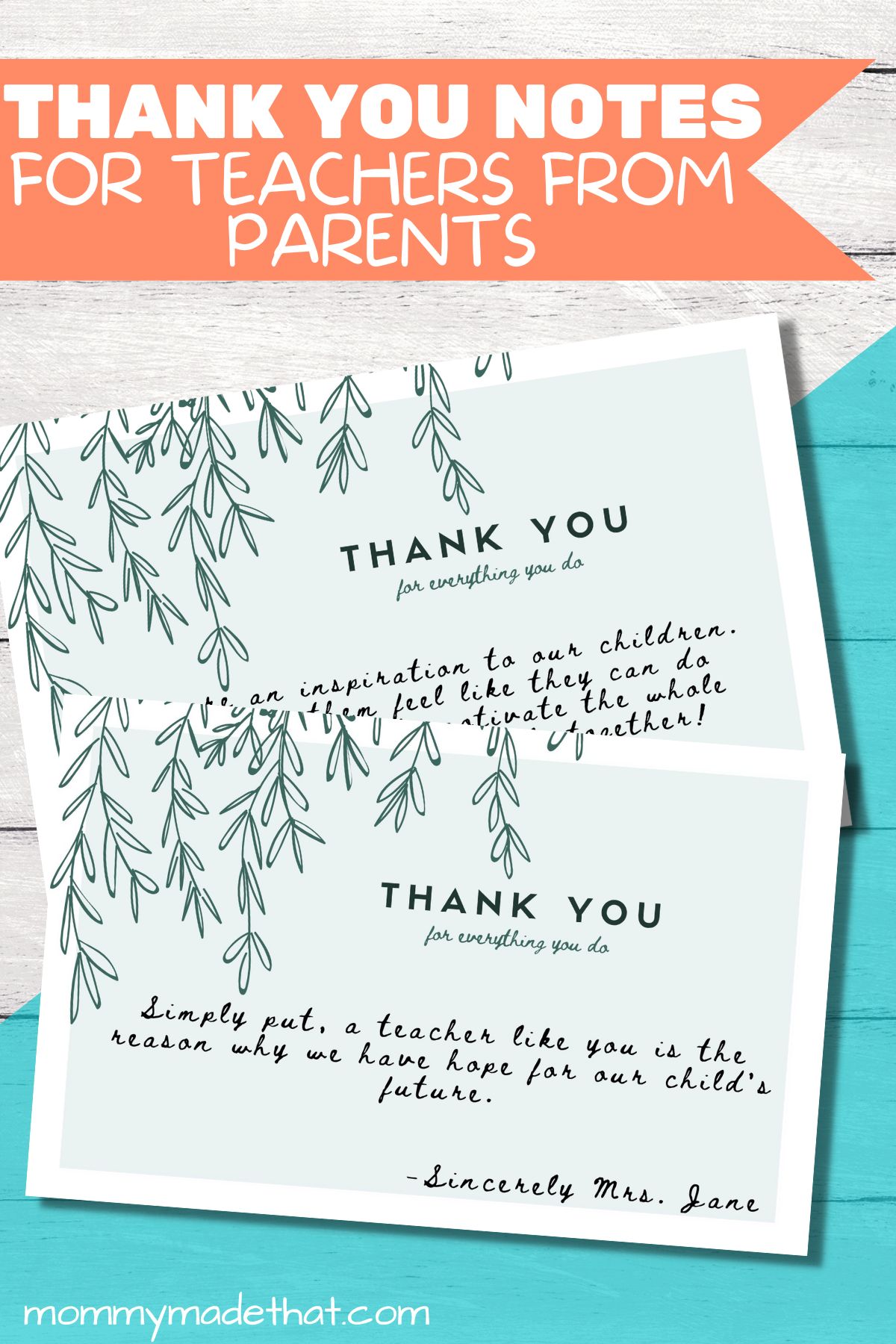 As a parent, you want to do everything you can to help your child succeed in school.
But sometimes, it's the teachers who truly make the difference.
If you have a child who has been particularly blessed with some fantastic educators, you may want to find a way to show your appreciation.
There are tons of ways to show your teacher some appreciation, from whipping up some teacher appreciation crafts to finding the low cost teacher appreciation gift.
One thoughtful way to do this is by writing a thank you note and fill it with teacher appreciation quotes.
If your child is looking for just the right way to say thank you too, make sure to check out our thank you message for teachers from students or craft a beautiful thank you teacher letter.
We also have a candy jar for teachers appreciation with a free printable you should check out too!
Why Write a Thank You Message for a Teacher?
As a parent, there are so many reasons why taking the time to write a thank you note to your child's teacher.
For one thing, it's just plain polite! But beyond that, there are many other benefits.
Writing a thank you message is a great way to show your child's teacher that you appreciate all they do.
It's also an opportunity to communicate your child's strengths and specific things they've learned in the classroom.
And finally, it lets the teacher know that you are involved in and invested in your child's education.
This is especially important during teacher's appreciation week. So if you're looking for how to thank a teacher, this is for you!
How to Write a Thank You Note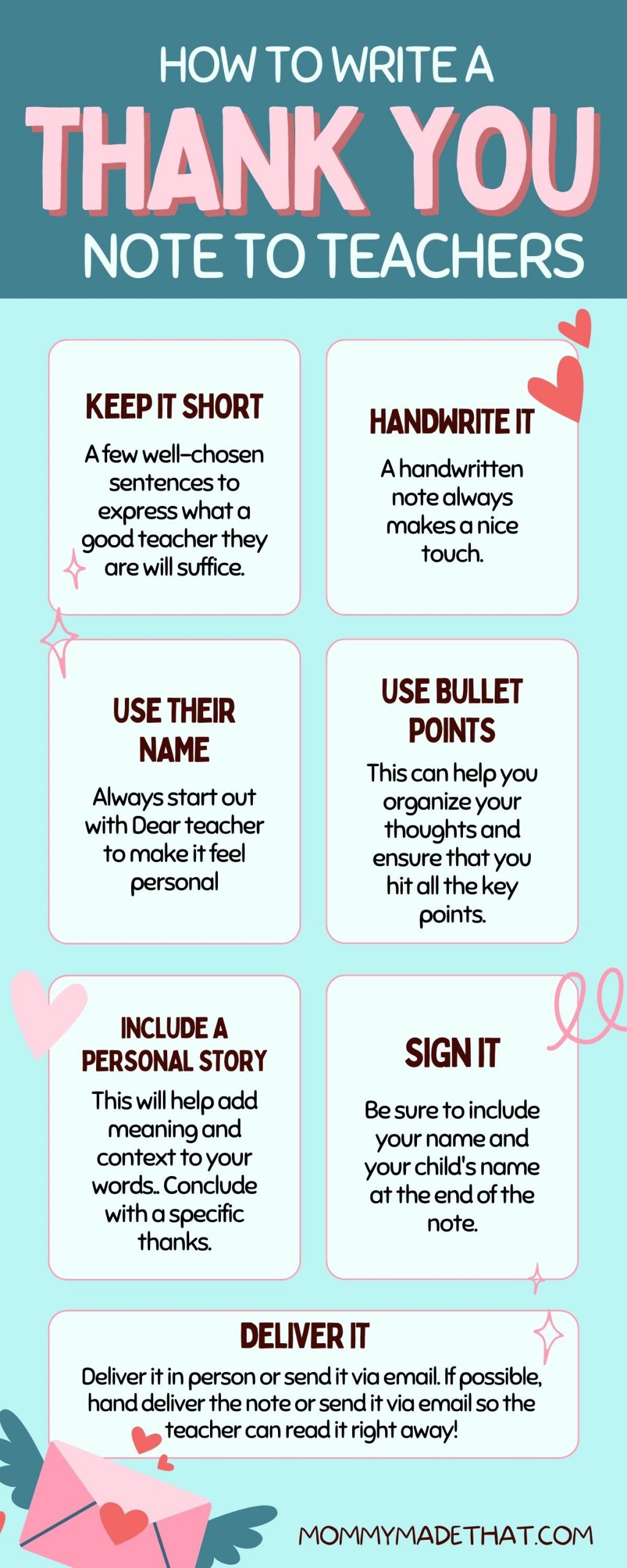 The best thank you notes are specific and sincere. When writing yours, mention some of the specific things you appreciate about the teacher.
Have they gone above and beyond to help your child?
Are they creative in their approach to teaching?
Do they have a gift for making difficult concepts easy to understand? Be sure to express what it is specifically that you admire about them as an educator.
Here are some additional tips for writing the perfect thank you note:
Keep it short and sweet. Thank you notes should be short. A few well-chosen sentences to express what a good teacher they are will suffice.
Handwrite it. A handwritten note always makes a nice touch.
Use their name. Always start out with Dear teacher.
Use bullet points. This can help you organize your thoughts and ensure that you hit all the key points.
Include a personal story. This will help add meaning and context to your words.
Conclude with a specific thanks. Something like "Thank you so much for all you've done to help my child grow and learn" is perfect.
Sign it. Be sure to include your name (and your child's name) at the end.
Deliver it in person or send it via email. If possible, hand deliver the note or send it via email so the teacher can read it right away!
Saying "thank you" is always appreciated, but taking the time write a heartfelt thank you note is truly special.
If your child has been fortunate enough to have a wonderful teacher (or two), take the time to write a thank you message expressing your own appreciation as a parent.
It's sure to be appreciated by the teacher as well!
You can also include a teacher appreciation poem to give you a sweet and beautiful note.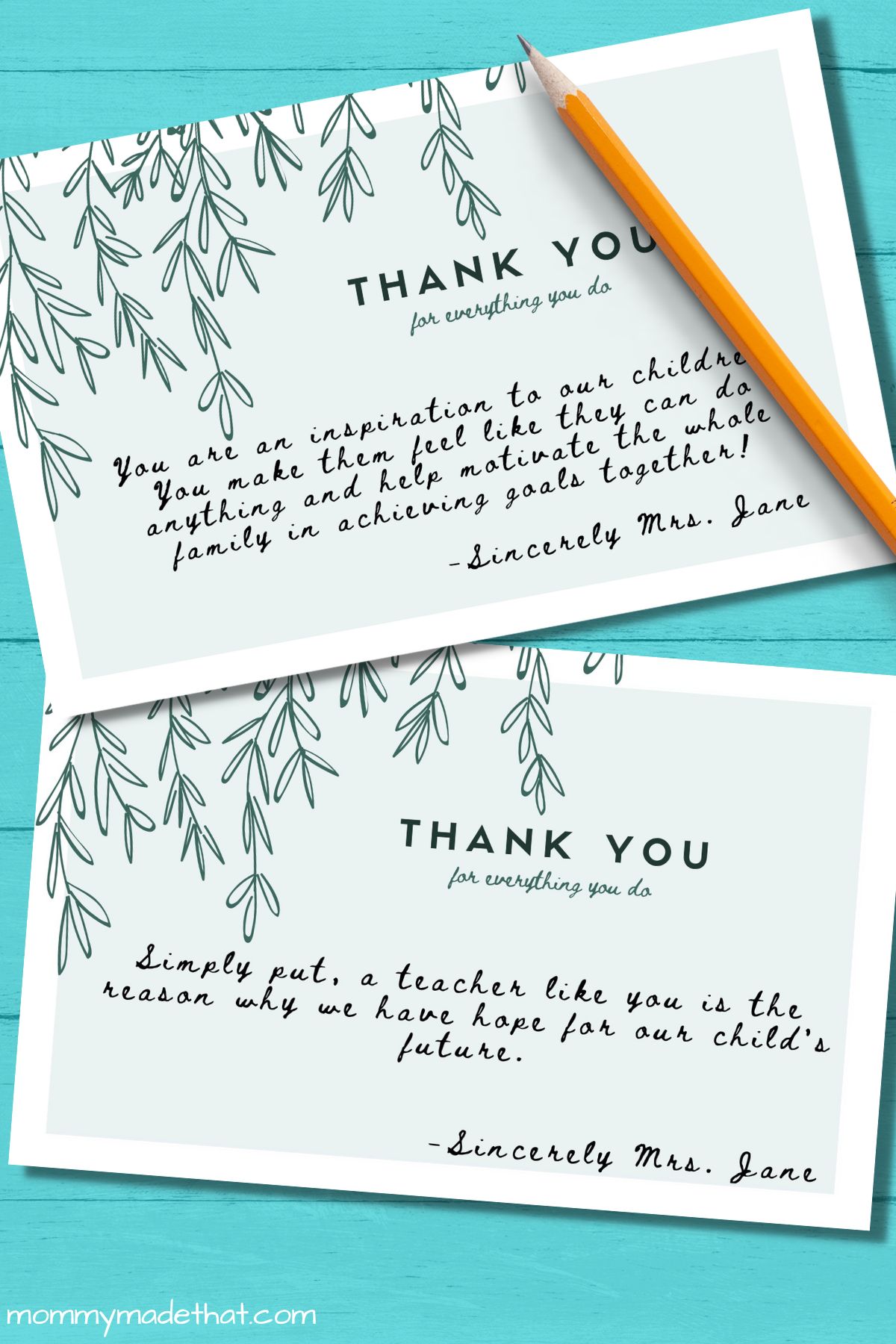 Examples of Short Thank You Notes for Teachers From Parents
These examples of thank you quotes for teachers are perfect to get your own creative juices flowing.
• Your guidance and encouragement has meant so much to us. We are proud that you see our children as future leaders who will make great decisions in life, because of the good examples they have seen from themselves throughout their childhoods. We really appreciate all your time spent with them, not only did they get a quality education but also some awesome memories!
• We are eternally grateful for the countless ways you've guided our children and made sure they know right from wrong. You are an amazing teacher, thank you!
• Thank you so much for all you've done to help my child grow and learn. I really appreciate your dedication to teaching and the care you take in ensuring each student is able to succeed. Your creative approach to teaching has helped my child understand difficult concepts with ease, and I know they have benefited a great deal from your instruction. Thank you for all that you do!
• Thank you for all you do for my child. I really appreciate your dedication and hard work in the classroom. I know that my child has learned a lot from you this year, and I sincerely thank you for that. I also appreciate all the extra time and effort you put in to help my child grow and learn. Thank you for making a difference in my child's life. I am truly grateful and you are such a blessing.
• You are an inspiration to our children. You provide them with the motivation and the willpower they need in order to reach their goals so that we can all be proud of what's accomplished together! Thank you for being an awesome teacher!
• You are a role model for the future. You inspire children to be their best, and you show how it's possible that even if they fall down once or twice on the way there can still achieve what matters most in life!
• You are an inspiration to our children. You make them feel like they can do anything and help motivate the whole family in achieving goals together!
• You are a dynamic, creative force that empowers your students with the knowledge and skills they need to succeed! You teach by knowing how each student thinks as well as making sure you go at their level of creativity so it's easier for them to learn.
• You are an inspiration to our family. You give us the confidence that when it comes time for school, town council duties or even just everyday life responsibilities. Our child will be able to make good decisions and become a respected member in society. Thank you!
• Simply put, a teacher like you is the reason why we have hope for our child's future.
• My child's school life is filled with your quality addresses in the study hall. He will truly miss those days, and I wish for many blessings for being a particularly extraordinary teacher during his time at this institution!
• You are an inspiration! Thank you for always keeping a smile on your face and teaching with love in every lesson.
• The world needs more people with your spirit. Thank you for being such a great teacher to my child.
• You are such an awesome teacher. Thank you for leading the future generation with your inspiring words. All your selfless sacrifices are seen.
Grab the Thank You Notes
We made two different printable thank you notes you can grab to write your messages on or in.
The first one is a note card that you can write your short note onto, and and cut in half. So there are two thank you notes per page.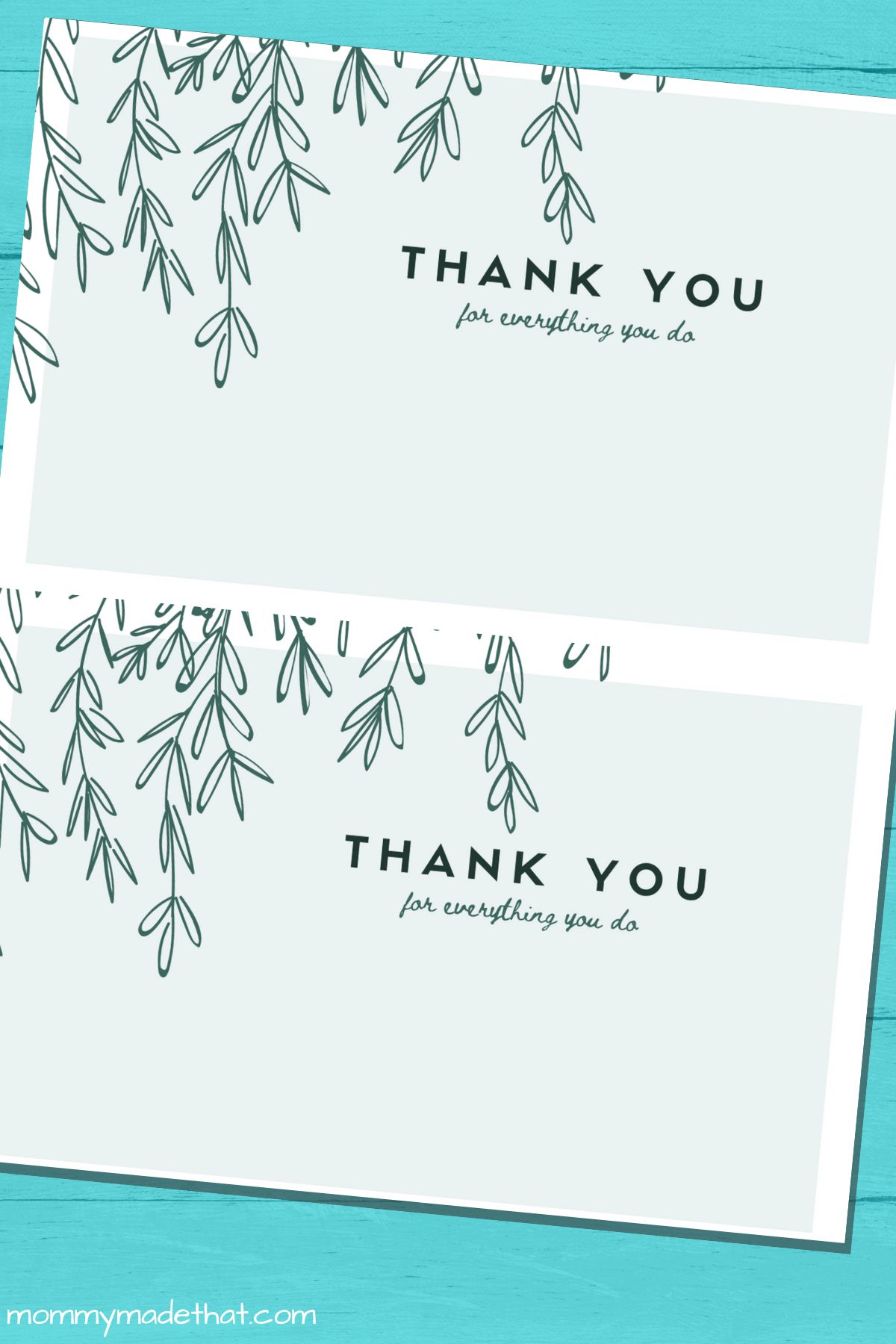 The second one can be folded to make a pretty Thank you card for the teacher.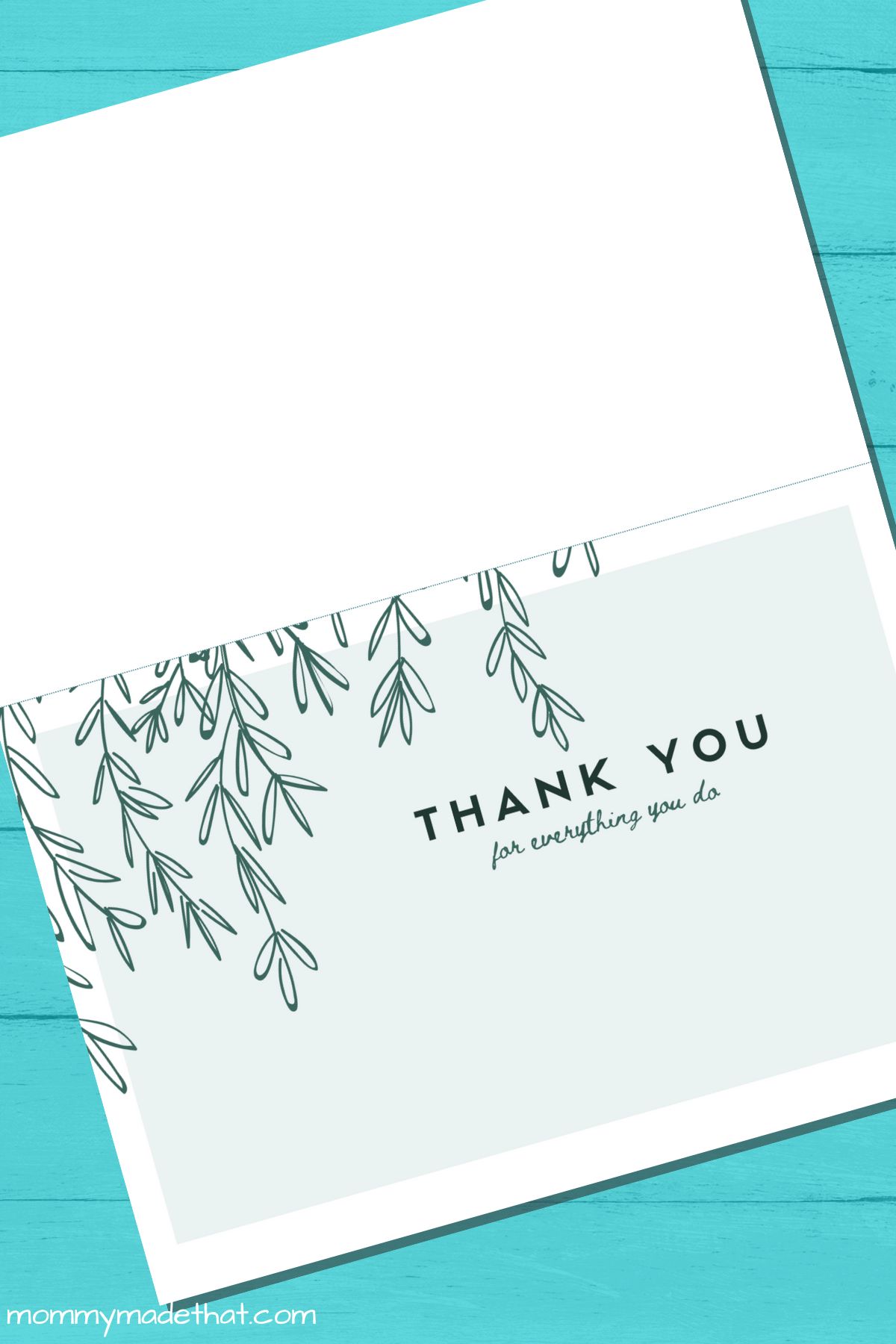 Just put your email in the box below to grab the free printables! They'll be sent straight to your inbox.
These are for personal use only, not for commercial use. But feel free to print out as many thank you notes as you need.