Valentine Sayings for Kids & Quotes
It's that time of year again! Valentine's Day is just around the corner, which means it's time to start thinking about what your child can write in their Valentine's Day cards. If you're stuck on coming up with a good Valentine saying for kids, we've got you!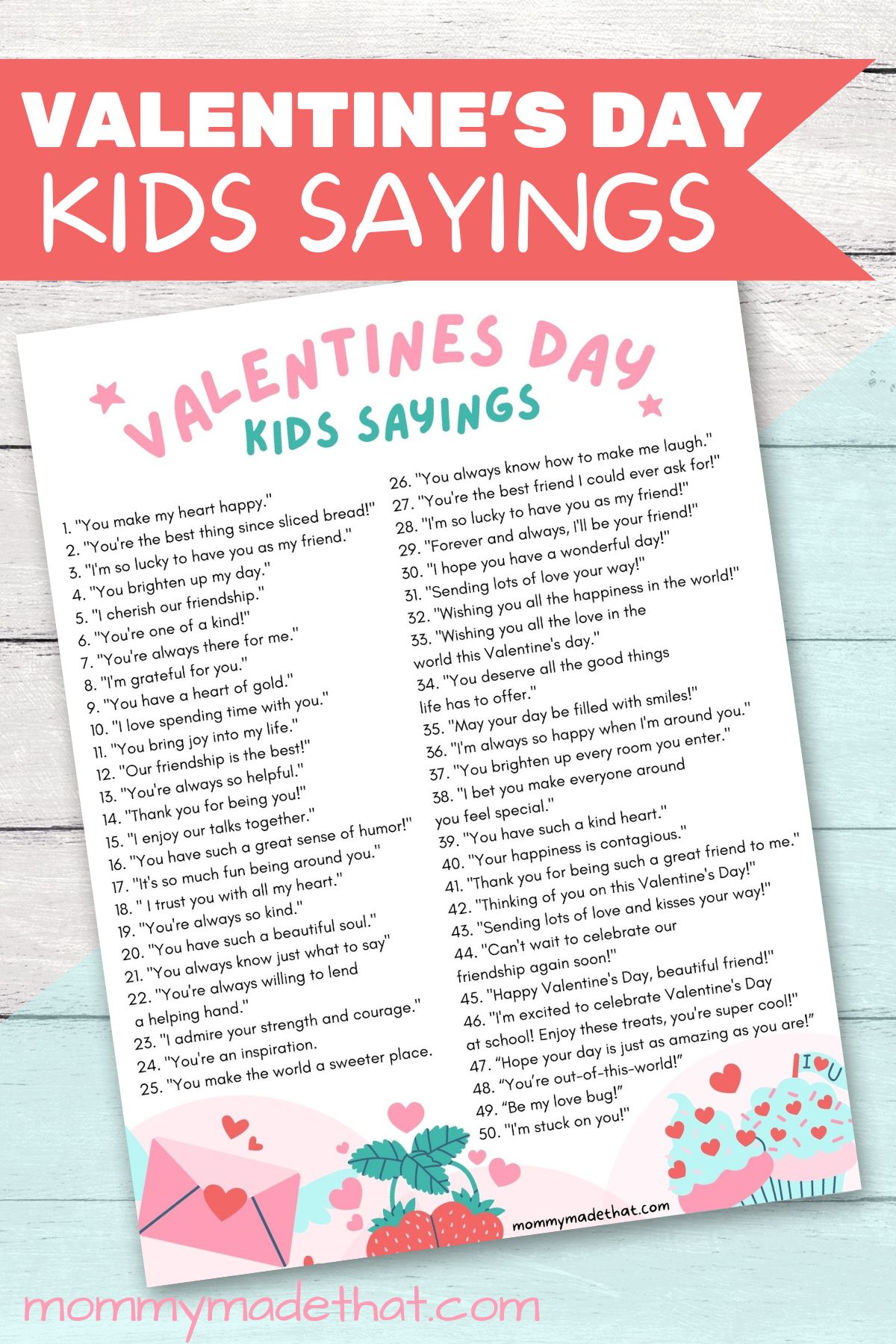 We've compiled a list of 45 cute and creative Valentine's Day sayings and quotes that are perfect to write in a Valentine's day card for a child.
I suggest reading the list with your kiddo and see what sayings feel right to them.
Of course, this will depend on who they're making their card for and what their relationship is.
But here are our favorite Kids Valentine's day quotes and sweet sayings.
Kids Valentines Day Sayings and Quotes
1. "You make my heart happy."
2. "You're the best thing since sliced bread!"
3. "I'm so lucky to have you as my friend."
4. "You brighten up my day."
5. "I cherish our friendship."
6. "You're one of a kind!"
7. "You're always there for me."
8. "I'm grateful for you."
9. "You have a heart of gold."
10. "I love spending time with you."
11. "You bring joy into my life."
12. "Our friendship is the best!"
13. "You're always so helpful."
14. "Thank you for being you!"
15. "I enjoy our talks together."
16. "You have such a great sense of humor!"
17. "It's so much fun being around you."
18. " I trust you with all my heart."
19. "You're always so kind."
20. "You have such a beautiful soul."
21. "You always know just what to say"
22. "You're always willing to lend a helping hand."
23. "I admire your strength and courage."
24. "You're an inspiration.
25. "You make the world a sweeter place."
26. "You always know how to make me laugh."
27. "You're the best friend I could ever ask for!"
28. "I'm so lucky to have you as my friend!"
29. "Forever and always, I'll be your friend!"
30. "I hope you have a wonderful day!"
31. "Sending lots of love your way!"
32. "Wishing you all the happiness in the world!"
33. "Wishing you all the love in the world this Valentine's day."
34. "You deserve all the good things life has to offer."
35. "May your day be filled with smiles!"
36. "I'm always so happy when I'm around you."
37. "You brighten up every room you enter."
38. "I bet you make everyone around you feel special."
39. "You have such a kind heart."
40. "Your happiness is contagious."
41. "Thank you for being such a great friend to me."
42. "Thinking of you on this Valentine's Day!"
43. "Sending lots of love and kisses your way!"
44. "Can't wait to celebrate our friendship again soon!"
45. "Happy Valentine's Day, beautiful friend!"
46. "I'm excited to celebrate Valentine's Day at school! Enjoy these treats, you're super cool!"
47. "Hope your day is just as amazing as you are!"
48. "You're out-of-this-world!"
49. "Be my love bug!"
50. "I'm stuck on you!"
Grab the Printable Valentine's Day Kids Sayings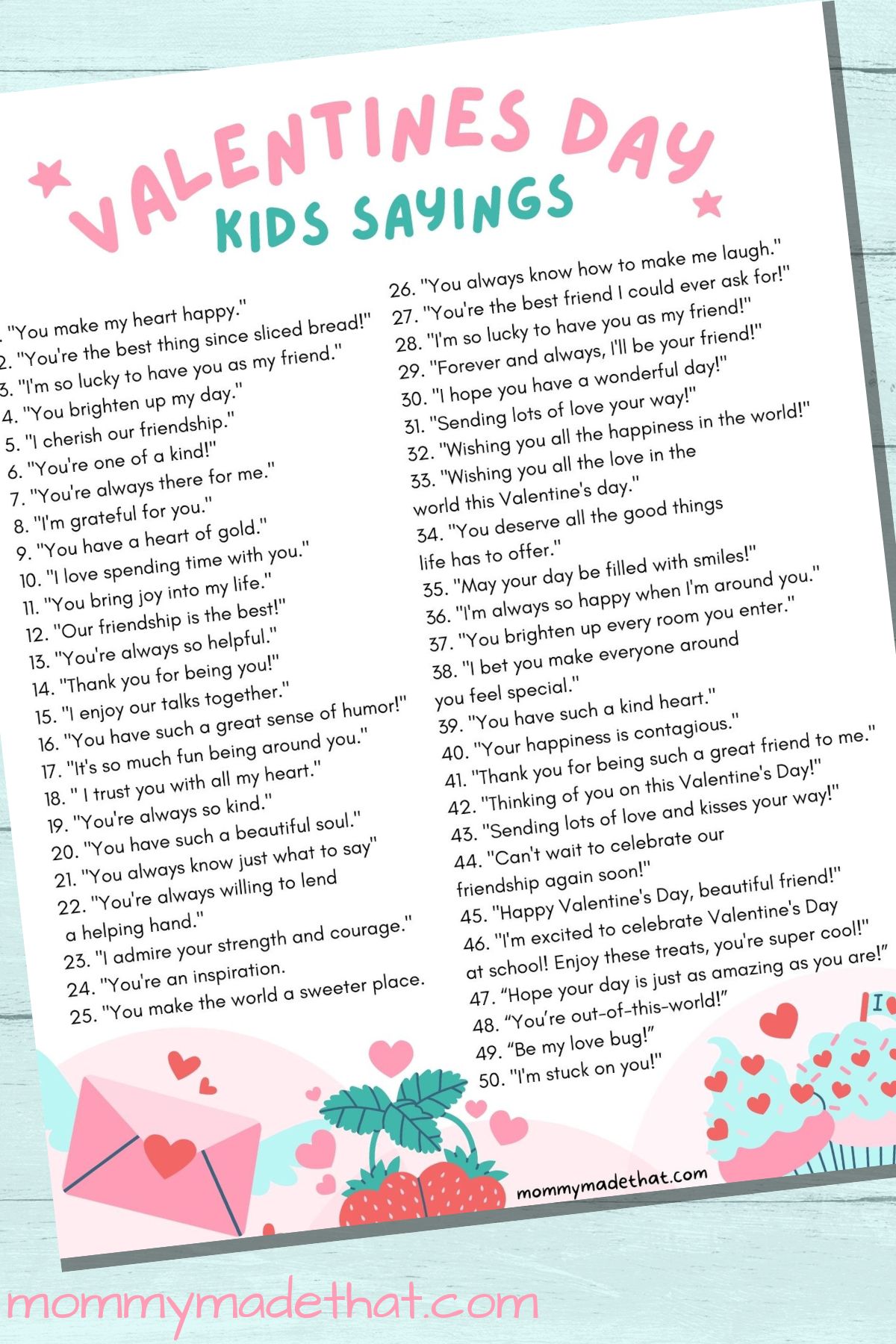 If you want to grab and print it out, we made a free printable list of our best Valentine's day quotes for kids.
It's a cute free Valentine's day printable that makes it super easy to find just the right thing to say to each of your kid's Valentines.
Just put your email in the box below to grab the printable messages.
Some of these kids' quotes are perfect for friends or acquaintances at school.
While others are better for close family members and loved ones.
I love going through a list of sayings like this with kids.
As you read them out loud, hopefully, help your child find a Valentine's day message that feels genuine and heartfelt to them.
We also have lots of fun Valentine's Day crafts for kids and a few other fun Valentine's day printables too!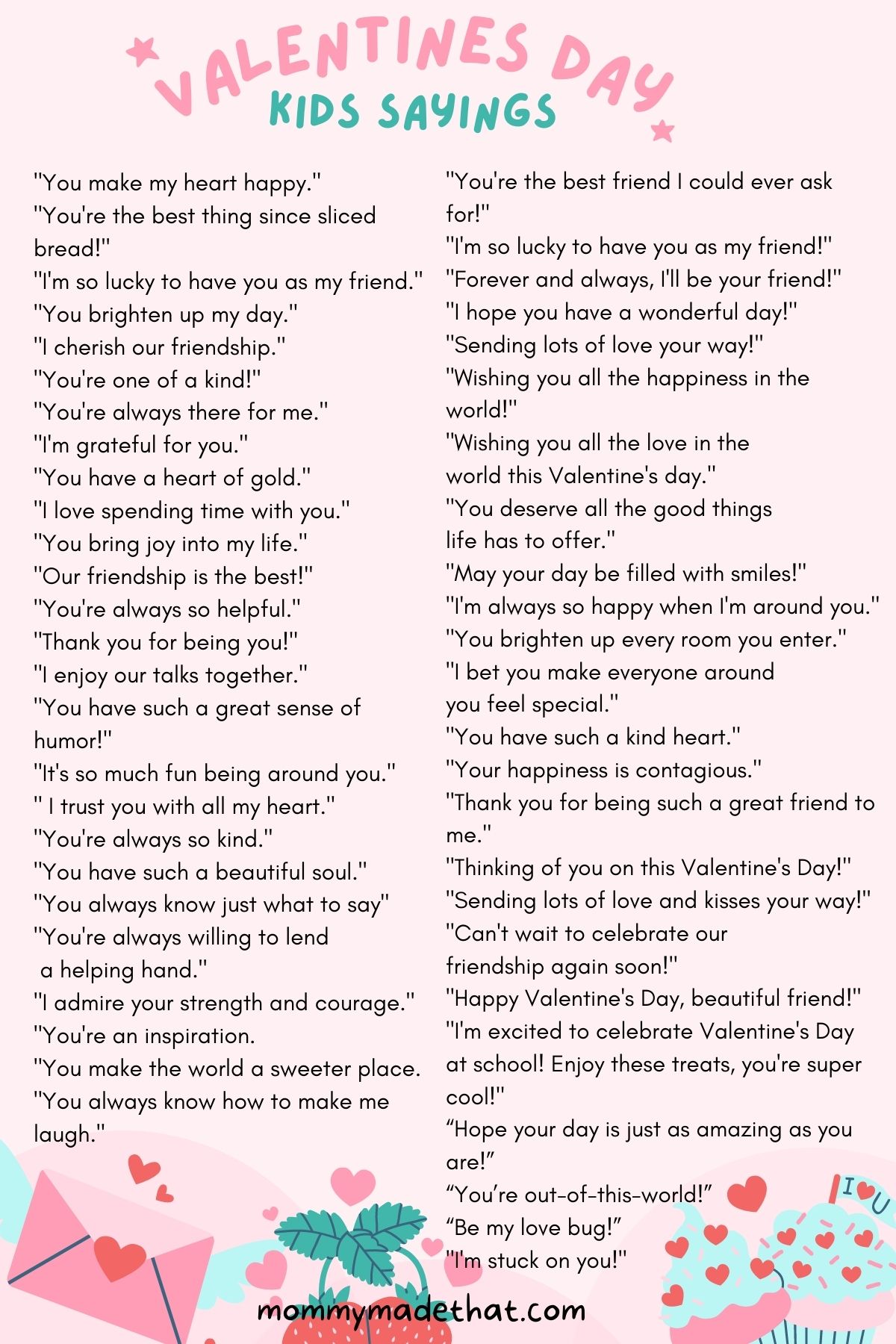 Do you have any other good Valentine's day messages or cute sayings that you're kids love using in their cards? Let us know in the comments!