Today we have this adorable little corn craft! This corn craft is perfect for kids of all ages. It's a simple project that doesn't require many materials, and it's a great way to use up those extra popsicle sticks.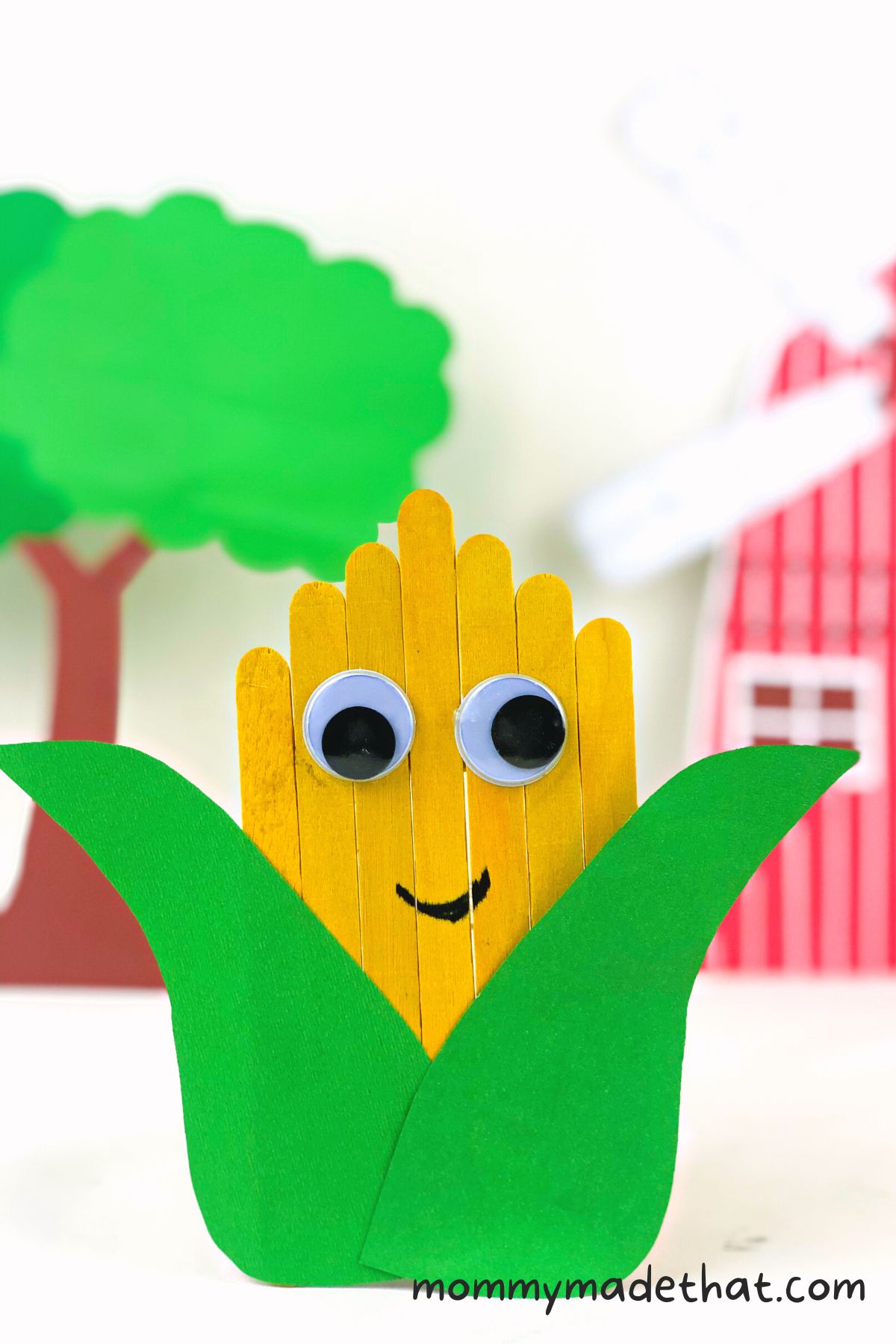 It's almost fall, which means cooler temperatures and leaves falling from the trees.
This means lots of fall crafts and creative harvest crafts around here.
Today felt like a good day to break out the popsicle sticks and make a fun fall popsicle stick crafts!
This corn craft is perfect for kids of all ages.
It's a simple project that doesn't require many materials, and it's a great way to use up those extra popsicle sticks.
Plus, it's a fun way to decorate for fall.
If you're looking for more fun corn crafts, make sure to check out our corn templates, which are perfect for fall activities and to even use as coloring pages.
Materials Needed
For this popsicle stick corn craft you'll need a few materials including:
Popsicle sticks: We used yellow sticks we had, but you can paint regular ones yellow.
Craft paper: We used green for the husks of the corn.
Googly eyes: We used the real ones, but you could grab our printable googly eyes instead if you prefer.
Basic supplies like:
Marker
Scissors
Glue (We used a glue gun, but craft glue would work too. Just longer drying time!)
Directions
Start by lining up seven popsicle sticks together.
We used yellow popsicle sticks since we had some in our craft supplies.
But you could use regular popsicle sticks and paint them yellow. Make sure to cover both sides.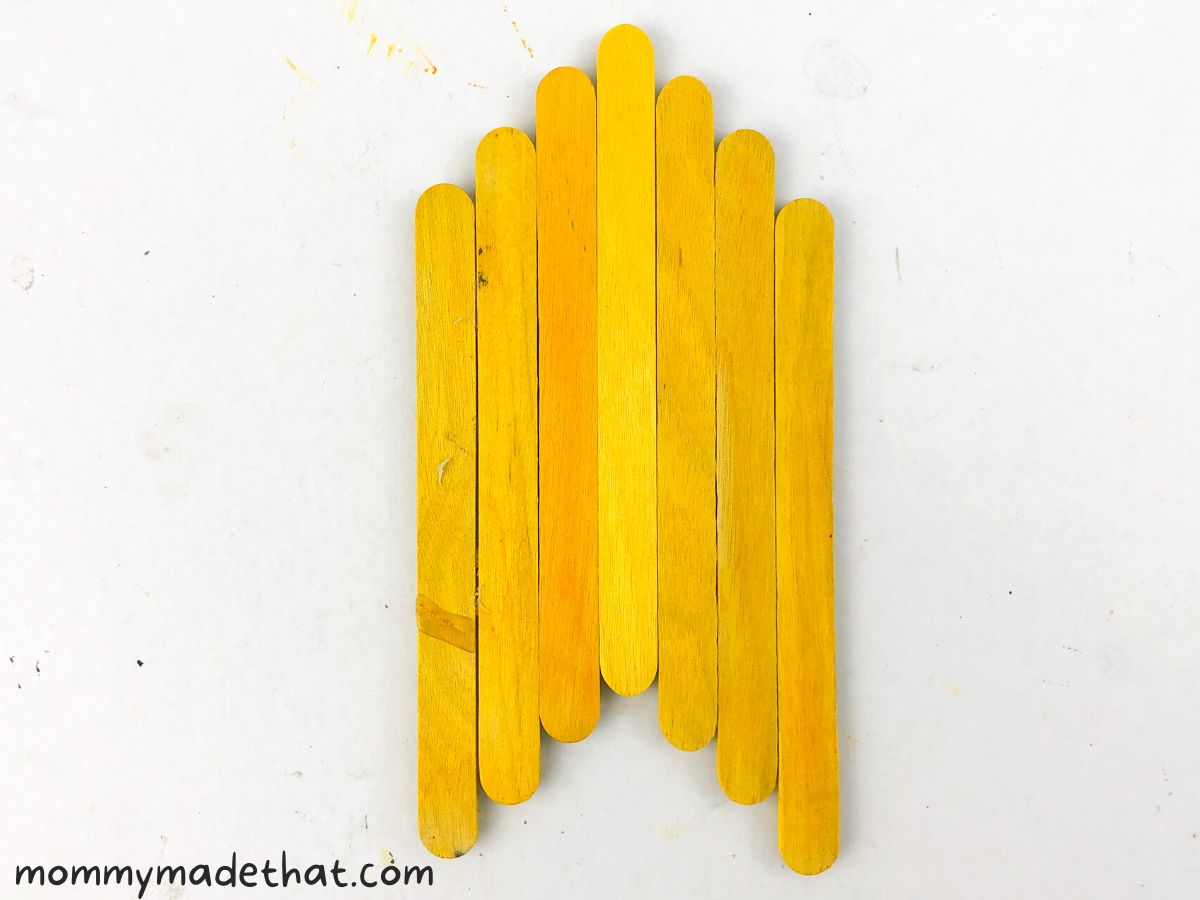 The popsicle stick in the center needs to be the highest, while each one slowly steps down in height as the go out, like shown above.
This will help form the top of the corn on the cob.
This will also be the back of the corn, as we will attach all the popsicle sticks together using additional popsicle sticks.
We just trimmed 2 popsicle sticks and placed a long strip of glue on them, then attached them covering all 7 of the yellow popsicle sticks.
While the glue drys on the sticks, move on to making the green corn husks out of the craft paper.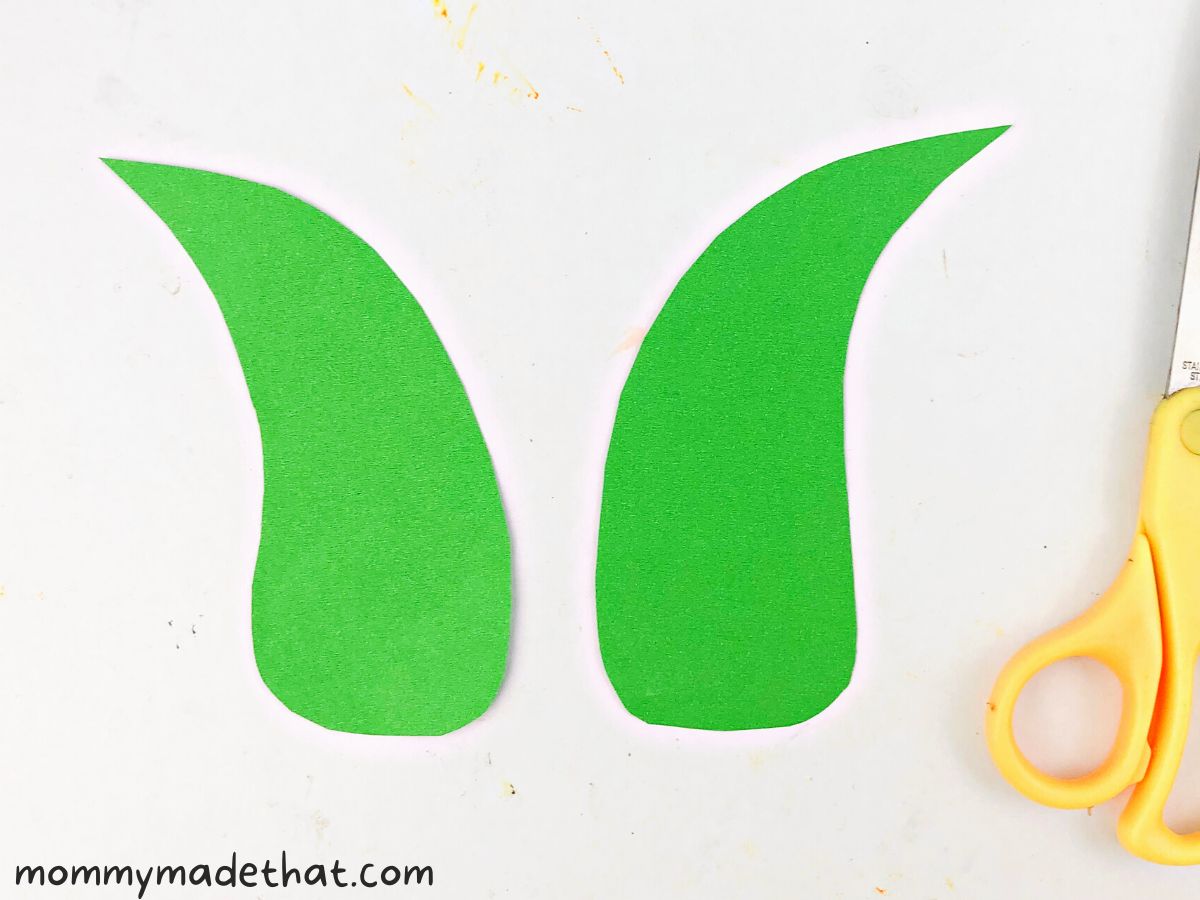 Grab the green paper and fold it in half. Draw a big leaf shape like shown above on the paper.
Cut out the husk from the green colored paper while still folded. You should end up with 2 big identical leaf shapes.
Glue them to the front of your corn cob (not the side with the attached popsicle sticks.)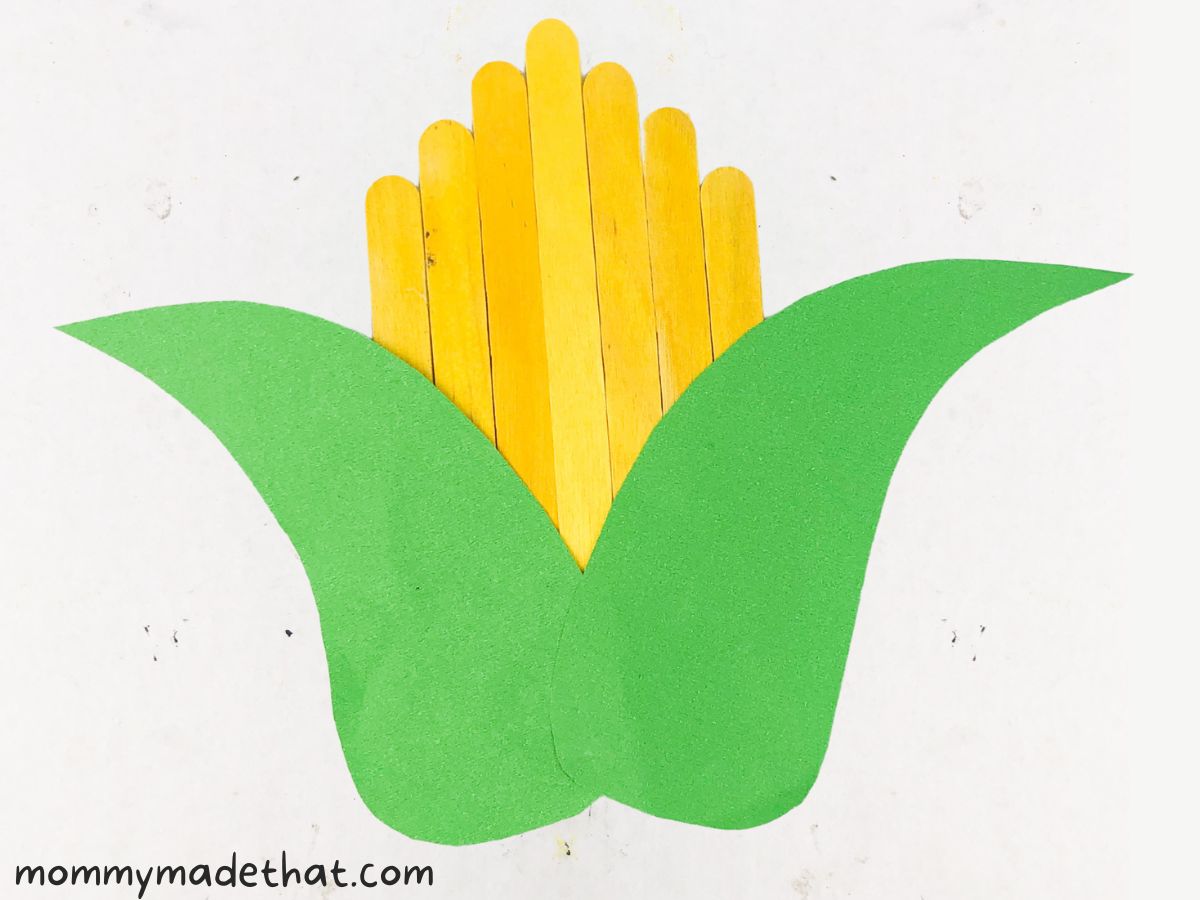 Now you can stop here and you have an adorable corn on the cob craft already done.
But we wanted to add some personality to our corn craft, so we added some googly eyes!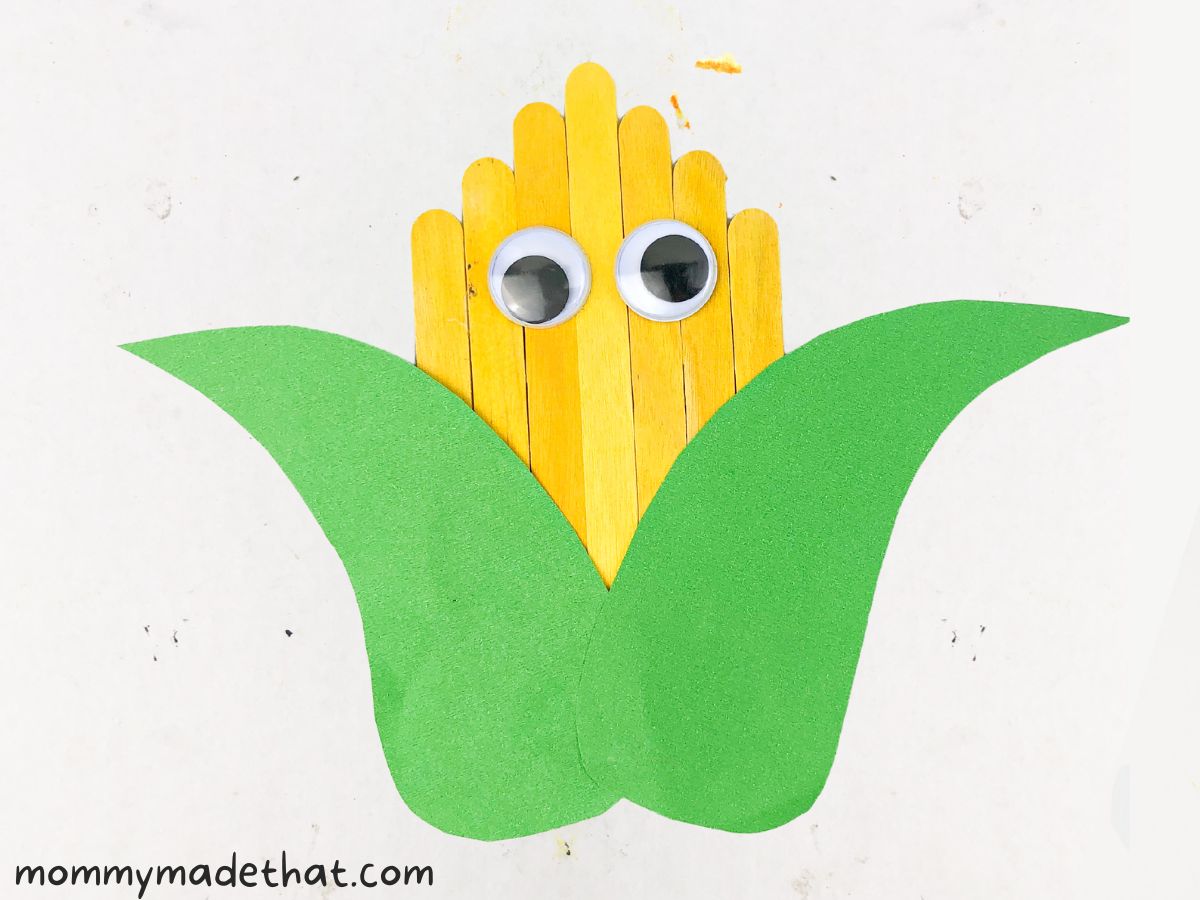 And to finish the little corn off, we added a cute little smile with our black marker.
Isn't he just the cutest little corn on the cob you've ever seen!!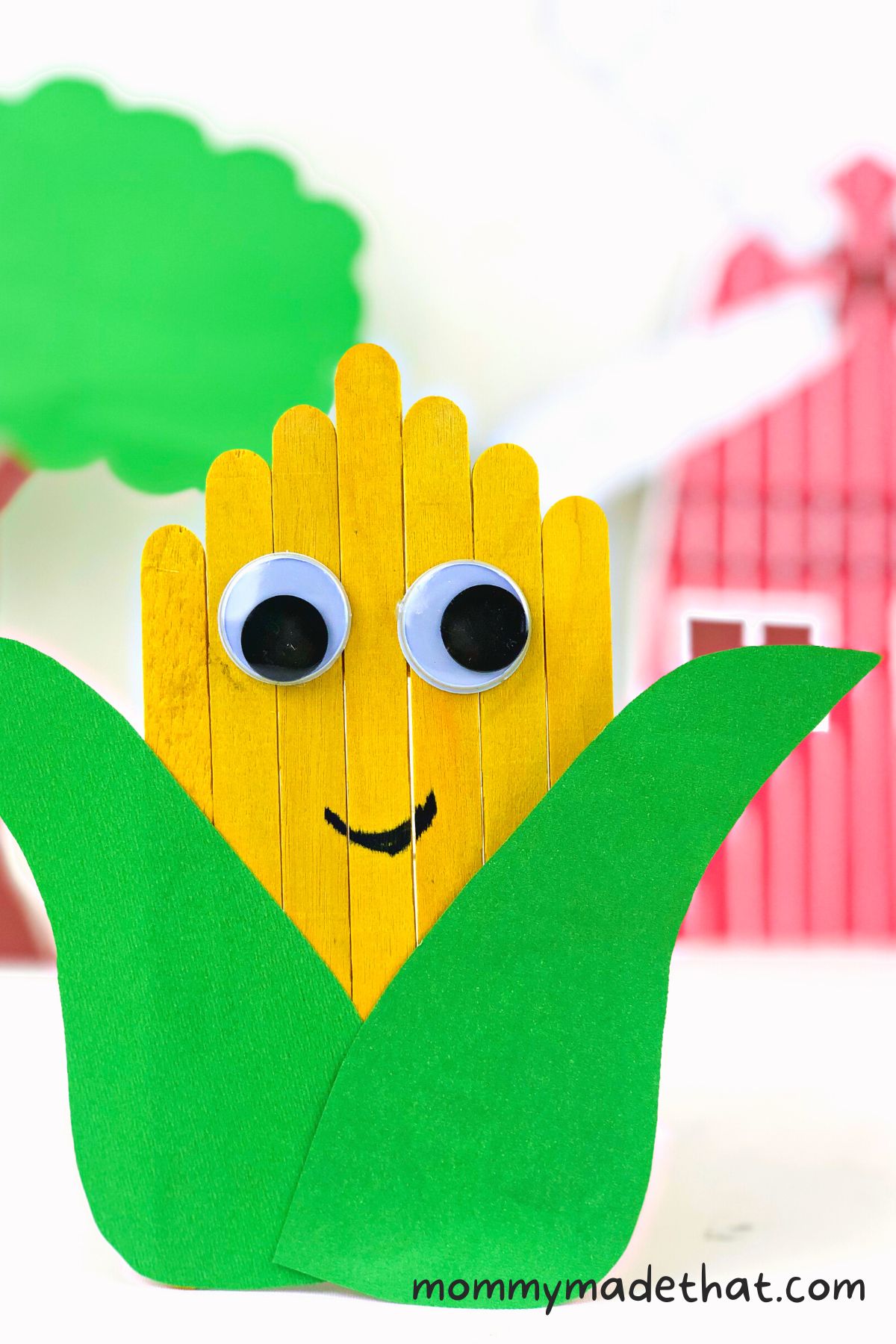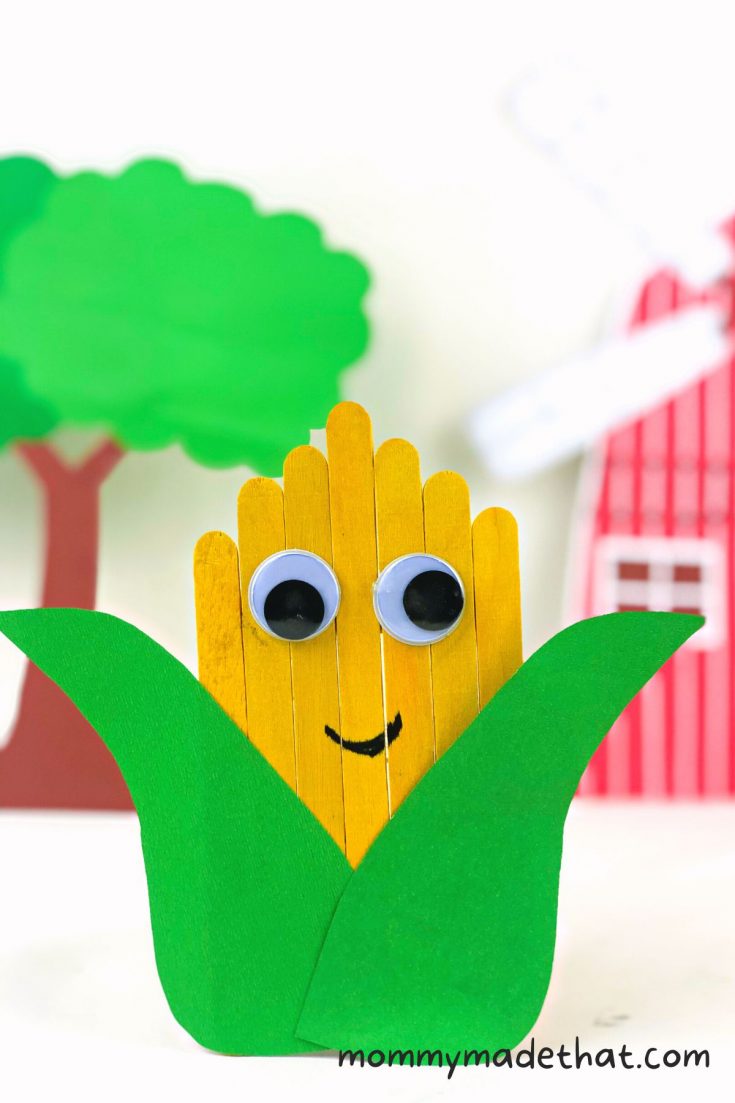 Yield:

1 Corn craft
Popsicle Stick Corn Craft
This adorable popsicle stick corn craft is an easy fall corn craft for kids and looks oh so cute when finished.
Materials
Yellow popsicle sticks
Green craft paper
Googly eyes
Instructions
Start by lining up 7 yellow popsicle sticks, with the center one being tallest, and the outer popsicle sticks tapering down, like the tip of a corn cob.
Attach together using 2 shortend popsicle sticks, "gluing" them all together.
Fold sheet of green paper in half. Draw out large leaf shape and cut out, creating two leaf cutouts.
Attach them to the front of the popsicle stick corn, overlapping in the front like corn husks.
Add googly eyes and draw on a smile.