Lots of Blank Coupon Templates (Free Printables!)
Today we decided to create a fun blank coupon template. But instead of just one template, we made several fun ones to fit different tastes and uses. These printables are completely free and a fun way to show a little love.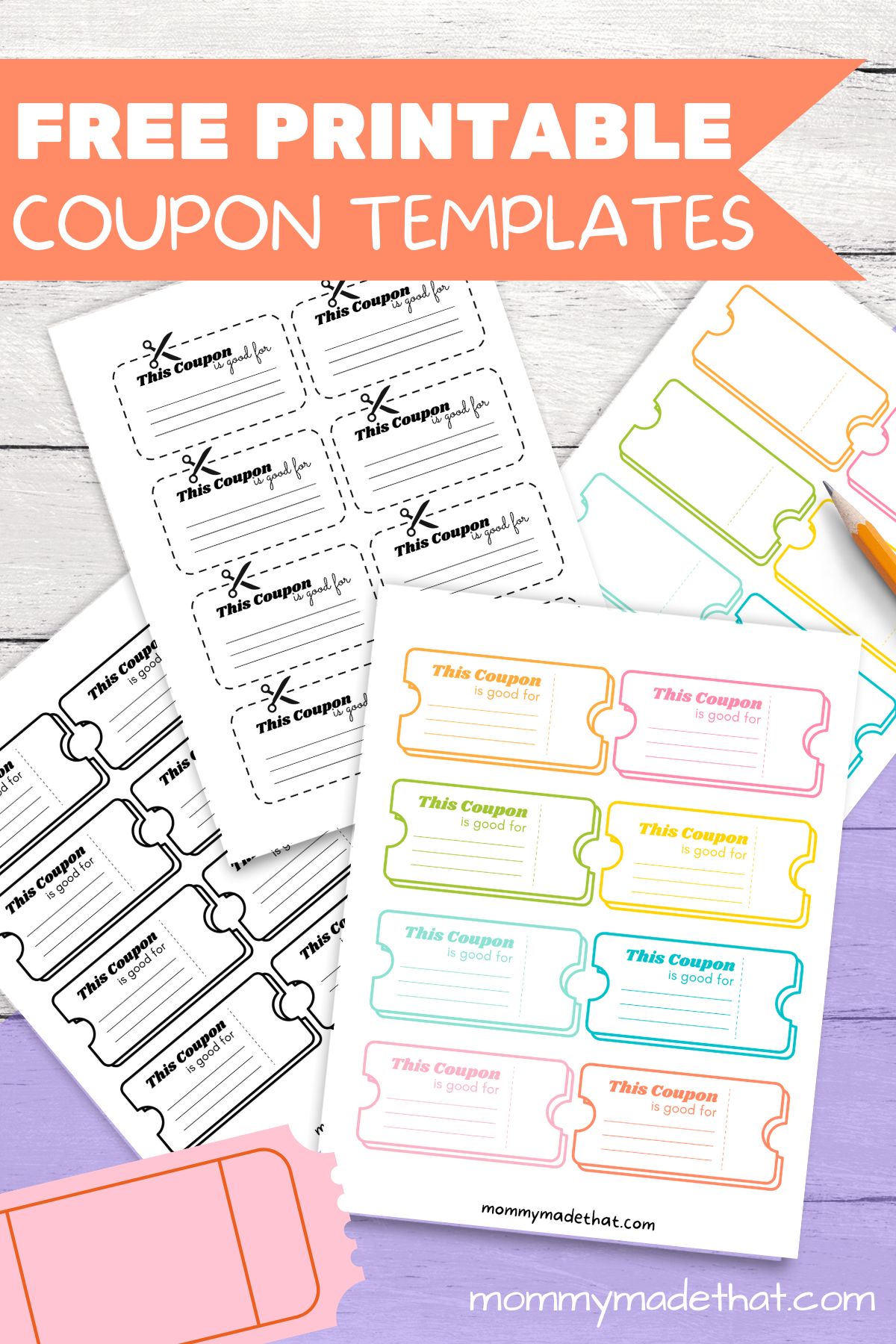 Coupons are a great way to save money, but they can also be a fun way to show your loved ones how much you care.
If you're looking for a unique and personal way to show someone you care, why not make them a coupon book?
With a few simple supplies and some creative thinking, you can easily make a coupon book that's tailored specifically for your loved one.
And best of all, you can do it for free using our printable blank coupon templates!
How to Make a Coupon Book
To create your own coupon book, grab one of our blank coupon template pages. You'll need a few other supplies like:
A printer
Cardstock or heavy paper (regular paper would work too)
Scissors or a paper cutter
A stapler or other binding method (optional)
Once you have your supplies gathered, you're ready to start creating your coupons.
The Coupon Templates
We have a few different professionally designed templates. These coupon templates are perfect for creating a coupon booklet, making little gift certificates, or for whatever fun coupon design you want to create.
Some are black and white, while others are bright and colorful.
We created 2 copies of each, one completely blank and the other saying "This coupon is good for" with blank lines underneath. Making them useful for all sorts of projects.
Black and White Coupons
If you're looking for printer-friendly coupon templates, these are perfect. We have 2 completely blank coupon templates and 2 partially filled ones.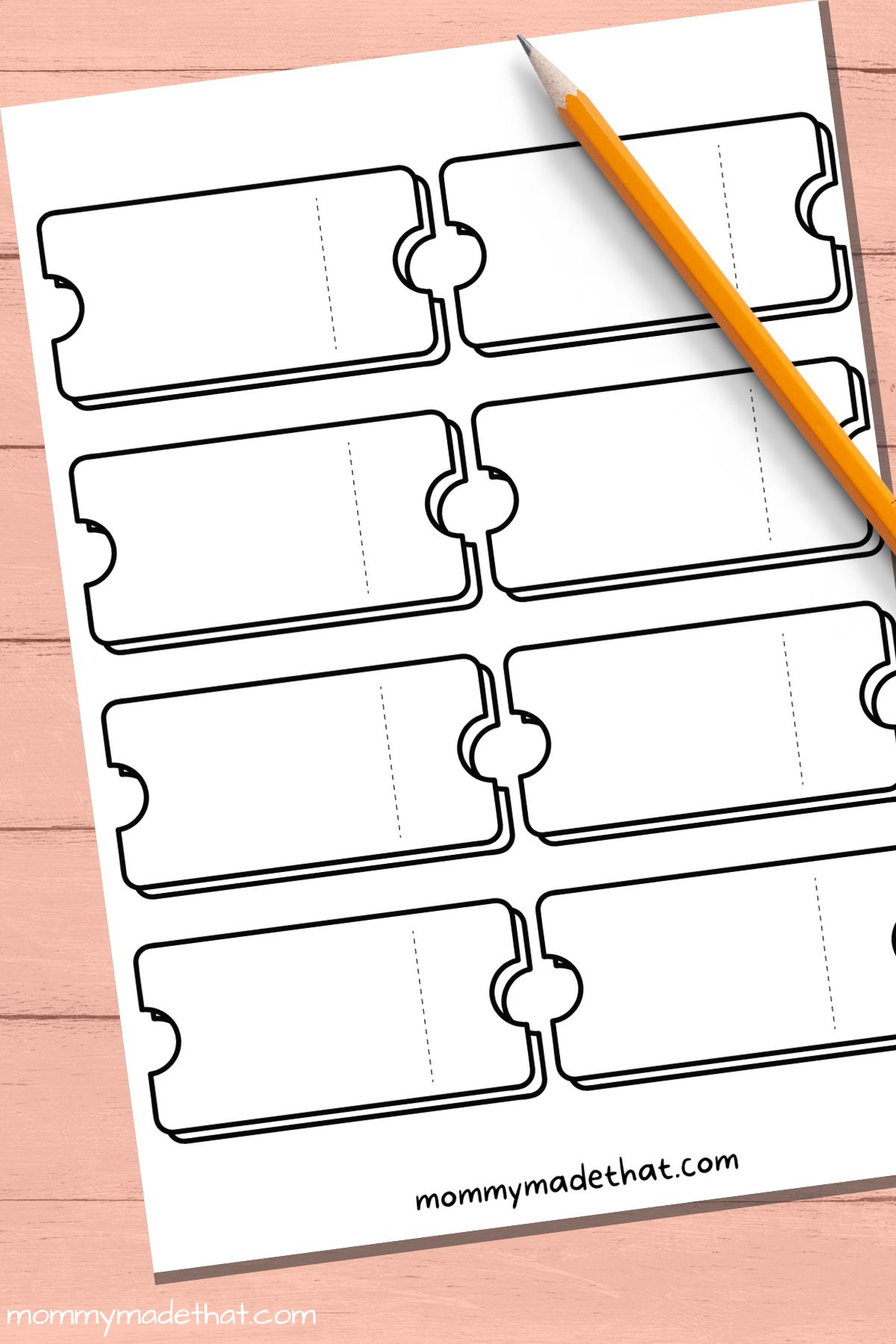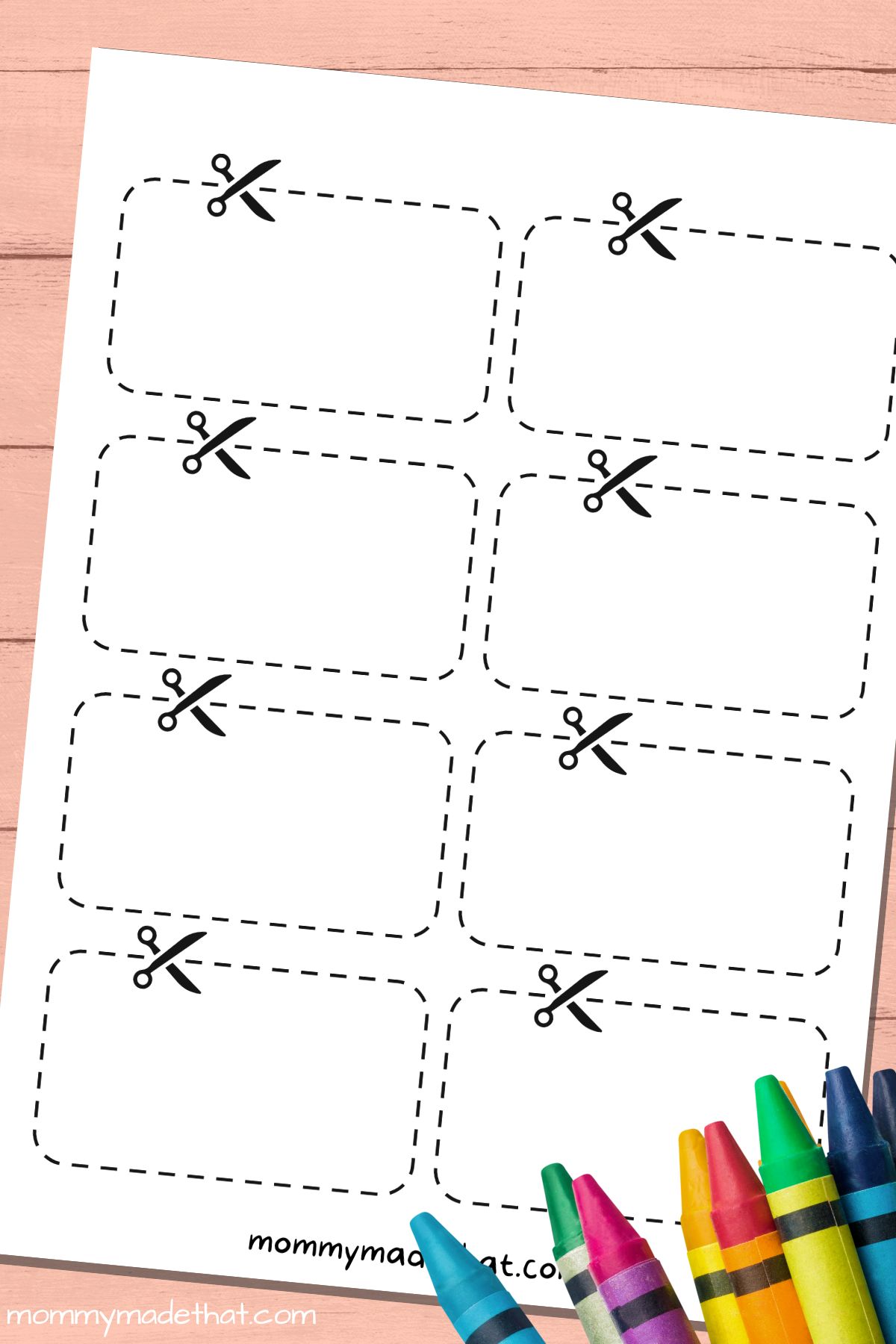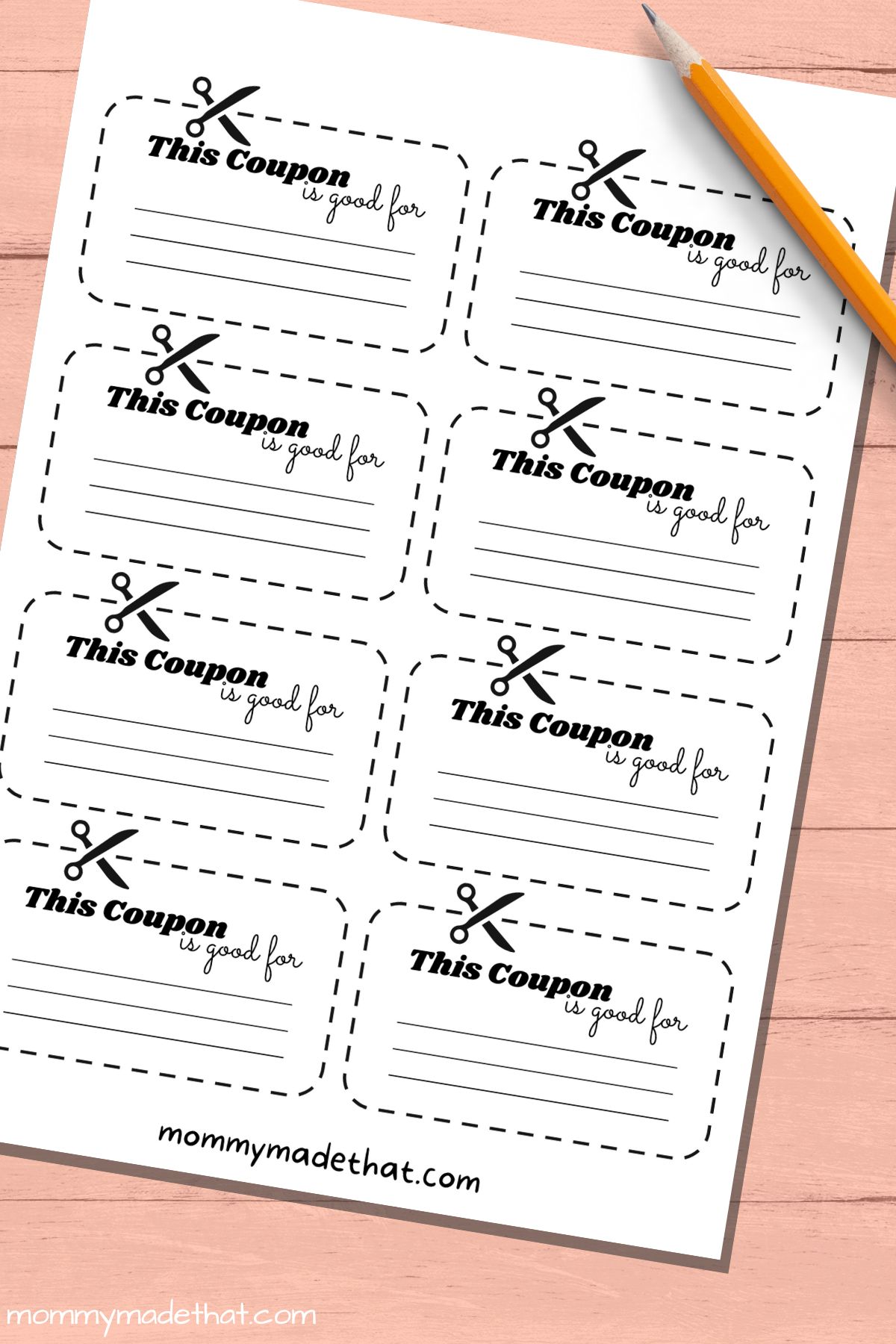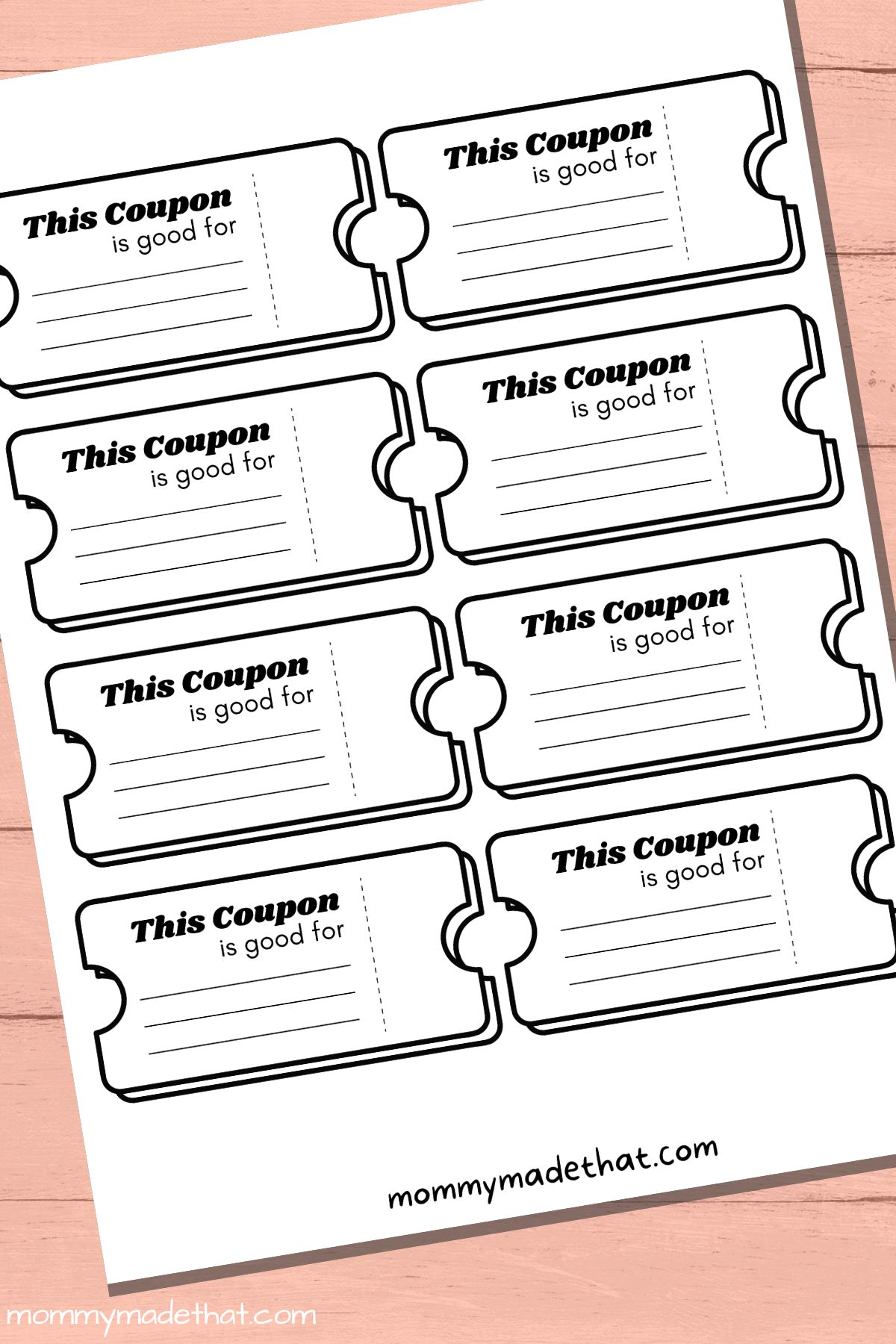 Colorful Coupons
We also provided all the coupons in bright colors if you are looking for something a little more fun.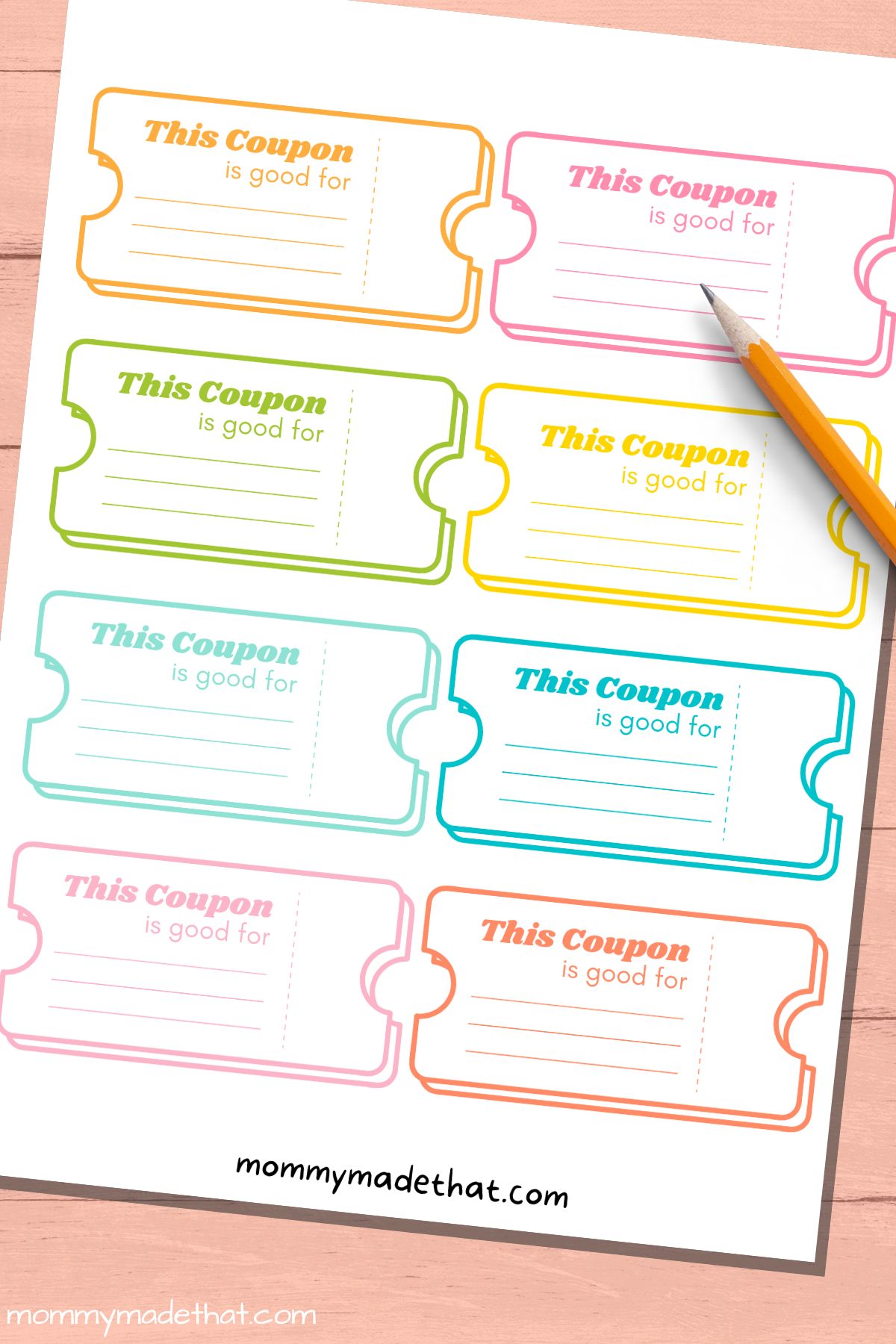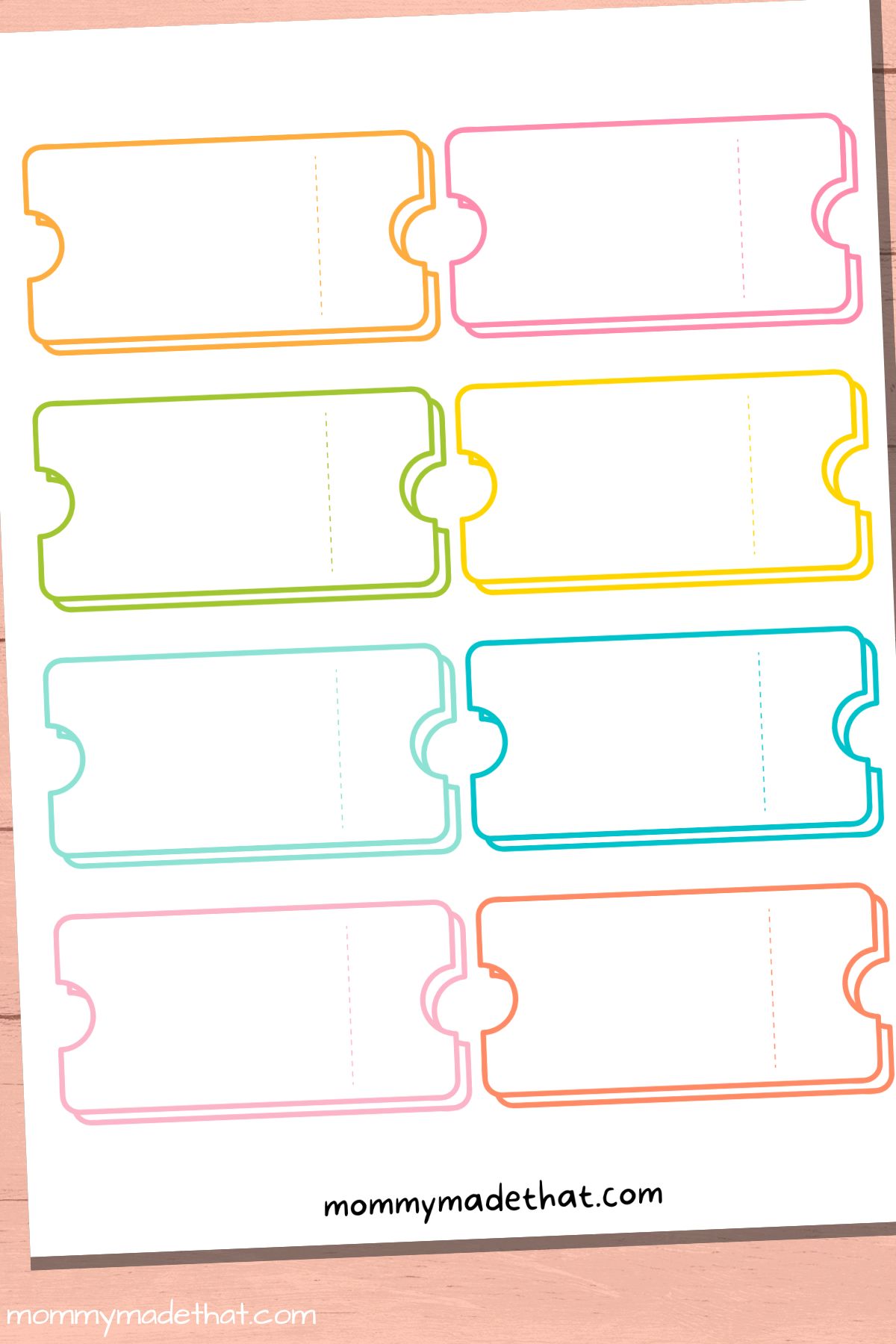 Cutting and Binding Your Coupons
Once your coupons are printed, use scissors or a paper cutter to cut them out along the trim lines.
If you want to bind your coupons into a book, simply stack them in order and then use a stapler or another binding method to keep them together.
If you don't want to bind them, that's fine too! You can just leave them as individual coupons that can be used however your loved one chooses.
Printing Your Coupons
To grab our free coupon template, go to our printable library.
Scroll down until you find the printable labeled "printable coupon template" then click the download link.
It'll open up a new page where you can download the free PDF and print off the pages you like.
Then print out the blank coupons on cardstock or heavy paper so that your coupons are sturdy and will hold up well over time.
Ideas for Filling in the Blank Coupons
Now comes the fun part: filling in your coupons!
This is where you'll get to be creative and personalize the coupons to suit your loved one's interests and needs.
For example, if they're always running out of coffee, you could make a "good for one coffee run" coupon that they can cash in whenever they want a cup.
Then you can go and grab the coffee for them.
Or if they're always telling you that they need more me-time, you could make a "1 day of uninterrupted spa time" coupon. This is perfect for special occasions like mother's day or other occasions.
Get creative and have fun with it!
Here are a few ideas to get you started:
For Birthdays
A night out on the town
A home-cooked dinner
Dinner at a fancy restaurant
Breakfast in bed
Tickets to a show or a sporting event
A weekend away at a hotel or B&B
A gift certificate to their favorite store or online retailer
One free car wash
One free oil change
A day at the spa
A day of golf
An afternoon of shopping
One hour of uninterrupted TV time
No chore day
One free pass to break any rule (within reason!) 
For Mother's Day
Write a long list of ideas for coupon book sayings for mothers day
One free hour of uninterrupted Netflix bingeing
A homemade dinner of their choice
A day of pampering, including a massage, manicure/pedicure, and facial
An afternoon spent exploring a new city or town
A weekend getaway at a cabin or bed and breakfast
One free month of car washes
Free dishwashing for a week
Do the laundry
Watch a movie
Go on a walk together
Do the yard work
Get a free massage
Do the grocery shopping
These are just a few ideas to get you started.
Once you've finished filling in your blank coupons, all that's left to do is present them to your loved one.
They're sure to appreciate the thoughtfulness and effort that went into making such a unique and personal gift!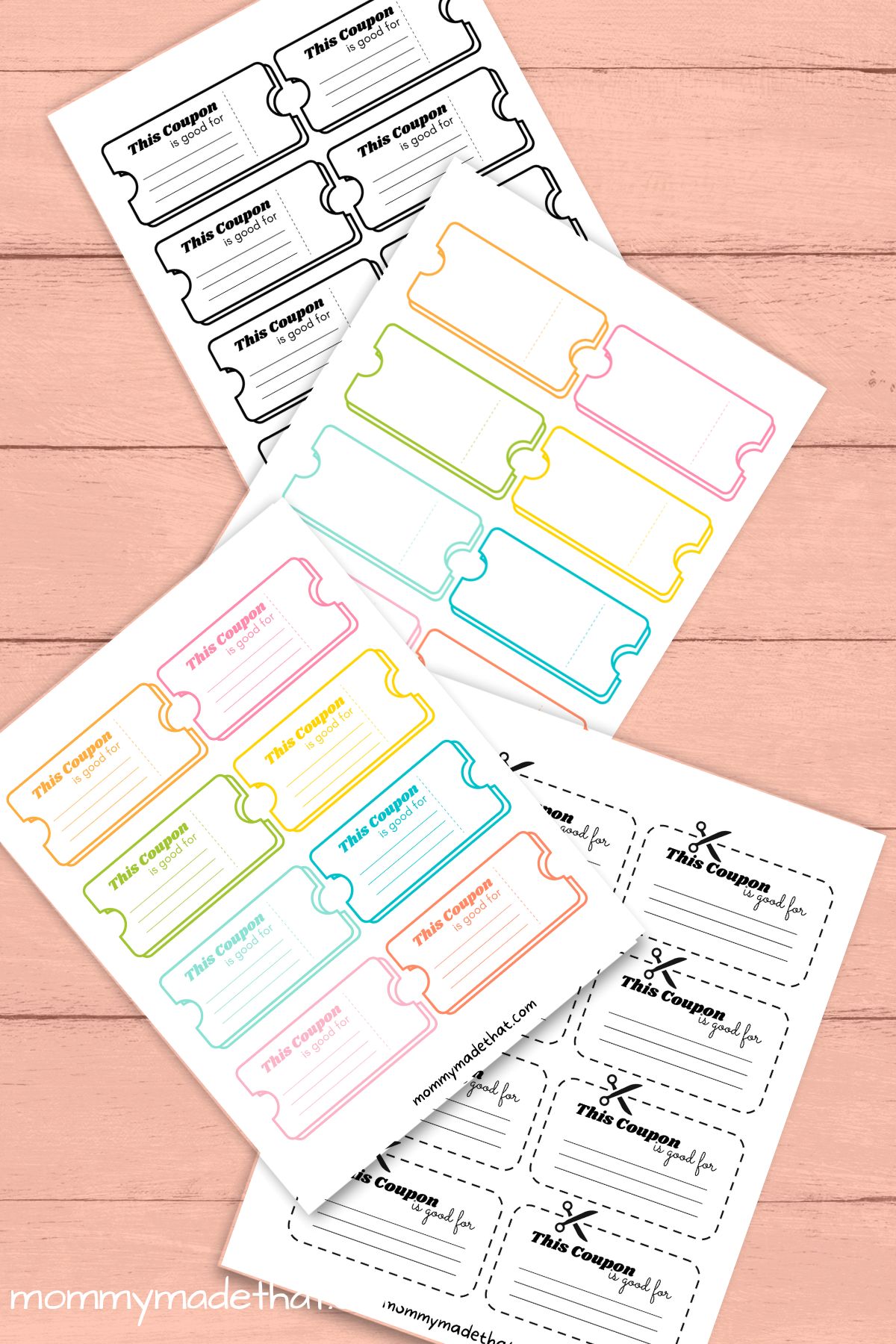 Coupon books are a great way to show your loved ones how much you care.
And with free printable blank coupon templates, they're easy and affordable to make too!
Just gather the supplies, grab the template, print it out on cardstock or heavy paper, cut out the coupons, fill them in with thoughtful gestures tailored specifically for your loved one, and then bind them together (or not!) into a book.
Your loved one is sure to appreciate the thoughtfulness and creativity that went into this unique gift!