Mason Jar Gift Ideas for Christmas
Today we have these amazing Mason Jar Christmas Gifts that are perfect for gift giving this holiday season. Why not try whipping up a few of these awesome gifts in a jar for your loved ones.
Looking for some christmas gift ideas? It's no secret that we love giving mason jar gifts around here.
With so many fun ways to use mason jars, there's no limit on what you can come up with to give something your gift recipient will love.
Everything is so customizable that you can make each gift perfect for the one your giving it to.
Today we are showing you tons of fun ideas for turning mason jars into amazing gifts they'll adore.
DIY Mason Jar Gifts for Christmas
Here are some of our favorite ideas for using mason jars as Christmas gifts.
Friendship Soup in a Jar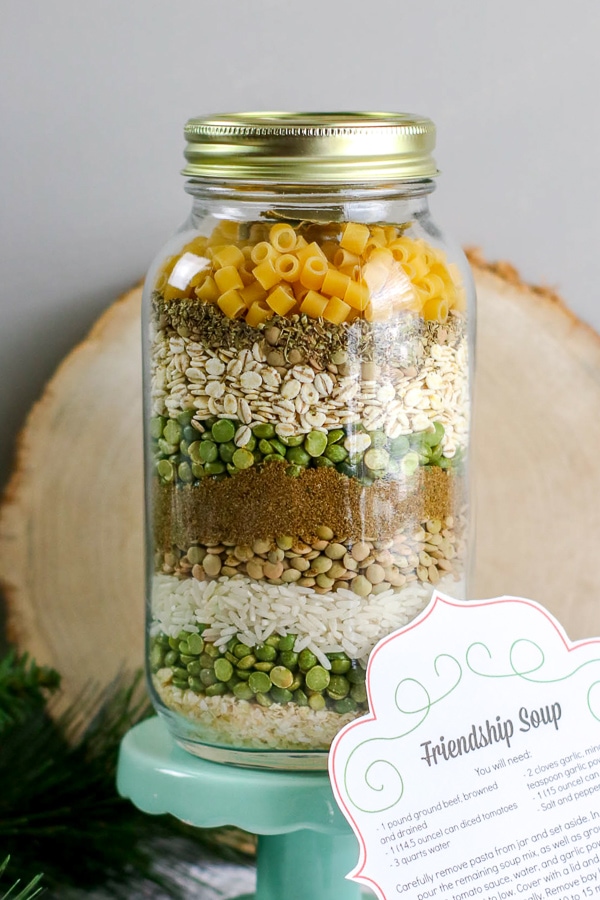 Nothing says friendship, more than this friendship soup mix in a jar.
The idea behind friendship soup is an Amish tradition of sharing your favorite homemade recipes in a way that your friends and loved ones can enjoy in their own homes.
It's a sweet Christmas gift that's inexpensive, but looks great and tastes just as good!
Our recipe even comes with a free printable with all of the instructions so gifting the soup is super easy with just the soup ingredients, a mason jar, and the printable Christmas tag.
M&M Cookie Mix in a Jar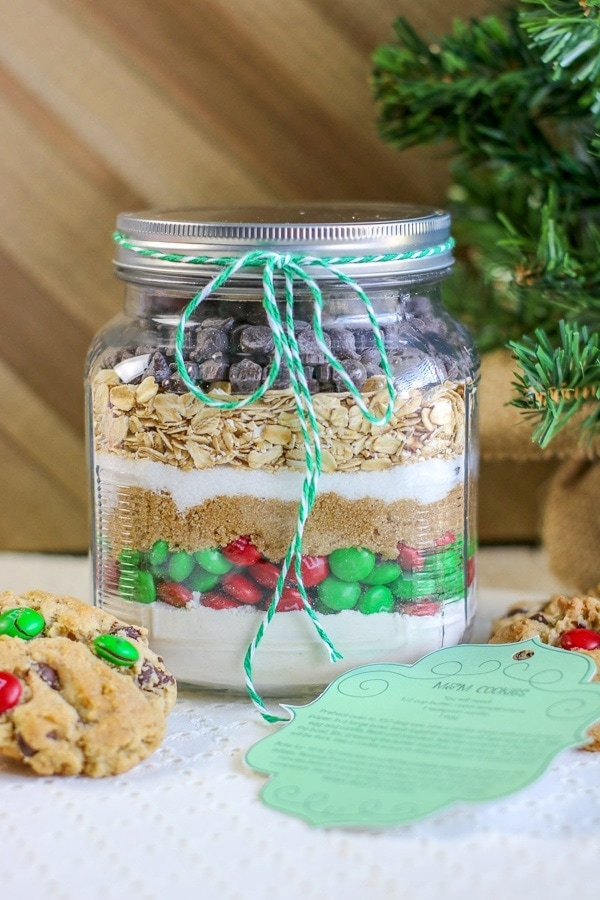 Everyone loves cookies at Christmas time!
Why not try giving the gift of fresh homemade cookies!
Our M&M Cookie mix in a jar recipe makes it so easy to get fresh baked cookies at home in no time.
We even show you how to layer the cookie mix so it looks pretty and festive as a Christmas gift.
Who wants to give an ugly gift??
And, just like many of our other recipes in a jar it comes with a free printable gift tag that doubles as instructions!
Painted Mason Jars filled with Goodies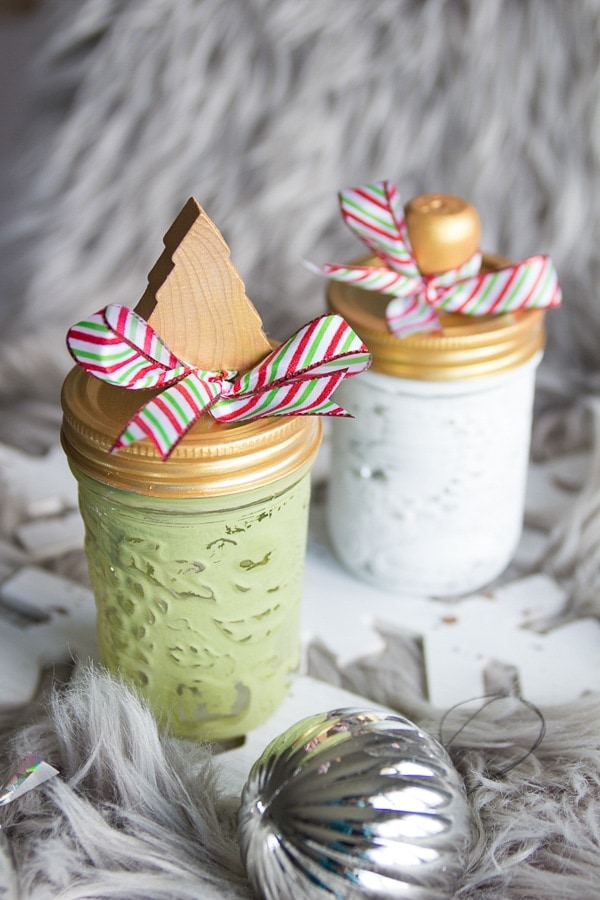 One of our favorite mason jar Christmas gifts are these Christmas painted mason jars.
Using some pain on the outside of textured jars and a bit of sand paper, you can create a lovely finished jar that has a fun shabby chic look.
Not only do they make gorgeous holiday decor but they serve an alternate purpose as a gift holder.
You can fill them with yummy treats or a gift card to their favorite place. They make pretty Christmas decor your giftee can use year after year.
DIY Stove Top Potpourri Mix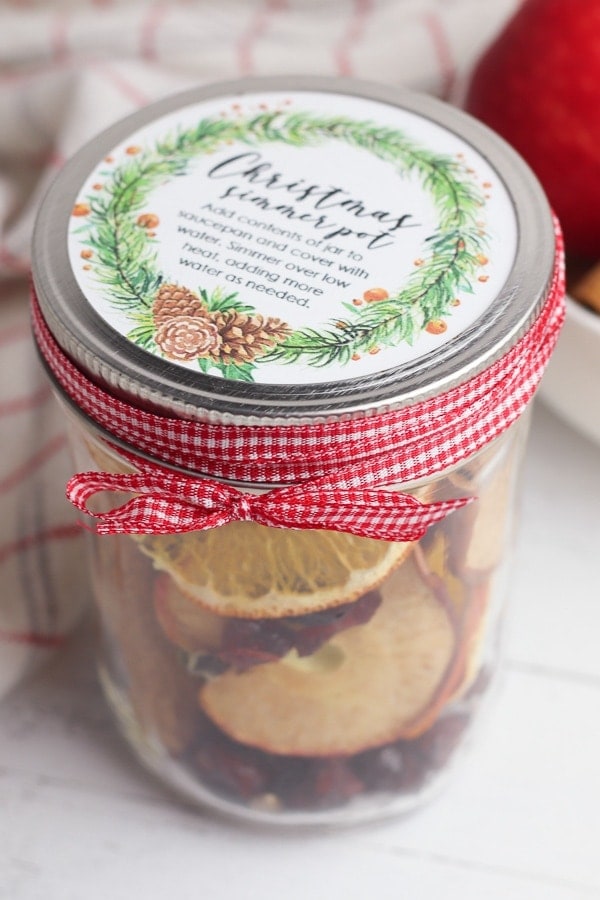 Another fab Christmas gift idea is giving a handmade stove top potpourri gift.
This is actually way easier to make than it sounds.
Simply dry a few pieces of fruit in the oven, add in some seasonal spices like cinnamon and nutmeg.
The gift receiver can then boil the ingredients on the stove top and fill the house with the smells of Christmas cheer.
Plus you can make several at a time so you can have several gifts to give to loved ones.
Our version comes with a cute printable gift tag too that you can place in the mason jar lid. Then finish it off with a festive bow.
One year we batch made several of these and handed our our gift jars to coworkers.
Mason Jar Lid Ornaments
If you're into creating mason jar crafts, chances are you have a few extra mason jar lids lying around. Why not turn them into some cute DIY Christmas ornaments.
We've got a tutorial on turning mason jar lids into cute Christmas ornaments.
These wreaths are made by wrapping the lids with tine and adding buttons and ribbon.
Then they can be hung up on the Christmas tree, used as a gift wrapping accent or hung up on the wall in a set.
DIY Poinsettia Mason Jar
This DIY poinsettia mason jar is a super cute way to give a gift.
The Christmas flowers are made from felt and would add a cute touch of whimsy to any type of mason jar.
Fill it the jar with goodies or one of the ideas above and you're good to go.
Shimmering Bath Salts
This next Mason Jar Christmas gift is one of my favorites on the list.
It's just so pretty!
These shimmery bath salts would make an excellent gift for someone who likes a bit of pampering.
Plus the Christmas theme is too cute. Gold, Frankincense and Myrrh!
This kind of gift just feels good to give to those you know who love taking baths and can use a little self care.
Smore Mix in a Jar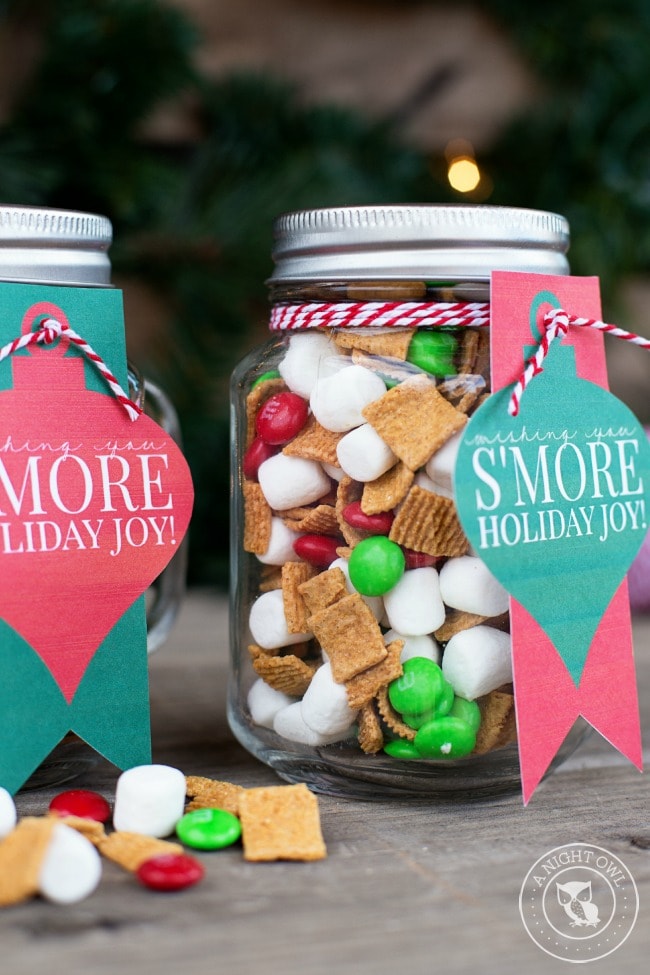 These Christmas mason jars are filled with a homemade smore snack mix.
It looks so colorful and cheery inside a mason jar.
What a fun and easy gift.
You can even grab the free printable gift tag over at the post!
DIY Russian Tea Gift with Personalized Photo
This jar is filled with a fun and unique gift idea. I love how they decorated the mason jar with a beautiful burlap, fake cranberries and a festive cinnamon stick.
Adding a personalized photo to your mason jar as a gift tag.
This Russian tea mix in a jar has a sweet gift tag made from a family Christmas photo.
Such a cool way to give out a Christmas gift instead of a holiday card.
Apple Cider Spice Mix
This is a fantastic gift idea!
Why not make a homemade spice mix to turn apple juice into apple cider.
Simply fill a mason jar with the homemade mix and you have a lovely gift.
They can use the mix to make apple cider or mulled wine.
The creator of this recipe suggests filling a mason jar with the homemade mix, and give as a gift with a pretty spoon and a bottle of wine or apple juice.
Stacked Snowman Mason Jar Gift
These adorable mason jars stacked into a snowman are so cute!
Fill the jars with treats like candy and hot cocoa mix, add a handmade scarf and top hat and your good to go!
They filled their mason jars with Hot Cocoa mix favorites!
One jar contains the hot cocoa mix, while the other two have peppermints and marshmallows!
The tutorial has lots of good tips for making this DIY gift.
Espresso Cocoa
This particular gift sounds amazing to me! But I'm a huge coffee lover.
So this espresso cocoa recipe is right up my alley.
This DIY hot cocoa mix is made with powdered espresso and has lots of yummy chocolaty goodness added in it.
You can follow the recipe and layer your ingredients in a mason jar and give this grown up hot chocolate to you're own coffee lover in your life.
Mason Jar Snow Globe
This gift idea is an excellent way to give out gift cards, while still making it cute and personable.
They turned a Mason jar into a snow globe! I think some of the gift cards available now are so cute.
They'll look great amazing cased into a glittery snow globe.
Mason Jar Candle Holders
I love these fall decor candles! They'd make handmade gifts for Christmas.
If you aren't wanting to go with the fall look, you could use any shape to create the same look with a different feel.
You could grab out of our Christmas tree templates and resize them to make a gorgeous Christmas themed jar or our snowflake templates to create a winterized candle.
No matter what shape you choose, they'll make great candle holders.