DIY Peppermint Sugar Scrub Gift
Today we are making a peppermint sugar scrub! It's a wonderful body scrub that's invigorating, leaves your skin silky smooth, smells great and makes a fantastic gift!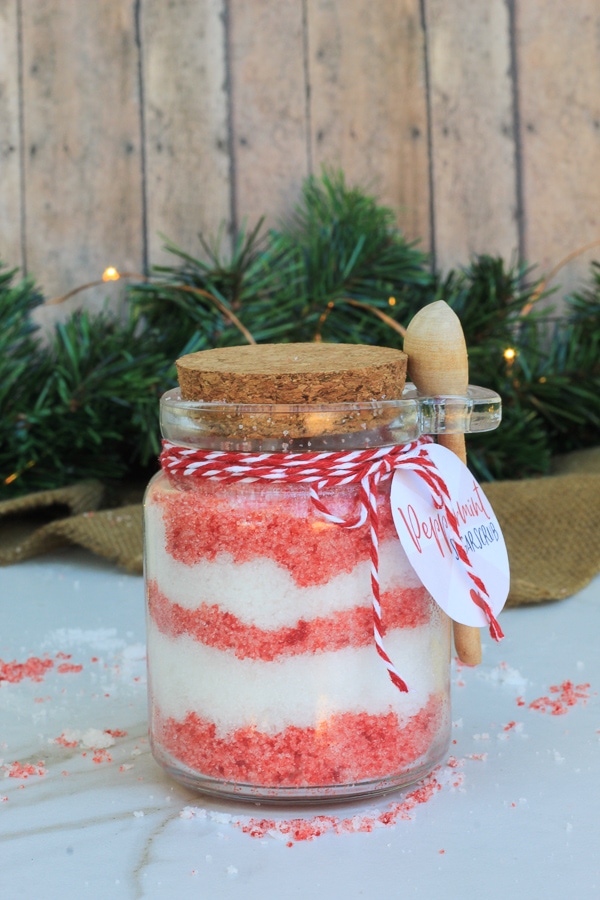 Peppermint sugar scrub is so easy to make and makes a wonderful mason jar gift.
We are whipping up our sugar scrub using only a few ingredients.
Sugar, some coconut oil, and peppermint essential oil.
We also used a bit of food dye, but only because we are turing our scrub into a Christmas gift.
So a few red stripes seemed only fitting for a peppermint scrub.
This post may contain affiliate links. This means if you click a link and make a purchase, we may earn a commission. You can read our full disclosure here.
Supplies Needed for Peppermint Sugar Scrub
1 Cup of sugar
3 Tablespoons of coconut oil
Peppermint essential oil
Red food dye (optional)
Mason jar or reusable container
How to make Peppermint Sugar Scrub
This basic sugar scrub recipe is really easy to make.
This is partially why it makes a great gift!
You can also tweak it to fit your needs and tastes.
We'll give you a swapping list you can look at at the bottom if you want to adjust the recipe.
Step 1: Mix the Sugar and Oil
Start by mixing your sugar with the coconut oil.
I suggest adding in 1 tablespoon at a time until you reach a texture and consistency you like.
Once your sugar scrub is the texture you want, add a few drops of peppermint oil.
This is a situation where more isn't better. A few drops are enough.
Too much will make the scrub uncomfortable to use and way to minty.
Step 2: Coloring the Sugar Scrub
Now divide your peppermint scrub in half, and place into two separate bowls.
Add some of the red food dye to one of the bowls of sugar.
Mix the dye in well. You can use a fork but I found that mixing the coloring using my hands to massage the sugar worked better.
Now you should have 2 bowls, one of white sugar scrub and one of red sugar scrub.

Step 3: Layering Your Gift
Now that you have your two colors of sugar ready, it's time to layer your scrub to look like peppermint!
First grab your mason jar.
We used a fun mason jar that has a handle with it, because it's super cute AND it's super useful.
The spoon keeps the scrub clean and dry, which helps it last longer.
Add a thick layer of the red sugar to the bottom of your mason jar.
Pack it down lightly with your fingers or a spoon.
Step 4: Continue Layering
Once your red layer is set, add a layer of white sugar on top of the red layer, packing lightly.
Continue alternating the colors until your jar is full of the peppermint sugar scrub.
Step 5: Seal your Jar and Label
When your jar is full, cap of your mason jar and tie with a pretty ribbon or string.
Then add a label to your scrub.
Free Peppermint Scrub Labels
If you are giving these to loved ones as gifts, you should download and print out free peppermint sugar scrub labels!
Head over to our crafty resource library and just click and print!
We made them look like little peppermints and you can choose to use the ones with hearts or the ones with poinsettia flowers.
Things to Know about the Peppermint Sugar Scrub
And just in case you're worried about a few things, here's some answers to a few frequently asked questions about sugar scrubs like these.
Can I Use an Oil Other Than Coconut Oil?
The cool thing about DIY sugar scrub recipes is that you can totally customize them.
Including what kind of oil you use!
I like the coconut oil, but you can use almond oil, grapeseed oil.
Really any body based oil would work great.
One thing to take into consideration though is the smell.
For instance, I may avoid olive oil if giving my scrub as a gift, as the olive oil can smell a bit weird with the peppermint.
Can I use peppermint extract in the sugar scrub?
Yes, you can substitute peppermint extract instead of the peppermint essential oil.
It's perfectly safe. (As long as you don't use too much!)
Some people may even prefer the scent of the extract over the essential oils.
However, I feel like the benefits aren't as strong with the extract as it is with the essential oils.
Will the Food Dye in the Sugar Scrub Stain the Bath Tub?
Nope! The food dye once mixed in with the sugar scrub is diluted enough that it shouldn't stain the bathtub.
I tried it out myself just to make sure too!
No stains.
How long will a homemade sugar scrub last?
The scrub should last a few months when stored properly.
You can store it in the fridge to last longer.
Just make sure water doesn't get into the sugar scrub. It can make it mold up quickly.