This paper sunflower craft is made from construction paper and real sunflower seeds! It's a fun art project for preschoolers and kindergarten kids.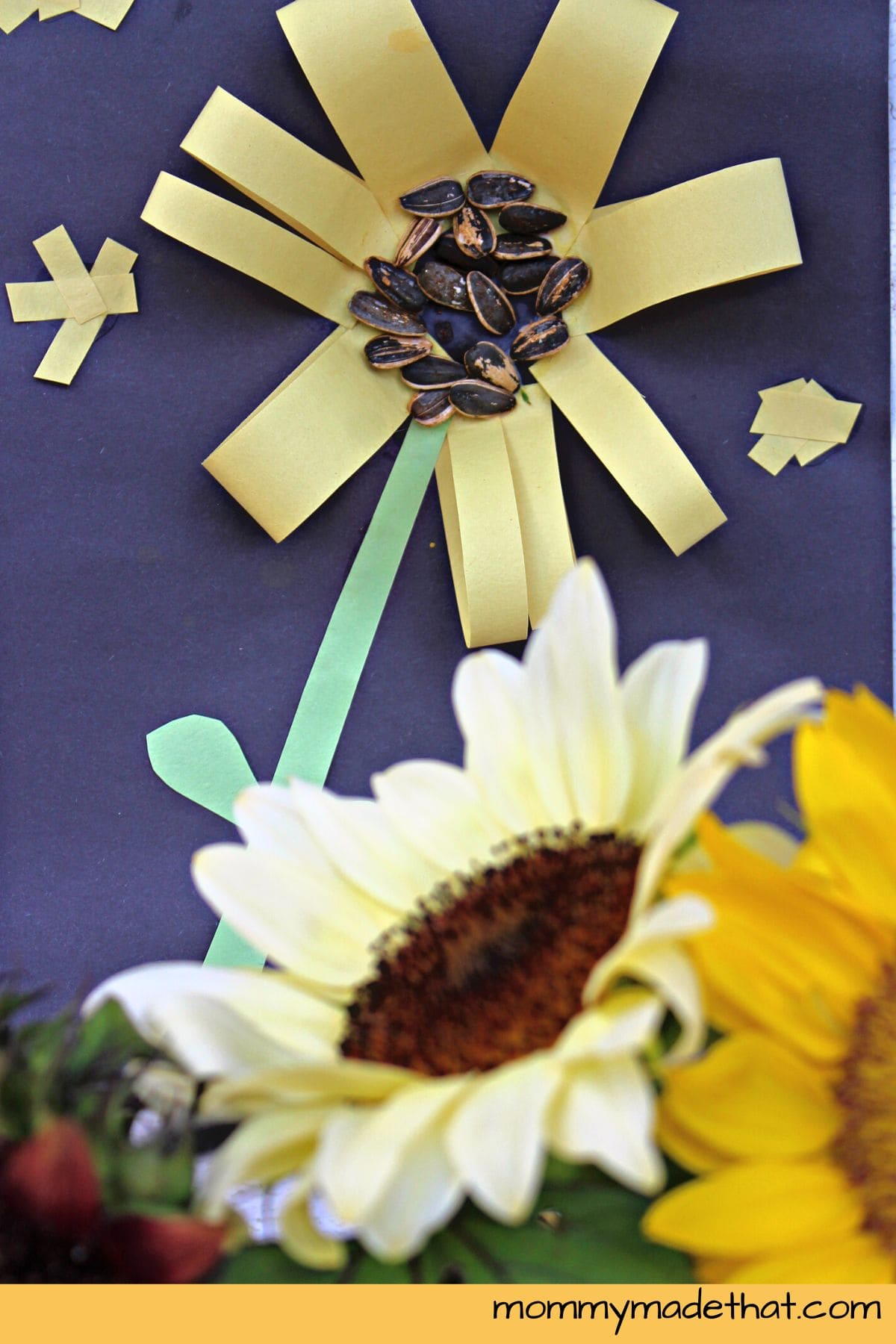 Hey there, crafty friends! Are you ready to create something super fun and exciting with your little ones?
Introducing our Paper Sunflower Craft that uses real sunflower seeds in the center! This is a perfect spring craft for kids.
Made from construction paper, this is the perfect activity for preschoolers and kindergartners to dive into. After all, I don't know any kids who don't love big paper flowers.
Get ready to unleash their creativity and brighten up their day with this adorable craft project! Let's get started, shall we?
Be sure to check out the rest of our paper flower crafts for more floral fun like our printable sunflower craft template and our paper flower wreath.
Materials
Sunflower Seeds: We used real sunflower seeds, because we had them on hand and it made it feel more fun. Of course you could cut up squares of black construction paper to use as the seeds instead or rolled up black tissue paper.
Colored construction paper: We used green, yellow for the sunflower blue and black for the background.
You'll also need some basic craft supplies like:
Scissors
White school glue
How to Make the Paper Sunflowers
Here's a step-by-step guide to help you and your child bring this vibrant sunflower to life! Let's dive in, shall we? 😃
Step 1: Cut Yellow Paper Strips
First, invite your child to cut long strips of yellow paper. This will be the petals of our sunflower. Aren't they already looking lovely?
Now, fold the paper strips in half and cut each strip a second time. This will make the perfect petal size for our craft!
Step 2: Cut the Stem and Leaves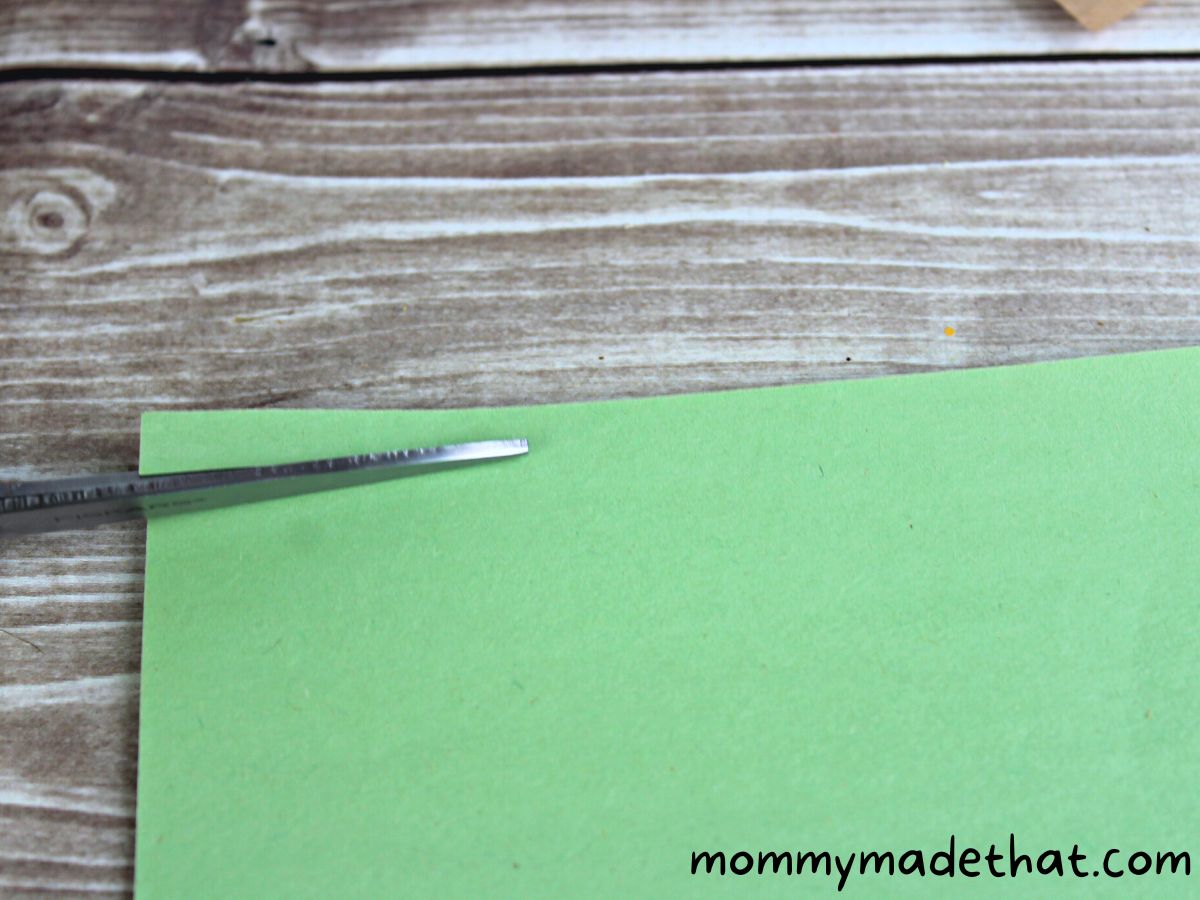 Next, have your child to cut a stem and leaves from the green paper. This will give our sunflower some extra charm!
Step 3: Create the Sunflower Head
Grab your black or blue construction paper and make a circle of glue right in the center. This will be the head of our sunflower. Exciting, isn't it?
Step 4: Arrange the Petals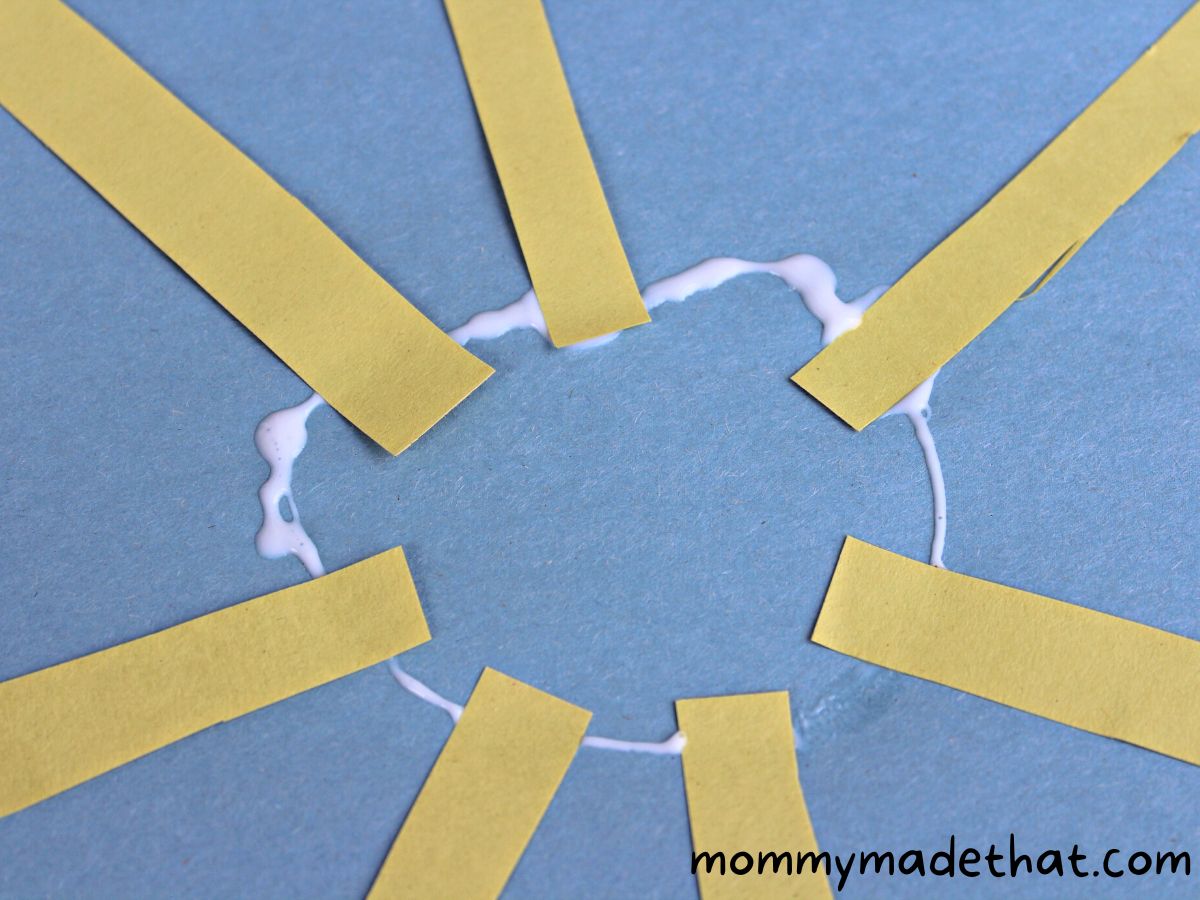 Place the yellow strips of paper around the circle of glue. It's starting to look like a paper sunflower now, right?
Step 5: Secure the Petals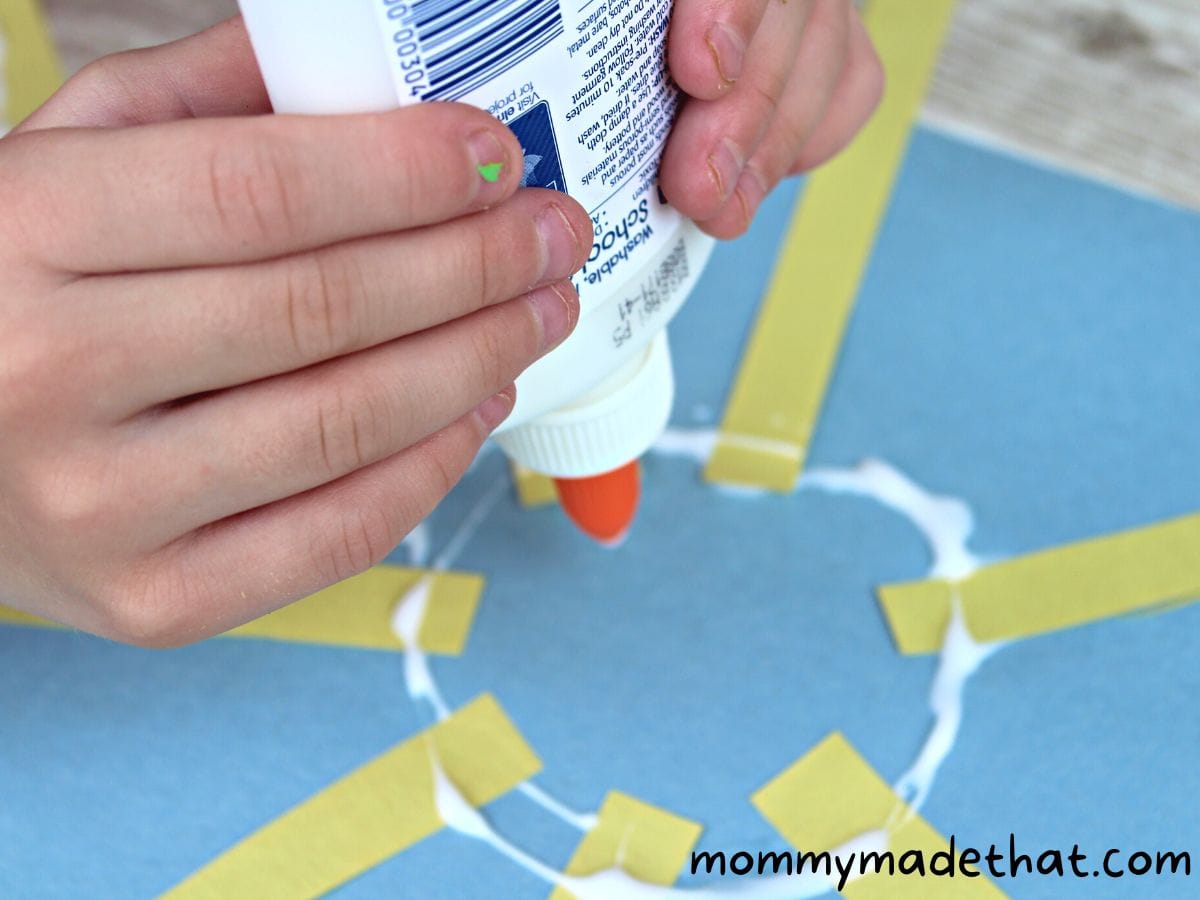 Add a second circle of glue on top of the original circle, covering the newly laid yellow strips of paper. This will keep our petals in place!
Step 6: Loop and Press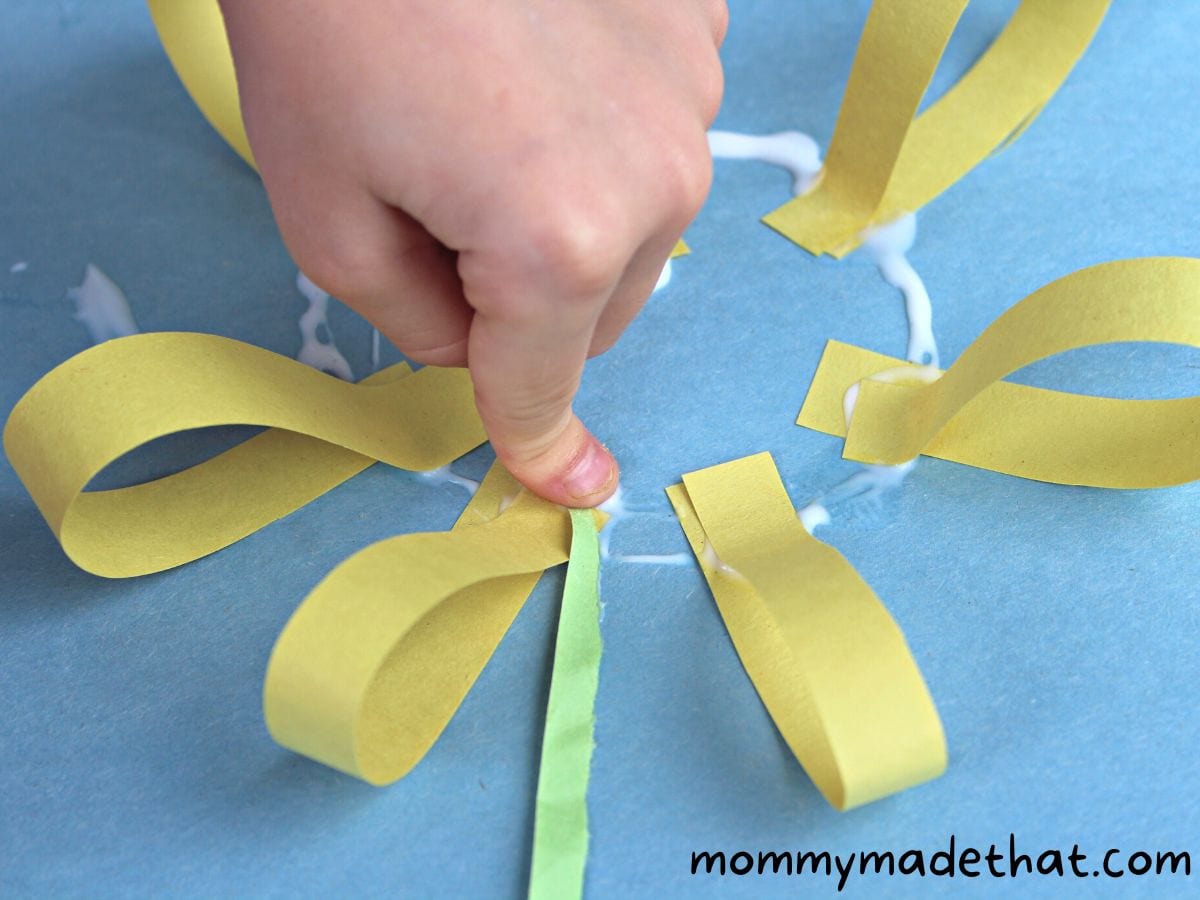 Loop each strip up towards the center, pressing firmly for a second before moving to the next strip.
Step 7: Add Sunflower Seeds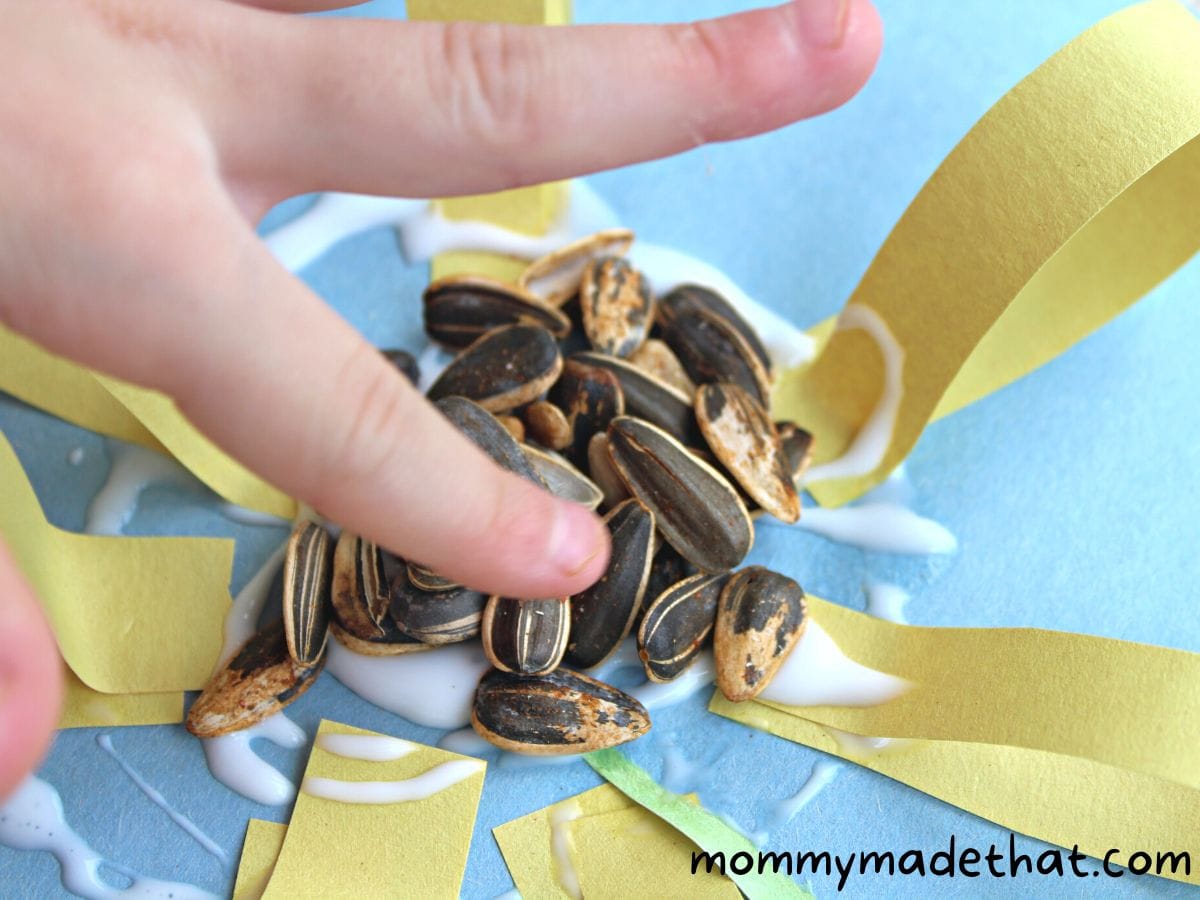 Now for the fun part! Add a generous amount of glue in the center of the yellow paper loops and sprinkle on real sunflower seeds. Spread them out to fill in the center of the flower. How cool is that?
Step 9: Attach the Stem and Leaves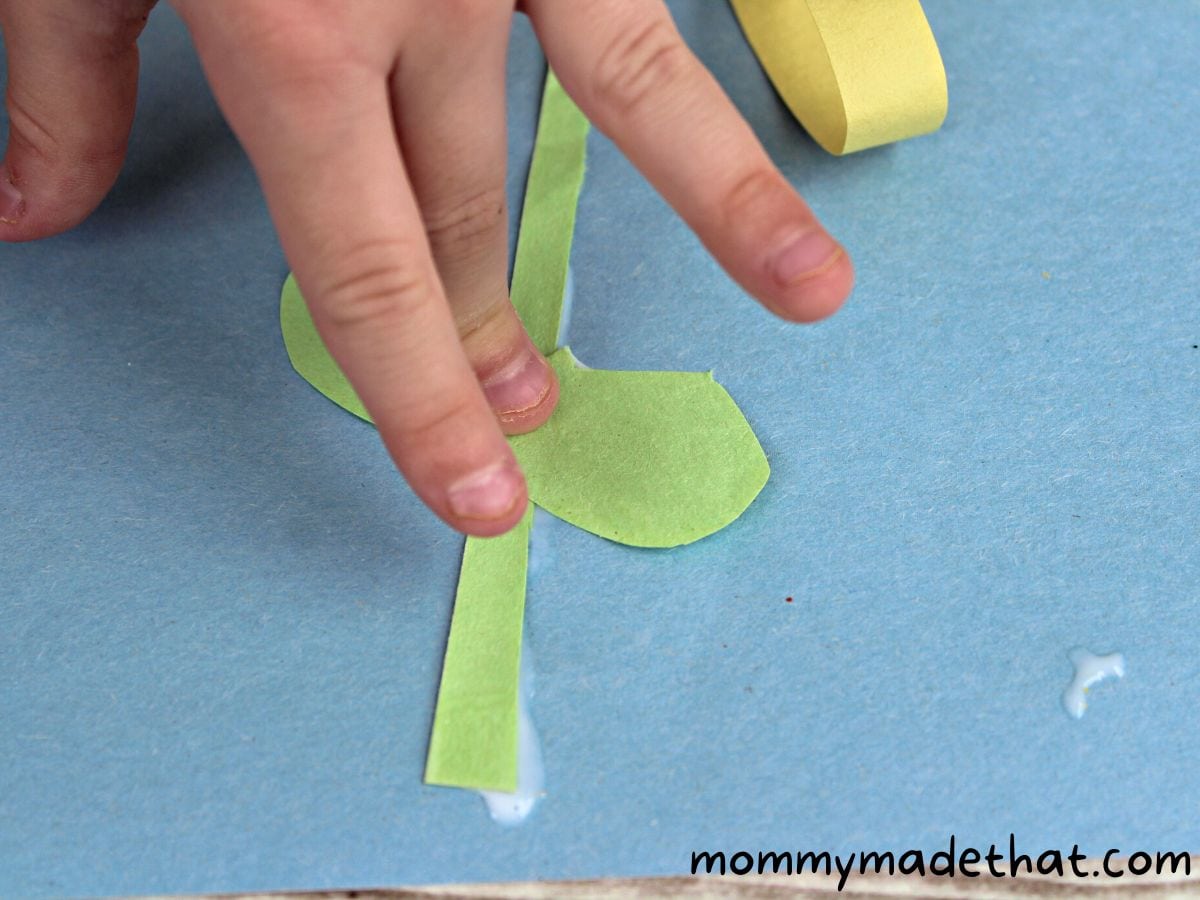 Glue the stem and leaves onto the paper. Almost done!
Step 10: Dry and Display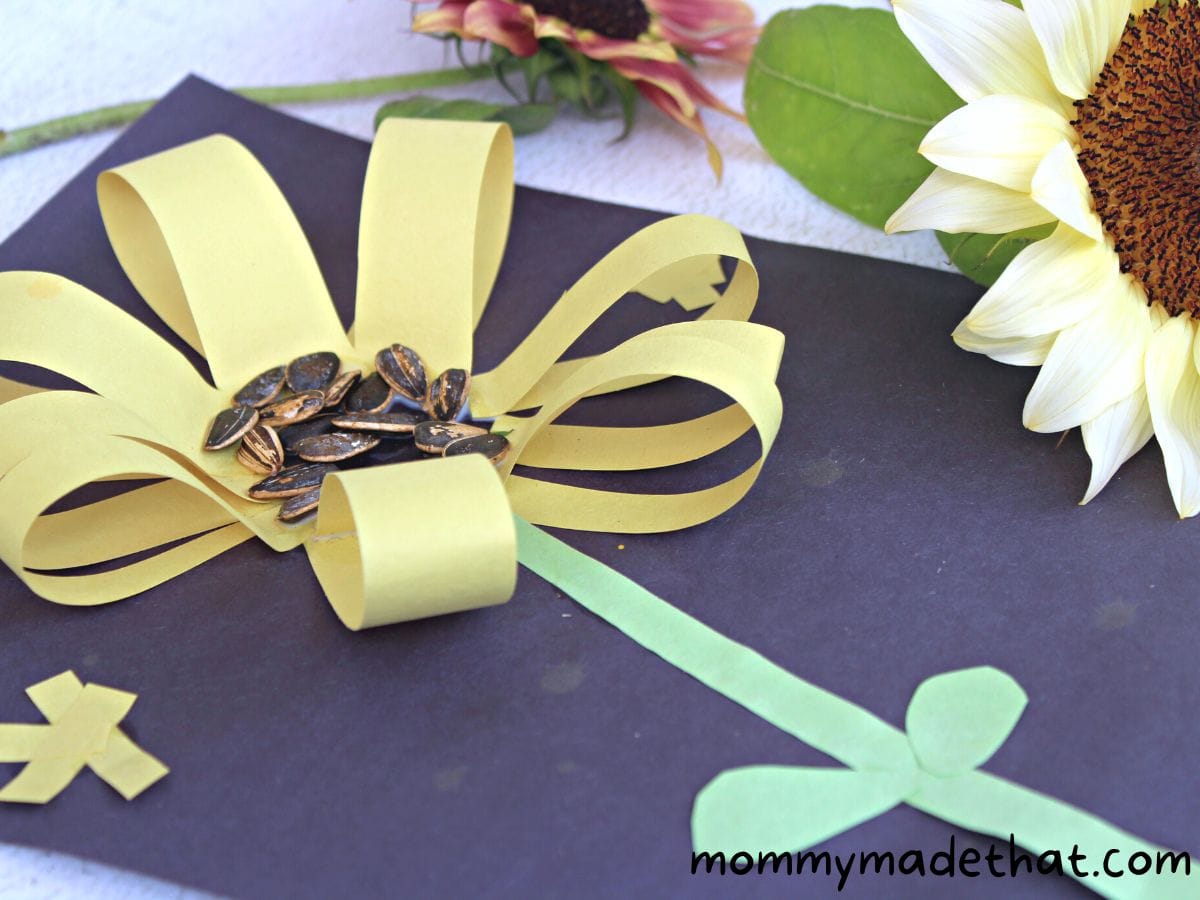 Allow your beautiful Paper Sunflower Craft to dry and then display it proudly for all to see! 🌻
And there you have it, friends! A fun and creative activity to enjoy with your little ones.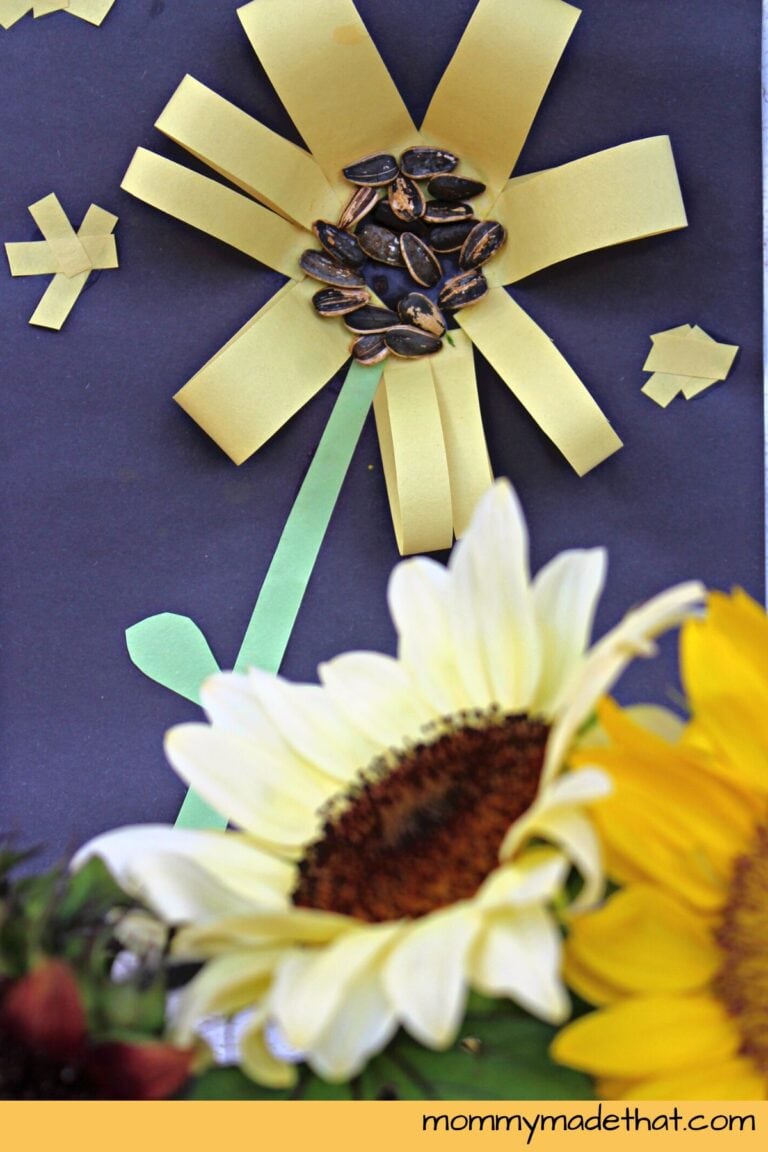 Yield:

1 Sunflower
Paper Sunflower Craft
This paper sunflower makes a great big cheer sunflower made from construction paper and real sunflower seeds!
Materials
Sunflower Seeds
Green, yellow and black or blue construction paper
Scissors
White school glue
Instructions
Cut long yellow paper strips with your child
Fold strips in half & cut again
Make glue circle on black/blue paper (sunflower head)
Place yellow strips around glue circle
Add second glue circle on top, covering yellow strips
Loop & press strips towards center, one by one
Generously glue center of yellow loops
Sprinkle sunflower seeds & spread them out
Cut stem & leaves from green paper together
Glue stem & leaves in place
Let it dry & display your masterpiece!
Notes
You don't have to use real sunflower seeds. You can use cut up pieces of black construction paper, or crumpled paper for a textured center.
And there you have it, friends – a stunning Paper Sunflower Craft that's sure to brighten up your day!
We hope you and your little ones had a blast creating this masterpiece together. Don't forget to share your sunflower creations with us – we'd love to see how they turned out!
Remember, crafting is all about having fun and making memories that last a lifetime.
So, what are you waiting for? Get crafting and explore the endless possibilities of creativity.