Christmas Bucket List (Massive List + Free Printable)
Today we are focusing on our Christmas bucket list! And to help you get started with your own bucket list, we include a few fun free printable bucket lists!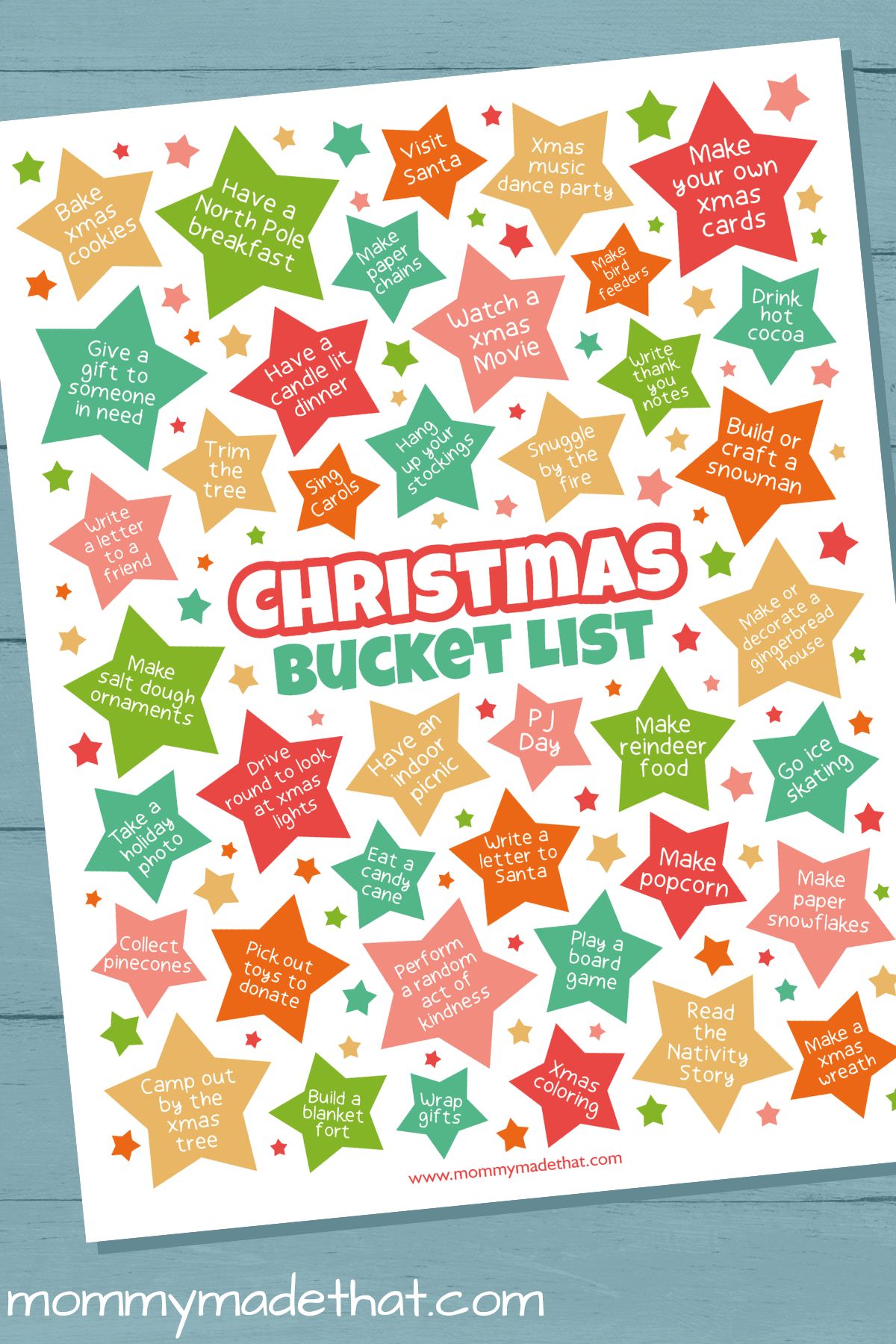 The holidays are a magical time of year, and there's no shortage of festive activities to enjoy with your loved ones.
If you're looking for some Christmas inspiration, look no further than this list of 50 must-do Christmas activities!
From baking cookies to watching holiday movies to visiting Santa, there's something for everyone on this list.
Around here we love a good Christmas printable!
So be sure to grab one of our free printable bucket lists and either use our premade one, or grab a blank one and write in your ultimate list of things to do this Christmas!
Then start crossing items off your Christmas bucket list today!
Our Holiday Bucket List Printable
We have a printable Christmas bucket list to help you make sure you maxamize you experiences this holiday season.
We have a prefilled one with things we are personally aiming for this Christmas. But we also offer a few blank ones in different colors.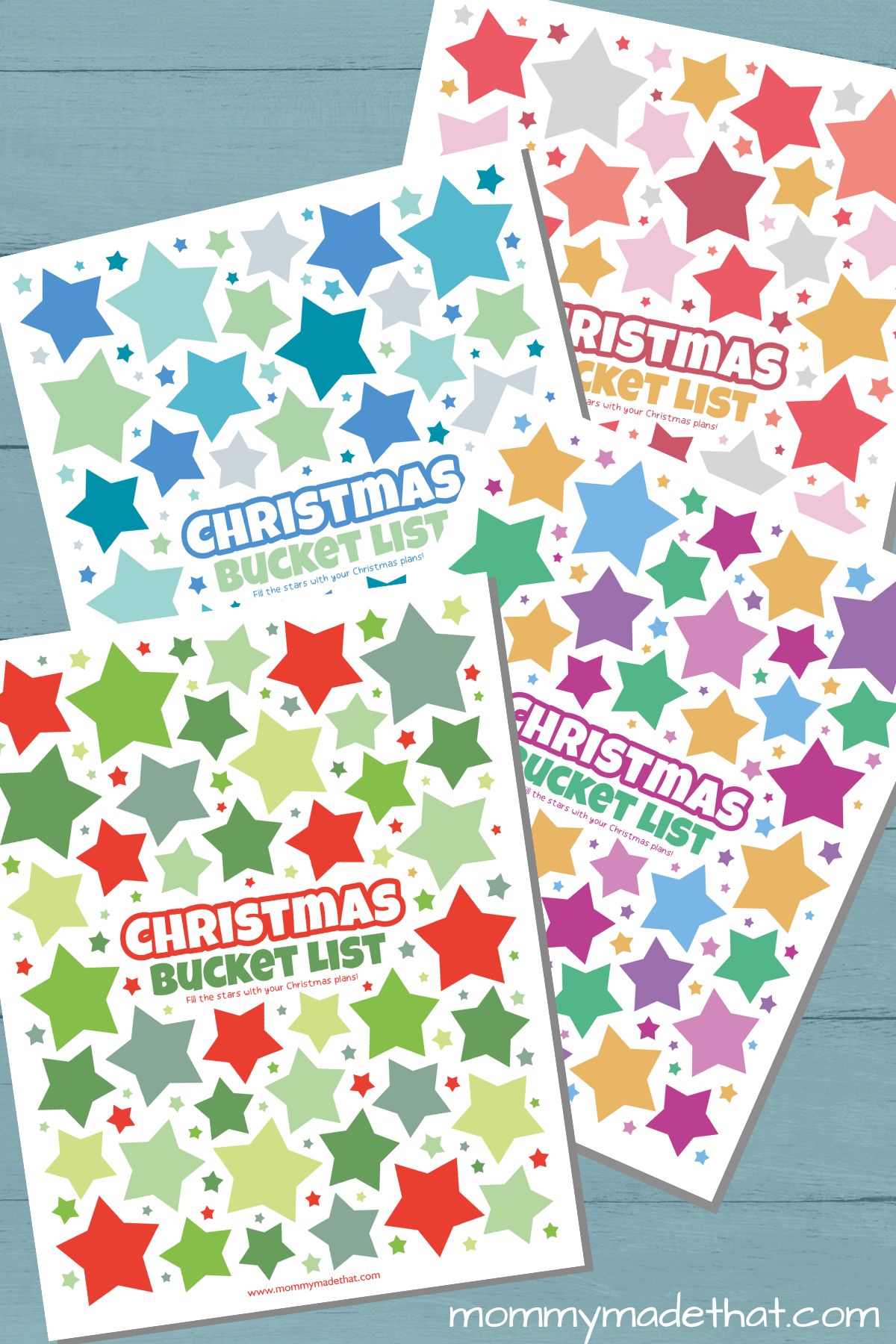 And a blank black and whitek, printer friendly one too!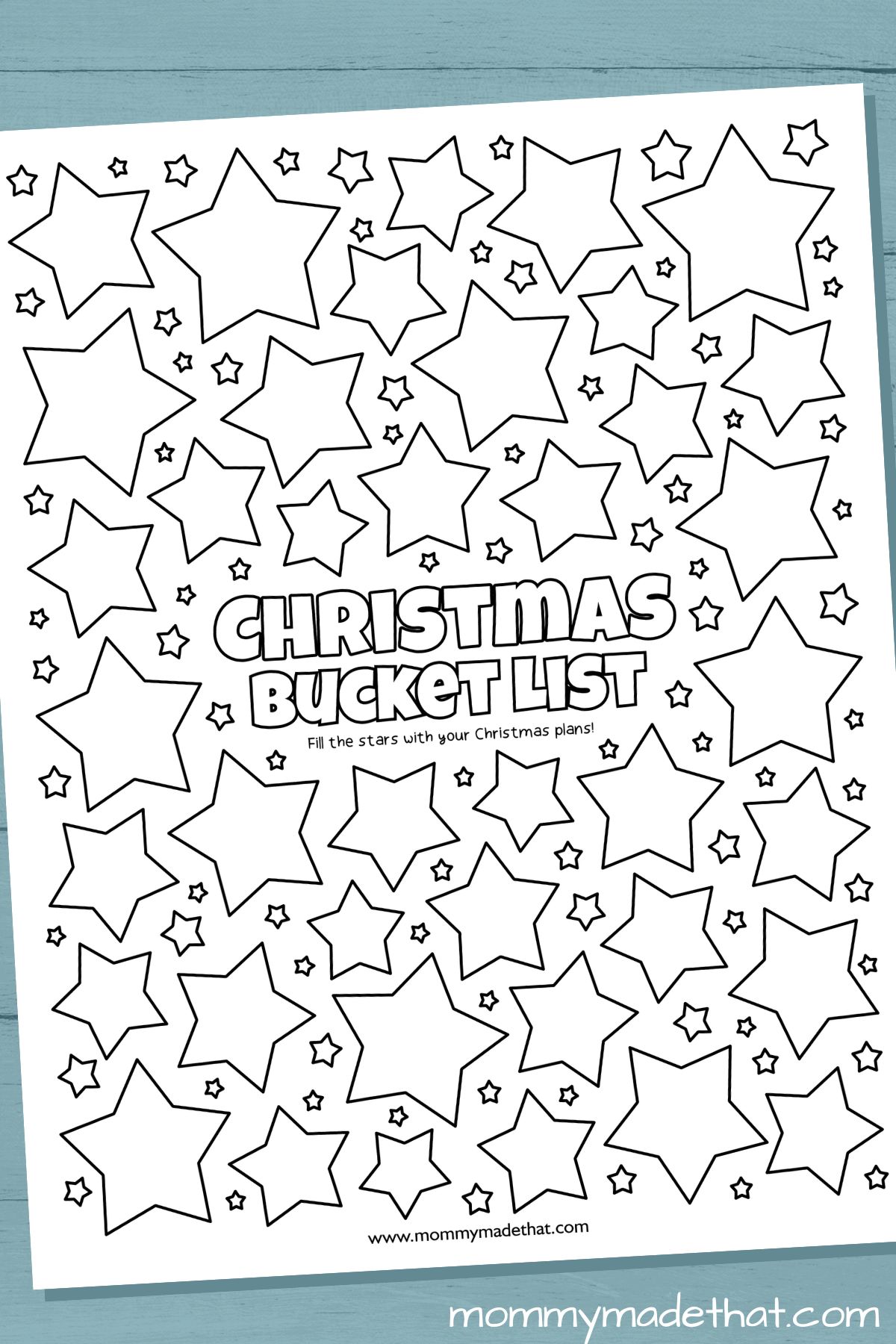 This is great to print out and have kids write down their own ultimate Christmas bucket list out! They can write each activity they'd like to do in a star.
Things to Add to Your Christmas Bucket List
Im all about tailoring a bucket list to things that fit a certain criteria, otherwise you're just setting yourself up for dissapointment.
Whatever things you choose to put on your butcket list should be:
Something you want to do
Something that's feasable
Depending on where you live, what's available around you and your budget some of the things are easier to put on your bucket list than others.
So found some of the best Christmas bucket list ideas and put them all right here. So grab the printable and start adding some of these to your bucket list!
Have a north pole breakfast: Make a cute north pole breakfast one morning. Decorate the table with Christmas decor and serve cute Christmas-themed breakfast items. Pancakes are always an easy go to, and making fun shapes is easy with a squeeze bottle like this.
Host a holiday party for friends and family
Wrap presents
Plan your dream vacation to a winter wonderland destination
Learn how to make a traditional holiday dish from another culture
Make a snow angel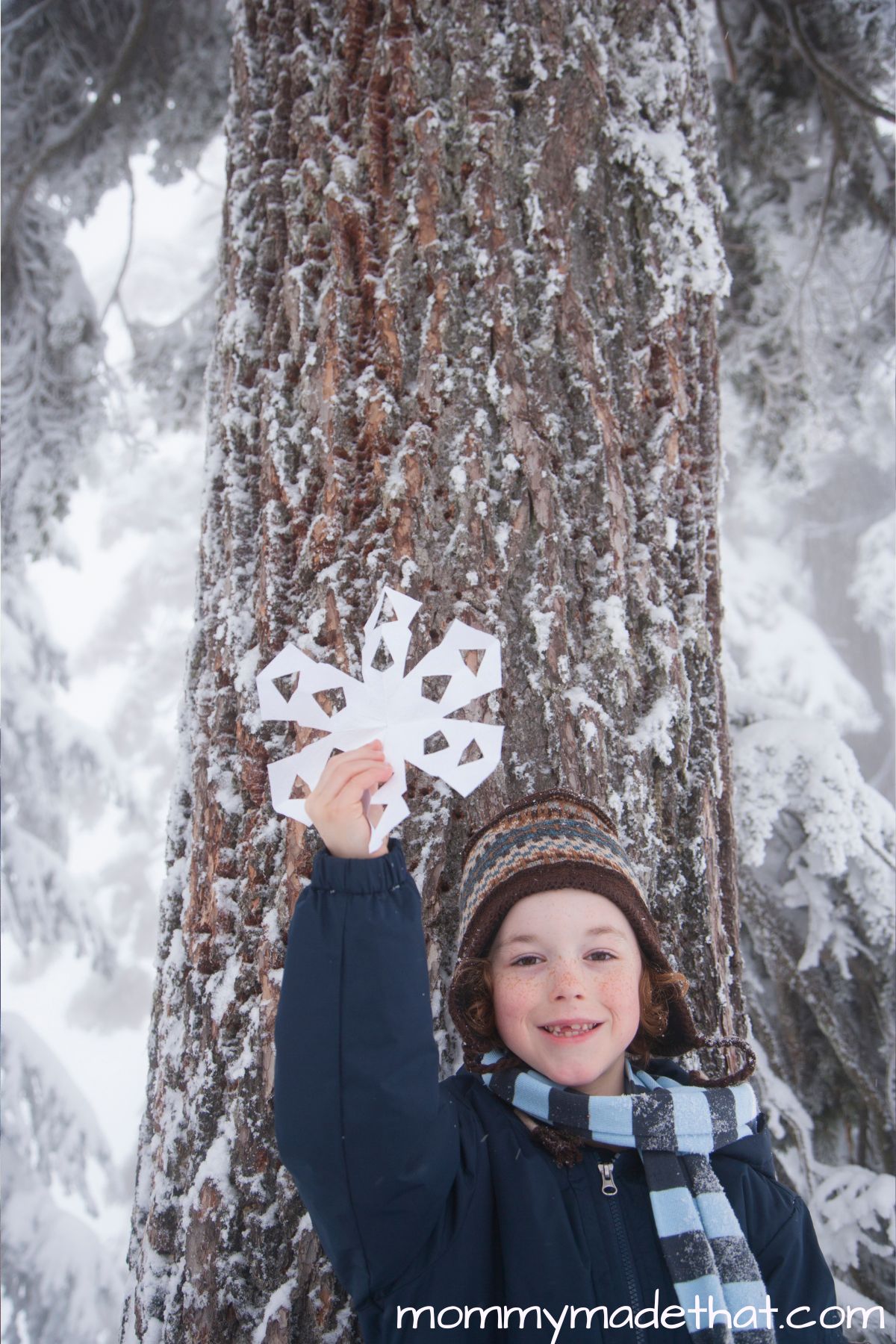 Make paper snowflakes: Whip out the paper and make some snowflakes! Or grab some of our snowflake templates and use them for some snowflake crafts.
Make homemade Christmas cookies
Decorate the Christmas tree: Decorating the Chrismtas tree as a family is a great activity with lasting memories.
Send out Christmas cards
Host or Attend an Ugly Christmas sweater party
Watch a holiday movie marathon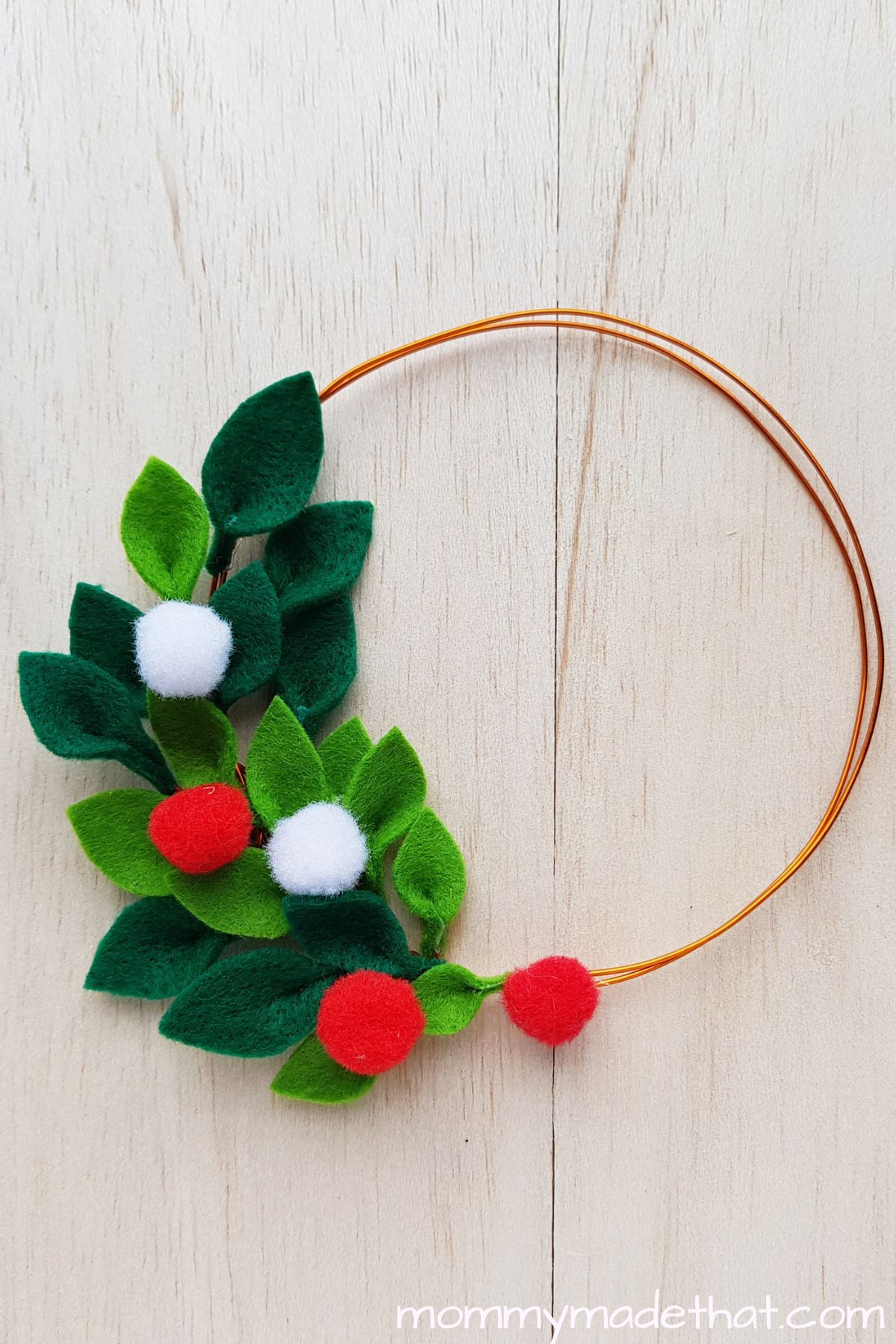 Make a Christmas wreath: Why not make a homemade Christmas wreath? They're a classic Christmas decoration and lots of fun! We have a cute and easy felt leaf Christmas wreath with a free printable template.
Pick out toys to donate: This is great for helping kids to learn empathy and compassion
Build a blanket fort
Pass out Candy Canes to classmates, coworkers or neighbors
Collect pinecones
Send a letter to Santa: We have a printable Santa letter template you can grab to make writing him a letter super easy.
Attend a holiday concert or play
Visit a holiday light display
Play a Board Game: Bored games are a fantastic way to spend time together with family and friends. So grab a few and cozy up for a board game night! You can find a bunch of fun Christmas board games here.
Shop for presents at a local holiday market
Make a donation to a toy drive or food bank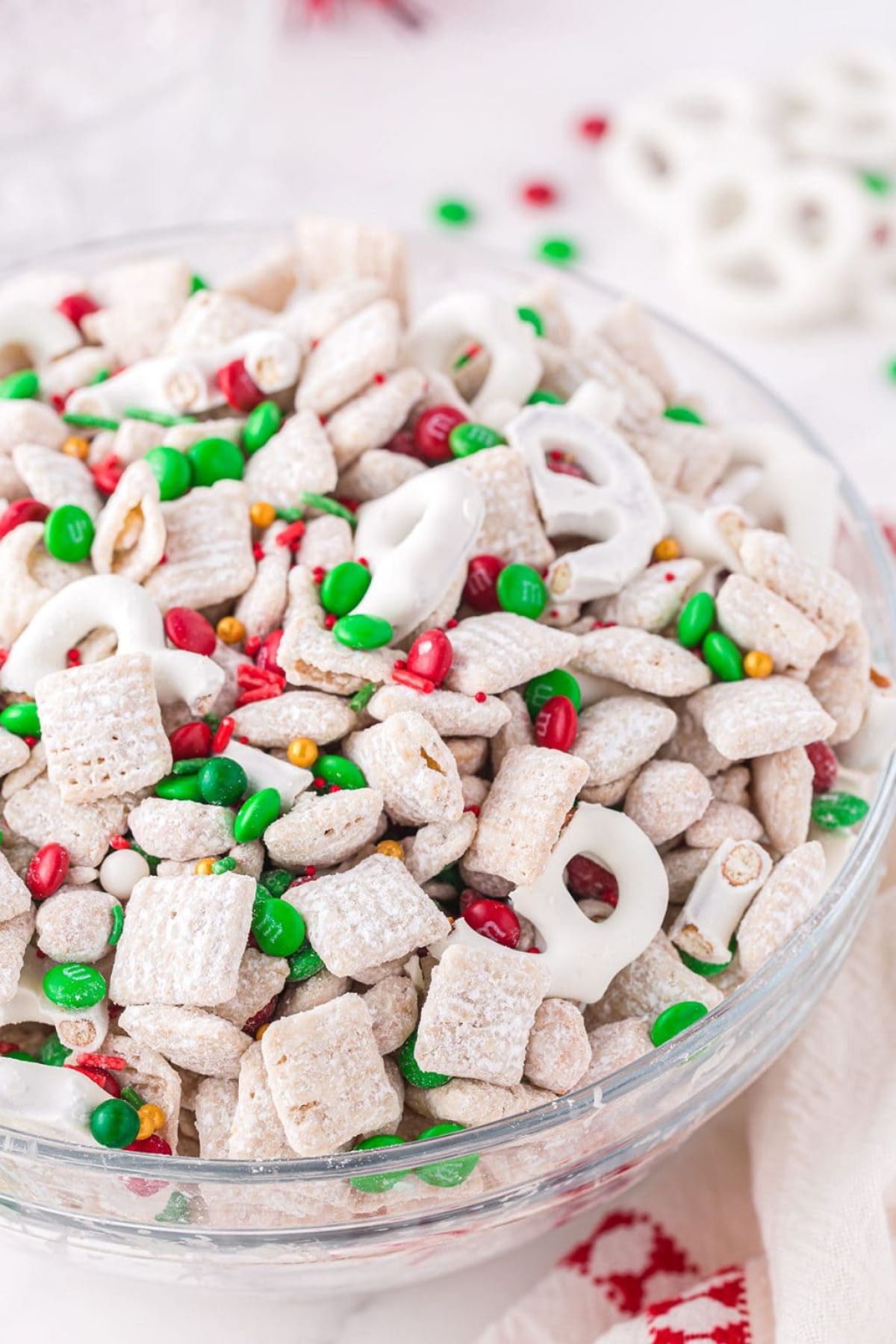 Make Reindeer Food: Reindeer food is special food make just for reindeer! Altough there are some great recipes that are fun for humans to munch on too. Make a big batch, some for you and some to leave out for Santa's reindeer. Here's a fun Reidneer Chow Chex mix.
Write a Letter to a Friend
Give a Gift to Someone in Need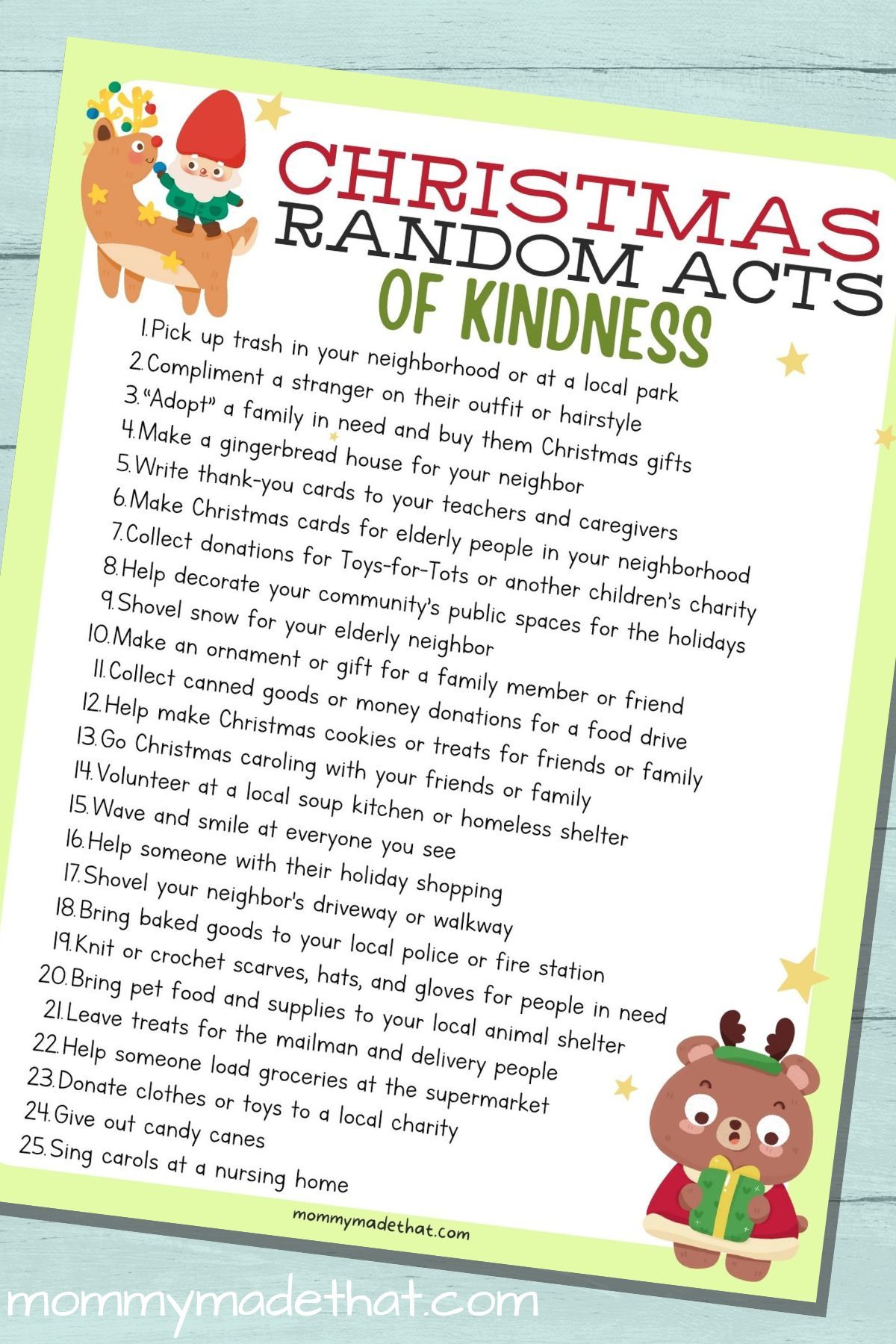 Give a Random Act of Kindness: We have a bunch of great Christmas acts of kindness listed here with a free printable!
Go Ice Skating
Build a Gingerbread House: And if building an edible one seems too complicated, you can grab our printable gingerbread house here. Print it out, color it in and fold it into your gingerbread house.
Make a Snowman: And if there's no snow in your area you can always make some homemade snow. Or make a snowman craft instead.
Snuggle by a Fire: What's more cozy then snuggling up by a warm fire. It makes for a wonderful and lasting Christmas memory.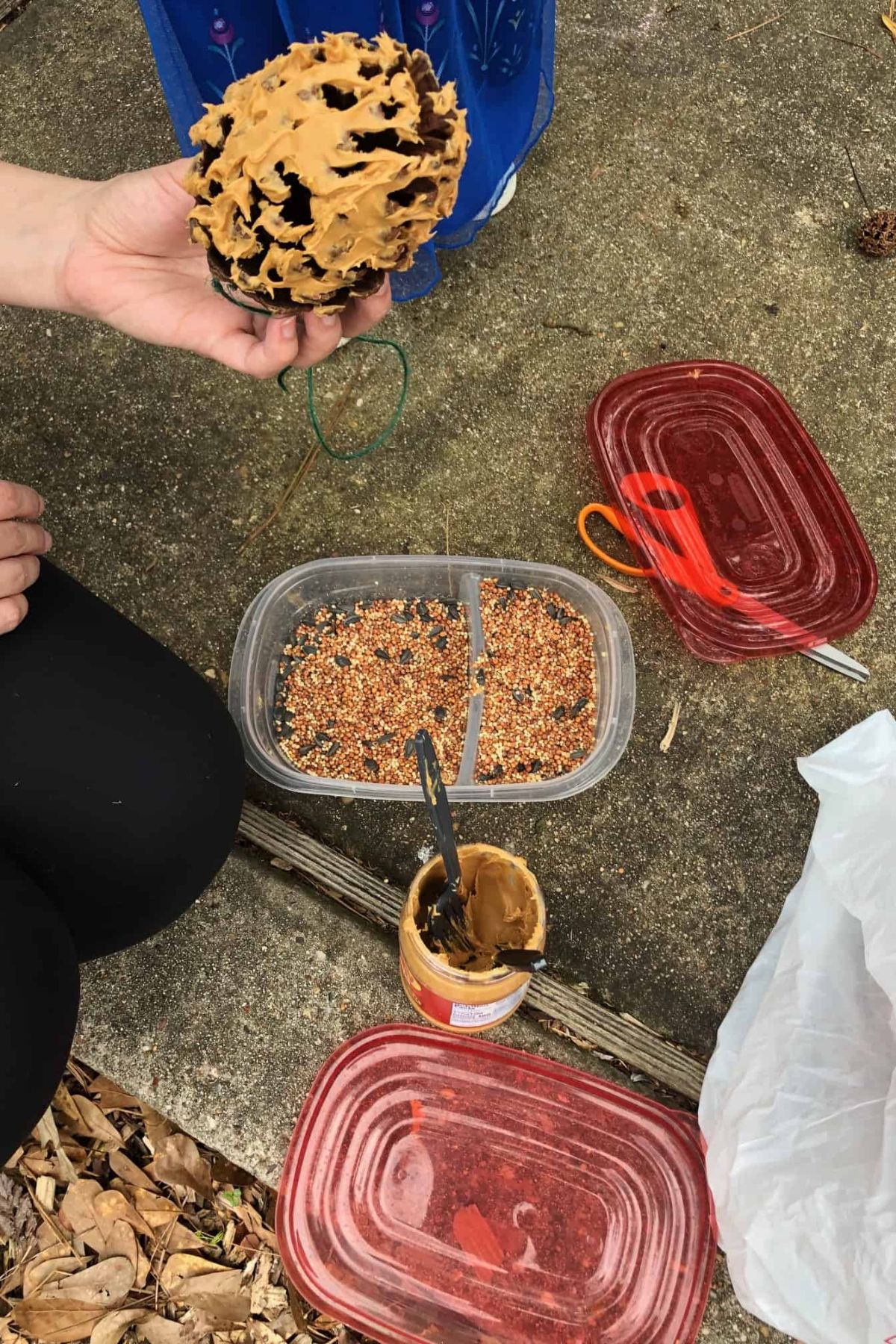 Make Bird Feeders: You can make some winter bird feeders to make sure the local birds eat a good meal! Kids love making these and it's even more fun to watch the birds come eat them! It's a fun preschool bird activity!
Go skiing or snowboarding
Decorate for Christmas: Decorate the house with Christmas decorations! We have some fun printable Christmas ornaments to get you started.
Listen to Christmas music
Be a part of or organize a secret santa
Do a Christmas Scavenger hunt: We have a free printable Christmas scavenger hunt that's perfect for the whole family.
Play Christmas Bingo: We have a super cute printable Christmas bingo game that kids absolutely love!
Visit Santa Claus
Have a Christmas Music Dance Party: Put on your favorite Christmas music and have a dance party in the living room!
Have a Snowball Fight
Go to a Christmas Tree Farm
Drink Hot Chocolate by the Fireplace: We like this Polar express hot chocolate recipe.
Make a Paper Chain Countdown: Making a paper chain Christmas countdown is tons of fun and great for getting excited for
Go Christmas caroling
Catch the nutcracker ballet
Catch a Christmas parade
Hang up your Stockings: Hang up stockings over the fire place or on a wall! Label them with the your names!
Have a big Christmas dinner
Have a Christmas Pajama Day: Spend all day wearing matching Christmas PJs! There are lots of fun matching family ones available.
Have an Indoor Winter Picnic
Eat a Candy Cane
Get or make an advent calendar
Camp Out by the Christmas Tree
Go Sledding
Read the Nativity Story: Or make a fun nativity craft. Of course you could always do both.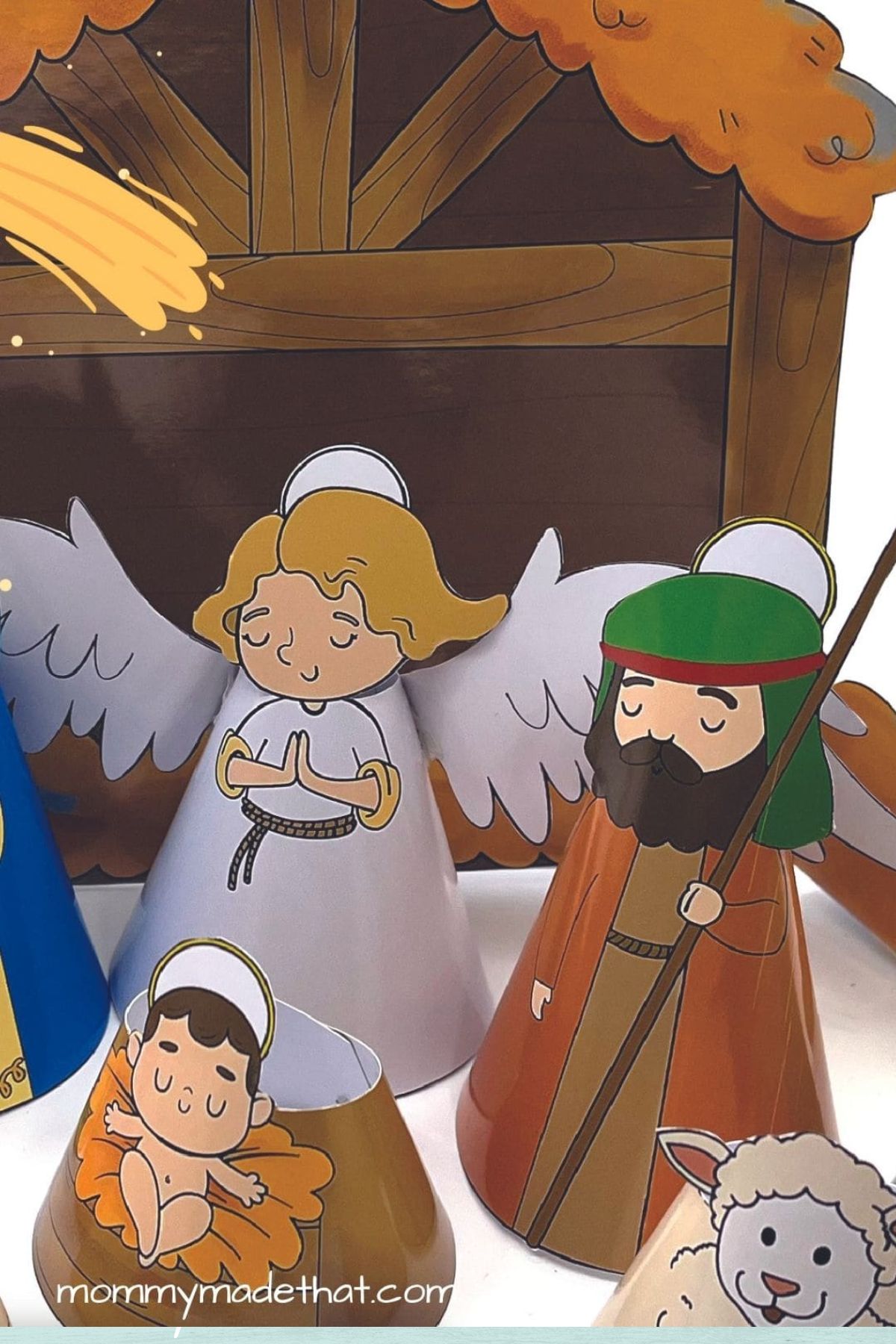 Make a Nativity Scene: There are lots of fun ways to make a homemade nativity scene. We have a printable nativity scene you can grab to create you own easily!
Take holiday family photos
Volunteer at a soup kitchen or homeless shelter
Make Christmas Themed Popcorn: There are lots of fun ways to make popcorn. You can keep it simple and pop a bag of buttered popcorn to snack on and watch your favorite Christmas movies, or whip up a batch of delicious Christmas themed popcorn.
Drive around the neighborhood looking at Christmas lights
Go on a Christmas train ride
Make DIY Christmas stockings
Attend a winter festival
Host or attend a gift swap: Why not host a white elephant gift exchange. Or we have a fun gift exchange printable game that's a fun alternative.
Make homemade soup
Write thank you notes
Make salt dought ornaments
Leave Santa milk and cookies on Christmas eve: Grab our printable Santa placemat which is perfect for setting out milk and cookies on.
Grab the Christmas Bucket List Printable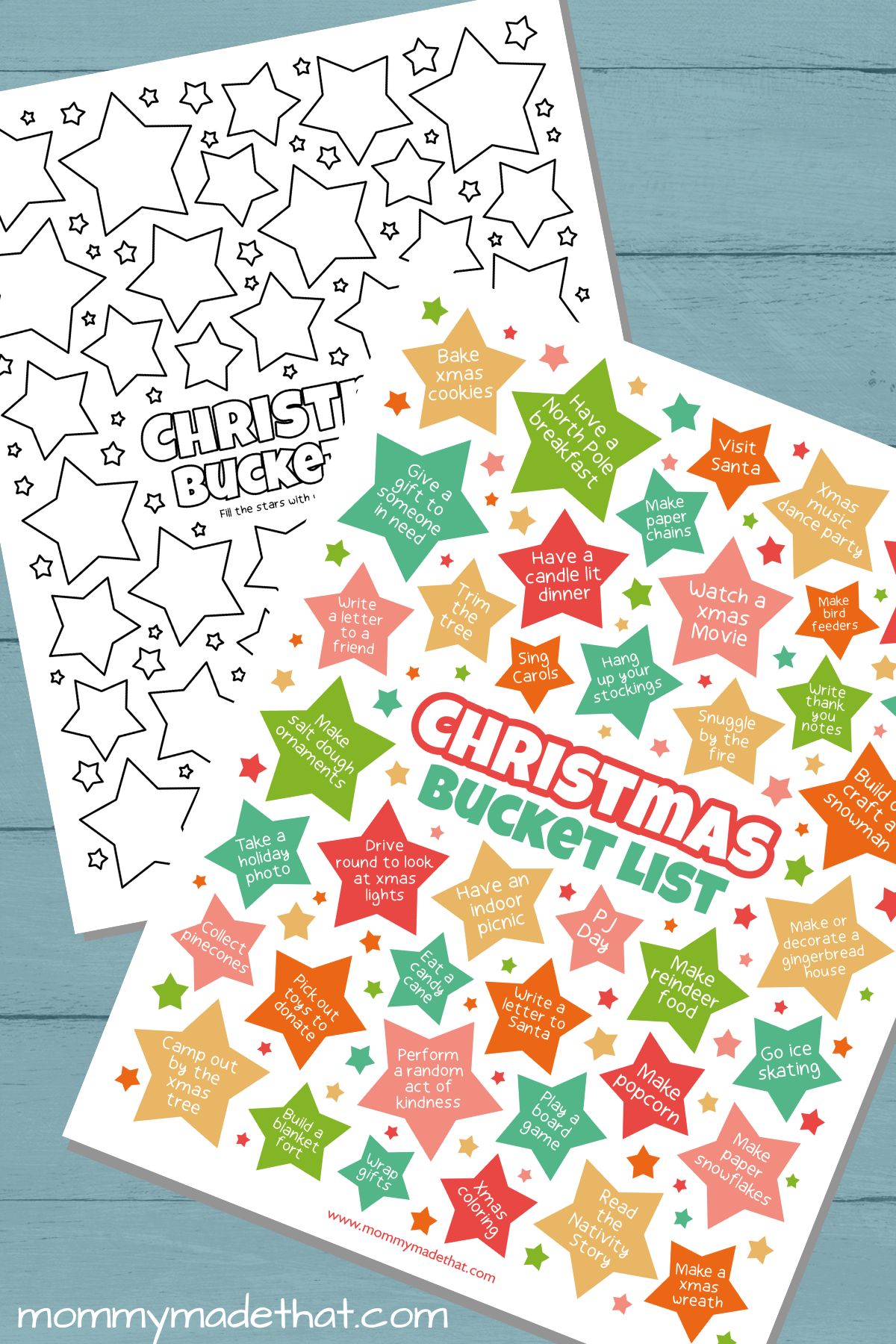 To get started with the fun, start by grabbing one of our free printable holiday bucket list items. We have several to choose from in different colors!
Put your email in the box below and we'll send the whole PDF straight to your inbox. You can then pick and choose which one you want to use.
This is for personal or classroom use only please. Not for commercial use. Thank you!
There are so many fun things that you can do as a family during the Christmas season!
From baking cookies and decorating gingerbread houses to watching holiday movies and going on a sleigh ride, there's something for everyone to enjoy.
So get started on your Christmas bucket list today and make some memories that will last a lifetime!