Looking for some fun Jack O Lantern coloring pages? We have lots of free printable ones just for you. They make great Halloween coloring pages and a fun way to get into the spooky spirit.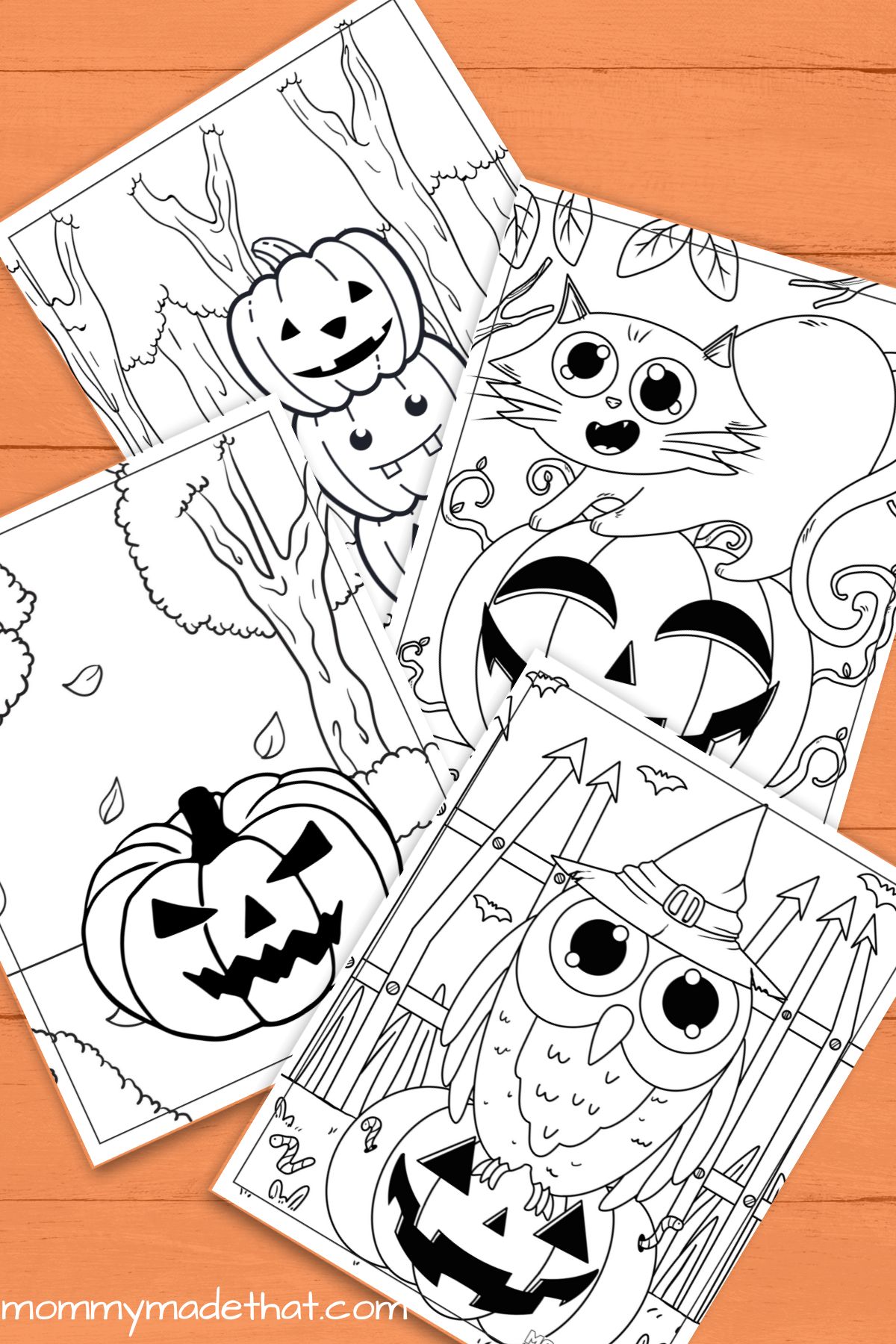 These Jack O Lantern coloring sheets are totally free and feature all sorts of pumpkins with different faces, from spooky to cute. They're perfect for kids and adults!
We've also got lots of great pumpkin templates as well, if you want to create your own Jack O Lantern faces along with a printable Jack O Lantern craft.
Make sure to check out all of our pumpkin crafts too!
The Jack O Lantern Coloring Pages
We've got several Jack O Lantern coloring pages perfect to use as kids coloring sheets, so get ready to bust out the crayons! (Or colored pencils if that's your jam.)
From fun and cute face pumpkins to spooky-faced ones, we hope you'll find the perfect one here for you.
This coloring page features the Pumpkin lantern with a witch hat and cute little bat friend.
This Jack O Lantern is sitting in a forest, just waiting to be colored in.
And a wise old Owl witch, sitting on the top of a happy little Jack O Lantern.
One with three cutes one stack on top of each other.
And another Jack O Lantern bucket filled with Halloween candy.
This Jack o Lantern coloring page features a scardey cat on top. And if you like this one, be sure to check out our other fun Halloween cat coloring pages.
This cute Halloween scene features a trick or treating basket full of Halloween goodies, in front of a spooky but some how cute haunted house.
This is one of my personal favorite coloring pages on the list, as it features a jack o lantern with lots of fun patterns to color in, and a wild cat sitting on top.
And lastly, an adorable bat dressed up as a mummy, excited over his trick o treating candy. We've got lots of cute bat coloring pages so be sure to grab some of those too!
Grab the Free Coloring Sheets Printables
To grab all of the free Jack O Lantern coloring pages place your email in the box below.
We'll send the printable PDF straight to your inbox.
These are for personal use or classroom use only, not for commercial use, thank you!