Christmas Bingo Game (Free Printable)
Today we have some fun, free printable Christmas Bingo cards! This Bing Game is perfect to print out and play with the family during the holidays!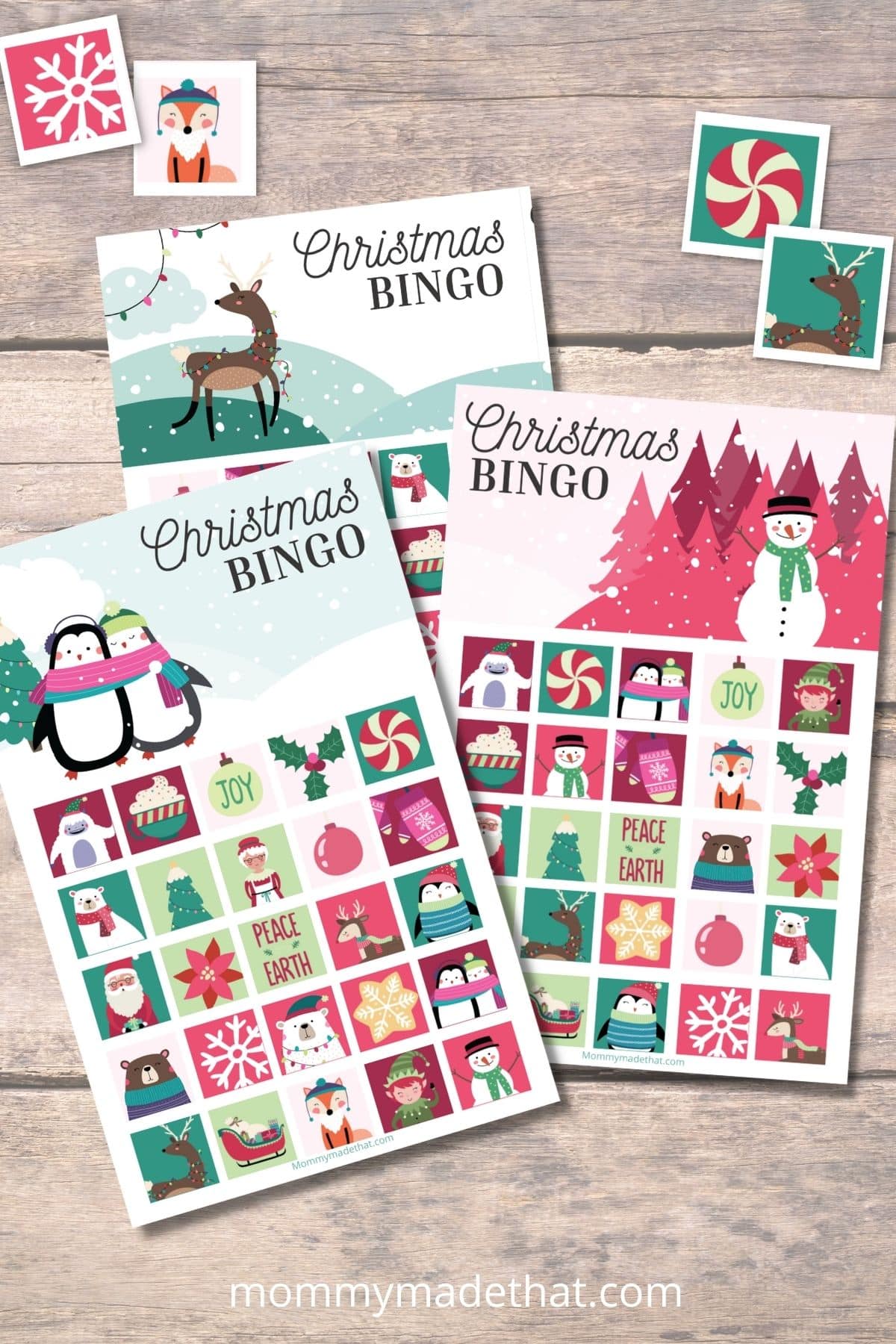 We love free printable games and we have tons of Christmas printables. They make it so quick and easy to whip up some family or classroom fun!
Be sure to check out all of our Printable Christmas games like our roll a snowman game and our Christmas memory game.
Since the holidays are coming up we created our very own free printable Christmas Bingo Game!
This game includes 8 different bingo cards all with their own Christmas characters at the top.
It also includes the Christmas themed calling cards of course, so that you can actually play Bingo.
We also have some blank bingo card templates if you are looking to make your own Christmas themed Bingo cards.
How to Play Christmas Bingo
In case you haven't played Bingo before, Bingo is a card game where players try to form different patterns on their cards by marking them off as they get called out.
The player who gets five numbers in a row – either horizontal, vertical, or diagonal is the winner!
In this free downloadable bingo game, you can't play it with a black out version because each card has the same Christmas icons on it.
But you can still play it with the more common five in a row way.
Using the Printable Christmas Bingo Game
Start out by printing out the entire PDF bingo game. It'll have 5 sheets in total, including a calling card.
Cut each of the Christmas Bingo Card Sheets in half, giving you 2 sets of Christmas Bingo cards per sheet.
Then cut out each of the characters and Christmas icons on the calling card sheet. Giving you 25 calling cards in total.
Put all of the calling cards into a box or a Christmas hat for more fun.
Then each player gets a bingo card. My kids each have their favorite cards they are attached too. One loves the Christmas fox card, while the other is fond of reindeer with lights on it.
One player is designated as the "caller."
This player then pulls out the cards one at a time and describes what's on the card, while showing all of the other players.
Then each player marks out that spot on their Bingo card. We like to use Christmas themed candies as our markers.
Kisses are a favorite for us, and they don't make a mess!
How to Get the Free Printable Christmas Bingo Cards
Simply click here to grab your Free Printable Christmas Bingo Game.
Then print and play! I hope your family enjoys these as much as mine has!
P.S. If your using these for your class room you can get the kids to make some groups and work together.