Free Printable Christmas Memory Game
Today we have this fun Christmas memory game! It's a free printable learning game your kids will love playing this around Christmas time.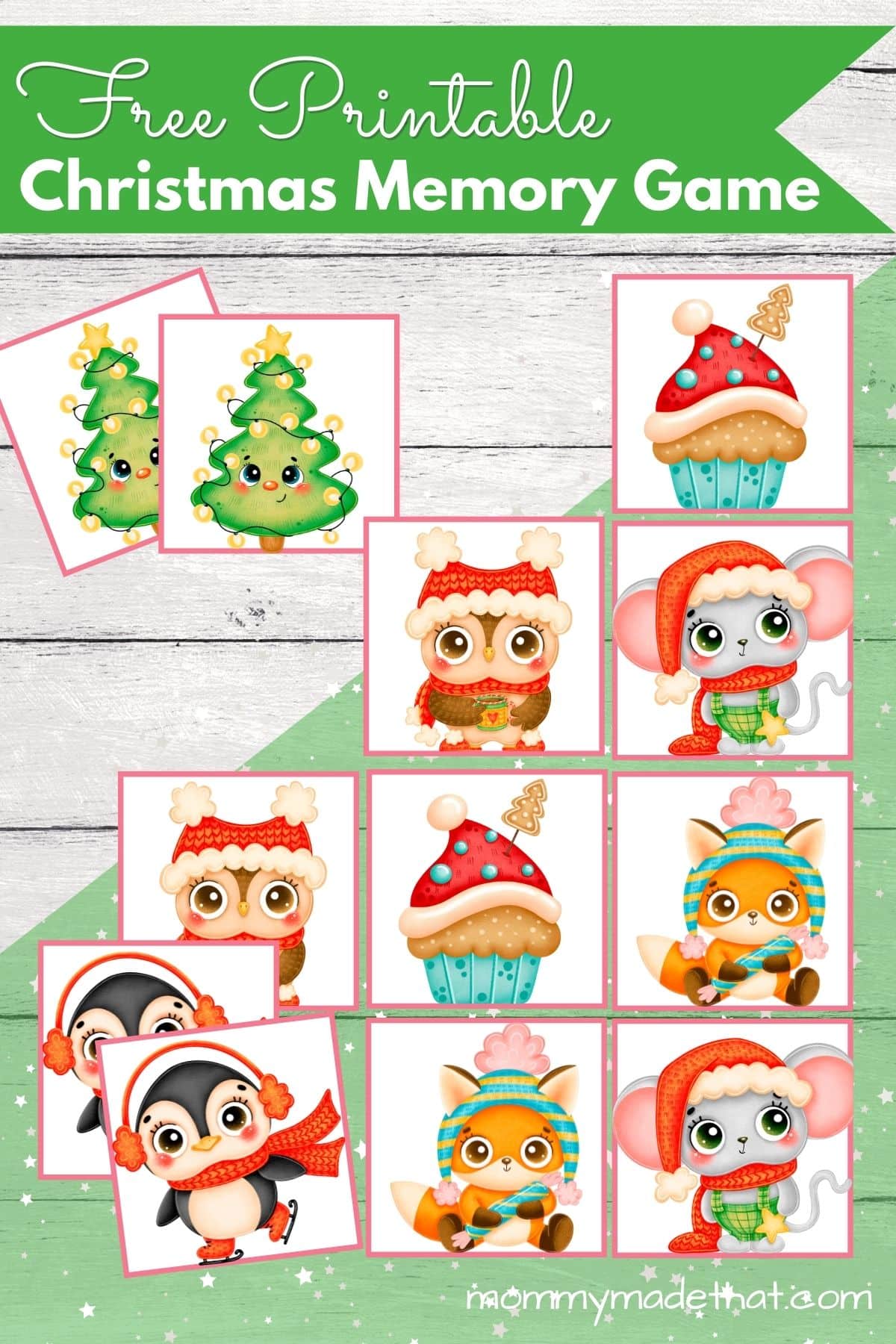 This Christmas matching game is super cute with adorable Christmas pictures for kids to match and test their memory.
We offer lots of fun and free Christmas printables just like this one! And of course we have lots of fun Christmas crafts for kids too.
The holiday season is here and it's time to start preparing for the festivities.
Today we have a free Christmas memory game that's so much perfect for young children.
It comes with 14 pairs of cards (28 total) that each have an object on them. The Christmas pictures include cute characters, my kid's current favorite is the Christmas mouse.
It's a fun family activity that is sure to be a hit! This memory game can be played in teams of two or individually.
You'll need to arrange all of your cards face-down and take turns flipping two at a time over until everything has been flipped around once.
If you find matching objects, then keep those together and continue playing until someone gets rid of all their matches first!
We have tons of fun and free Christmas printables, but this is a fun and easy one that also challenges kids' memory.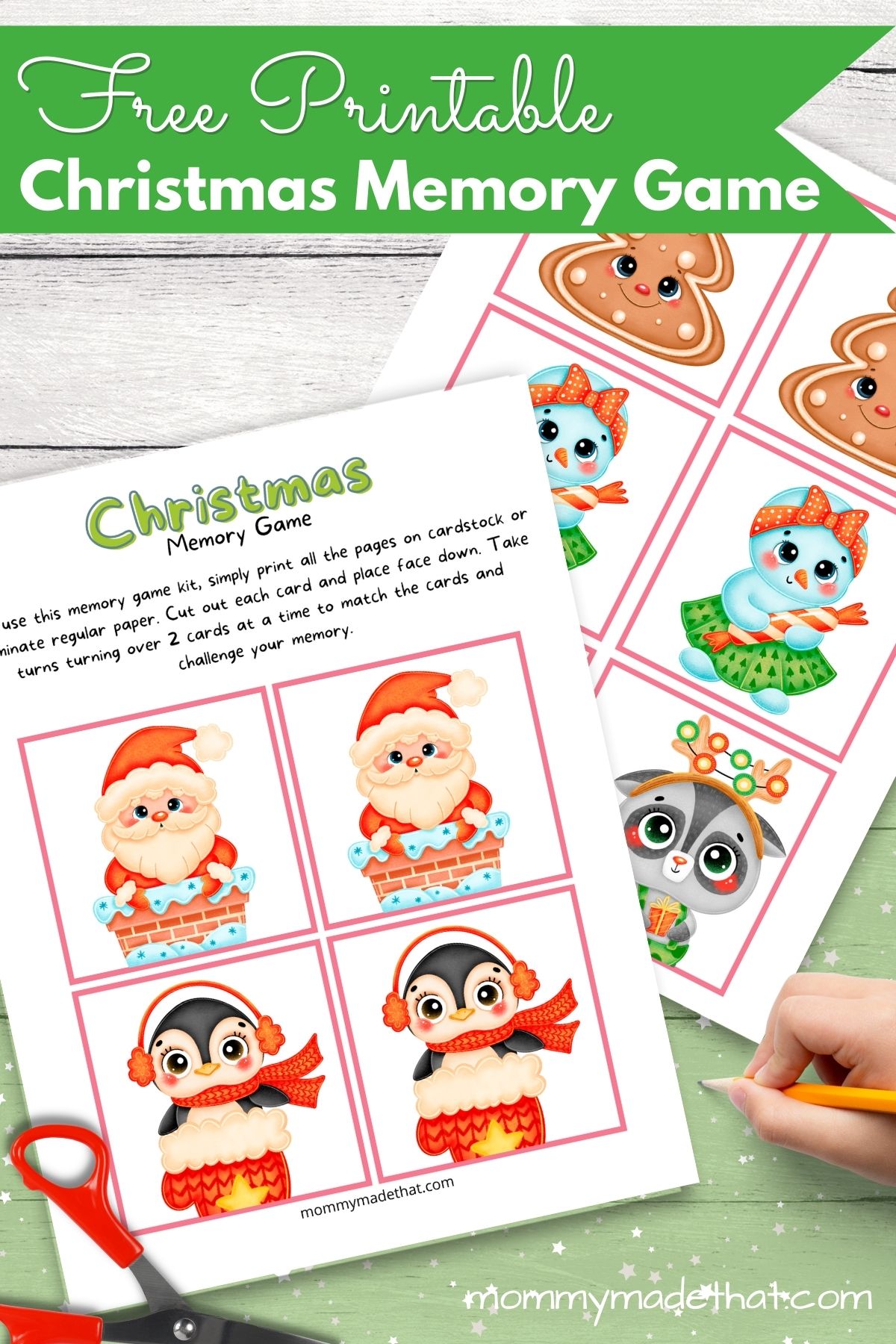 Benefits of Memory Games for Kids
Memory games are a fun way to test your memory and challenge your kid's brain.
Memory games help them learn to retain information and they're a great alternative to the standard study methods.
Memory exercises not only help increase memory skills but can also help prevent cognitive decline later in life. It's a fun game that you'll feel good about having them play.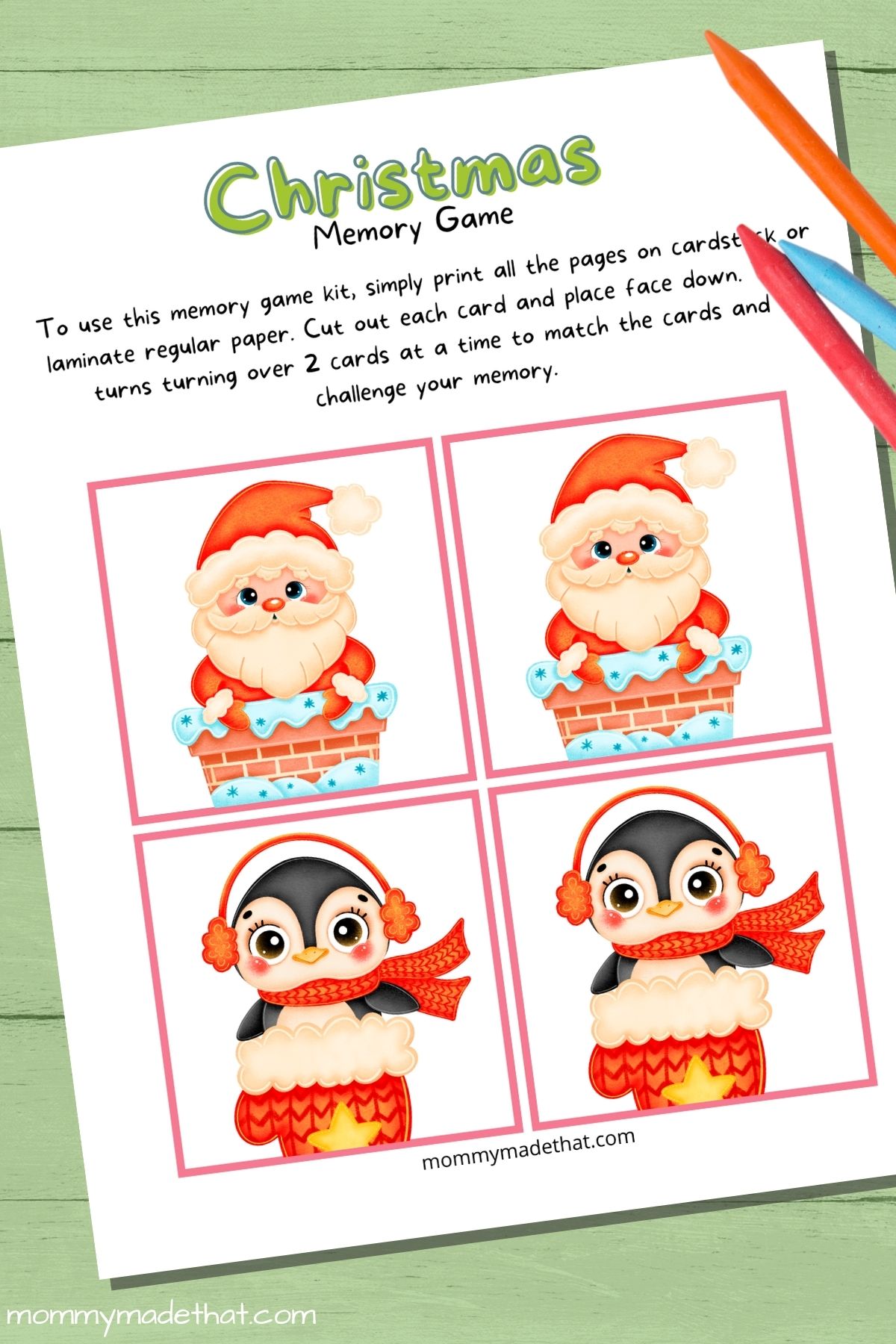 Christmas Matching Cards
We created this little printable matching game ourselves. We included these adorable Christmas characters that my kids just fell in love with.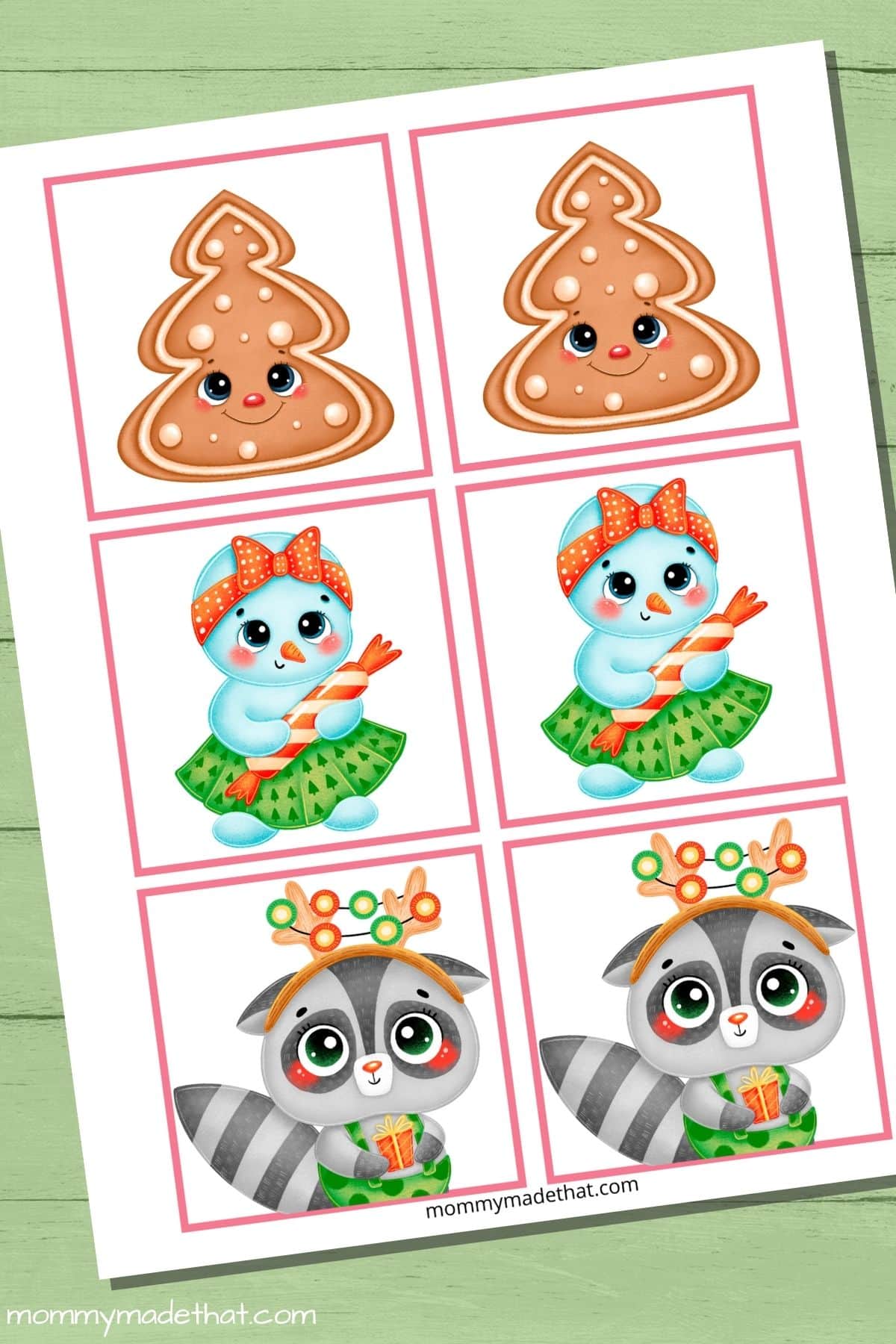 It includes all the favorites including Santa claus, Reindeer, a Christmas tree, cute little forest animals decked out for the holidays.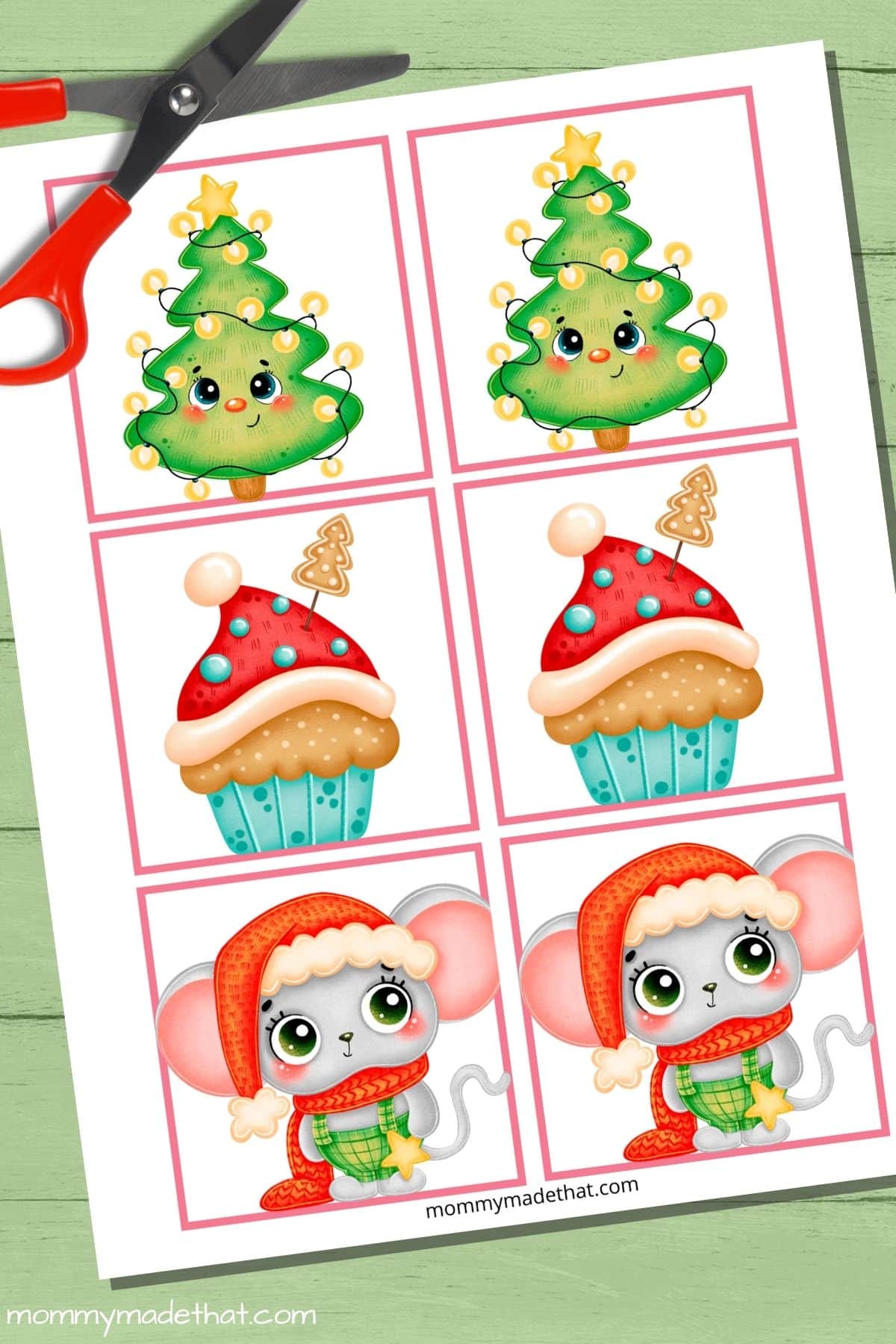 How to Use the Printable Christmas Matching Cards
To use our printable cards, simply download and print all the pages of the matching game. They all have adorable Christmas characters on each card.
Once they are printed, we suggest using a laminator to laminate the cards. However, you don't have to. The game will still work regardless.
Then cut out each square card.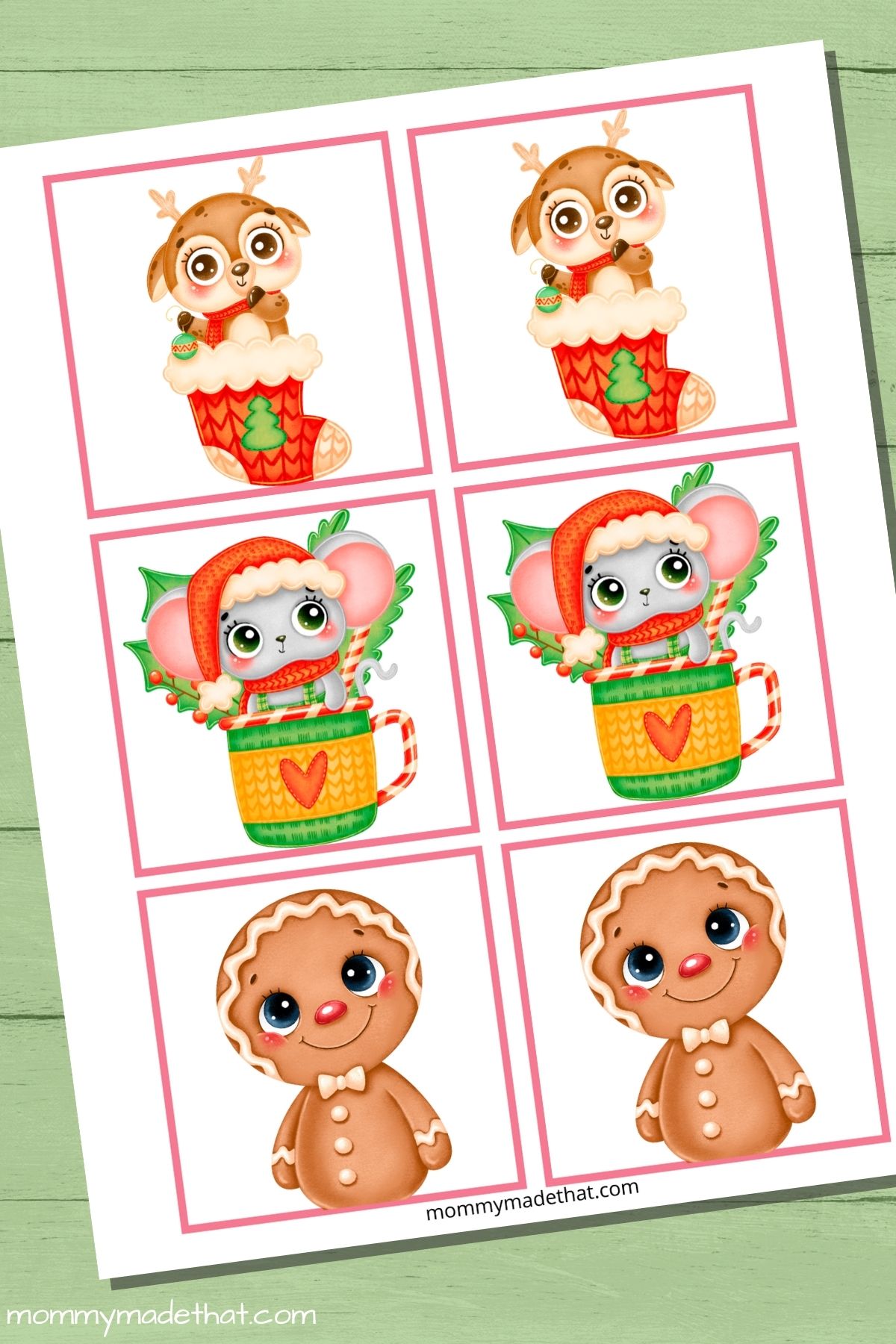 Playing the Matching Memory Game
Once you are all ready to play and your Christmas cards are cut out, turn each card over face down and line up the cards in rows.
Since there are 28 cards, we usually line them up with 7 columns and 4 rows.
But you can set yours up in whatever shape you desire.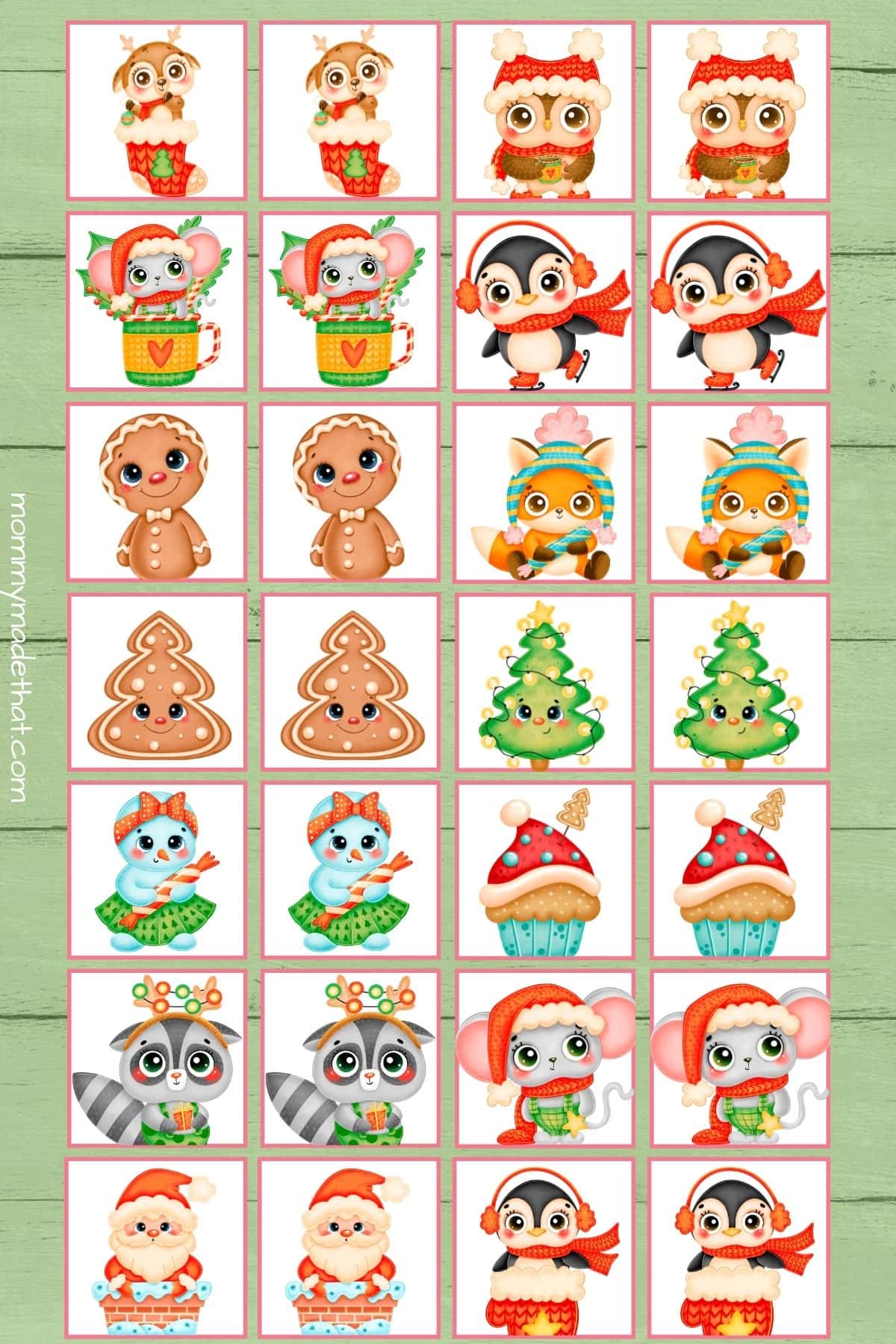 You could even create a fun Christmas tree shape with the cards for a fun twist.
Then each child starts by picking a card and turning over while leaving it in it's place.
Then they guess where the other card may be and turn that one over.
If they are a match, they get to pick the pair up and keep the two cards in their pile.
If they aren't a match they have to flip the cards back over leaving them in place.
After a few turns they should start remembering where the different cards are and will be able to create matches easier.
If you are playing with little ones, I suggest using only half the cards, just making sure that they all have a matching pair.
It'll be easier for them to remember where the pairs are without getting overwhelmed by the large amount of cards.
How to Download the Memory Game
To download our memory game, head over to our printable library.
Scroll until you reach the heading titled "Free Printable Christmas Memory Game."
Click the download printable button and a separate tab should open up and automatically download the matching game.
Print out the pages and enjoy the holiday season fun! We hope you love our Christmas matching game as much as we do.