4th of July Wreath Made from Paper Flowers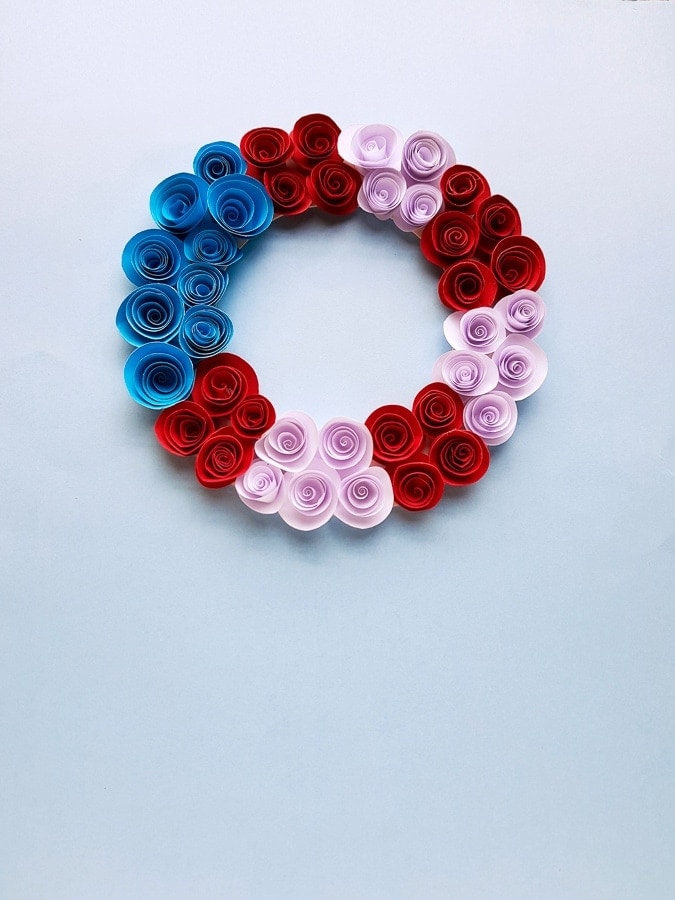 4th of July is right around the corner!
Why not create this adorable patriotic wreath from red white and blue paper flowers?
It's adorable and super easy with this step by step tutorial.
Plus the kids would have a blast making these.
Patriotic Paper Flower Wreath
Supplies needed:
Colored craft paper in red white and blue
Round wreath base
Pencil
Scissors
Glue
Step 1: Cut out Paper Spirals for Flowers
Start by taking your craft paper and cutting out several spiral patterns like the red one below. You'll need quite a few too fill out your wreath, so make a lot of each color.
We used about 50 spirals total.
Step 2: Start Spiraling the Flowers
Once you have your spirals cut out, take one of them and start to roll it from the outer edge, like the photo below.
Step 3: Finish Your Paper Flower
Continue rolling your paper flower toward its center. Glue down the center of the spiral and press the coiled part against the glue to secure the paper roll in place.
Step 4: Finish all of your Paper Flowers
Finish making all of your red white and blue flowers.
Step 5: Grab Your Wreath Base
Once you have made plenty of your rolled paper flower coils, you can start making your wreath. You buy a wreath base, but we just made ours from some thin cardboard. (A cereal box works great for this!)
Just use a bowl and then a large cup to create the outer and inner rings.
Then gather together your wreath base and red white and blue flowers.
Step 6: Start filling your Wreath
Start by attaching your blue flowers first to your wreath base. This will be the upper blue area that represents the American Flag.
Keep all of your paper flowers as adjacent as possible. Fill about 1/4 of your base with the blue paper flowers.
Step 7: Start Filling in your Red and White Stripes
Next, start filling in the rest of your wreath base with the white and red paper flowers.
We kept our stripes 2 or 3 flowers thick.
Now grab the red and white rolled flowers and start attaching them on the base. Stick 2 or 3 lines of red flowers and then stick 2 or 3 lines of white flowers.
Step 8: Keep making your Flag
Keep alternating your red and blue flowers to finish all of your stripes.
Step 9: Finish your Wreath
Finish filling in your entire wreath until you end up with this patriotic wreath. It's an adorable craft that'll show off you 4th of July spirit!
You can then hang it up on an interior door, on the wall or as a decoration for a 4th of July party.