Letter D Tracing Worksheets (Free Printables)
Today we have some free printable letter D tracing worksheets! Print them out and let your kids trace the letter D to learn to write the whole alphabet!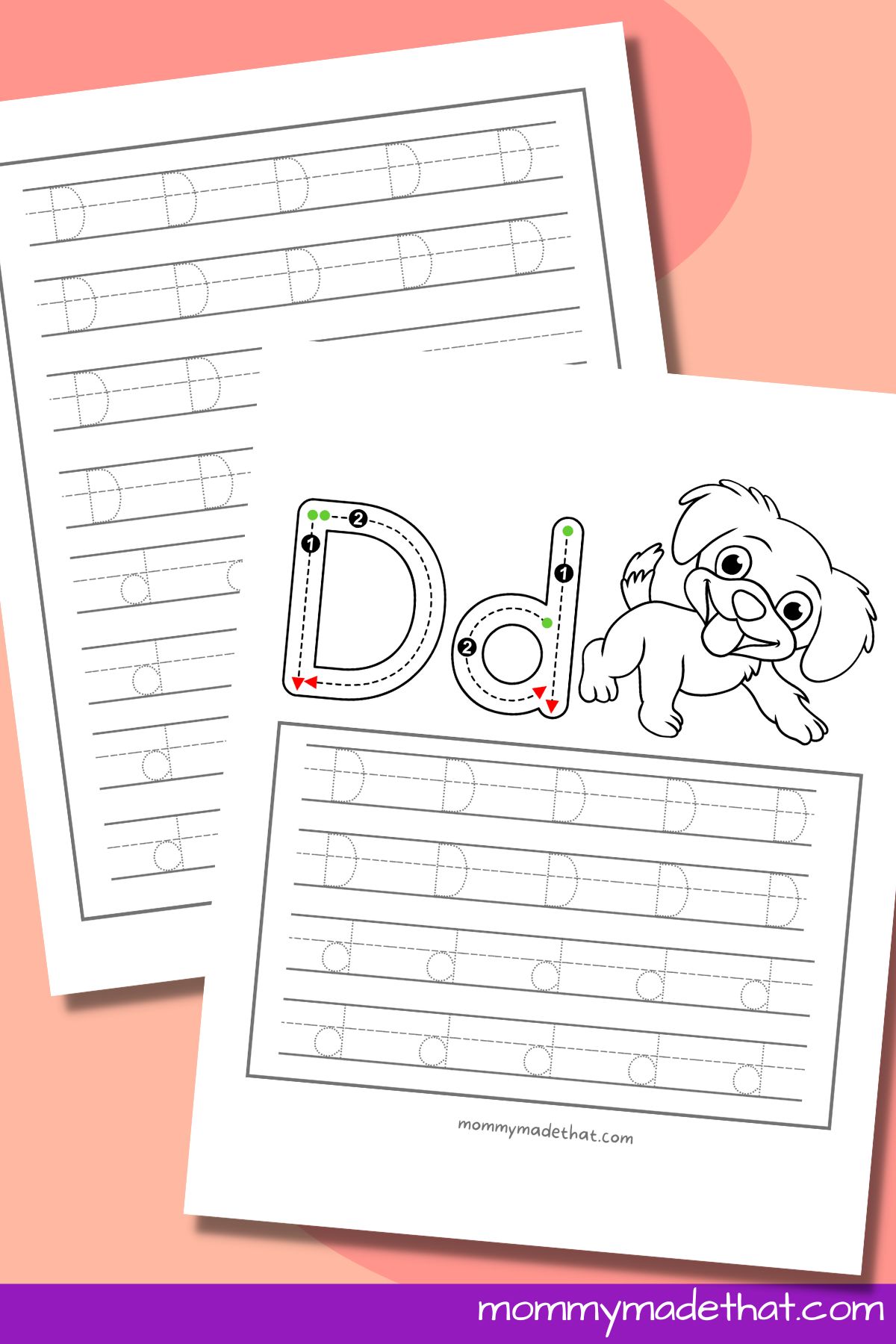 Our free printable letter D tracing worksheets are perfect for parents, teachers, and homeschoolers who want to provide a fun yet educational activity for their children.
With these worksheets, your child can practice writing the letter D by tracing the shapes in different colors and adding their own creative touches.
Download now and give your child the opportunity to explore writing the letter D.
Be sure to check out more letter tracing worksheets and get the whole alphabet.
And if you missed our last one, you can grab the letter C tracing worksheets or go the next letter, and grab the letter E tracing practice sheets.
The Worksheets
We have 2 printable tracing worksheets featuring both the capital letter D and the lower case letter D.
The first one is a short and sweet activity perfect for little learners. It features a diagram showing the propper way to write the letter D, along with a cute dog to color in.
Then trace all the D's below.
The second one features a sheet chock full of traceable letter D's, for more practice.
Tips and Tricks
Encourage your child to trace the letters slowly and carefully.
Give your child plenty of freedom to explore the letters using different colors of pencils or crayons.
Ask your child to add their own creative touches to the letters.
Provide extra encouragement by praising their progress as they complete each tracing worksheet.
This will help keep your child exited and engaged while learning to write.
Grab the Free Printables
To grab the free printable letter D tracing sheets, put your email in the box below.
We'll send the printables straight to your inbox.
These are for personal or educational use only, please. Not for commercial use. Thank you!
With our free printable tracing letter D worksheets, your child can get creative while practicing writing a new letter.
Not only will they boost their hand-eye coordination and fine motor skills, but they'll feel more confident when it comes to writing the letter D. So, what are you waiting for?
Download now and watch your child explore writing the letter D with these fun tracing worksheets!