Golden Snitch Harry Potter Cupcakes
Today we are making some Harry Potter cupcakes! These cupcakes are so much fun and look just like golden snitches.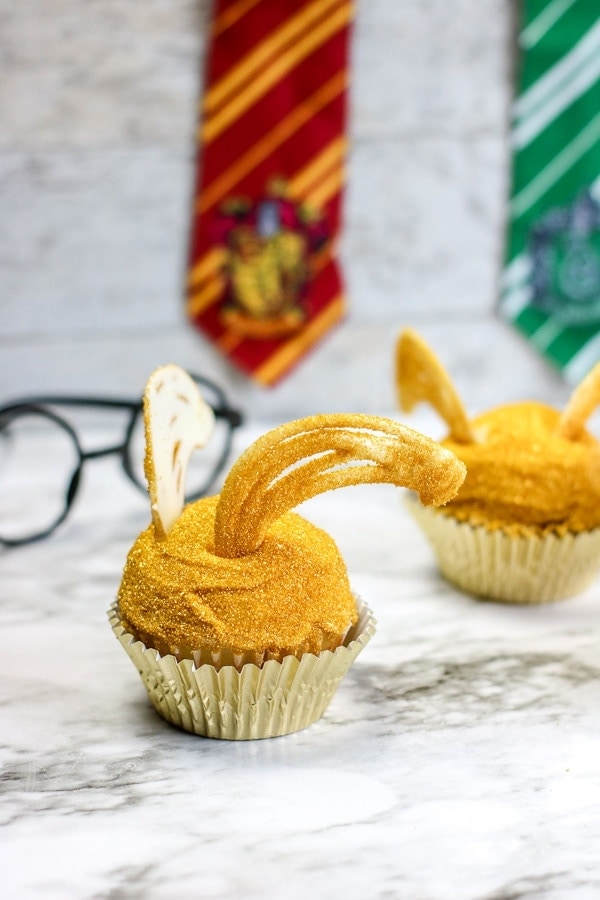 Harry Potter is most definitely my favorite movie series! Any other potter heads out there? 
Maybe you looking to throw an awesome Harry Potter themed birthday party!
Well, today we have just the thing… Harry Potter cupcakes!
These are actually golden snitch cupcakes. But they scream Harry Potter and are pretty easy to make.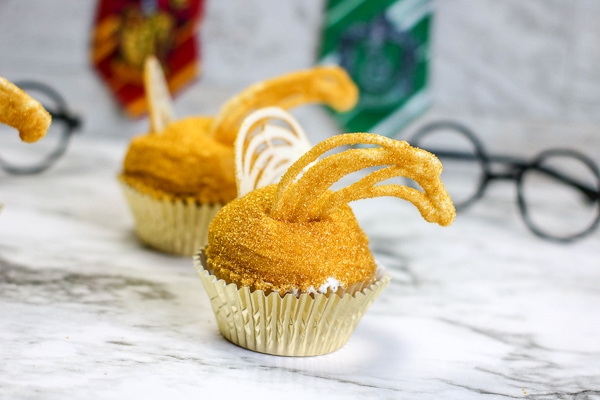 Ingredients Needed for Harry Potter Cupcakes
To make these golden snitch cupcakes, we used premade cupcakes.
You can use your favorite recipe to make the cupcakes, use boxed mix and make the cupcakes or just buy already made cupcakes.
We also just used a can of vanilla frosting. But you're definitely welcome to whip up a batch of your own favorite vanilla frosting.
Ingredients for Golden Snitch Cupcakes
12 already made cupcakes

2 to 3 cups vanilla frosting

Vanilla Almond Bark

Gold sugar sprinkles
Supplies Needed
Piping bag
Fine circle piping tip
Large spoon or scoop
How to Make Harry Potter Cupcakes
To decorate your harry potter cupcakes, start by lining a large baking sheet with waxed paper.
This will be your working space for making the golden snitch wings.
Melt your vanilla almond bark according to the directions on the package. Put the melted bark into your piping bag already fitted with the find circular tip.
Pipe the bark into the shapes of snitch wings onto the wax paper.
While the bark is still well, sprinkle your wing shapes with the golden sugar sprinkles.
Make enough to give each of your cupcakes 2 wings each, so at least 24 wings total for 12 cupcakes.
I do suggest making a few extra in case some of them break.
Allow the wings to set completely. You can pop them in the fridge for a bit if you are in a hurry.
Once your wings are dry, gently remove the wings from the wax paper and set aside.
You can pour the leftover sprinkles back into a bowl, as you'll need lots of golden sprinkles in the next couples of steps too,
Using your large scoop (or spoon) drop big rounded balls of frosting onto each of the cupcakes.
Use a butter spreader (or even a butter knife would work) spread the frosting to the outer edges of the cupcake, leaving a big rounded mound of icing.
Now pour the rest of your sprinkles all into one bowl larger than your cupcakes, because we are about to turn these plain cupcakes, into golden snitches!
Dip each of the cupcakes upside down into the golden sprinkles, covering the vanilla icing full to create round golden balls on the top of your cupcakes.
Now add a set of wings to each cupcake, making cute golden snitches.
Aren't they cute!
These harry potter cupcakes not only super cute, but they are seriously yummy.
Plus I love themed cupcakes that are topped with edible decorations! Make sure your check out our Harry Potter Hot Chocolate Bombs as well!